Do you want to know what is going to work in 2021? Here is a list of top digital marketing trends for 2021 you should be ready for.
We have seen a huge transformation in the market recently in 2020. Almost all kinds of businesses got hit by the recent covid pandemic.
Now we have to be ready for the upcoming digital marketing trends to boost our business revenue in the coming year.
Here I reached out to top digital marketing influencers to collect their thoughts on this subject and shared with you in this article.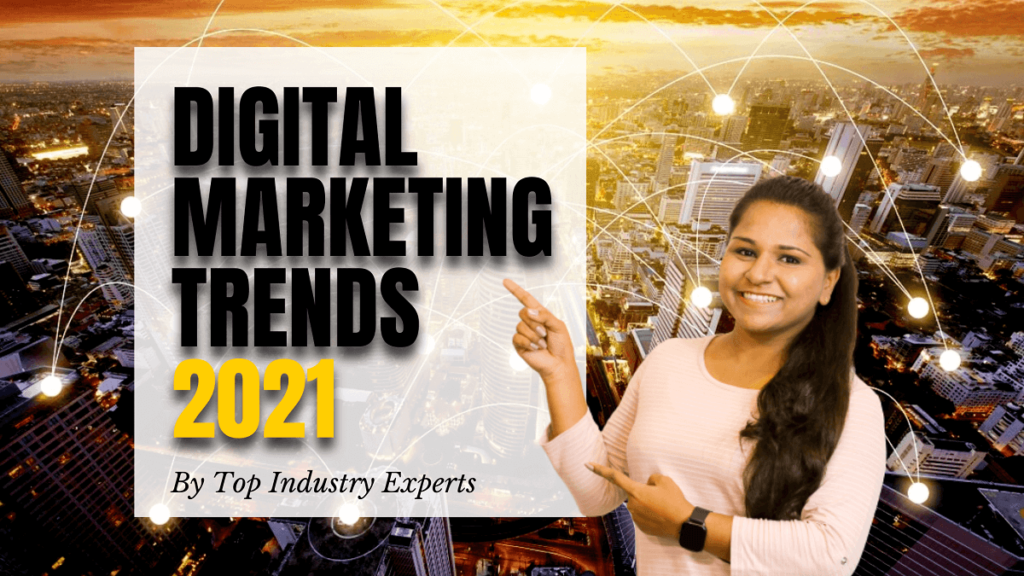 Digital Marketing Trends 2021 by Experts
There are a lot of changes that happened recently in digital marketing and advertising space. The way people connected with the brand a few years ago is completely transformed.
The preferred communication channels are different, people expect quicker responses and faster services.
And in the competitive landscape, you have to be ready to accept the challenge and upgrade your digital marketing strategy by including more new channels in your bucket.
Here is list of the digital marketing trends to watch out for in 2021:
#1 Vernacular SEO
#2 The Trend of Applying AI in Digital Marketing
#3 Machine Learning in Digital Marketing Strategy
#4 Local SEO or Google My Business Optimization and Marketing
#5 Podcast Optimization is the Latest Digital Marketing Trend
#6 PPC Marketing Automation will Continue in 2021
#7 Voice Search Optimization will Dominate the Search Engine Queries
#8 Video Marketing Will Hold the Top Content Position in 2021
#9 Core Web Vitals
#10 Google Discover SEO
#11 Content Marketing is Evergreen Trend
#12 Customer-Centric Digital Marketing
#13 Performance and Data-driven Marketing Strategies
#14 Think Multichannel and Focus on Micro-conversions
#15 Invest in Marketing Automation Tool
#16 Become Socially or Environmentally Responsible Brand
You will learn how the era is changing and in the new decade what is going to dominate the digital marketing space.
#1 Vernacular SEO
Optimizing content for vernacular consumption is no longer a trend to anticipate – it's a present and urgent need. Every year, more regional language speakers are using their mobiles to search on Google.
Especially in the context of India, where there is an abundance of regional languages, Vernacular SEO is going to be a game-changer.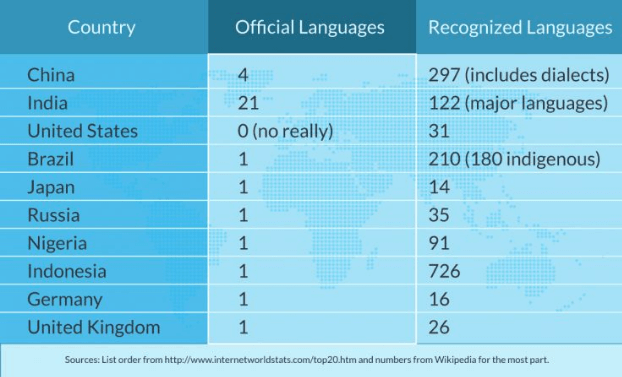 Vernacular SEO is simply writing your website content in relevant regional languages. For example: If you are a Mumbai based business, and have a significant number of queries on Google in Marathi, then it is relevant for you to target keywords in Marathi.
Indian users of vernacular mediums on the internet are expected to grow by 75% over the next year. Whereas the English language users on digital platforms are only projected to grow by a paltry 3%. This makes the vernacularization of content very important for every marketer.
Let's look at a case study done by Tech Magnate on Bajaj Finserv and their Vernacular SEO implementation in 2019-2020. In 6 months, the share of total website visitors coming from regional language queries jumped from 4% to 8.3%; a 260% growth in traffic in such a small period.
On the other hand, there was not much growth in SEO keywords written in English. They experienced such growth in website visitors across all the keywords they optimized in regional languages. This shows how important it is to start building your Vernacular SEO strategy.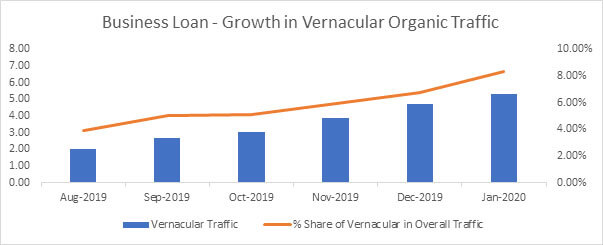 Source: Techmagnet
Google has a simple rule, if the content is user friendly, you will always rank on top. Vernacular SEO is a rising trend and yet it may not be relevant for your business right now. Regardless you need to prepare for it. Let's discuss how to determine whether your business requires a vernacular SEO strategy, or not.
According to an excellent guide by Neil Patel on adopting Vernacular SEO for your business, the best way to determine whether you need to adopt this strategy is to go find the search volume on vernacular translations for your keywords.
If you find a significant volume, you need to start adapting right now. If you don't see enough volume, you should put an alarm in your Google Analytics for those keywords and keep a watch.
Another aspect to remember is to target your Vernacular keywords through Language targeting. This is crucial for your Vernacular SEO strategy because people use their regional language on their phones, wherever they may be traveling.
Through language targeting, you make the user experience far more user friendly and reduce bounce rates. For example, a Korean tourist in Japan will use Google in Korean, because that is the language they are comfortable with. Giving customers their content in the right language makes their experience better.
There is another factor at play as well that makes going Vernacular such a great idea. Google has been promoting and shifting focus to local search results for the last two years incessantly. This hyper-local focus will shift search patterns and give rise to higher usage of regional languages.
The joint pressure from these trends is giving rise to the need for immediate implementation of Vernacular SEO, making it a high priority for all business owners who wish to maximize their local traffic. I believe this trend is going to make SEO far more diverse and it is the way forward for digital marketing.
– Karan Shah, Founder & CEO, IIDE
#2 The Trend of Applying AI in Digital Marketing
Currently, AI(Artificial Intelligence) is increasingly present in many fields and stages in the business and marketing process.
The main purpose when using AI for businesses or campaigns and strategies is maximizing, enhancing communication, analyzing customer data, and tracking sales.
Also, AI helps businesses predict customer behavior patterns, reduce workloads, and other complex tasks for employees.
In fact, you've been exposed to AI more than you might think. Typically, you can see ads appearing to match your search results on social media.
According to statistics, 57% of marketers today have applied AI to their processes and strategies. It is expected to grow by about 53% in the coming year.
Muhammad Mateen Khan, Digital Marketing Strategist at PureVPN
2021 is nearly a month away, and we all want to make it a positive year. As a CMO, I believe that businesses will strive harder in promoting their brand because we all have to make up for the loss 2020 has brought us.
We have to improve our digital marketing skills and abide by the trends that will happen in 2021. One of the top trends my company wants to prepare for is the use of AI for better customer service. 
For example, KFC uses facial recognition to know which kinds of food to offer their customers. The time of the day, age, gender, and mood of the customer are used to identify the food they will offer. As a result, people don't need to think longer about which foods they want because the food suggestions make the whole ordering procedure faster.
Another example is the automated response to social media messages. You can not assign a person to manage your social media 24/7, so the use of automated messages will make your customers feel valued by replying instantly, even without exerting so much effort. Every message is an opportunity, so make sure to grab everything.
Kylee Jacobs, Chief Marketing Officer at The Absolute Dater 
#3 Machine Learning in Digital Marketing Strategy
The days are gone when digital marketers were sitting and analyzing a huge collection of data and reports to develop the right marketing strategy. Now, machine learning brings a change in analysis and reporting.
ML-powered tools will help with generating the right insights based on the customer's data and testing new strategies to define the failure or success of any campaign. Some major areas where ML playing a big role:
Better search engine results – Question answers, featured snippets, lists, videos, etc.
Lead scoring – Analyzing the consumer touch-points and assessing the lead quality
Data analysis and reporting – Campaign recommendation based on the data
Trends analysis – Analysis of the past data and generating insights for decision making.
Natural language processing – Sentiment analysis
Content personalization & recommendation – Syndicating the right content to the right audience for better engagement.
Customer servicing – Studies indicate, that 57% of major executives believe this is the area where machine learning can be most beneficial.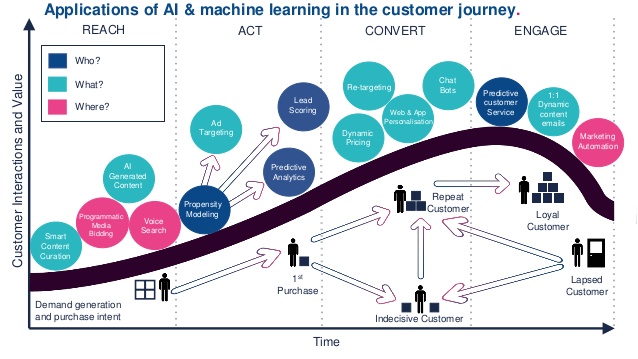 Even different marketing & advertising platforms already started exploring the opportunities to implement machine learning on their channels. Like Google searches are now smarter and accurate, the search engine now understands the nature of the query and gives the desired results for better engagement.
#4 Local SEO or Google My Business Optimization and Marketing
In 2020, more than 50% of all searches had local intent.
Add to this fact that 88% of consumers feel that they will stay connected with their communities long after Covid has ended and you have a pattern for online consumer search that will impact how consumers search in 2021, but also how this will impact their offline travel and engagement habits.
With this in mind, businesses want more local indicators for their digital strategies, and Google is also beginning to prioritize more location-based results in all kinds of SERP elements such as local inventory, local pages, video results with local indicators, etc.
What we do know is that approximately half of all searches are local, when Covid hit, consumers still engaged with local results as the data above suggests (habitual local search), but what we found was that when they found that a store was closed they visited the website or made a phone call instead.
A recent Uberall study found that when they analyzed UK, US, Germany, France, driving direction requests only dropped by 50% during Covid lockdowns while phone calls increased in this period by 73% and website visits increased by a whopping 135%.
Local engagements have increased in Q3 to become the highest this year and are expected to continue to increase in Q4 because consumers are increasingly engaging within their communities.
Data from a recent Accenture study showed that 80% of consumers feel more connected to their communities since Covid and 88% feel it will stay that way after Covid has ended.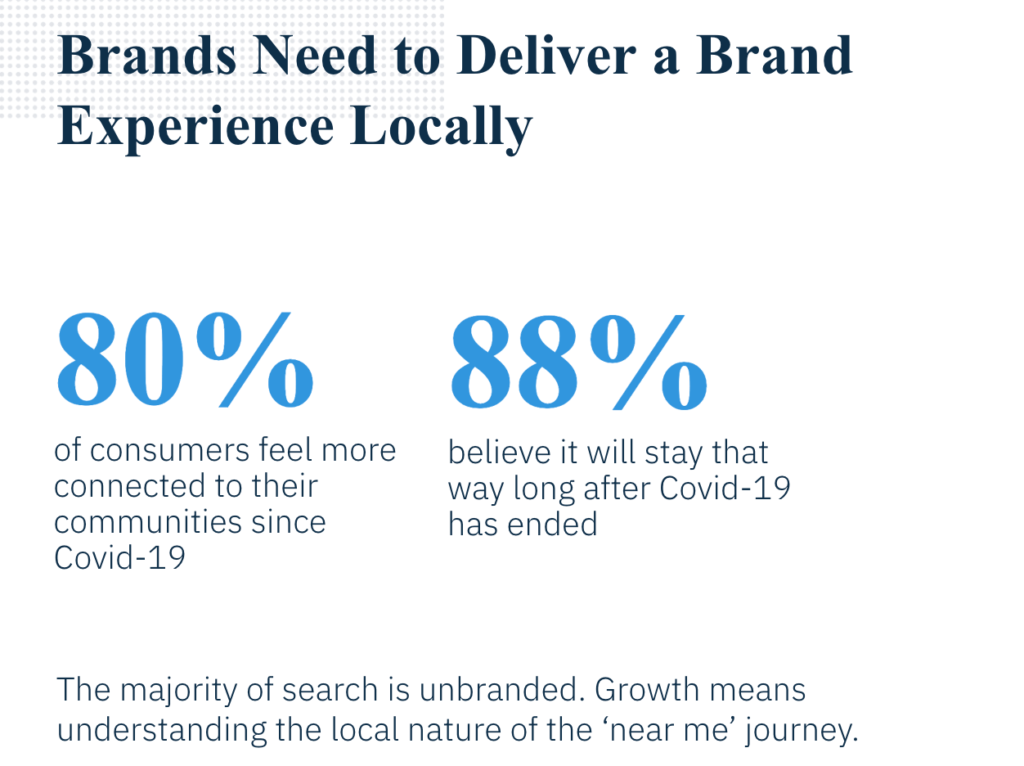 Finally, a study by Visa in June found that 89% of adult consumers have shopped online since March and crucially, 31% used e-commerce for the first time.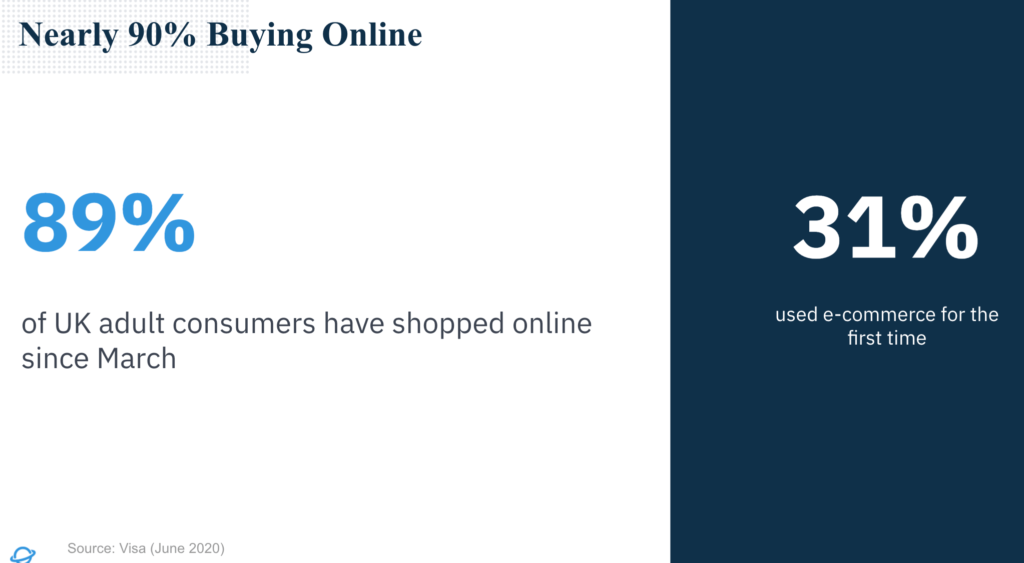 This suggests a real shift for consumers towards online shopping for the upcoming holiday season.
Consumers will still engage with their local stores for things like buying online and purchasing offline, so a strong local presence and strategy are key for retailers but it's equally important to give consumers options to purchase online and then also to provide delivery and pick-up options directly from the store.
The second key thing for retailers, in particular, is to understand the platforms where your customer-base is searching and have a local presence on those channels.
Giving consumers choice is essential for ensuring engagement and retention but being visible for all stages of that consumer journey is also important across search engines, social media platforms, review sites, and directories.
By Brad Fagan, Senior Marketing Insights Expert, at wunderbarmarketing
Google Listing and Local SEO are going to be the top trend of the year 2021 and beyond that.
In the past few years, the main focus of Google is to uplift the user experience by helping local businesses to gain more traction online.
And since the time, Google has launched the business page, competition has gone skyrocket, leading the local businesses to improve the quality of their services.
For example, a customer can easily check out the closest vendor of computer repair services, take a look at their working hours, and compare them based on the reviews by other customers.
In short, the local search page is improving my experience, which is exactly the only motto of Google. But that's mostly for B2C companies.
By Nishant Sharma, Sr. Digital Marketing Executive at Your Team in India
#5 Podcast Optimization is the Latest Digital Marketing Trend

Podcast gaining popularity at a great pace worldwide, Podcast optimization will be the new way to promote content and create a brand online.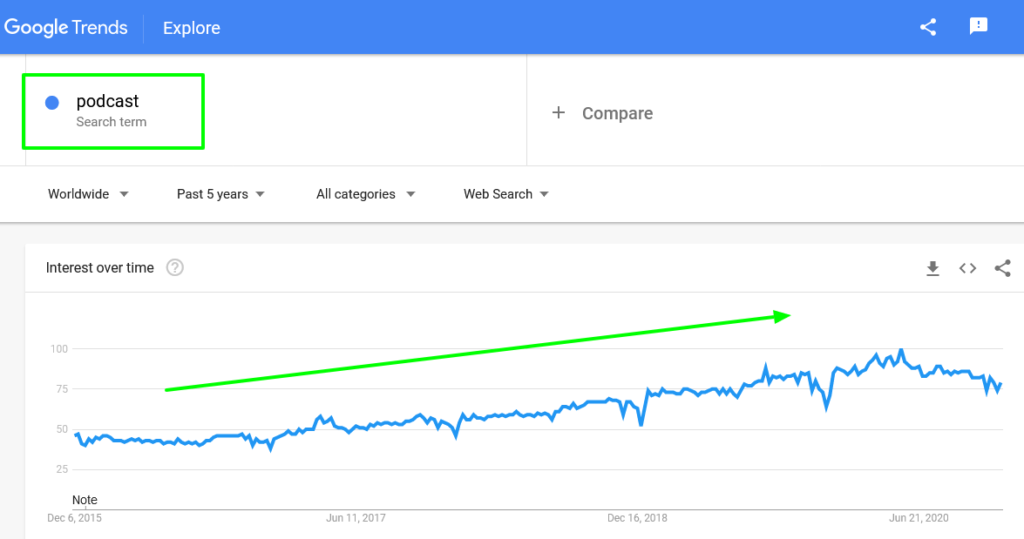 Optimizing the transcript of the podcast for a specific set of keywords will be a new challenge for marketers. Distributing the podcast content and optimizing it for different channels to rank in results in Spotify, iTunes, etc. going to be a tough job.
#6 PPC Marketing Automation will Continue in 2021
Google sets the trend (especially for PPC) and already made announcements that limit the control an advertiser has on their campaign. Some changes to the Google Ads platform are already in beta testing or even roll-out completely and this will continue in the new year.
More and more Google will allow advertisers to focus on automated bid strategies and automated targeting methods, taking the control away from the advertisers. Other platforms like Facebook/Instagram and Microsoft are likely to follow soon with similar changes to their platforms.
Digital marketing agencies will need to deal with these changes and find a way around this to regain control over their campaign.
As proven in the past, changes to the Google Ads platform are not always a benefit for agencies that set up complex campaigns to optimize into the details. It will be key for these digital marketing agencies to continue finding ways to make sure their clients will get maximum results out of their campaigns.
Digital marketing companies will need to find the right tradeoff to get benefit out of the changes being made to each platform while staying in full control of their campaigns. Only that way they can continue to get the most out of their campaigns.
Hope that helps. Please let me know if you need anything else. You can find my details below.
– By Jeroen Minks, Digital Marketing Specialist at Vazooky Digital
#7 Voice Search Optimization will Dominate the Search Engine Queries
In 2021, really turn your digital marketing focus to voice search. With over 50% of internet users using voice search to find the nearest restaurant, book an appointment, or purchase a product, it is important that you stay on top of not only what they're searching for but how.
This means rewriting content on your site so that it focuses on the questions a user may ask as opposed to a word they may search. You really need to take the time to understand your audience so you can anticipate what they may ask (the Who, What, Where, When, Why). Use FAQs, and question-and-answer format throughout your site.
Make your content easier for a device to read aloud by making it briefer and using bullet points and lists. Use schema types to highlight your hours, your services, your reviews, and your pricing so that they're not only better optimized for voice search but search in general.
Finally, localize your content. After a year of quarantine, if 2021 brings the end of the Covid pandemic, you can expect millions of shoppers to venture out.
Localizing your content, especially if you're a restaurant or retailer, will make it easier for these shoppers to find you on-the-go when they search for "What's the best pizza in Philadelphia?" or "Where can I buy shoes in Tulsa?
As you make these changes, a great tool to use is Moz. It will rank your keywords, give you keyphrase ideas, and give you optimization tips for improvement.
– By Keri Lindenmuth, Marketing Manager at KDG
In late 2019, a survey conducted by NPR's Smart Audio Report concluded that there has been a 135 percent growth of people using smart speakers in the U.S with almost 157 million households using it.
That means, people own almost 2.6 devices in their homes on average which will undoubtedly increase as people want to increase the volume of audio content they consume.
We can easily see that the future of Digital Marketing is shifting toward voice search as people are more tend to speak to voice assistants using a conversational tone, questions, and long-tail keywords.
To increase your visibility against voice queries, you need to emphasize your location-based services including location keywords as customers are more likely to include location terms in their voice queries.
By Stewart Dunlop, CEO at PPCGenius.io
Voice search had been growing steadily for many years, but with household names such as Apple, Google, and Amazon jumping into the market, it's skyrocketed.
Research by SEMrush shows that 20% of the global online population now use voice search, with 58% of them using it to find local businesses
Although many thought that voice search was a trend that would fade away, feedback from smart speaker owners suggest otherwise. 65% of Google Home and Amazon Echo owners now say that voice-activated devices play an essential role in their lives and they could not imagine living without them.

Source: Backlinko
Adapting your search engine marketing to voice searches is more important than ever. Voice search queries are different to written queries, they are more conversational and are usually longer.
A useful tool for voice keyword research is Answer The Public. Plugging your keyword into this tool provides a list of questions that users' are asking, so you can tailor your content to answer them.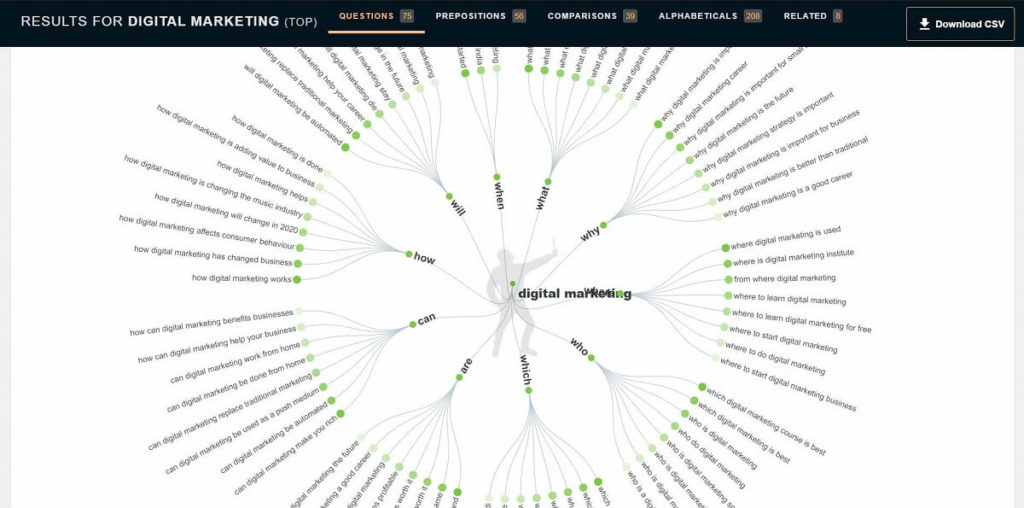 Another way to improve your rankings in local voice search results is to use Yelp. Alexa & Siri use Yelp as a main source of information, so it has a major impact on their search result rankings. Here's an infographic from SEMrush, showing where voice assistants get their information from and therefore where you need to focus: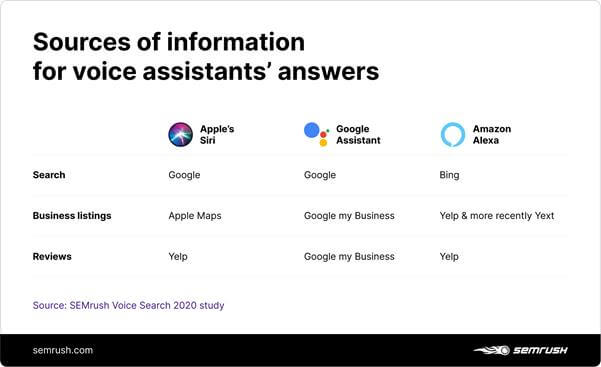 By Frankie Riley-Joyce, Marketing Assistant at awesome.
As a digital marketing expert, I believe that search through voice will be one of the top digital marketing trends in 2021 because it is becoming more and more popular. Voice search is done through different technologies such as smartphones, laptops, tablets.
Many studies show that 70% of the searches will be done with voice searches in 2021. It will have a significant impact on the search trend, and people will prefer to voice searches. In the upcoming years, the SEO will also be affected by voice searches, and content must be specifically optimized for voice.
Most people prefer to use voice searches because they can get all the relevant information they are searching for through audio content. Most companies are working to improve voice search options in their devices. Voice assistants such as Siri, Google Assistant, Cortana are getting smarter day by day.
According to Google, around 20% of search queries on mobile and tablet devices are voice searches. The figure is projected to increase rapidly as voice search technology continues to be developed and perfected. 
By CJ Xia, VP of Marketing & Sales at Boster Biological Technology
#8 Video Marketing Will Hold the Top Content Position in 2021
One of the top trends to look out for in 2021 will be Explainer Videos. An EyeView survey taken back in 2017 showed that hosting video content on your webpage increased conversion by up to 80%.
That number definitely hasn't decreased in 2020, with more and more people viewing video content as opposed to scrolling through text. Creating dynamic explainer videos for your product helps to personalize your brand and engage the client on a more casual playing field.
Not only that, but embedding video content on your webpage will help boost your Search Engine Optimization ranking dramatically. Recent studies have shown that Google tends to favor sites with video content over those without.
A higher SERP means a higher visitor count, meaning more chances for lead conversion. I think it's fairly safe to say that explainer videos will become a marketing norm for many companies in 2021."
By Deepak Shukla, Founder at Pearl Lemon
Creating high-quality content to help your audience and answer their questions is a tactic that will continue to pay off in 2021. However, because there is so much content online, you need to think of ways to make it stand out.
One of the winning formats for 2021 will be without a doubt video. Whether it's webinars, video interviews, fireside chats, or product demos, video is preferred over text or imagery.
By 2022, online videos will make up more than 82% of all consumer internet traffic, according to Cisco.
Another trend that emerged in 2020 and I believe will grow stranger in 2021 is collaborating on content. If you can find companies or experts that address the same audience as you, creating content with them is a great way to bring good content in front of your audience. It's also easier to promote that content since you are sharing the workload with a content partner.
Optimize your video and images for search engines.
With 2 billion logged-in monthly users, Youtube is a growing platform, however, not many content creators on Youtube optimize their videos using the right keywords.
Especially in the B2B area, there is a lot of space for video creation and if you manage to optimize using the right keywords, you can easily win visibility – even if you compete with much bigger players. Image search is also a rising trend however few content creators optimize their images by adding an alt text attribute – so make sure you do this right.
Elena Iordache digital marketing strategist @Stoica.co
During the Covid-19 pandemic, people watched more videos. While isolating, videos gave consumers a personal connection they might not have otherwise had while sheltering in place. In fact, video consumption rose to 80%.
According to statistics by Forbes, 55% of people admit to watching videos daily. According to the source, 80% of consumers now pay for video streaming services.
The trend is expected to rise and keep climbing. Predictors speculate video consumption will rise to 82% by 2022. Even mobile phones now are being built to sustain more video watching.
Therefore, the top 2021 trend for marketers is videos. There are many free and paid tools that will help marketers make videos and many ideas as well.
Marketers can have testimonials and demonstrations in videos, for instance. You can then multipurpose these videos by using them across social media channels. We are already seeing marketers' video ads before and during a YouTube video.
New types of video marketing will start including the use of cartoon animation and shoppable videos. Shoppable videos have a "Buy Now" link on a product shown in the video. To be prepared for 2021, you need to know how to market using videos.
Janice Wald, Blogger, Blogging Coach, Freelance Writer, Mostly Blogging
#9 Mobile-first SEO
Digital Marketing companies should make further use of mobile search.
Now more than ever, people are essentially wired to their mobile devices which is why it makes up more than half of the web traffic worldwide. Since it has become one of the primary lines of communication we have with our customers, marketers should focus on further improving the mobile search experience.
Optimizing your website for mobile can greatly increase your chances of ranking higher on results pages. Not only that but because of the fact that customers value instant gratification, creating a website layout that can be easily navigated that provides customers fast and hassle-free access to what they need can greatly determine the amount of time they actually stay and interact with your webpage.
Hope this helps! If you have more questions for me, I'd be happy to get in touch.
By Anna Nielsen, Marketing Director at Our Good Living Formula
One trend that will continue to become necessary in 2021 is making your site mobile friendly.
As every year passes, smartphones continue to evolve and become our main source of communication. Eventually, desktops/laptops will no longer be of use and people will only turn to their smartphones to find the information they are looking for.
That's why it is important that your website design will become mobile-friendly in 2021 if it is not already.
Mobile friendly, responsive sites achieve higher rankings in google search, mostly while searching on a mobile device. For many businesses and their customers, mobile-friendly sites are also much faster, easier, and more affordable.
The more mobile-friendly your site is, the higher you will rank on google and be of use to users.
With the use of mobile-friendly sites evolving, it is important that you also accommodate the type of content you display to work on mobile devices as well.
Nowadays, people have a short attention span and are looking for information on their phones that they can quickly find. Therefore, the design of short content, big headers (that highlight the main thing so it's easy to locate), and many "call to action" buttons will become more popular in 2021 to allow users to find content much more quickly and easily while using a mobile device.
By Andrew Ruditser, Lead Technology Coordinator at MAXBURST, Inc. 
#10 Core Web Vitals: UX will become even more of a focus for SEO's
Google has long been touting the importance of UX and highlighted in May 2020 that more UX signals were to be considered ranking factors.
The obvious factors that have been around for a while including aspects such as ensuring your site are fast to not interrupt a users journey, a fully responsive site that functions seamlessly across different devices and operating systems, and an experience without excessive adverts, pop-ups, etc that disrupt the experience of your site.
Google has added a 'Core Web Vitals' report in Google Search Console where it is possible to keep track of the basic UX issues which Google can easily track for your site.
#11 Google Discover SEO
It's my job to be looking at innovation, trends in the industry, and just the best ways to use my time to benefit clients that use our SEO services. So, I'm always listening to what everyone else has to say in the world of SEO.
While it's often a bit of an echo chamber with a plethora of people saying the same things even if they aren't accurate, it can be hard to really understand which trends to expect in 2021.
However, something that I believe could become an interesting part of online marketing as a whole in 2021 is the optimization for Google Discover.
Although google Discover has been around for a while now, it hasn't really been the focus of many SEOs or marketers around the world.
I see very little on the subject and it would appear to be something that many overlook and might even continue to do so. But after seeing that Google has updated its Search Console to include a connection and reports for google discover, it would appear that the search engine has something up their sleeve.
Whether or not this is true and whether or not Discover becomes a bigger part of online marketing overall, I think that it could be a very useful tool, especially for those facing consumers.
Discover suggests articles, news stories, and blog posts for the user to enjoy based on their previous searches and their perceived interests collected from data based on the individual.
For this reason, I think that Discover could be a powerful tool for B2C businesses and news outlets alike.
For example, if you're an online retailer selling alcoholic drinks and you've been writing about specific topics around alcoholic beverages, it's possible for your posts to show up in a user's Discover section. This is ideal because they might be interested in 'the champagne sweetness scale', for example, and land on your blog post that had been suggested to them through Discover. So, all you have to do now is convince that person to purchase a product from you while they're on your website.
For this kind of reason, I think that Google Discover might be a really useful tool, for B2C businesses especially, but across the board too.
I'm excited to find out what might happen next with google Discover and how it could impact the search marketing space. Will they end up monetizing this avenue? Will it become a big part of SEO? is there the possibility that the traffic from this tool (for lack of a better word) will become as valuable as we think? We can only wait to find out!"
By Charlie Worrall, Digital Marketing Exec', Imaginaire
#12 Content Marketing is Evergreen Trend
I think the biggest trend for digital marketing in 2021 will be a sharper focus on back-linking and expanding content marketing that's been the key to SEO for so long.
When considering the buyer's journey for product or service marketing, many decision-makers bounce from, "Here is my pain point," to "What product or service can solve it?"
They search for details about the solution and then consider the top players. What's going to change is that at each stage of this journey, they now want a comprehensive one-stop-shop. They're no longer bothering with short content, aimed at the top-of-the-funnel general audience, even if they're there.
They want real answers, and marketers can provide that with long-form blogs (saying goodbye to anything under 1,500 words). They can create pillar pages and practice internal linking to guide the buyer through each question that might pop up.
Plus, creating massive, comprehensive pieces of content increases its value. When something is valuable, it ranks higher and is linked back to more frequently, because it's reliable.
Kelly Jacobson, Digital Marketing Strategist at Mirabel Technologies  
#13 Customer-Centric Digital Marketing
I think that one of the most important and popular digital marketing trends for 2021 and beyond will be personalized and authentic messaging with every consumer touch-point.
Transparency, authenticity, and consistency in messaging are more important now than having the first-mover advantage.
So, for example, a beauty brand should be transparent about its products' ingredients, whether products are cruelty-free, and where products are made so that consumers can make a buying decision based on those factors.
Building a relationship and humanizing a brand through communication can lead to higher customer retention rates and less turnover.
By Kristin Marquet Chester, Publicist + Digital Marketer at Marquet Media, LLC
#14 Performance and Data-driven Marketing Strategies
One of the biggest marketing trends in 2021 will certainly be combating poor quality data that is rampant in the digital marketing industry.
According to research by Experian, 77% of companies believe that inaccurate data causes them to lose at least 12% of revenue.
And with big data marketing becoming more relevant and popular than ever before, low-quality data quickly adds up to billions in lost revenue.
Unfortunately, the increase in sophisticated ad fraud leads to more and more inaccurate consumer data that marketers use for their campaigns.
In fact, according to our research, over 25% of the consumer data in today's data ecosystem is inaccurate. As more marketers realize that they can increase their return on advertising spend by up to 43% just by fixing their data, we will definitely see a larger industry effort towards data accuracy in 2021.
By David Finkelstein, CEO & co-founder of BDEX
KPIs and quantifiable ROI for campaigns will be more important than ever before.
Measuring the success of marketing activities, whether it's traditional or digital, has always been a challenge for B2B campaigns, but has arguably become even more important than ever before, thanks to the coronavirus pandemic changing the marketing landscape.
In the face of an economic downturn, marketing budgets are often the first to go. This is even more so the case for those who experience 'ROI angst', and fail to see the value of any marketing activity, if they can't see ROI straight away.
However, Anthony Verre, Vide President of e-commerce at The Integer Group discusses the implication of cutting off your marketing activity, in an episode of 'Live with Search Engine Land'. He said: "Our research shows that brands that go dark during recession, depression, or even crisis type periods have a very difficult time climbing back up the mountain once things begin to normalize."
As a result, whether they're in-house or at an agency, digital marketers will now be asked to show quantitive value for all the activity they're doing – in 2021, KPIs and ROI will be more important than ever before.
Here are a few ways digital marketers can measure the value of their campaigns and marketing activity:
Establish clear goals for every marketing activity. Rex Briggs, authors of "What Sticks: Why Most Advertising Fails and How to Guarantee Yours Succeeds" discusses the importance of Return-On-Marketing-Objective (ROMO) – this term shows that there can be more to a marketing activity than ROI, such as raising brand awareness. When clear goals are established, you can then look at how ROMO is measured, which can then be considered when working out the ROI of your marketing efforts.
Use Google Tag Manager to track remarking pixels and third-party tools, without having to code anything. From retargeting users on social media to measuring users filling out a lead gen form, or understanding user behavior, GTM is an invaluable tool that can help you measure and analyze your marketing efforts, which will show that all-important value.
Coral Luck, Digital Marketing Specialist at Wyatt International 
#15 Think Multichannel and Focus on Micro-conversions
2020 was the year that a lot of companies started promoting their services or products exclusively online and that meant a flood of adverts, emails, and social media posts.
According to the ClickZ survey –
Source: clickz.com
Customer retention rates: 90% higher for omnichannel vs single-channel
Almost every company is using email, paid ads, and social media to promote their business. To capture the attention of busy and overwhelmed buyers, use several channels to reach them, and create a seamless experience across them.
Think for example about creating a webinar that you promote on LinkedIn, Facebook, relevant groups, social ads, as well as on your own blog.
Use dedicated assets for each channel – for example, short videos on Facebook, a carousel of images on Instagram- but with the same messaging. After the webinar, keep communicating with the attendees in a way that is relevant and useful so you can later convert them into paying customers when they are ready.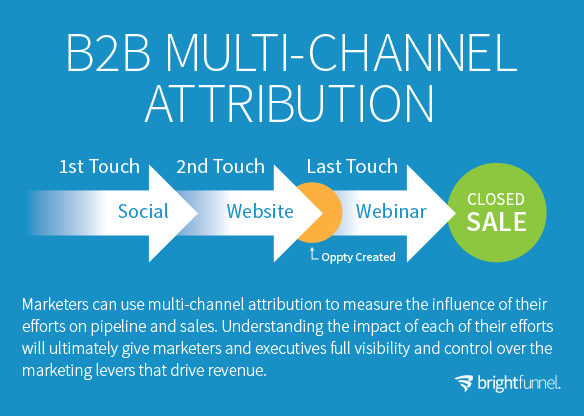 #16 Invest in Marketing Automation Tool
To be able to communicate in real-time with prospects and in a personalized manner, you need to have an automation tool at hand, that allows you to keep track of how they interact with your website and emails and send them the right message. HubSpot or Active Campaign are two great tools to use.
By Elena Iordache digital marketing strategist @Stoica.co
#17 Become Socially or Environmentally Responsible Brand
The number one marketing trend companies should prepare for is weaving a greater purpose in their campaigns.
Does your company donate a portion of its sales to a charity?
Do you only work with underrepresented business owners in your supply chain?
With all the options consumers have, there's a growing trend to choose businesses that make them feel like they're making a difference in the world.
Consumers are increasingly looking for the brands they buy from to be socially or environmentally responsible.
A recent Deloitte study revealed that 80% of consumers would be willing to pay more if a brand raised its prices to be more environmentally and socially responsible. And, 55% of them believe businesses today have a greater responsibility to act on issues related to their purpose.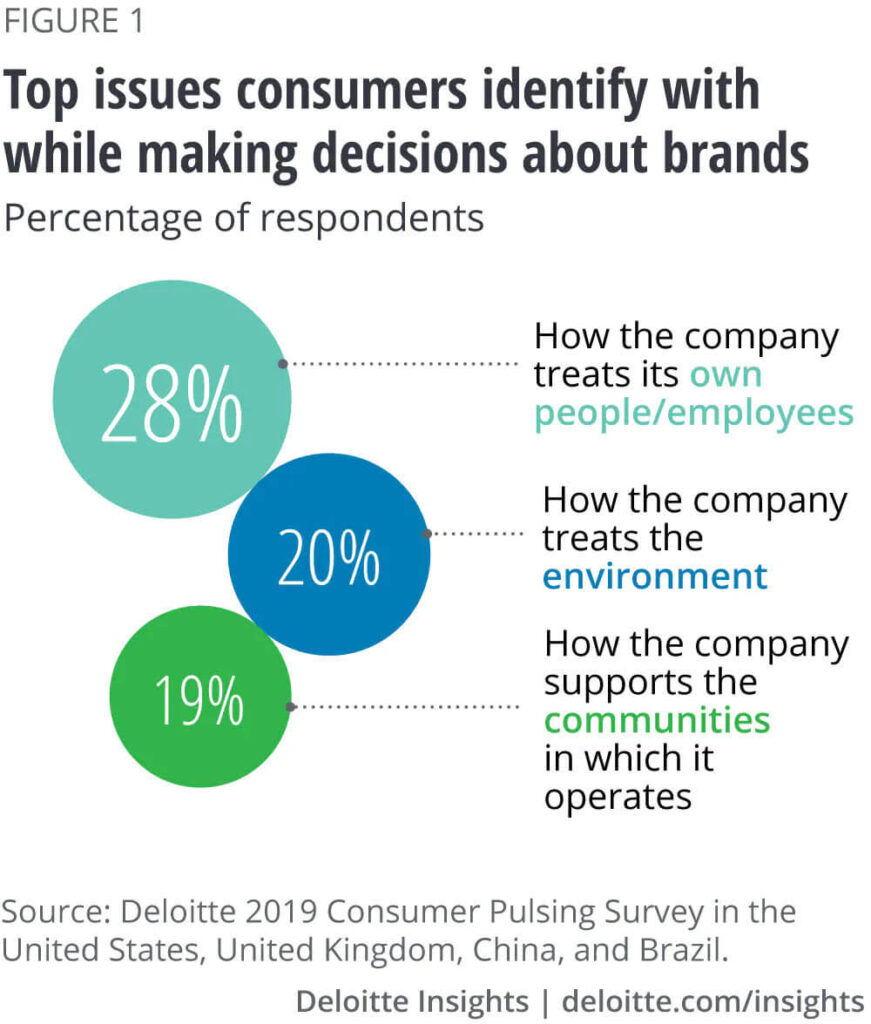 And these brands should be upfront about their contributions – bring it into the core of your messaging. For example, Unilever's 28 brands focused on reducing Unilever's environmental footprint and increasing social impact (i.e., Dove) grew 69% faster than the rest of its businesses in 2018 (Deloitte).
When there's so much competition out there, why wouldn't consumers give their money toward a purpose greater than themselves?
By Nicole A. Meyerson, a Chicago-based marketing consultant at meyersonengagement.com
Key takeaways
You should employ AI, ML-driven tools to augment your digital marketing plan to increase your revenue.
Chatbots are a great way to enhance your customer experience.
Programmatic advertising is learning your customer behavior and helping you target the right audience at the right budget.
Marketing automation is boosting your sales and marketing performance by assisting you to manage your leads.
Local SEO is most important than ever before. Google My Business helping small local businesses like never before.
Core Web vitals are hitting your website ranking significantly. Mobile-first indexing need to be considered.
Data and analytics tracking is a major highlight for next year. Data and insights are required for Hyper-targeting.
Conclusion
Every business has noticed the transformation in business during the recent pandemic. A sustainable and robust digital marketing strategy is something every business needs right now. You need to have the right branding building, storytelling, and strong content strategy in place to survive in the coming decade.
Being updated with the latest tools and platforms to leverage your digital marketing strategy would be the right choice. Exploring the different aspects of digital marketing by experimenting with each platform will help you stay ahead of the competition.