You may have come across terms like performance and growth marketing whenever you have looked for marketing strategies that you could apply to elevate your business growth.
Not to mention that every time you would have had a question, what's the prime difference between performance and growth marketing?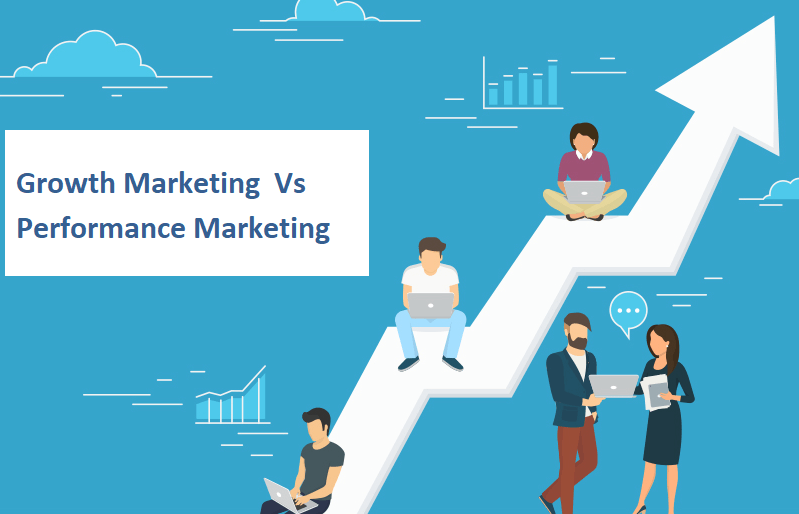 First and foremost, we know that the main objective of creating marketing strategies is to achieve high performance, which will help your company grow significantly. Whatever we do, the end goal always remains the same: to succeed in your business and attract more users/customers.
When a business person thinks of growth, they relate it with high performance. A company or business will certainly grow if they prepare marketing strategies to increase overall performance. So, how do growth marketing and performance marketing differ from each other even if they perform similar functions?
In this article, we'll define both the marketing strategies in detail. We will describe each tactic, goal and help you know which marketing strategies are right for you. By the end of the article, you will have in-depth knowledge of how marketing strategies have their benefits.
What is Growth Marketing?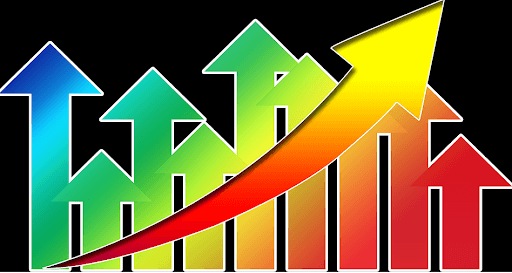 Growth marketing focuses on full-funnel marketing of the business, product, or service. Whereas other marketing tactics mostly focus on increasing traffic and leads, growth marketing's prime objective is to deliver a strategy that influences the entire AAARRR marketing funnel (A- Awareness, A- Acquisition, A-Activation, R- Revenue, R-Retention, R- Referral).
Growth marketing brings new business to your door and plays an important role in increasing product sales and converting potential clients/customers into followers. Growth marketing tactics directly focus on driving growth and the parameters that help increase growth. Growth marketing uses a data-driven approach to experiment rather than applying best marketing practices.
With growth marketing, you always look to scale up your business rapidly. Targeting people who are already looking for your company's product or services is your most prior function. However, you should never miss the opportunity to expand your marketing boundaries whenever you get the chance to target new audiences.
Last but not least, you need to find the most feasible growth hacks that are equivalent to keeping the customer acquisition cost stable. If you can associate the right economic units at an early stage of your business, it will help you later in defining accurate pricing strategies.
What is Performance Marketing?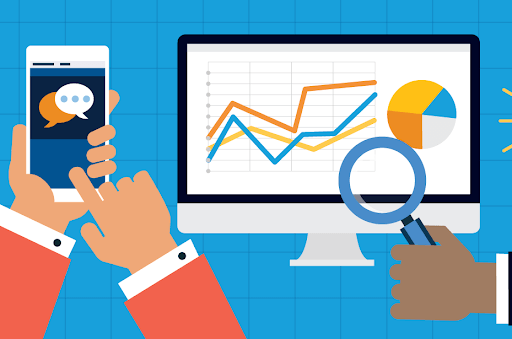 Performance marketing term is mainly heard in online marketing and advertising domains. It includes different types of online marketing videos and content which help in marketing. Here, advertisers pay an amount only when a particular action occurs that somehow benefits the business. You must be wondering what do you mean by action?
So, when it comes to online marketing/digital marketing, the following terms are considered as an action:
● Lead generation
● Product sale
● Click on an article
● Any user-driven action
As mentioned above, growth marketing deals with the marketing strategy that constantly brings new customers to your business, whereas performance marketing focuses on user impressions, clicks, and leads.
These marketing tactics are driven so that they barely have to focus on revenue or customer retention. It's all about enticing customers and making them perform user-driven actions.
Performance marketing is a system that gets things done rapidly, and then it completely gets away from the picture if not maintained. As long as you pay for advertising to run your marketing campaign, it will produce sales and better results. But, as soon as you cut off the financial aid, it will break down. That's why performance marketing is best suited for one-off campaigns.
As a marker, your role is to achieve maximum return on ad spends. To do this, you can apply different marketing strategies like SEO, PPC, Conversion rate optimization, A/B testing, which would help you evaluate spending money to get the ideal results.
The Performance & Growth Marketing Ecosystem
As customers, we might never have a scenario where only one form of marketing attracts us to buy the product/service. We always look more at the products. Hence, note that your average customer might see your paid advertisement, but your secondary marketing tactic has a higher chance of getting their clicks through your article.
As simple as it gets! Your customers will always do their research before purchasing your product. They would also ask people who have already used your products/services.
They would independently read reviews about your company on TrustPilot, Clutch, Google, and other similar platforms.
Performance marketing focuses on generating conversions as soon as possible using paid marketing tools and automated emails to ensure that none of the half-registered users or abandoned carts remains unnoticed.
On the other hand, growth marketing focuses on raising company profiles by analyzing strategies mentioned below to attract new customers.
● Encourage customers to leave a review or give feedback on TripAdvisor, Capterra, Google, Amazon, etc.
● Social media posts that attract more organic traffic and generate user engagement.
● Get mentioned in the newspaper or globally renowned websites.
● What questions do people get when they use your service or product?
Growth Marketing Tactics, Channels, Metrics, and Goal
You must have a question: what tactics and channels does Growth Marketing use? So, it completely depends on the goal setting and the strategies applied to achieve that goal. As we know, growth marketing focuses on 6 metrics AAARRR; it can use any tool that a company has in its marketing tool belt.
Growth Marketing Tactics and Channels:
● Regularly publish blog posts and articles with relatable CTAs to generate contextually relevant lead magnets
● Search engine optimization, keyword research, and link building
● Email marketing
● Target customers based on their past search or behaviour
● Share with your content on different social media platforms with different styles
● Creating lead magnets across hot web pages on the websites
As mentioned earlier, the result of growth marketing is to help grow the company/business. The main idea is to achieve a higher growth rate. Here are key metrics and goals that the growth marketing team measures:
Growth Marketing Metrics and Goals:
● Website traffic: direct, organic, or other channels
● Marketing-qualified leads and sales-qualified leads
● Email Metrics
● SEO Metrics: domain authority, website rankings, keywords ranking, and results
● Churn rate, upsells, and cross-sells: Retention metrics
● Revenue metrics: through current customers, referrals, case studies, testimonials, etc.
Performance Marketing Tactics, Channels, Metrics, and Goal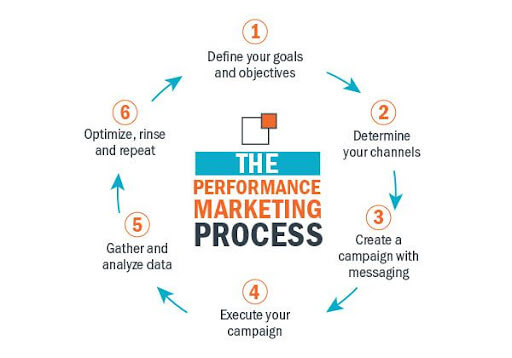 Performance marketing relies on paid marketing strategies, like paid social media campaigns, paid advertisements, sponsored content, affiliate marketing, SEO, etc. Here are common performance marketing tactics and channels.
Performance Marketing Tactics and Channels
By using native advertising: such advertisements completely differ from traditional advertisements. These types of advertisements align directly with the publication or websites to provide information that the audience expects.

Sponsored content is a promotional media platform paid for by advertisers but created by influencers, brands, or publishers. Companies use sponsored content to market their product or services.

Affiliate marketing is another tactic that helps you earn commissions by marketing other's services/products. For example, many brands hire fashion influencers to promote their products on social media platforms like Instagram and Facebook.

Social media advertisement is one of the top marketing tactics. You can upload posters, video content, anime designs through ads to promote your business.
Do you want to generate a great number of sales? Or, want your potential customers to sign-up for an email service? It is essential to define the most impactful metrics to achieve respective results.
Here are some of the key performance marketing metrics and goals for your business.
Performance Marketing Metrics and Goals
● Return on Ad Spend: Determine how much your company earns per dollar you spend.
● Return on Investment: How much your business earns after investing a specific amount in an advertisement. ROI can be calculated as your sales growth – marketing cost divided by your marketing cost.
● Cost per Impression: The amount paid by the advertiser to the publisher per one thousand impressions.
● Cost per click: The amount paid by the advertiser per click of their advertisements.
● Cost per lead: The amount paid by the advertiser when they receive a customer from an advertisement.
● Cost per acquisition: The amount paid by the advertiser for any user-driven actions such as click, sales, lead, etc.
Performance Marketing & Growth Marketing: Which is right for you?
The accurate answer would only be given after considering various factors affecting both the marketing strategies. However, we would look into the factors which affect most:
At what stage is your company?
What are your significant goals for the next five years cycle?
If you're an emerging company, your priority would be to engage more customers in your business and increase sales. In such a scenario, growth marketing would be your go-to marketing tactic as it covers all the marketing strategies and SaaS SEO tips which directly lead a company to grow from all angles.
On the other side, performance marketing requires higher investments in advertisements, social media, affiliate marketing, and many more. It can be best-suited for one-off marketing campaigns for multi-scale companies.
However, if you are running a low-budget company, performance marketing is not the answer as your priorities are different. At the early stage, your focus will be on AAARRR. Therefore, growth marketing is definitely your solution.
Conclusion:
We hope this article will help you understand the key difference between growth marketing and performance marketing. We will be glad if you can implement any of the above-mentioned marketing tactics for your business. Let's know which marketing strategy is best suited for your business. Do share your views in the comment section below.