Are you wondering which best digital marketing certification you should have to gain a competitive advantage? Here is the comprehensive list of the top 10 digital marketing certifications and the best practices to upscale your expertise.
Digital marketing is an exciting and constantly emerging profession. Experts who wish to stay ahead of the competition also need to work hard while having a visionary approach to all the latest trends happening on the digital front.
To keep ahead in the competition, there're a few top digital marketing certifications (both free and paid) that strengthen the profile and increase the chance to get hired in reputable organizations.
Hiring managers, especially those recruiting for digital marketing and social media agencies always hunt for talent that's up-to-date with the latest trends, news, and techniques in their relevant domain.
We've come up with a list of top digital marketing certifications and online courses that can truly help you learn and excel in the academic and professional career.
Since the list can be overwhelming, we'll only discuss those that are meaningful so, read on! There isn't any strict rule or a standard to sequentially finish these certifications. Candidates can choose a course as per their likes or organization's requisite.
Here is the list of some top digital marketing certifications:
IIDE Digital Marketing Certifications
IIDE (Indian Digital Education Institute) is one of the leading digital marketing institutes which focuses on A-Z digital marketing training. In the last three years, more than 60,000 digital marketers have graduated through online and offline courses and secured a 93% percent placement.
At the end of IIDE's digital marketing online certification courses, the leading online marketing modules taught by faculty allow you to enter the digital marketing field confidently. You learn the knowledge, skills, and strategies to play a role in the world of digital marketing.
The Indian Education Congress and Awards 2020 recently awarded IIDE 'India's Best Digital Learning Institute of the Year' Title.
(a) IIDE Certified Online Digital Marketing Training
Their Digital Marketing Training Online program is dedicated to educating their students about digital marketing from scratch, by delivering a 3-month live digital marketing training via online live sessions by outstanding faculties and professional experts.
Course insights:
Working on live project for practical experiences
Super sessions with industry leaders and influencers
Case studies
Dual certification: Google Adwords and IIDE certification
Creates highly networking opportunities and beautiful students culture
Professors are young industry leaders
Fee structure: You can avail of the course at INR 63,559 + taxes with 0% external cost. EMI options.
It is well reputed and known digital marketing certification you can have.
(b) 10 in 1 Mega Bundle Digital Marketing Online Courses
IIDE based Online Digital Marketing Course is a self-paced online digital marketing course with 10+ marketing certifications. This marketing certification course has been combined as per the requirements of businesses that are starting with their digital marketing. This is also a perfect opportunity for working professionals to learn and expertise in the digital marketing field.
This course is pre-recorded lectures by industry leaders that help you learn Website Development, SEO, Facebook Ads, and Google Ads, Email Marketing, and more.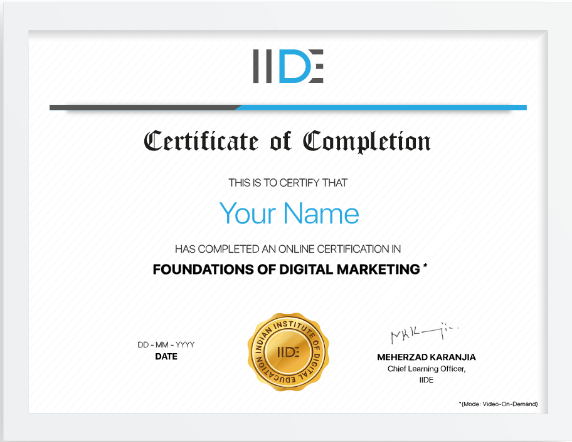 Course Highlights
Expertised faculty and renowned mentors for training
Self-positioned learning system with short teachings
10+ digital marketing module certifications
Dedicated student support
Lifetime access to the course from anywhere, anytime
Module wise practice tests and assignments
Fee structure: You can avail of the Mega course with 10+ certifications from IIDE at just INR 14,999 + taxes.
This is one of the top digital marketing certifications you should have to showcase your expertise in the market.
Google Analytics IQ Certification
For a digital marketer and social media enthusiast, Google is just like a big brother, and learning about it is an essential part of digital marketing. In order to succeed, you need no to be an analytics wiz but, having a good grasp on how to measure metrics of Google campaigns and KPI monitoring is a must to stay ahead in the game.
The Google Analytics IQ (Individual Qualification) Certificate is one of the top digital marketing certifications companies ask for these days. It would test your learning about the search engine giant whereas an applicant has to pass the final assessment that comprises 70 questions.
To begin, an applicant has to create a Google Analytics Academy profile whereas the Google marketing certification is free. Total time commitment ranges between four-and-six hours. It is a valuable digital marketing certification you should go for.
Hootsuite Social Media Marketing Certification
Indeed, social media is a powerful tool but too saturated with more and more traffic being added to it every second. But then, employers also seek candidates that are willing to continuously learn about the growing platform and committed to staying a step ahead in the game.
Hootsuite is among the many popular social media management platforms that also offer certifications and courses to level up social media marketing skills. Candidates have the option to choose from the beginner/introductory courses all the way to intermediate and advanced levels to boost up their expertise in social media strategy.
This particular Social Media Marketing Certification by Hootsuite would test your ability as a pro-social marketer as well as your knowledge of the core concepts of social media marketing. Candidates have to pass an online exam that consists of 60 questions. Some top paid digital marketing certification definitely adds more value to your profile.
All you need to do is visit the Hootsuite Academy official website and check out the list of marketing certification plans that vary per the cost. Visit Hootsuite certifications page to see them all whereas the top three are listed below along with their cost!
Google Ads Marketing Certification – PPC Certified
Paid ads are a major part of digital marketing and have high demand in the market. The firms are hiring certified PPC digital marketers to handle their paid campaigns. That is why this PPC marketing certification adds value to your resume instantly.
Now this one's definitely not something you'd be unfamiliar with! Whether a newbie or pro at social media and digital marketing, you should know very well that a Google Ad campaign can make or break a marketing plan, depending on how it has been devised in the first place. That said, advertising on the biggest search engine results in generating quicker ROI for a business.
This is where Google Ads Marketing Certification comes in and to pass the program, your basic to advanced expertise on the ads is determined. To pass the exam, your concepts on online advertising, campaign setup, execution, management, measurement, and optimization should be clear. You should score above 80% in order to pass the Google Ads Fundamentals exam.
To begin, you will need to create an account on the Google Analytics Academy whereas the cost of this marketing certification is free with a total time commitment of four-to-six hours.
HubSpot Content Marketing Certification
The reason we say 'Content is King' is because of its influence on overall online strategies, especially when it comes to quality, authentic and relevant content that'll always remain a core element of all things digital. Many agencies recruit talent who possesses extraordinary communications and writing skills.
This is where Content Marketing Certification by HubSpot comes in handy which covers 12 different sectors of content and communication. Hubspot is one of the best digital marketing certifications preferred by companies these days. Because HubSpot is a known name in the digital marketing space. All the HubSpot marketing certification courses are detailed and innovative.
Simply go to HubSpot Academy website and proceed with the digital marketing certification free of cost. The total time to finish it all up is approximately four hours.
Fundamentals of Digital Marketing Certification by Digital Garage
Digital Garage by Google covers almost every aspect and medium of digital marketing. To earn your winning on all things digital, all you need to do is pick one digital marketing certification and that would be Fundamentals of Digital Marketing that covers more or less 26 topics ranging from analytics, data insights, display advertising, and many more. It's more like 'one certificate to rule them all'.
Visit Google Digital Garage for details on the certification whereas it's free of cost and the time to complete the marketing certifications vary.
It offers a wide range of mini-courses along with a digital marketing certificate at the end of the course if you pass the test.
YouTube Certification
Video marketing booming nowadays. Adding a digital marketing certification that shows your expertise as a video marketer can get you a good job and better earning sources.
When it comes to social media and digital marketing certification, more than 80% of marketers, as well as users, prefer visual cues to get the most of the online medium. That said, video is and has always been one of the most efficient and engaging forms of marketing, depending on the content quality and concept of the video!
You'll be surprised to know that YouTube is the second-largest search engine following in the footsteps of Google which is why completing a Certified Programme is essential to take your digital marketing gig higher in the game.
Channel Growth, Content Ownership, and Asset Monetisation are the three separate courses covered by YouTube Certification whereas the accreditation itself is available only for qualified partners of Google and YouTube Advertising. The YouTube marketing certification can be earned by visiting the YouTube 
Inbound Marketing Certification by HubSpot
Another one from HubSpot is Inbound Marketing certification that covers overall methods on how to increase online visitors and retain them in the long run. The certification is essential in providing insights on legal ways to increase web traffic, boost a brand's value over the internet, and provide exceptional services as an online customer service representative.
Seven modules are covered by the course that includes everything from inbound marketing fundamentals to creating user personas, mapping the customer's journeys, and much more.
Go to the HubSpot Academy page and earn the certification for free by completing the exam in two hours and 30 minutes.
Facebook BluePrint Certification
With more than three billion users, Facebook is the leading social media platform and perhaps one of the biggest means for businesses to scale up their online presence and services. As a competent digital marketing and social media enthusiast, you can truly earn a reputable designation in leading digital organizations by enrolling in BluePrint Certification by Facebook. This is one of the top digital marketing certification recommended by marketing industry leaders.
The program offers two different certifications as of now; Facebook Certified Planning Professional and the Certified Buying Professional. Both certifications include two examinations whereas candidates have to score 700 in order to pass whereas the certificate's validity remains for one year.
Click on the Facebook BluePrint Certification URL to begin. For each exam, the applicant has to pay $150 whereas time commitment varies from two-to-three days depending on the type of certification.
Machine Learning Certification by Stanford University
The coming of AI has changed the way social media, data, content marketing, SEO, and the entire digital industry operates. The trend is only moving further and likely to evolve in times to come. MarTech is the new term but advanced technology is adapted by top-performing firms. The organization encouraging their team to learn and get a professional marketing tech certifications to get a competitive edge and use the advanced AI-driven tools.
Stanford University offers a machine learning course in affiliation with Coursera that can give you the expertise to harness machine learning and covers a range of professional, best practices. Visit Coursera and enroll for free in the course which will take 11 weeks to complete.
Certified Digital Marketing Certifications from the Digital Marketing Institute
The Digital Marketing Institute is based in Dublin, Ireland, and offers a range of professional courses and certification programs to level up your skills for the intense competition on the digital front. Of the many different courses, some of the best ones you should go for are:
The Digital and Social Selling Specialist
The above and other digital marketing certification courses range up to 30 minutes whereas to reach the Master's Level of Certified Digital Marketing Manager, an applicant has to cover a journey of two years. Visit the official Digital Marketing Institute website, choose a certification or course as per your likes, and take the game to the next level. As per the institute, recent graduates are already working at the world's biggest brands namely Google, Facebook, Coca-Cola, Nike, Twitter, HubSpot, and many more.
Best Practices to Learn Digital Marketing
Although the above latest digital marketing certifications would enhance learning while introducing individuals to the basic plus advanced practical aspects of digital and social media marketing, finding internships in digital agencies or even getting hired by one is perhaps the best way to get familiar with actual operations.
You can do both; work as well as pursue certification(s) altogether to level up your skills.
Key Takeaways
If you're wondering why to go for these latest digital marketing certifications rather than getting hired in one of the digital agencies or even finding an internship, know that these courses increase your chances of finding employment in top companies including the biggest brands.
And for those already employed, these digital marketing certifications would surely give them a competitive edge over others while increasing chances of promotion to a more respectable designation.
So, Are You Ready?
The above list includes both free and paid marketing certifications that are sure to secure a strong position as a professional digital and social media marketer. Now that you know about the most valuable ones from the dozen others, are you ready to take your expertise to the next level?