Have you run Instagram advertising campaigns before? then you know how important Instagram retargeting campaigns are. In this article, you will read about Instagram retargeting campaign creation and best practices.
The world of social media has grown rapidly in the last decade and is still getting bigger.
By now we all know that the internet is a distracting zone that sometimes creates confusion.
We often seek for stuff that we want, visit a few pages on the web, cart a few items, and forget to complete transactions or something comes up between you and the path to payment.
Businesses, on the other hand, are doing every bit to promote their products to a wider base of people. From displayed ads via Google to paid searches, running ads on LinkedIn, Facebook, Twitter, and other social niches.
You might also have been running huge advertising campaigns so that you reach your target communities.
You even spend a lump sum amount to the commercial ads hub but you may have missed the ultramodernity of this social media channel, Instagram.
Some out there believe the Instagram retargeting campaign to be a lower ROI medium, but I say it is not!
Today Instagram has active users of 800 million according to data via Statista and since 2013 Insta has seen a rate of rapid growth which is unexpecting. That drives the demand for Instagram retargeting campaigns in the current advertising landscape.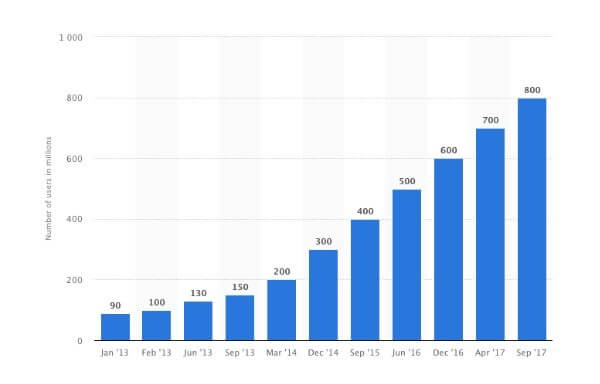 Instagram may have fewer users compared to parent company Facebook but it is the one that everybody wants to stick to nowadays.
Instagram has built a platform that creates visual stories through vibrant ad formats and many businesses have later found it to be a better ROI yielding channel compared to other advertising platforms.
Even when you have set up an Instagram retargeting campaign, you must know how to engage all your potential customers, build your own audience, and retarget them through your well-planned campaign strategies.
Here we will discuss the possibilities that Instagram retargeting campaign contains, how to remarket to your potential customers, set up ad campaigns, build your potential customers, and follow the best advertising practices.
Let's start with…
How does the Instagram retargeting campaign work?
Instagram retargeting or remarketing has been a questionable practice as it was entirely dependent on tracking visitors. This usually increases the concerns for privacy as no one wants to have continuous ads on their phone screen.
But the Instagram retargeting campaign doesn't have to be disgusting if you can do it right. If your motive is legit and you just want to play a strategic shot, this is a good way of doing your audience service of reminding them of your brand presence through Instagram. Ads triggered on Instagram through retargeting are more effective and drive more purchases.
Choosing Instagram retargeting campaigns is a wise choice as it takes effort but does justice bringing in lots of opportunities to reach out to more audiences.
It may sound a little tough, but if you know how to integrate Instagram with Facebook's ads stack it would be very easy to crack high-converting Instagram retargeting ads.
Many brands and businesses have adopted Instagram platform in the last few years and this is how it looks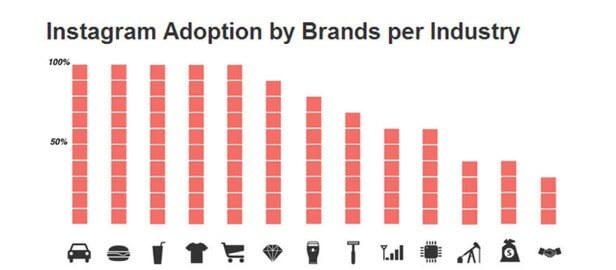 Just like other social advertising sites, Instagram advertising has rendered itself to target specific age groups, genders, interests, locations, and shopping behavior.
According to Instagram, more than 60 % of people say they discover new products/services on this platform, and more than 75 % of Instagrammers respond after getting inspired by a post.
Let's roll down to the best practices that you necessitate to setup Instagram retargeting campaigns and build your audience.
What are the best practices for Instagram retargeting campaigns?
First, you need to understand how human behavior and intent works! Not everyone who visits your site would perform a positive action. There are different categories of people out there, while some choose to buy a product instantly after visiting a site and there are some that browse a few pages, cart a few stuff and fill out forms but do not buy anything at that moment.
But we can clearly understand these are all signals of intent and these behaviors will help you to understand who are the ones that are going to take positive actions. Instagram retargeting campaign performs various algorithms to understand the audience's intent with various brands and help us define the better-targeted audience.
Instagram advertising through retargeting is a practice of advertising your product to a selective group of audiences with custom messages. There is always a chance to bring back your window shoppers to your site and help them buy what they desire. The Instagram retargeting campaign encourages the audience to view more products from your brand page and keep them engaged with brand recall.
Now, let's know about how to retarget your audience with ease.
What is the right time to launch the Instagram retargeting campaign?
Before you get started, make sure it is the right time to launch your Instagram remarketing campaigns if you have the undermentioned at your disposal.
Your own website – or an optimized landing page
At least 500 + visitors monthly on your site – that will help Instagram to understand your buyers
The site should be well organized and easily navigable
Tracking code for Instagram retargeting should be implemented and tested properly
Steps to set up your Instagram retargeting campaign:
Navigate to Your Facebook Ad Manager
Go to your Facebook ad manager and log in with your credential.
#1 Set Your Marketing Goals
When it comes to setting the Instagram ad campaign goals you have to be wise enough to understand if it is going to work for your site. You can opt on for goals that are undermentioned below
Instagram retargeting ad campaign work with these goals:
Reach – If you want to increase your reach to the maximum number of audiences and want them to see your ads you need to choose your Instagram account while creating the ads. Facebook's split testing feature brings great advantages, which will let you split 2 ads and compare which one generates better results. Instagram retargeting campaign drive the good reach of your ad copy or product. So make sure you choose the campaign objective accordingly.
Brand Awareness – This is a standard goal that will surface up your ads to more potential people.
Traffic- This is possibly the best way to drive more people to your app or website. Just enter the URL of your page and see it work like magic.
App Installations– You have to choose your app from the app store while you set up this goal if it is your main objective. Instagram retargeting campaign performs well to generate a huge number of app installs.
Engagement – If your objective is to get more shares, likes, and overall engagement then opt-in for this one.
Lead Generation – Well, everybody wants more leads. But opting in for a lead generation goal can be a little confusing. If you are interested in learning more click here.
Conversions – This will let you drive your leads, take action, and convert it within your app or website. Through Instagram retargeting campaign you can generate great number of conversions if the campaign created wisely, with the right elements and based on past audience data. Creating an audience on Facebook to create your Instagram retargeting campaign is very easy. Once you create it, Instagram starts collecting your audience data.
#2 Target the right audience
Before you start working with a full swing and run your Instagram retargeting campaign, keep in mind that the audience targeting and the offer you tailor for them are the 2 biggest drivers of your conversion rates.
Instagram ad campaigns are designed to retarget the right audiences based on interests similar to that of Facebook's algorithm so that you could reach new audiences who have never engaged with your website.
You should start by merging different demographics as well as interests until you reach an audience size that remains within your budget.
Few metrics that are required to create your target audience for Instagram ads:
Location – Location targeting allows you to specify a region, country, state, city, or a zip-code.
Gender – Pick between men, women, or all.
Age – Pick audiences from 13 to 65+
Languages: You can leave this blank according to Facebook's recommendation.
Demographic – You will get the option "Demographics" under detailed targeting which encompasses several categories and sub-categories.
Behaviors – This is another Detailed Targeting option that allows you to explore multiple sub-categories.
Interests – This category also falls under Detailed Targeting with several sub-categories to delve into.
Custom Audience – This category lets you upload your own list of contacts whom you are looking to upsell.
Connections – It will let you point to people that are connected to your webpages, app, or any event.
After you have configured your right retargeting audience, Facebook will show you how broad your audience actually is for your Instagram retargeting campaign. This is crucial as you don't want too much audience or even too little since the targets of the audience will be in layers.
#3 Your placement should be precise
When you have set up your demographics according to your convenience, it is time to wisely choose how you place it. If you want to ignore the ads shown on Instagram, Facebook will let your ad appear on both platforms. So, when you are running a retargeting campaign for the Instagram audience only, you have to choose specific ad placements while setting up the retargeting campaign.
You can precisely 'choose Instagram as a placement' if you want these ads to surface in the stories or feeds section.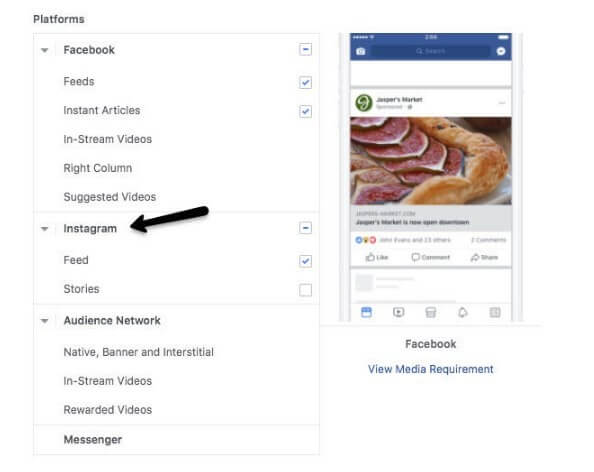 Once you have customized the placements on Instagram according to your need, come down to the budget section.
#4  Set your budget
Setting up the budget for your Instagram retargeting campaign can be breathtaking as you wouldn't know to set your daily or lifetime budget while running your first Instagram ad campaigns.
You definitely have to go through a few errors and trials.
But if you have the idea of how a budget works with Facebook and AdWords it won't be that hard to set up.
You can pause or stop your campaign at any time you want and that's a good side.
There will be several options while setting up your Instagram campaign budget. For example, you will get both the options of lifetime budget and daily budget, if you bid manually it will help you decide and regulate how much lead is sufficient for you.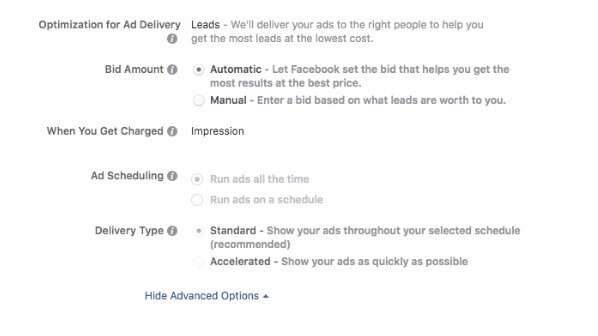 You will have the choice to run your Instagram remarketing ads for an allocated time of a day or week and this is an extremely valuable way to optimize your budget. Instagram campaign scheduling as per the audience timezone and days can filter the unnecessary impressions and views on your retargeting ads.
The choice is always yours. You can customize your Instagram ad campaign budget as per your advertising budget.
#5 Focus on creating effective Instagram retargeting ads
This is one of the crucial steps and the setup might be different depending on your campaign goal. There are always a few ad format options available and it's up to you on what to choose.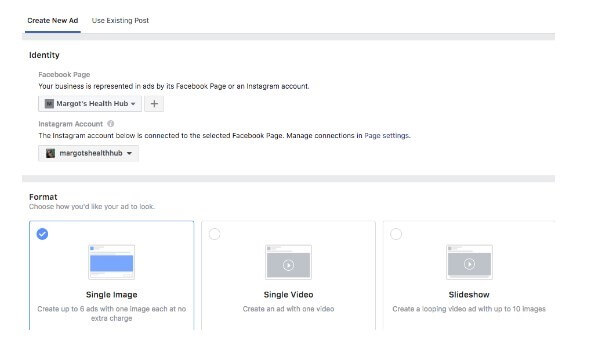 It's time…that we learn about the Instagram ad formats to create your campaign. Instagram is very creative when it comes to running the retargeting ads. The audience on Instagram has different taste, Instagram triggers the right format at the right time to the users based on their previous activities, that leads to generating more business and conversions. Instagram retargeting ad campaigns works really well for eCommerce or B2C businesses.
Instagram encompasses around 6 different types of ad formats that are mentioned below: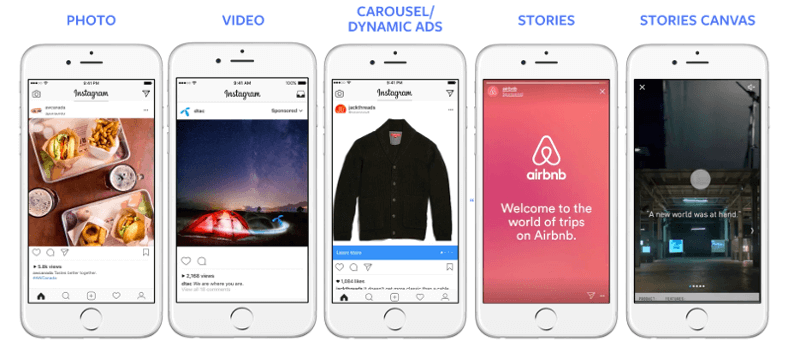 Source: Instapage
 Image Feed Ads – These ads will appear when your target scrolls through their feed. Most standard ad formats these days and they don't even feel like ads.
Image Story Ads – This ad works the same way, only these creations are for Instagram stories.
Video Story Ads – This is just the video ad format that runs in the stories and is liked by most people.
Video Feed Ads –  Integrating a video ad in your feed makes your ads more interesting and unforceful.
Carousel feeds Ads – The fun part is this ad lets the people go through a series of scrollable images rather than just one image and are beneficial for brands that run on visual promotion.
Canvas Story Ads – This happens to be the most creative one among all letting the advertisers create a story with 360 VR experience.
 Instagram audience tracking mechanism is amazing which drives better user experience with your product and services. Running an Instagram retargeting campaign can improve the brand recall value in your fans which maintaining the right frequency of your ads.
Top 4 Instagram Retargeting Campaign Best Practices
Most of the people that use Instagram are millennials and with more than 40% of the following different brands on Instagram, businesses need a strong social presence. The experience Instagram provides is uncomparable, that is the reason people love Instagram advertising.
#1 Expand the use of space
When you try to attract the viewer's eyes every pixel counts. Optimizing your Instagram images properly could maximize your presence on the user's screen and help minimize distractions from other stuff.
Or you can create a series of great images for your Instagram story or possibly an amazing micro video for your video feeds. Carousel ads can enhance the way a person looks at the story and can keep them engaged. All these formats are supported in Instagram retargeting campaigns.
Always remember, that people nowadays like visuals ads in the form of small stories. If you can create impressive ads, you can definitely catch your viewer's attention.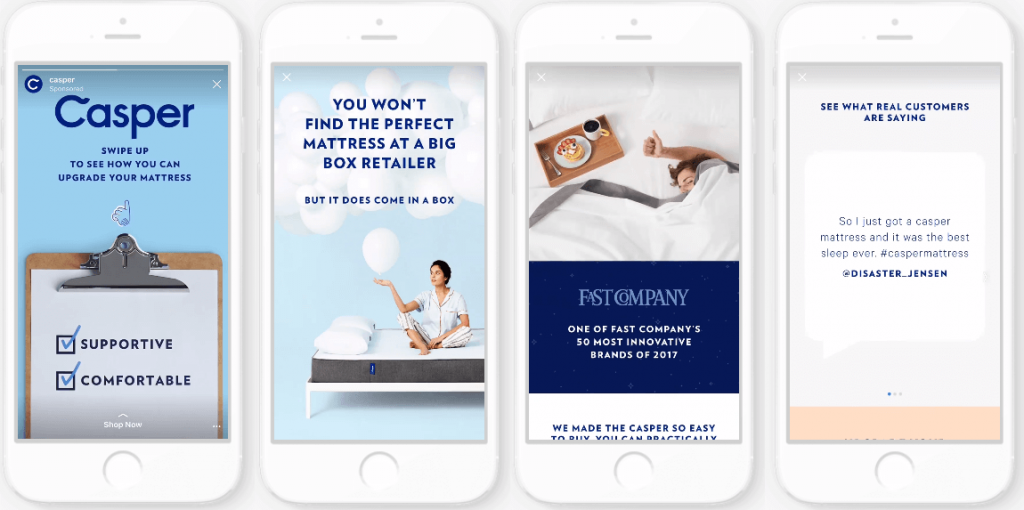 Source: Kenshoo
#2 Age of Consistency
You might come up with extraordinary Instagram retargeting ads in the first place, but if you want to keep your audience engaged to your kid of content then you have to be consistent enough.
Millennials follow different brands on Instagram because they find 48 % of the content funny, most people want to stay updated and the rest want to discover new stuff.
So, it becomes necessary that businesses on Instagram keep appearance and impression consistent across both organic and paid content on the platform. Instagram remarketing campaign help these people to remember a brand.
Businesses have to understand that people on Instagram don't like anything that looks like an "Ad" and more likely doesn't want to be told what they want to buy. So keeping an Instagram retargeting ad campaign running consistently with new content and formates, help people being aware of the products or values you can offer.
So, focus on creating something that doesn't turn them off. Keep your creatives simple yet something that they would remember.
#3 Feature the product experience
People may or may not be interested in what you sell in the first place. What Millennials notice is the experience of the product first. Try inspiring them to use your product with your ads.
For example, if you are marketing a smartwatch with a picture with the features in the background it would seem boring to them, instead, you can make a story that inspires them to wear such a piece on their wrist.
If your Instagram retargeting ads are creative and provide the product experience which people can relate to, would drive more interest and engagement. Help them imagine how would they feel when they use that product?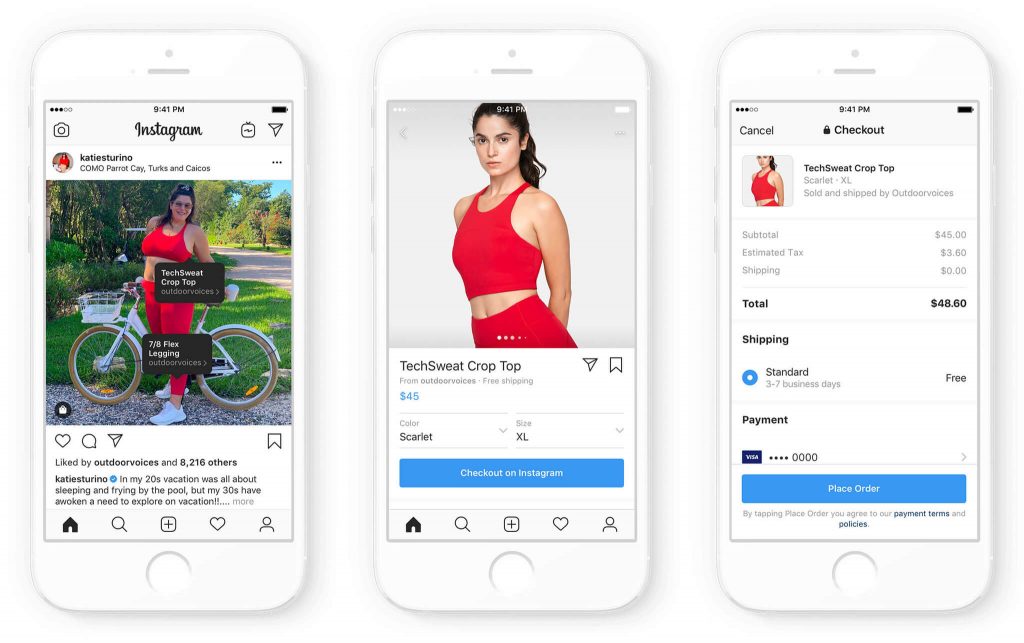 Source: NYtimes
#4 Let your audience know that you care
Instagrammers are very picky when it comes to product selection but the good part is 60% of them are loyal according to a report from a recent study. 
What makes someone choose a brand over another: a good customer experience, the quality of the product, and social awareness and consciousness of the company. If you can take care of these 3, they will be loyally sticking to your brand.
Selling the products is not the only thing that your business runs for. You have to take care of your customer's views and satisfaction. Instagram features a unique outlet as it's users share personal moments as it takes place. Stand out and make your audience relate to your brand.
Instagram retargeting campaigns are a great tool to see how your audience reacts to your product or services. Know their views and implement that in your campaign strategy would help increase your Instagram retargeting campaign ROI.
Conclusion
Instagrammers do not like traditional ways of advertising! They are willing to see what they are interested in. As social media advances, audiences try to relate to the brands and get inspired by unique content and visual approach.
Remarketing has radically changed how advertisers engage with potential customers. Instagram retargeting campaigns gained huge audience engagement in this decade and will grow. The companies spending a good time exploring the Instagram advertising will achieve good brand awareness and huge audience reach in the future. Now if you have every aspect ready, you can start the process of Instagram remarketing campaigns.
Are you ready to start your first Instagram remarketing campaign? Let us know your learnings too in the comments.