Do you know creating a content marketing hook is a proven hack?
43% of people admit to skimming blog posts. How can you hook them to your marketing content?
In this article, you will learn to create content marketing hooks to boost your content ranking in Google.

While I research content or read articles, most of the time, I feel like someone pulls me to their content or maybe the wording that others are using are super attention-grabbers. These content marketing hook examples we are going to learn here.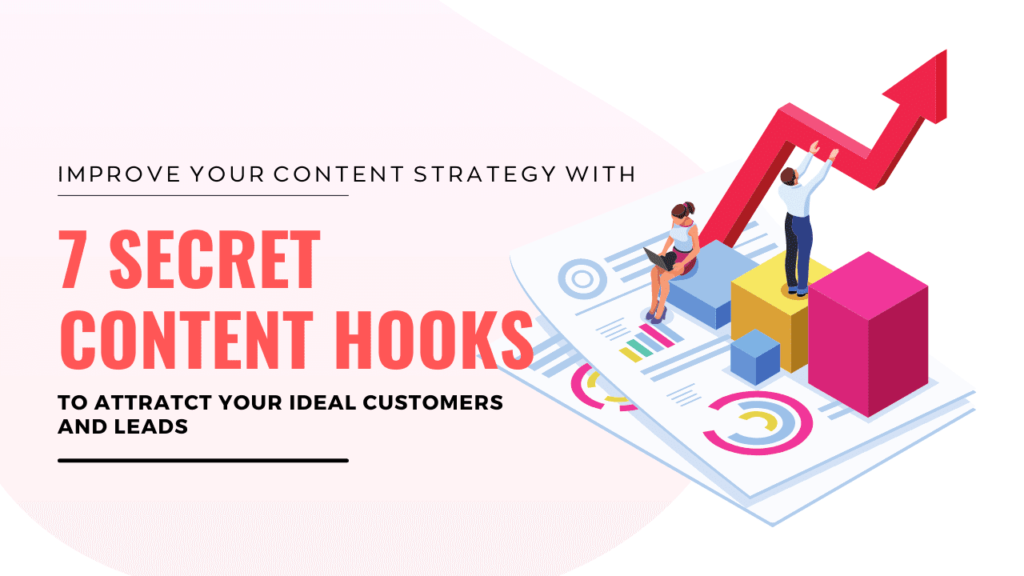 When you visit any social media or even Google, most of the time, your query is very short and can be done in a short period, but you spend more than enough time gaining other's content too. And you don't even know about this!
And this is why content hooks are used to grab 90% of your attention or even maybe 100%, which makes you stick to their content until the end.
But the question is how you can replicate this marketing hook creation process and add your new ideas to get more engagement in the content that you made with your strong efforts.
Here I will give you some deep content marketing hooks strategies, which are a reference of content marketing, copywriting, video marketing, and many are included.
You can use these strategies in any content case and target your potential customers.
Check out these best content marketing hooks to boost your content ranking!
So let's do some deep analysis!
1. The Actual Magic is in Your Heading
2. Use Your Content to Tell a Story
3. Use Fear of Missing Out (FOMO)
Places where FOMO works perfectly

Techniques to use FOMO
4. Surprise Your Audience
5. Use Some Spark Words
6. Add Some Curiosity Lines
7. Throw a powerful Emotions Trap
Relief from their pain points

Perform your article with emotional words
Now it's your turn
The Actual Magic is in Your Heading
Heading plays a core part in your content hook because a reader first gets in touch with your heading, and if the heading gives an appropriate context about your content, they'll get into your content.
Almost every content creator leverages this in their content, like blogging, digital marketing, YouTube, advertising, websites, testimonials, products, etc.
The heading should hook your audience's mind so that they can relate to their problem. 
"Titles with 6-13 words attract the highest and most consistent amount of traffic." – OptinMonster 2023
And if they can relate their queries to your heading, then it's no doubt that they can happily visit your content with strong curiosity.
Most bloggers and content writers lack marketing hook creation points and only focus on their content. This is a huge mistake they are making.
Are you using video marketing? The same is true for that as well. It's really important to use a great title for your video for SEO purposes and to grab the viewer's attention.
Because it's common that if you have lots of audiences and make the world's best content, but your heading can't give a proper context or can't attract your audience, then it's obvious your audience will not read your content.
I'll give you some marketing hook examples to relate your content to others and how you can improve it with better ideas!
Use of power words very creatively, as you can see below.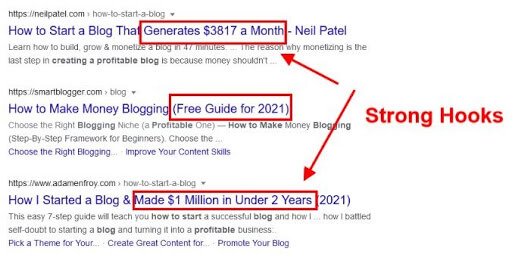 As you can see here, these headings can quickly trigger the audience's mind, and the most interesting thing is if someone searches for the related queries and finds this article, they'll go through it.
Numbers play very strong marketing hooks! so focus on creating more stats driven headlines.
Here's the interesting part!
If you want to make your heading super catchy, as a result, it can attract people; then you should use powerful words, emotional words, and numbers. These are psychological factors in creating headings.0 that work.
These are some elements that can create some curiosity and excitement in a user's mind, and they will get excited. Always use as simple words as you can. 
Here are some strong tips that can improve your heading far better than right now.
Always use odd numbers in the heading (psychological fact)

Use some clarity in the heading, don't complicate it.

Use some emotional and spark words to fill them with eagerness (Use maximum 1-2)

Try to make your heading like your success story (e.g. How I made $1000 per month with these secret tricks in blogging, How to make a successful blog at the minimum cost!)
Every pro blogger and professional digital marketer uses this technique to hook their ideal and potential customers.
Don't use complicated words that typically break the attention or divert them away. Use curious words.
This is the primary content marketing hook to capture the audience's attention.
Use Your Content to Tell a Story
"Marketing is no longer about the stuff that you make, but about the stories you tell." – Seth Godin, Author. (Quote)
The storytelling marketing industry makes a significant amount of revenue these days because people love to read stories, no matter what the topic is, and the top marketers are taking huge advantage of it.
But how? Let me explain with real-time activities!
For example, nowadays, whenever you are scrolling your social media, you might see lots of ads. Most of the ads are video ads because the video marketing industry is also growing.
Most of those video ads either sell products, generate leads, get instant website traffic, or sell courses, etc.
90% of people running video ads tell you about their success journey, what they are doing for a living, how they are maintaining their huge empire, and even how you can do the same process and make money online, etc.
And this is how they are telling their stories to you, and most of the audience doesn't even know that they are getting attracted by storytelling marketing. And as a result, advertisements make huge revenue through this simple process. This content marketing hook can bring great value to your brand image.

Storytelling is not only for video marketing; marketers widely use storytelling for their website content, affiliate page, product page, testimonial page, and many other things.
They are just getting the user's attention by telling them what they did earlier and how they benefited from it.
Here are some interesting content marketing hook ideas to remember while performing storytelling marketing in your content.
Try to create characters in a story that relatable to your customers

Try to add real stories that you are already experienced because your real-life stories are very impactful for your audience

Involve your audience in your story. It makes a positive impact on them

Stories can be used in the introduction part of content, and you can use them in the argument part of your content either

Add real-life examples so that they'll work as a pillar for your words
People are curious to know about how others are performing and how they can also replicate the same process to get success.
For articles, you can put a story in the introduction part because if your introduction part is interactive, the audience loves to stay attached to the end. 
You can also put stories when you feel this part of my article should contain a story for generating leads or a call-to-action.
So this is how storytelling marketing hook works right now, and how you can leverage 100% from storytelling is up to you.
Get ahead of the crowd. Don't just replicate what others did; try to add something new to it and perform the best. 
Use Fear of Missing Out (FOMO) Advertising Hook

FOMO is the favourite marketing hook example of almost every digital marketer. Because, by this process, they can give a silent message to their audience that a particular thing is going to end, grab it or you'll miss out and regret it lat
Here is a practical hook example that explains everything about FOMO. Here, as you can see, they are using a time limit so that whoever is going through it will definitely look at it.
Because, commonly, no one wants to lose the offers, and it'll cross the limit when you are giving free things. 
Free things are gold because these can give you a significant spike in your analytics graph. 
People are crazy when they see some free things, whether that'll be work-related or not. And this is the reason people are giving free access to their stuff.
FOMO advertising hook works very well at free things because people want free things, and a strict time limit will give them a signal that they should grab it right now!
Mostly FOMO is used for generating leads. And people are widely using it in their emails to generate leads.  This works as a emotional hook too.

If you want to generate leads for your using email marketing, you need to apply some strong email marketing strategies or hacks to give a strong reason to your customers, and they can follow you.
Places where FOMO advertising hook works perfectly
A limited-time offer page

For a special event,

Product deal pages or product special time offer

Social media giveaways

Advertisements of your products

Landing page or sales page
If you can master this hook marketing strategy, I am sure you can easily hook your audience, convert them and generate strong leads.
Techniques to use sales hooks for FOMO
Use a strict time limit

Add some social proofs

Please show them some limited stocks are available

Use FOMO marketing in email marketing

Offer them bonuses for right now decision

Use FOMO in your advertisements
It's not about FOMO working in these places only, but you can use it in any kind of place you want and take the maximum advantage of it.

A lot of people use this content marketing hook to retain their customers.
Surprise Hook for Your Audience
This is a very great content marketing hook, which very few are implementing right now in their blog. In this method, you can give a sudden surprise to your audience, who are coming to your blog.
The key thing that works in this technique is how you can let your audience remember your blog or brand to get hooked and visit more to your blog.
It would be best if you created something special that can blow away your audience. There are many ways you can go with.
Here are some content marketing hook ideas that you can consider.
Better content, which can solve a user's problem creatively.

Some free things like case studies, reference guides, or checklists related to a specific article can give them better exposure.

Offering them free courses or some paid courses with limited-time deals with a super discount exclusively for them will be a great idea.

You can add special boxes in your article which are made for extra knowledge like [Pro Tip, Bottomline, Attention Note, Note From Author, Pro Hack].

You can also use stories in your article in such a way that anyone can relate to themselves differently.

A great ending note can give them a huge motivation to follow you.
So, I hope you might get a strong idea about how this technique works. This is a very well-known technique that very few people are using in their blogs, and of course, they are professional blogs.
Use Some Spark-words
Spark words are the goldmine for your content. This content marketing hook can change everything.
The spark words are also known as power words which are used for making curiosity in the user's mind so that they can take a specific action that you want them to do.
It's a copywriting technique, and people are taking advantage of the content marketing industry.
We discussed in the heading part that you need to use some powerful words in the heading so that you can take your potential audience from the Google SERP directly.
A curious person always finds a way to express themselves, taking knowledge or clearing their doubt. And that's what power words are doing. 
Here are some content marketing hookline examples that can clear your thoughts regarding power words.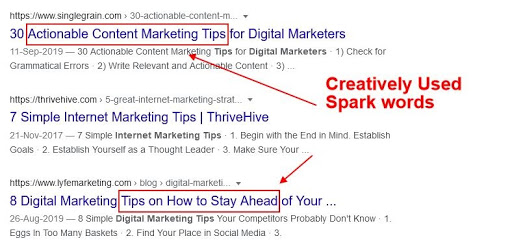 Here they are creating some desire and excitement so that users will be eager to click and know the techniques written over there.
As you can see how other bloggers and marketers are using power words for their heading. Here are some powerful words that can give you some exposure.
­Effortless

­Essential

­Guaranteed

Imagine

Secret

Groundbreaking

­Powerful

Booming

Valuable,

Wonderful

­Outstanding

­Interesting

Exclusive

Never 

Imagine

Instant

Convert 
These are some high-converting power words that are proven and give you some best results at the end.
Use these words in your content, headings, call-to-actions, and wherever you want. 
Add Some Curiosity-based Marketing Hooks
Have you ever noticed how professional blogger's content can engage their audience very well? Have you ever questioned yourself about how they are doing this?
Well, I have the answer!
They are doing this by curiosity lines. But you now have another question about what do you mean by curiosity lines.
Curiosity lines work the same as power words, but the impact is pretty strong if you use it in your content.
Here are some curiosity lines ideas that can give you a basic idea,
Here's something interesting!

Do you want more? Then stay attached to the end!

I am going to reveal some magic that blows you away!

Let me explain.

Now here comes the exclusive part.
These are curiosity lines that can tie up your audience with your content, and they'll read your content till the end. 
And this is how pro-bloggers do their content marketing and get something different from the crowd. This is also a copywriting technique that has been used in content marketing for decades.
Throw a powerful Emotions Trap
If you can connect emotionally with your audience, then you can make them action-takers who are eager to take serious actions that you want them to do.
It would help if you got through some emotional hook to them so you can engage them in your content.
But how can you do this? Don't worry about it!
Relief from their pain points
The first and most efficient way to connect emotionally is to mention some pain points of a user. Pain points are an outstanding technique to connect emotionally because these points are the real problem that audiences face in their work.
If you are making a product, courses, guide, or anything that you want your audience to take part in, you should first think before creating a product about the possible problems that people are going to face or face right now.
The same goes for blogging, video marketing, content marketing, etc. If you can solve their queries, then you can easily connect to their emotions and convert them to leads and subscribers.
Perform your article with emotional words
Another way to connect emotionally is to give them a strong promise, being honest with your words and using some emotional words so that you can convert an odd situation emotionally and give them a reason to move on. 
The most common thing in convincing emotionally is how you can create trust in their mind. If you can successfully create a strong trust around yourself, you can make anything possible in the marketing world.
Here are some emotional words that can help them to drive trust around them. 
Absolutely

Anxiety,

Failure

Facts

Scientific

Trustworthy

Admire

Authority

Proof

Guaranteed

stolen

Threat

Faith

Freaking out

Horror

Steal

Proven

Reliable

survival

largest

colossal

now

unlock

fortune

authentic

announcing

huge gift
This is an immense gift for you because these are some proven and high converting emotional words that are going to trigger the inner excitement in your audience's mind.
And the most important thing is you should use these for your heading so that your article can get some exposure in various ways.
Key takeaways
Ask a question: Use a provocative or thought-provoking question that piques your audience's interest and makes them want to know more.
Use a statistic: Share a surprising or shocking statistic that highlights the importance of your topic and grabs your audience's attention.
Tell a story: Use a compelling story or anecdote to illustrate the key points of your content and make it more engaging.
Offer a solution: Identify a common problem or pain point that your audience faces and provide a solution that they can implement immediately.
Use humor: Inject some humor or wit into your content to make it more memorable and engaging.
Create a sense of urgency: Use time-sensitive language to create a sense of urgency and encourage your audience to take action.
Use visual elements: Incorporate images, videos, and other visual elements into your content to make it more eye-catching and engaging.
Offer exclusive content: Offer your audience exclusive access to content or resources that they can't find anywhere else.
Create a sense of community: Use language that creates a sense of community and encourages your audience to engage with your content and with each other.
Provide social proof: Use testimonials, case studies, or other forms of social proof to show your audience that your content is trustworthy and valuable.
Now it's your turn to include these content marketing hooks

Now you got better ideas about how you can hook people through your content, and these are not only for articles or videos. You can use these techniques in social media either and whatever platform you want,
If you can add your creativity to perform better, then you can do it without any hesitation. It's all about how you experiment with it differently. These all are growth hacks that can grow your blog rapidly.
However, now it's your turn to implement. So go ahead and get your target audience and lead the market. 
Keep blogging, keep hustling!
Cheers!😀