Are you also in the dilemma is to how long your post should be? Does the content length impact the SEO? How to write a long-form article to improve your SEO?
In this article you will learn everything about content length and its SEO benefits.
Gone are the days when you could write a 500-word blog and expect Google to reward you – by ranking your website for targeted keywords.
Times have changed, and strategies to do Digital Content Marketing, SEO, Social Media Marketing have evolved.
Today, Writing a long blog post is a topic discussed in every digital marketing seminar or conference. Digital Marketing consultants and experts are spending hours researching and writing articles that provide equal value addition to users and Google.
A few years back, Google's algorithm was not advanced, and most of us (including me) got away with writing blogs that were not up to the mark. We, the digital marketers, would even advise our clients to go for short articles. 
From what I remember, even keyword stuffing was not penalized for a long time.
Those were earlier days for Digital Marketers, who could easily manipulate Google's algorithms to their advantage.
The technique of writing short blogs with keyword stuffing went undetected for years until Google came with strict algorithms.
Today, to stand out in the crowd on the internet and rank on Google, you must write meaningful content for readers. But how long should be the content written by you? This is the question that is frequently asked by internet marketers across the globe.
As per famous Digital Marketers, short content does not have a lot of value in the eyes of Google.
Established internet marketers such as Neil Patel (neilpatel.com), Brian Dean (backlinko.com) have started posting blogs almost 3000 to 4000 words long.
Since "long in-depth article" writing is adopted by famous marketers, there must be some logic behind the move, which brings me to the question, 'What is the benefit of writing long content?'
#1 Higher Rankings and more traffic:
To start with, long content ranks high on google. That should bring a smile to the face of all SEO professions here 😊.
As per a recent study (image attached), the average length of articles that rank in the top 3 positions in google is more than 2300 words.
Higher rankings mean more traffic. More traffic means more users visiting your website.
As per a recent study, articles with 2250 to 2500 words drive more organic traffic than blogs that are shorter in length.
Here is an image to validate what I wrote above: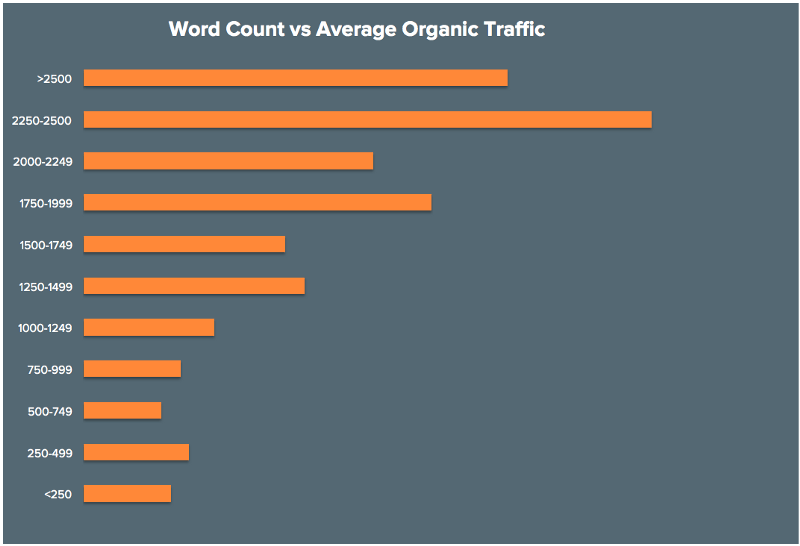 (source: Neil Patel)
The stats are all in favor of writing long in-depth articles. By writing long in-depth articles, you benefit from higher rankings, more traffic, and probably more sales/leads to the website.
i.
Keyword Suggestions using Google Webmaster:
Is Keyword Planning and exploration dead? Obviously, no.
Is keyword research more challenging than earlier?
Yes. It is more challenging than earlier. In fact, keyword research is one of the most challenging steps in SEO today.
Every keyword you can think of is used by some website or the other.
With thousands of websites coming up every day and with companies spending a substantial amount of money on SEO, Keyword research is tougher than before.
Today, to find a keyword with high searches and low competition is easier said than done. Still, there is a way around finding the right keywords for a blog, and the strategy to do so is more content-dependent than keyword research dependent.
Let me ask you two questions:
"Have you written a long post of 2000+ words?"
"Do you have Google Webmaster connected to your account"?
If the answer is yes, I am sure you would have noticed a list of keywords shown by Google for your blog page with metrics such as ranking, impressions, CTR next to them.
This data is a goldmine for digital marketers.
And if you would have noticed, Long posts always get more keyword suggestions compared to posts that are shorter in length.
Obviously, there is a lot of junk data in the keyword list, but the junk data can be filtered to cherry-pick keywords matching your page's content.
All you must do to get these keyword suggestions is write a long in-depth blog around your seed keyword. Follow it with some backlinking and then wait for a few days/weeks.
Soon Google will suggest keywords it has identified from your blog post.
The benefit of these keywords are:
Google suggests
They. Hence, you can be confident that Google is reading your website for these keywords.

With little research, you can easily pick keywords that have less competition and high traffic.
Create multiple short contents from long content:
Writing long in-depth content is not easy. It would be best if you did a lot of research before writing lengthy content. 
The biggest takeaway from the research I do while finding stats, quotes, and other information for a long post is the data I gather.
This data is invaluable and can be used anytime to create short visual content like infographics, banners, videos, etc.
In our team, whenever we start working on a long blog, we at least target to create 3 to 4 visual content using the information collected for the blog post.
More link building opportunities:
Writing an in-depth article gives you options to get better links. The concept is simple; the more the users share your content, the more are the chances of your blog post getting a backlink.
As per a recent survey, posts with 2000 words are shared twice compared to posts with 1000 words.
The more the blog post is referred to as a reference for some information, the better the chances of the blogs getting more backlinks.
This technique is used strategically by a lot of bloggers to get quality backlinks.
Establishes you as a brand:
Let's accept it. Not everyone can write long and engaging articles. It is an art mastered by the best in their domain.
You cannot add fluff and build articles which are 2000+ word in length but do not have any substance.
And those of us who have mastered the art of writing a well-researched blog are established brand names in our respective fields.
This helps you create a reputation where everyone follows you.
Another important point that deserves mention in the list is the freedom to write a blog without worrying about keyword density. The ideal keyword density suggested for a blog is usually less than 1%.
With a 2000+ word blog, you can use the keyword as a semantic keyword many times in your article without fearing a penalty from google.
With long blogs, I find it easy to write in a flow without worrying about keyword density.
How to write long blog posts?
The most prominent challenge writers face while writing a long blog post is their inability to structure their thoughts effectively.
Add to the above the pressure to cross the magical number of 2000 words. They either end up going off track or filling the blog with fluff.
That's why writing a long blog post requires a method.
Here are the steps which will help you in writing long in-depth blogs:
Research the Topic for SEO:
Do not write just for the sake of writing. This is the first advice I received from an industry veteran before I started blogging.
You must do your research if you want your blog to stand out from the crowd.
And to achieve that, you should start by researching the topic.
For example, I planned to write about reaching position zero through featured snippets for a very long time.
The topic is a hot topic as most of the top positions on google are captured by content that Google picks up from any top 20 places.
Imagine the plight of SEO Professionals who burn the midnight oil to reach the top of ranking only to see their effort go futile because google placed some content from the lower rankings above their number one position ranking content.
Some time back, I finally published an article that addressed the topic from start to end and examples of how we got our website featured in a few positions zero places on google.
Whenever I plan to write an article, I start by researching the topic by:
Looking for topics that are trending in the industry. You can subscribe to famous blogs and publications to keep yourself updated with the industry trends. As mentioned above, I picked the topic "how to rank in potion zero" because it was trending in the industry.

You can look at trending questions in Quora

Google Trends is another place to look for trending topics
Divide the topic into subheadings:
To write an in-depth blog with 2000+ words means writing an article with a lot of information.
Just writing around the main topic won't get you there.
This is where you will need Google's help to get you sub-topics or more topics you can cover in the blog.
Call me old school, but I still rely on google related search and google keyword suggestions for my keyword research.
They help me find the exact long-tail searches done on google regarding my base keyword or topic of the article.
Again, picking from the zero position example I gave earlier.
The main topic of my blog was 'How to SEO Optimize for position zero.' To write a long post, I needed more than just the main topic. I started my research by typing keywords related to the main topic. 
Since the article was around how to rank position zero or SEO optimize position zero, I started by typing 'How to rank position zero.'
Here are the suggestions provided by Google:

Few sub-topics I could gather from the keywords in the above search were:
What is Position zero

Google rank zero

Type of featured snippets

How to track featured snippets
Here is an observation from the above searches "The users searching for how to rank position zero are also looking for something called as a featured snippet."
Duh! How could I not think of featured snippets when I was planning to write the blog. They are the ones who rank at position zero.
The next search I typed on google was "what is a featured snippet."

It looks like users on google were searching for keywords like:
Featured snippet examples

Types of featured snippets

How to optimize for featured snippets is another way of exploring "how to rank for position zero."
The next logical step for me was to structure my blog. I try not to over complicate the structure.
I started with the basics.
I had two crucial keywords "position zero" and "featured snippet."
That's what everyone was mainly searching for.
My article was supposed to cover all the topics and subtopics around them.
Here is the logical structure I designed for the blog:
What is Position Zero on Google?

What is a featured snippet

Importance of Position Zero

Type of

Content that features in Position Zero

 as Featured Snippet

Benefits of Featured Snippets

How to Rank for Featured snippets

Conclusion
The subtopics division was done to follow a pattern where you first educate the website visitors about position zero, featured snippets and then teach them how to rank for featured snippets or position zero (the last topic of a blog).
Anyone who already knew "what is a featured snippet" and "what is position zero" can directly jump to the second last topic and learn how to rank for featured snippets.
Others can educate themselves about snippets, position zero before learning, and rank featured snippets at position zero.
Types of content that works well in long articles are:
Guides

Stories

Case studies

Tips and To-do lists
Write for Humans in a conversational tone:
Have you heard of a style of writing called – conversational style of blogging?
That's the style of writing where you write in an interactive tone. Something I have been using in all my blogs published on this website.
Using this style, you write as if you are talking to your best buddy. If you can explain your topic to your best buddy (who has no clue about what you do in your professional life), you can explain it to anyone.
Write for Humans! If they love it, search engines will automatically push your content in rankings.
Time to Promote:
I usually suggest a promotional strategy before you write the blog to give the maximum blog exposure.
Other than the usual online promotion steps like email marketing, SEO, Social Media Promotion – you can participate in discussions on Quora and similar platforms.
You can also comment on other famous websites where similar content is posted.
In addition to the usual stuff, you can follow another exciting strategy to find influencers who have shared similar content like yours on their social media profile.
Buzzsumo and similar tools will help you search for similar content and social media profiles using keywords.
Try approaching these social media profiles and send them a request to share your content.
If the content is good, I see no reason why they wouldn't promote it. By this you can leverage your SEO indirectly.

And that's how you write a long blog post.
Is there any disadvantage of writing a long blog post?
The only downside of writing a long blog post is the risk of losing the user's attention. 
You can easily overcome this disadvantage by using a table of an index in the widget section.
The table index allows website visitors to easily reach the section of an article they want to read.
To make the blog easier attractive for those who hate to read long posts, use an infographic on the blog.
Infographics are easy to understand and capture the theme of the blog succinctly.
What is your best learning, share with in the comments!