How to implement a successful customer acquisition strategy with SEO? Here in this article, you will learn how to use SEO as a powerful tool for your business growth.
As a former vice president of business development and a current founder of a digital marketing agency, I have been on both sides of the coin when it comes to marketing.
I spent thousands of dollars on marketing and wondered if it was put to proper use.
Initially, I became curious about the subject of digital marketing web design and SEO, so I studied it, put it to practice, and never looked back. Over the years, I have sought to answer the concerns of business owners as they spend money on online digital marketing.
My experience has taught me that the heart of business growth lies in customer acquisition. If a business finds a way to spend the shortest time in marketing, using a reasonable budget, and does it successfully over and over, then it's bound to succeed. But how do you do this?
How to keep Customer Acquisition Costs (CAC) low?
Customer acquisition is one of the areas that take most of the budget for most businesses. It is challenging because there are tons of customer acquisition channels out there, yet each one demands a share in the marketing budget.
One of the most attractive customer acquisition avenues is search engine optimization (SEO). SEO appeals to most businesses because it significantly reduces customer acquisition costs.
"SEO drives 1000%+ more traffic than organic social media." (BrightEdge)
In the hands of a master digital marketer, it has lasting results and is equally effective as other online marketing channels. The reason is that, regardless of the demographic, people use search engines to look for answers, products, and services, and that is where SEO places your website.
What is SEO?
SEO is an acronym for search engine optimization. Answering the question, what is SEO is a pretty broad question with lots of different opinions.
It involves a series of actions done on a website to help its pages rank higher on the search engine results page (SERP), and do so organically. These actions are recommendations by search engines like Google to webmasters and website owners to help avail useful content to web users.
By the end of the day, SEO targets to help people search stuff online and find relevant info according to their queries. When a person looks for a word or more, the search engines present them with answers arranged from the most relevant to the least relevant.
How search engines Crawl, Index, and Rank pages?
Imagine you are a librarian and need to organize books on the library shelves. You'll have to categorize and label your bookshelves and arrange books on them according to their identity. That's why libraries have categories like religion, fiction, science, kids' books… and so on. So when a person requests for a book by the title, you easily get it and present it to them.
Search engines work in the same manner. They have bots, also known as crawlers or spiders that move around the web to find pages, take these pages based on their identity, and store them in various servers.
When a person searches on the internet using a keyword, these bots fetch the relevant pages and present them from the most relevant to the least relevant.
All this happens in three processes:
Crawling – Which is the process of going around the web to find new content pages
Indexing – Which is the process of organizing and orderly keeping the pages they find
Ranking – Which is presenting the pages from the storage to answer user queries
Unfortunately, not every page on the web gets to be crawled, indexed, and ranked. The reasons behind this undoing include:
The pages are not labeled
The pages contain technical problems
The search engine bots are blocked from finding the pages
The pages contain what bots don't want to crawl
SEO starts with a technical website audit
If you approached any reputable ad agency to market your site through SEO, they would start by auditing your website before they decide on the steps forward to acquire new leads.
They'll check stuff like clean coding, speed insights, and title tags to make sure everything looks good and is functioning properly. Google algorithm loves this.
With so many auditing tools out there, the auditing process is very easy and quick in most cases.
However, you cannot rely on a single tool to give you accurate results. Use tools like screaming frog, Semrush, and Ahrefs to compare and identify site technical issues. Some of the common problems your audit might discover include:
#1 Mobile-friendliness issues
It's important to note that Google uses "mobile-first indexing" indexing to access websites.
You, therefore, want to check if your site is easily accessible on mobile devices. And this you are not just doing it for search engines but also for cellphone users.
The majority of Americans (96%) use mobile devices to access the web, making it critical to enable your website accessible through mobiles. You should prioritize website SEO audit for your website.
You need to follow some best practices to make your website mobile-friendly.
Use next-gen image format for the site
Optimize URLs using breadcrumbs
Optimize java scripts
Enable rich snippets on your site and more.
Here is the tool to test your website for mobile.
#2 Site speed issues
If your website takes more than three seconds to load, then you have a problem. Most people bounce off if it takes this long. So you need to identify the problem and find the solution.
Often, delays in website speeds occur because:
Code is not minified
Hosting has issues
Pages need compression
Images are too big
Google PageSpeed Insights will help you find website speed issues and provide recommendations to resolve them. Google introduced web vitals reports which explain all the speed related issues in detail.
#3 Lack of a Security Sockets Layer (SSL) Certificate
Your website needs to have an SSL certificate that will provide a secure link to protect your browser users from hacking activity. A website that is SSL secure will have a URL that begins with https instead of Http.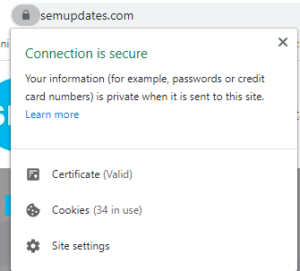 Google notify visitors about site security and sometimes people do not trust the non-SSL website for various data security reasons. So, integrate an SSL to your website to improve SEO and site credibility.
#4 Duplicate issues
If you identify duplicate issues on your website, that means they are probably causing confusion for your users as well as search bots. If duplicate problems are present, fix them.
You can check content plagiarism to make sure the site content is unique and fresh.
You can use online tools like Ubbersuggest to find title or meta tags duplications. This issue could make your internal pages compete in search engines and result in lower CTR. So, make sure you are keeping track of all the duplication fixes on your website.
Creating an SEO Strategy
Once you've discovered and resolved technical website issues, you should now create a strategy. It starts with an idea of what you intend to accomplish with SEO. Have an ultimate goal and break it into stages with smaller achievable micro-goals. While the monetary gain is usually the aim of businesses when they invest in SEO, there are several conversions you would want to cover.
Some of the common goals you might want to achieve include gathering as many emails as possible or getting clicks within the content. Whatever your goals are, make them:
Measurable to help you determine how far you are in your SEO journey. With measurable goals, you can track each step of the way and identify where your failures and achievements lie.
Specific to avoid confusion along the way and when you bring anyone on board, they can quickly adjust and help you achieve them.
Shareable to make it easy to divide duties within your team. This means you need to write it down and break it into small chunks while doing so.
Once you have your goals in place, you can now begin implementing them. Place priority on the micro goals and check them as you advance towards the big goal.
Keyword research and search intent
Keywords are the literal words people use during their search online. These keywords help webmasters understand the audience and provide answers to specific needs.
"69.7% of search queries contain four words or more." (Ahrefs)
Online audiences search with three main intents:
#1 Informational Search Intent: As the name suggests, the searchers with this intent will be looking for information as they type their keywords. For businesses, this group of people is still learning to describe their problem.
#2 Transactional/Commercial Search Intent: This category of web users already know their problems and are looking for specific solutions. The keywords they use inquire about prices and specific products or services. In some instances, they'll be comparing product features.
#3 Navigational Search Intent: This category of searchers will be looking for places. They'll want to know where they can get a product or service. Their keywords might include names of places, shops, roads, and so on. Some people use the term "near me". In this case, the results page will contain a map, with business names, customer reviews, and images uploaded by various businesses.
Again, there is plenty of software for keyword research so this process shouldn't be a huge concern. With just a press of a button, tools like Moz, Ahrefs, Semrush, Keyword Surfer, and tons of others will generate hundreds of thousands of keywords within your industry.
As long as you have a seed word relevant to your business, say "industrial flooring", all you need is to key the word in your tool and search. You'll have thousands of words to process within seconds. The best tools tell you how difficult each keyword will be to rank.
It's advisable to use keywords with low search volumes and low difficulty level. So, create a spreadsheet with keywords that are relevant to your audience and cluster them to help you create comprehensive pieces of content.
The role of content in your website SEO
While auditing a website is a sound thing to do, what differentiates good SEO marketing goals from great ones is two things:
How they deliver content
And how they acquire links
For your business to sell, you must know how to communicate with your potential customers. And this happens through content.
But you can't just write shallow, boring, and keyword-stuffed articles and expect conversions. Instead, start your content production process with keyword research and discover what people want to know in your niche. Then write content that is well-researched to answer the questions of your readers and solve the problems of your audience.
Instead of looking for gimmicks that can quickly convert clicks into sales, ask questions like, "Who is my potential customer, and how can I be of help to them?" Answering such a question will help you create content that speaks to the needs and intent of your consumers.
Search engine algorithms are refining every time to reward content that focuses on the end-user. So, a piece of content that gives a solution to a user's problems will rank higher compared to an article that is packed with keywords and simply pitches what you sell. Ultimately, what makes visitors to your website happy, is what Google wants and it rewards it with high rankings. When you create content, avoid:
Writing thin content
Copying/duplicating other website's content
Stuffing keywords in your content
Scraping content from the web using a software
Make use of content structures suitable for web readers and bots, particularly mobile devices. That means you use short paragraphs, use title tags (h1s, h2s), and meta descriptions briefly describing what's on the page.
Be an authority in your niche and build quality links
As a business, your responsibility is not to answer all the questions out there. You need to niche down and focus on answering what is relevant to your industry. If you make your content credible and of the best quality possible, you secure better rankings.
#1 External link building
Google values pages that demonstrate expertise, authoritativeness, and trustworthiness (E-A-T). If you combine E-A-T with high domain authority, you rank better.
"I know how to write good content, but how do I get a high domain authority?" That's where links come in. If you write a piece of content that answers questions in detail and better than any other person in your niche, everyone will start seeing you as an authority. They'll then start using your website as a reference through backlinks.
When search engines see these backlinks, they see you as authoritative and trustworthy in your niche, making your domain authority stronger.
"The more backlinks a page has, the more organic traffic it gets from Google." (Ahrefs)
Another way to get external links is to approach webmasters with review websites. Tell them to try your products and services then review their experiences with a link pointing to your site.
With the understanding that not all links are equal, look for links that are relevant to your business. You also want to give preference to established websites because they have more value.
Note that even though social media links don't pass link value to your website, they are resourceful when it comes to spreading the word over the internet. It's a great way to capture the attention to get the much-needed links. Besides, depending on how well people engage with your content, search engines will reward you for social signals with better rankings.
White hat internal link building
Link building does not only apply to links from outside websites. It matters how you link your own articles within the website. And the best way to do the linking is by supporting the most important pages using the less important ones.
For instance, on a lead generation website, consider your service pages to be the most important because that's where customers connect with what you do.
Write a super well-researched resource blog article that other websites can use as a reference. Link articles from your blog section that discuss subjects around this service page to support it. The more a page gets internal links and backlinks, the more authority it has in the sight of the search engines.
"Most top-ranking pages get 'followed' backlinks from new websites at a pace of +5%-14.5% per month." (Ahrefs)
Create an in-depth content piece, people find worth linking to and placing you as a source.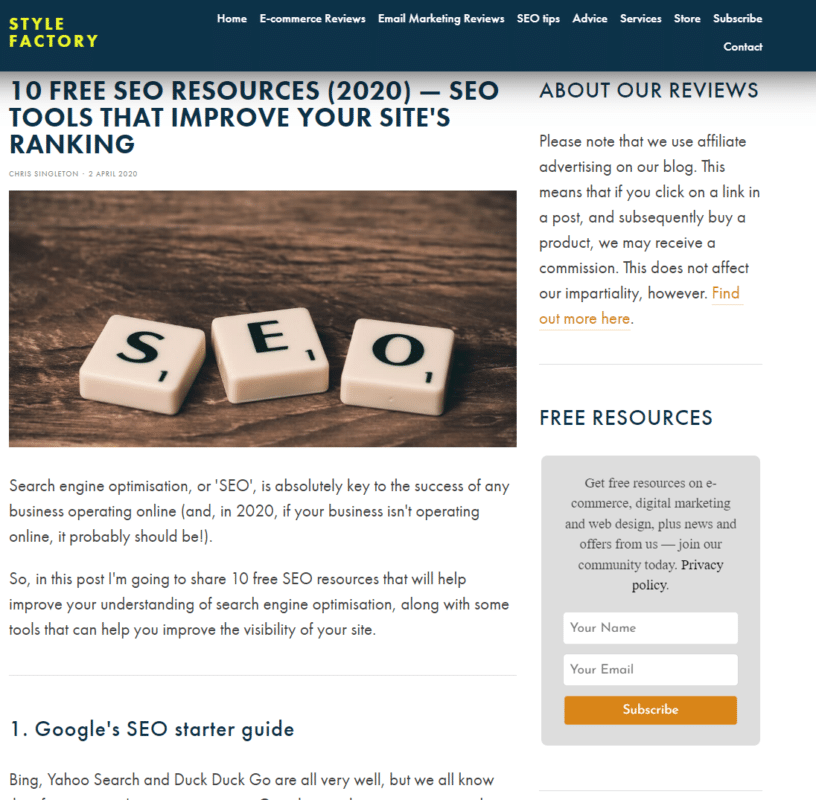 You can search in google for "resource pages" and send an email to them like the one below which was made by Ryan Stewart of WEBRIS:

Google My Business for local businesses
When someone searches information on the web, search engines tend to provide them the results from local businesses. That's why if you own a local business that has a physical office and a phone number, you should sign up for Google My Business (GMB).
Interesting stats you should know about local business SEO:
"30% of all mobile searches are related to location." (Think With Google)
"5% of Google My Business listing views result in a website click, call, or direction request. The average business is found in 157 direct searches each month, and 852 discovery searches. This totals an average of 1,009 searches per month" – by BrightLocal
76% of people who search on their smartphones for something nearby visit a business within a day. (Think With Google)
Creating your local business listing helps you increase your visibility through maps with your address, reviews, and contact information displayed for easy access by the searchers.
There are a lot of elements you can take advantage of when optimizing for GMB.
Use real business images in your profile showcasing what you do and your office as well. Ensuring these images are of the best quality is paramount because you want people clicking to know more about your business.
From my experience, having a call to action button in GMB helps with conversions. A "call now" button will convert better than texting and emailing because often, people who access GMB results are on the move and using their phones instead of computers.
Content marketing and SEO
It is through content marketing that a business helps its customers. Therefore, every website should contain useful and engaging content for its users to make their products and services accessible.
Some popular content strategies are:
Video content marketing
Gated content marketing
User-generated content
Whitepaper content publishing
Guest posting
Microblogging
If you learn this early enough, you'll cut down on the time and costs you spend on digital marketing. If consumers consider you a credible business through your content, selling your products and services becomes easy.
What you want to do is to answer specific questions as clearly as possible and with enough detail so that readers find value any time they land on your website.
Take as many top positions in the search results as possible. Target featured snippets, Google maps (for local businesses), among other features so that you are in the sight of your audience every time they search a relevant term to your business.
Measure SEO success
You'll only know how successful your SEO efforts are by measuring.
Begin with the engagements you are getting. It helps to know the number of visitors, how long they visit your site, how many times they come back, and how many do what you ask of them.
Understanding this serves to track how consumers behave on your website until they leave to make appropriate adjustments and retain them. You can fetch all this data from a tool like Google analytics and the search console.

Search engine optimization is a useful marketing tool that reduces costs and provides lasting results for businesses.
But you must do it well to capture the interest of customers and the search engines.
Be effective at solving questions through content and acquiring backlinks for your pages. And that's how you relieve yourself of the burden of customer acquisition costs using SEO.
What strategy are you currently using to grow your business with SEO? Please do share in the comments.