Social media marketing has clearly surpassed all other forms of marketing. Facebook alone had over 2.8 billion monthly active users in Q4 2020 connecting with friends and family, looking for job opportunities, posting personal photos and video, and reviewing companies and products, among other activities. 
Now, more and more people are discovering the potential of social media as a medium to market their products and services.
With generating leads, sales, traffic, brand awareness, and user engagement as the primary motivators, people are keen on establishing an online presence to achieve their goals. However, social media has become a lot more competitive than it once was. Each platform has a tailored algorithm to drive engagement and shareability and requires a unique content strategy. 
To that end, we have compiled a step-by-step guide to building a dedicated audience on social media. So let's begin!
7 Step Guide to Maximising your Social Media Presence
#1 Research your competition and audience
Before you dive into amassing a dedicated following on social media, you must conduct in-depth research around your product to analyze which techniques work and which aren't. 
Take inspiration from your competitors and pay attention to what marketing trends or content strategies they are employing. This will help you build a personalized strategy for your brand that enhances your brand's relevance and increases your chances of success. 
Fortunately, there are many social media analytics tools, niche-specific insights, and data out there to help you. 
For instance, we know that. 
Facebook and YouTube are ideal platforms to run ads and drive sales. 

Instagram is a platform for short-form videos, reels, stories, and anything that catches millennials or Gen Z's attention span. 

Pinterest is a majority women platform.

LinkedIn is for a B2B audience to attract specific-skilled candidates, find job opportunities, and share industry-based content amongst peers and fellow professionals. 
Demographics and insights like this give a clear understanding of where you should market your content and what type of content you should create. 
#2 Define realistic social media goals and objectives
An effective online presence can result in increased sales and conversion rates, brand visibility, and traffic. It can help you generate leads for your business and establish you as a trusted and reliable brand. 
So, before you start to build an audience for yourself, you must be confident about your goals and objectives. It is important that you clearly document your goals to steer your social media marketing strategy towards them.  
Set long-term as well as short-term goals for yourself, restrict yourself within deadlines, plan your budget and keep yourself motivated to achieve your goals. 
Here is highlighting which social media goals you should be pursuing: 
Build a dedicated following.

Generate new leads.

Increase your conversion rate.

Increase sales.

Create awareness for your brand.

Increase engagement on your platform.

Increase traffic on your page.

Increase Return on Investment (ROI).
#3
Create a buyer persona
Identify your target audience and find out who your customers are. This is what anchors your social media marketing strategy. Your content will be created around engaging your target audience and driving them to take action. 
Here's what you should base your buyer persona on: 
Study customers who are happy with your products. Make a note of their demographics and professions and try to identify their purchase habits and interests. 

Determine how your product provides solutions to their problems.

Interact with your customer service team to find out the most frequently asked questions, queries, and complaints.

Find out what your competitors are offering to identify what your products are lacking.

The most effective of all would be to directly interact with your audience to determine their needs and how best you can fulfill them.
#4
Spend time zeroing in on your content strategy
You must come across posts where a single glance is enough for you to understand which brand may have posted it. The post probably has that personalized touch that you've come to associate with their brand.
Well, that's not by accident. Take Humans of New York's Instagram account, for instance, and briefly reflect on how portraits of random people are now a distinct reminder of the brand itself.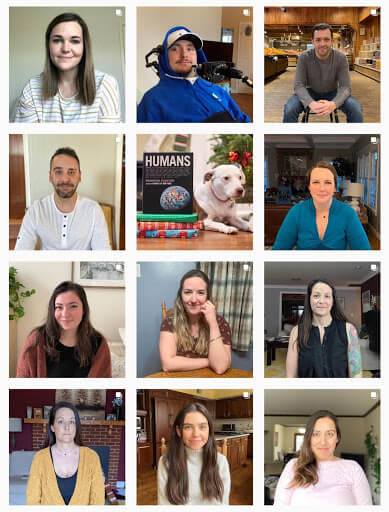 Image Source: Instagram 
Companies often invest in content aesthetics, development, and creation to align with their brand identity and goals and create a lasting impact on their audience's minds. 
From the kind of filters used to captions, brands with a significant online presence barely make any changes to these creative strategies. It's a smart move because this doesn't just make a brand more recognizable, but it also helps users navigate better since they become familiar with the brand's patterns and formats. 
The key takeaway here is that you select an attractive theme for your social media platform. This should preferably be distinct and unique in a way that it sets your posts apart from the rest.
The next question is, "what type of content should you be posting on social media?" 
Thanks to social media, interacting with your consumers is now easier than ever. However, to do this effectively, you must put out engaging content for your audience, and you must do this often.
There are a few key pointers to base this on:  
Your content should drive 

engagement

.

It should prompt people to take 

action

.

It should provide 

value

 to your audience.

Your content should be 

innovative

.

It should send out a 

favorable image

 of your brand. 
Clearly, it's not a one-person job and requires strategic planning to create content that has the potential to resonate with your audience.
Here are a few things you can keep in mind while curating content for your social media platforms: 
1. Create a favorable image of your brand
People are willing to associate with brands that have a history of positive stats and trends. People tend to appreciate such pieces of news, and it enhances their trust in your brand. 
When Samsung's Q950E Soundbar registered a win at the 2021 CES Innovation Awards, they immediately shared their followers' achievements on social media platforms. It received a ton of congratulatory comments and roused interest in its product line.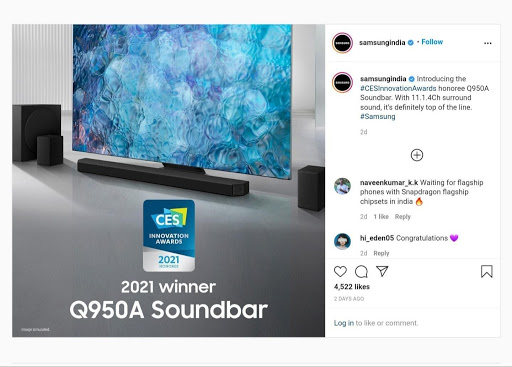 Image Source: Instagram
Evidently, it's a good idea to post about your achievements and milestones and highlight statistics representing your brand in a positive light.
2. Share instances of engagement with your audience
Whether it is a review of your products, testimonials, feedback, images, or create engaging videos linked to your brand, make it a habit to share it on your platform. It shows that people are actively using your services and are vocal about it. This further creates brand visibility and drives visibility. 
Shopping brand H&M recently partnered with Lee (Jeans) to create a new line of denim jeans for their customers. When followers expressed interest and sent them questions about the collection, they graciously answered them and shared the responses on their stories for others who might have similar questions.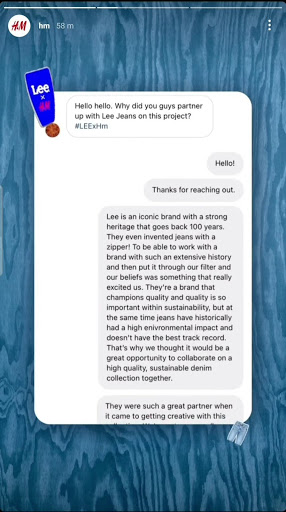 Image Source: Instagram
It is likely that consumers who have had a positive experience in their dealings with you will recommend you to their community. So, make sure you interact with your consumers and request reviews in return for featuring their posts on your social media page. You don't necessarily need to do this. It could also be as a gesture of goodwill, or so you can improve your services. 
3. Time-sensitive posts 
Possibly the most interactive of all forms of content styles are stories. The feature is now available on all social media platforms, and it's the first thing you see as you launch your Instagram or Facebook, or Twitter apps. 
Stories bank on your FOMO (fear of missing out) and drive visibility and interaction in a manner no other content format does. Instagram has surpassed Snapchat to become the preferred platform for posting stories.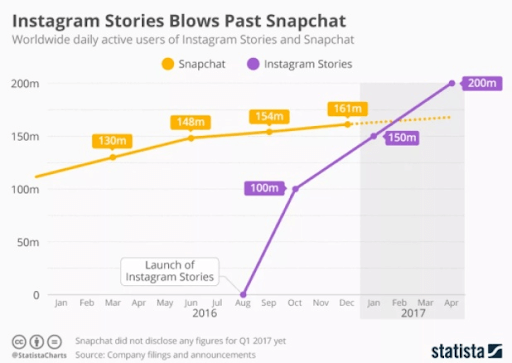 Image Source: Statista
As the world jumps on the bandwagon, it wouldn't hurt to join the trend yourself. It's a good idea to use stories to take your audience behind the scenes or give them a glimpse into your day-to-day activities. You can conduct polls, start quizzes or questionnaires, set a countdown for your launches, or direct them to your websites to take action. 
4. Personal and personable content
We often come across people sharing their moments or insecurities or looking for ways to strike a conversation on a subject close to them, or simply create a dialog around a taboo subject. All these instances allow audiences to see your human side that they can relate to. This should be the basis of your social media marketing strategy – reminding that you are a human being just like them. 
This includes posting pictures or videos with your loved ones, your travel diaries, your routine activities, etc.
For instance, this childhood picture of Kylie Jenner posing with her mother is the kind of stuff that audiences like watching.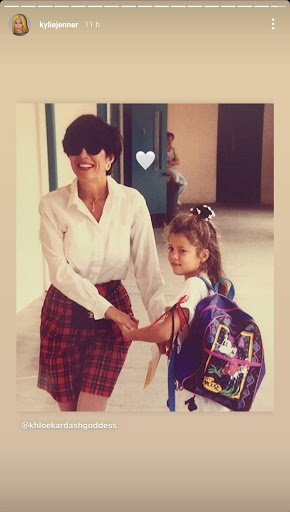 Image Source: Instagram
5. Video marketing
Since the launch of TikTok, this video format has become rather popular. If you are able to compress your content into a short video, it is likely that people will watch it to the end and be influenced by it. 
It is estimated that by the end of 2021, 80% of all online traffic will come from video marketing. 83% of marketers are convinced that video marketing has an increasingly positive impact on ROI. 
6. Influencer Marketing
Influencer marketing has become quite the norm these days. People tend to trust and associate authenticity with your brand when they hear about it from diverse groups of people. Since there are a handful of opinions from different kinds of people, it increases your product's reliability. 
There are dedicated influencers for different social media platforms, so it's important that you narrow down influencers in your niche to effectively create content around your brand. 
However, Instagram is the primary destination for influencer marketing. So powerful is the trend that 65% of brands are currently involved in influencer marketing. It results in 11 times higher ROI than other marketing formats. Naturally, it's something you can't ignore.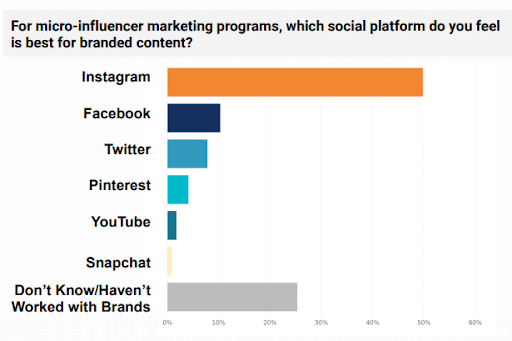 Image Source: Neil Patel
Influencers can be classified into the following categories: 
Mega-influencer

 (includes the likes of Cristiano Ronaldo, Ariana Grande, Kardashians, and Jenners) 

Macro-influencer

 (100,000 – 1 million followers) 

Micro-influencer

 (1000 – 100,000 followers)

Nano-influencers

 (less than 1000 followers)
You might want to choose your influencers carefully, depending on what kind of impact and authority they have on their audience. It is also important to analyze their engagement rates.
7. Social Initiatives
Social media has unlocked the potential to unite large crowds of people towards social causes who believe donations, recycling, ethical buying practices can help make a difference in the world. A recent survey concluded that nearly 88% of consumers around the world believe brands can help them practice sustainable standards in daily life.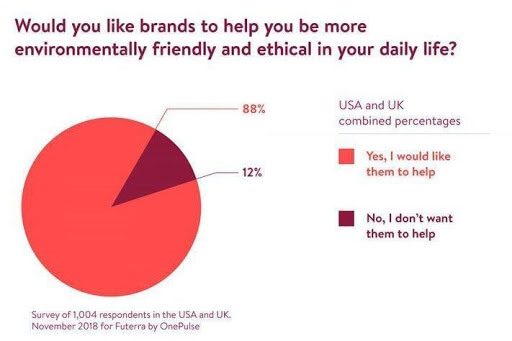 When 4Ocean decided to take up the responsibility of cleaning oceans around the world, they inspired millions around the world to lend their support and contribute to the cause.
Associating with a social or environmental cause goes a long way in creating a favorable image of your brand. To that end, companies around the world are increasingly adopting sustainable practices and investing in CSR initiatives to preserve the future. Consumers are also more willing to associate with brands that are doing their bit for the world. 
Apart from these, you can run promotional content (do not overdo this), offer freebies/giveaways, approach controversial subjects with caution, and work on your content's aesthetics. 
#5 Data-driven social media strategy
No matter which business you are in, relying on analytics and insights should form the basis of how you make decisions. 
There are several metrics on social media platforms that can help you create data-driven strategies. This means monitoring-
The 

reach

 of your posts.

The number of 

clicks

 on your posts.

The number of 

impressions

 your posts create.

The 

hashtags

 that are performing optimally.

The 

organic traffic

 on your website.

The general 

sentiment

 towards your posts. 
#6 Consistency is key
Consistency and timeliness are extremely important to drive engagement. Social media marketing is no longer a part-time job; it is a serious, demanding activity. 
You need to be active around the clock, posting updates, stories and interacting with your followers to enhance visibility. 

Inform your followers well in advance about when you might go live or answer questions, so they can align their schedules accordingly to catch your updates. 

Plan a schedule for outlining how frequently you will post content on different platforms. 
For example, you can post a minimum of 3 to 30 posts on Twitter throughout the day. Or make one post on Facebook at least three times a week. With Instagram, one post in the morning and another in the evening might do the trick. However, this doesn't apply to stories.
You must also have people combing through your comments and inboxes looking for queries to answer. A lot of brands use chatbot-like services to achieve this, but it's a lot more effective when a human answers customer queries.
#7
Keep updating your social media strategy.
Social media algorithms undergo constant changes. So, it's possible that what's working for you now may not work for you a month down the line. Therefore, it's important to keep analyzing your performance and engagement rates and stay updated with the changing algorithms to re-engineer your plans and strategies. 
Key Takeaways
To summarize what we have learned so far: 
Conduct in-depth research of your niche, competition, and audience. 

Document your short-term and long-term social media goals and objectives.

Identify who your target audience is and build a buyer persona on which to base your content strategy on.

Experiment with different content formats to zero in on a content strategy that works for you. 

Rely on analytical data, insights, and performance metrics to plan your subsequent moves. 

Schedule the time of your posts and how frequently you will post on different platforms.

Realign your social media goals and strategies based on changing algorithms.
Be Relentless!
Building an audience on social media is not a short term investment. It requires tremendous effort and time. If you make up your mind to create a presence on social media, you will have to adjust your mindset accordingly. Be prepared for at least one year without reaping any measurable growth in followers or engagement. 
This doesn't just apply to your following; you may not zero in on your content strategy for a long time. It takes implementing several different strategies to find one that your audience resonates with. Or, more importantly, one that you resonate with. 
The best you can do is back your social media venture with solid planning. Take the assistance of technologies — analytical tools, performance testers, engagement evaluators — to guide you in the right direction.
The end purpose of social media marketing is to drive engagement and shareability. Align your social media goals accordingly, and you are well ahead on your path to success!