The only part where newbie bloggers struggle the most is Gaining traffic on their new blog or website. This article focuses on various methods and practices which you can use to make your website clean, optimized, and more understandable by the Search Engines for better Google rankings.
The thing about Blog is that 80% of its total traffic comes from Search Engine Results.
Most people only check your blog while looking for information or a solution to a problem on the internet. In this case, your best bet to boost your Blog's SERP rank is to convince Google that your content is relevant and worthy to be presented in front of the readers.
So, How to convince Google that your content is worthy?
This is the part where you start looking for solutions on the internet.
Everyone wants to be on top Google results, but the only way to achieve this is by optimizing your content for both the Search engine and user.
There are over 300 million active websites on the internet and Google can't index each one of them on the front page.
Here we'll discuss some trusted, data-driven ways to make your website stand out and land in top Google SERPs.
Keyword Research:
The first and most important thing you can do to boost your Blog's SERP rank is proper Keyword Research. As keywords tell Search Engines that How relevant your content is, using proper Keywords in your Blog Post increases your chances of getting noticed by Google.
While using keywords helps you in both Google SERP and SEO aspects, using irrelevant Keywords or Keyword Stuffing can do More Harm than Good.
Earlier it was easy to fool Google by stuffing a lot of irrelevant keywords in hope of getting Indexed quickly, but since the Penguin update, Google has started penalizing all the websites that use improper SEO practices like Keyword Spamming.
To earn Google's respect, you have to target the right keywords, at the right places in your blog post.
#1 Target long-tail Keywords
The one major benefit of targeting long-tail keywords is less competition.
If your blog is new then there's no point in targeting short and populated keywords.
Google ranks a website according to its domain authority and if your website is targeting keywords that are already in use on many authority websites then Google won't even consider indexing your website leave alone ranking.
At this point, targeting easy to rank for less competitive keywords is your best bet.
So, how to find long-tail keywords?
Finding long-tail keywords can be a little brainstorming process. The easier a keyword is to rank for, the harder is to find it.
Here are a few techniques to help you with your task:
#2 Use Google's Auto-Suggest feature:
The most famous and free-to-use method to find different keyword variations is Google's Auto-Suggest feature. It can give you tons of long-tail keywords related to your blog niche.
For Example: If you have a blog about WordPress, then you can start typing search queries related to WordPress like:
Best WordPress…
How to do WordPress…
WordPress themes for….
and so on…
This will give you a bunch of relevant Key phrases and probably an idea for your next blog post.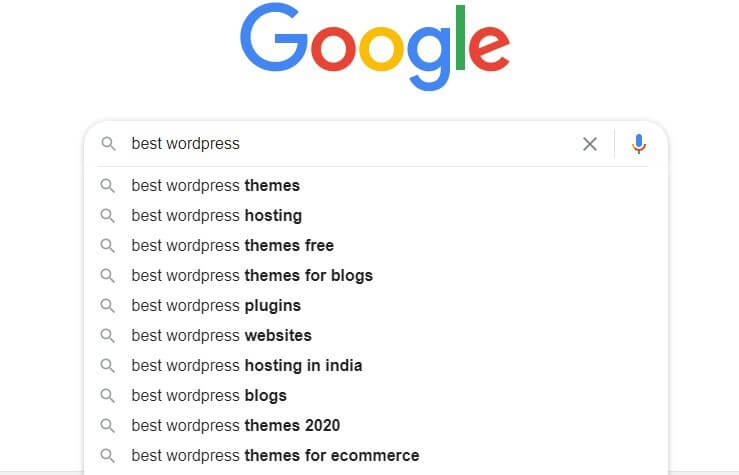 While this method won't give you complete details about the Keyword (competition, Search Volume, etc.), it can still give you a brief idea to help you get started.
#3 Use People Also ask feature:
Another effective technique to find new Key phrases is Google's People Also Ask feature. Start by typing your favorite keyword term in the Search Bar and look for People Also ask tab for more similar Keyword Suggestions.

#4 Use Related Search feature:
You can get more Keyword ideas from the Related Search listing at the bottom of every Search page.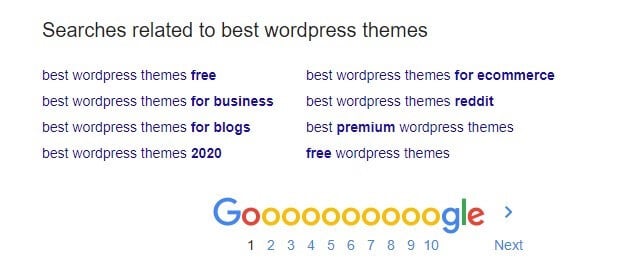 #5 Use Quora:
When people can't find an answer to their problem on the internet, they usually go to Online Forums/Communities to ask their Queries. Therefore, Quora is the most effective way of finding long-tail keywords that aren't very populated.
Go to Quora > Search for a topic (example: WordPress) > Click on Answer tab.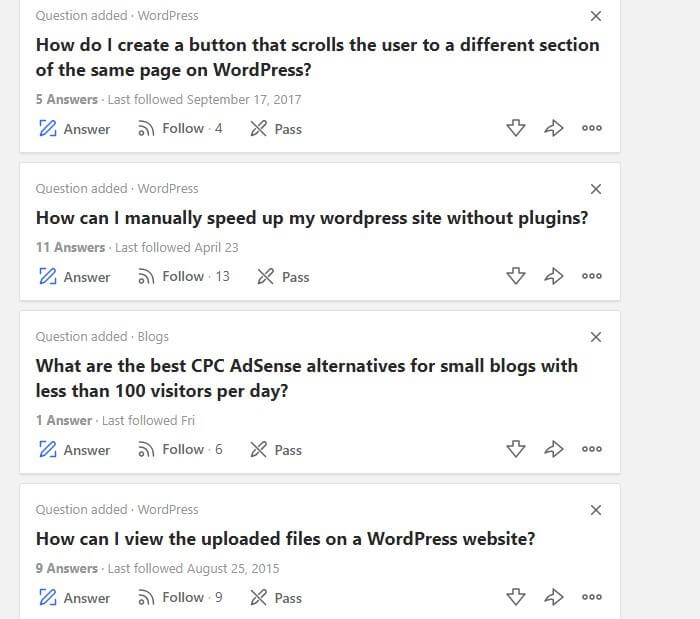 From here you can pick some most-followed Questions to write your next post about.
You can search for more communities related to your niche, and from there you can pick interesting Key phrases.
#6 Use paid keyword research tools:
If you're willing to spend a few more bucks on your blog/website then I'll suggest you buy a premium Keyword Research tool like SEMrush or Ubersuggest.
SEMrush offers a Keyword overview feature where you can get a lot of relevant Suggestions, Questions, and Keywords related to your Search Query.
Go to SEMrush > Keyword Overview > Enter any Keyword.
Here I entered Pinterest Marketing and these were the suggestions:

You can also do Organic Research to find your major competitors and what they're ranking for.
For Example: If you search for SEMupdates.com you'll get the complete list of Keywords they're targeting.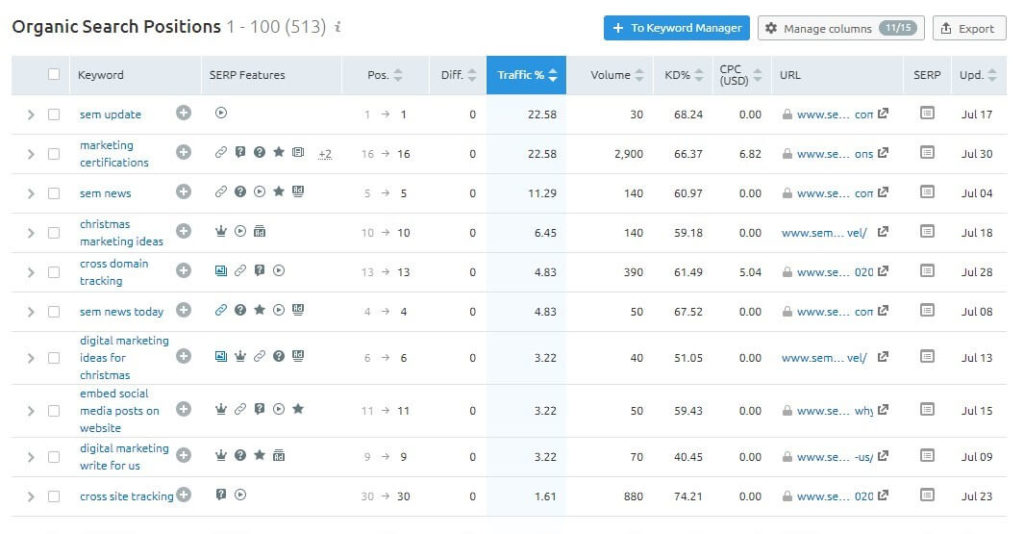 From here you can pick all the relevant and potential Keywords and target them in your next blog post.
#7 Use free keyword research tools:
While using Premium Keyword tools can be a bit expensive, there are many free tools available to assist you with your task.
#8 Answer the public:
Answer the Public is the perfect SEMrush alternative to help you in finding potential Keywords. It gives you more Keyword Suggestions than SEMrush or Ubersuggest in its free version.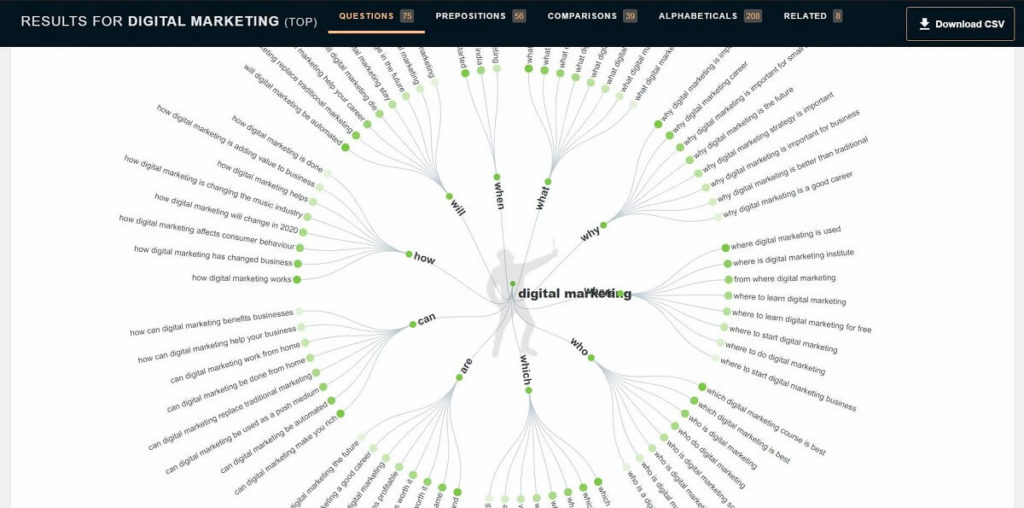 #9 WMS Everywhere chrome extension:
This is my personal favorite tool to do Keyword Research easily.
This tool also offers a free chrome extension which you can use to find 100's of long-tail keywords along with their search volume.
What's interesting about this tool is that it lets you do keyword research on-the-go without opening a separate tab for it.
When you enter a Search term in Google Search bar, this tool automatically shows all possible Keyword variations related to your entered search query along with their search volume and CPC. This tool is what I personally use for Keyword Research.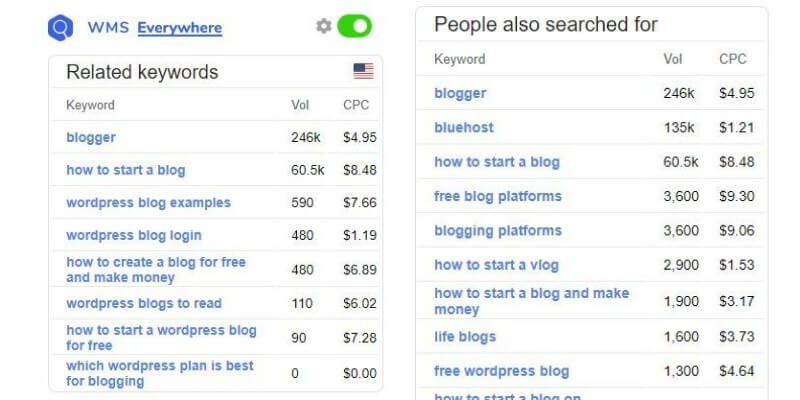 Use Nofollow links
Nofollow links look just like normal links, the only difference is that they have a "nofollow" attribute attached in their HTML code.
Here's an example of the Nofollow link:
<a href="https://www.semupdates.com/" rel="nofollow">SEMupdates</a>
The "nofollow" attribute instructs Search Engines to leave the particular link from following while crawling a web page.
How does it help you?
While Nofollow links don't give you a direct SERP boost using technical SEO, it does have a major impact on your website ranking in the long run.
External linking plays an important role in a website's SEO rankings if your website/blog links to any Spammy or penalized website on the internet then it can hurt your SEO and SERP rank.
Therefore, It is always a Good Practice to add the "nofollow" attribute on any sponsored, referral, or Suspicious links. As Nofollow links are not followed by Search Engine crawlers, it doesn't have any effect on your Website's rank.

Try to get DoFollow backlinks
Every link that doesn't have a "nofollow" attribute attached is a Dofollow link. Unlike Nofollow links, Dofollow links are followed by Search Engines.
Getting a Dofollow backlink from trusted websites builds your Network Profile, which in turn helps in boosting your Blog's SERP rank.
How to get a Dofollow backlink?
If your blog is new, then the only way of getting a Dofollow backlink is by Guest Posting on other blogs/websites.
For those who don't know about Guest Posting, here's a detailed Guide.
Now, before you start writing a Guest Post Submission, first you need to find the blogs that accept Guest Posts.
Here are a few search terms you can type in Google Search Bar to find Guest Blogging Opportunities effectively:
"your niche" + "guest blogging guidelines"
your niche + "write for us"
allintitle: "your niche" + "become a contributor"
intitle: "your niche" + "write for us"
This is what usually works for me while searching for Guest Post Opportunities.

While submitting a Guest Post, make sure that your targeted blog offers a Dofollow backlink. Some blogs offer a Dofollow link in the Author's bio section while others also allow one between posts.
Repair broken links
Improving SERP rank is all about making your website cleaner and easily understandable by search engines. Too many broken links can hurt your on-page SEO and also user experience. Try to repair all the broken/dead links or replace them with new external links.
You can find all the broken links on your website by using SEO tools like SEMrush.
On SEMrush, Go to Site Audit > Enter Your Domain.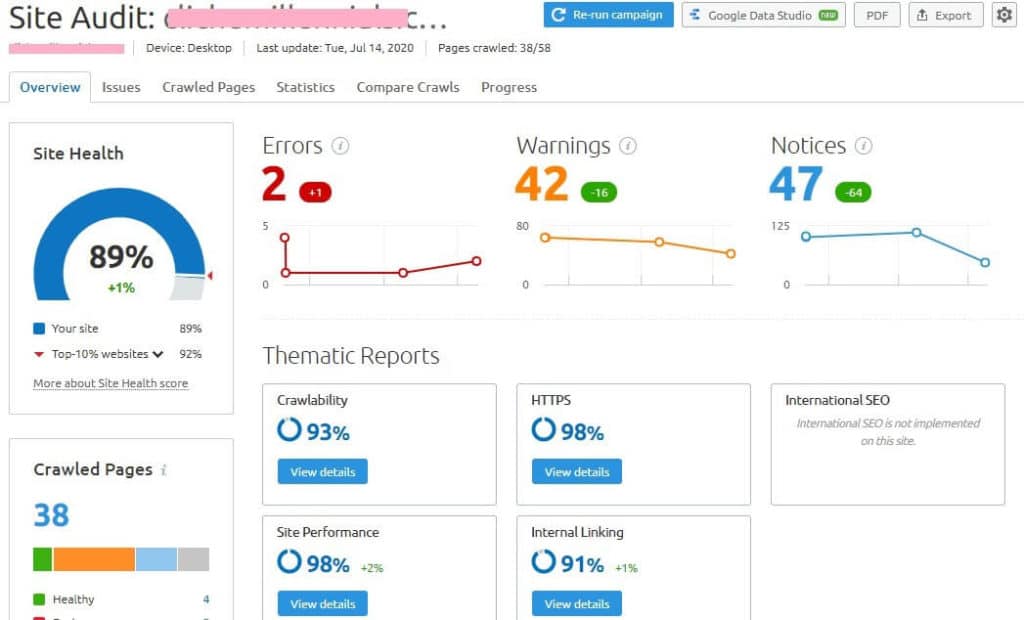 It will generate your website's link profile with all the broken/dead links along with tips to fix them.
Block spam comments
Comment spamming means commenting on random blogs with the intent of getting a bunch of Nofollow backlinks, which helps a little in building your network profile.
Comment Spamming is bad for both commenters and bloggers. Many comments contain links to spam or malicious websites, hence they are termed as Spam Comments. Spam links can hurt your SERP ranking and the credibility of your website extensively.
How to spot Spam Comments manually?
To find if a comment contains spam or suspicious links, on WordPress go to Comments > click edit > check if the comment contains any suspicious link in its HTML code.

If the comment contains a link to any irrelevant website, then it's a spam comment.
However, I always recommend removing all the links from a comment before approving, whether it's irrelevant or not.
You can also make use of these free plugins to block all Spam Comments automatically:
Use internal and external links
Link building is a major aspect of SEO, SERP, and Domain rankings. While crawling on a web page, Google mainly focuses on 2 things – Keywords and Links.
Both Keywords and Links work simultaneously in order to rank your content in top Google results.
A web page can contain 2 types of links:
Internal Links
External Links / Outgoing Links
#1 Internal Links
Internal links are the links that refer from one page to another within the same website.
Internal Linking helps Google to understand and index your website easily.
In addition to this Internal Links also helps in reducing your website's bounce rate by making your content more useful for your readers, hence improving SERP rank.
#2 External Links:
External Links are the links that appear on your website but refer to some another webpage on the internet, hence they are also called as Outgoing Links.
Including external links to relevant and authority websites helps you in earning Google's trust.
According to Backlinko, Webpages that have Quality External Links rank much better and faster than the webpages that doesn't have any External / Outgoing link.
You can take this post as an example for link building technique, this post contains many Internal and External links, which will make this post more useful for readers and more understandable for Search Engines.
Add an XML sitemap
The only way of getting all your website pages indexed at once is by adding a Sitemap to your website. A sitemap is a single page listing of all the content and pages on your website. Adding a sitemap to your websites helps in getting all your webpages indexed efficiently.
How to create a sitemap?
There are 2 ways by which you can create a sitemap:
Manually – By using any text editor.
With the help of Sitemap plugins.
I myself prefer the second method, because if you use a Sitemap plugin then you'll not need to update the sitemap file every time you write a post or create a new page.
Submit sitemap to Google:
After creating a sitemap you can submit the same to Google. Open Google Search Console in a new window and click on Sitemaps.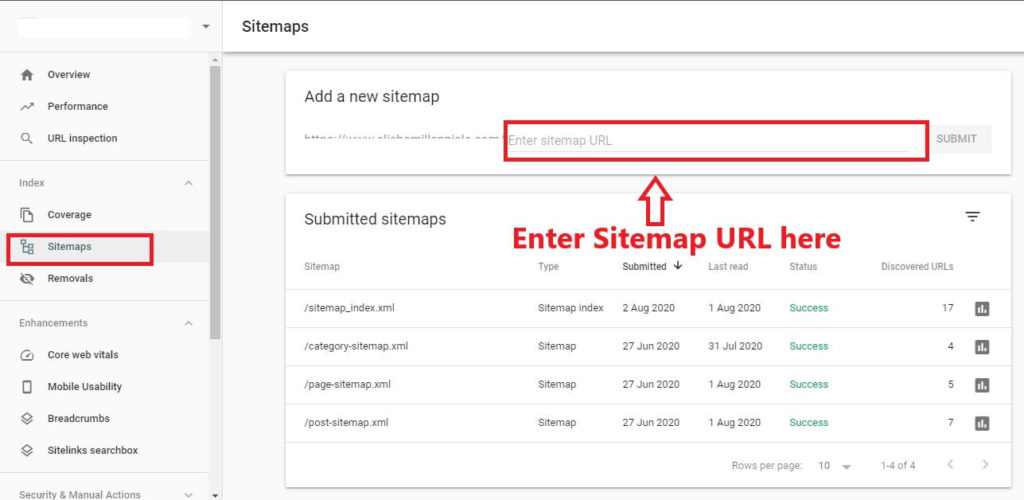 Here you can enter your sitemap's URL (https://www.example.com/sitemap.xml). Submitting the sitemap to Google will ensure that whenever Google bot crawls your Sitemap page, it will follow and Index all the URLs listed in your sitemap.
Create an effective robots.txt file
robots.txt is a text file that resides in your website's root directory. You can either create this file manually on any traditional text editor or you can use SEO plugins like Yoast, All-in-one SEO to automatically create one for you.
robots.txt file works as a Guide for web crawlers and bots and instructs them which pages to crawl and which page to leave while crawling your website.
A properly created robots.txt file can boost your website's crawl process and get your website indexed on Google much faster.
Here's the basic structure of robots.txt file:
User-agent: *

Disallow: /wp-admin/

Allow: /wp-admin/admin-ajax.php  

Sitemap: https://www.example.com/sitemap_index.xml
How to create an effective robots.txt file:
In a robots.txt file User-agent: is used for defining the web-bot/crawler's name, for which the below rules are specified. In the above robots.txt file, the asterisk (*) in front of User-agent: indicates that the blow rules apply to all web-bots/crawlers.
The Disallow: is used for the pages that you want to prevent from indexing or the pages that don't need to be indexed on Google (like Privacy Policy, Disclaimer page, etc.)
Similarly, Allow: is used for the pages that you want to be indexed.
To create an effective robots.txt file you should Disallow: all the unnecessary pages, doing so will help web-bots to crawl your website faster as they'll have fewer pages to crawl. It will also save you a lot of server bandwidth.
Here's an example of a proper robots.txt file.
User-agent: *

Disallow: /wp-admin/

Disallow: /privacy-policy/

Disallow: /disclaimer/

Disallow: /comments/feed/

Disallow: /wp-content/plugins/

Disallow: /refer/
User-agent: *

Allow: /

Allow: /wp-admin/admin-ajax.php
User-agent: Googlebot-Image

Allow: /wp-content/uploads/
Sitemap: https://www.example.com/sitemap.xml
Wrapping Up
While these data-driven SEO techniques can help you land on the first page of Google, there are other factors too that define your overall SERP rank. These includes:
Your website's loading time: Try to make your website faster by using a Good Host, Optimizing Images, etc.
Add Schema: Schema Markup helps Google to understand your site's structure and gains visitor's interest, hence improving click-rate.
Reduce Bounce rate: Improve your website's bounce rate by writing Quality content and using best on-page, off-page SEO practices.
Conclusion
Having a good SERP is always beneficial in attracting potential visitors/traffic on your website.
Google determines the SERP rank of a web page according to the relevance of the Search Query. If Google thinks that your content is relevant for the users, then your website will be indexed in top search results.
This article focuses on various methods and practices which you can use to make your website clean, optimized, and more understandable by the Search Engines.
The more optimized your website is, the easier it will be for Search Engines to understand it and present it in front of the readers.
So, if you want to boost your SERP rank and gain more traffic, earning Google's trust should be your first priority.
Because the first visitor on any website is Google.