SEO is the most commonly used term among webmasters.
Everyone knows the meaning and advantage of technical SEO.
As more and more businesses are becoming digital, the competition to rank top on Google is getting tough as everyone wants to be featured on the first page of Google.
In this mad race of SERP rankings, many people fall victim to spammy SEO practices (also known as Black Hat SEO), which in turn get them penalized by Google and hurt their present rankings too.
Search Engine Optimization (SEO) is the key factor in establishing your business's online presence. Better SEO means better SERP rankings and hence better conversion rates.
In my previous article, I focused on things you should do to boost your SERP rankings, but in this article, I'll try to list all the things you should avoid to keep your SEO graph up.
These 6 SEO bad practices you should avoid at all cost:
#1 Keyword Stuffing:
Keyword Stuffing is a practice to use a particular keyword too many times in the hope of getting ranked faster on search engines.
Example of Keyword Stuffing:
Richard's Affiliate Marketing Agency. 

We are the leading Affiliate Marketing Agency in the USA. 

If you're searching for an Affiliate Marketing Agency, then Richard's Affiliate Marketing Agency should be your choice. 

Contact: Richard's Affiliate Marketing Agency, NY, USA. 

Email: richardsaffiliatemarketing@example.com. 

With Regards, 

Richard's Affiliate Marketing Agency.
As you can see, the above content is trying to rank for the term "Affiliate Marketing Agency" and is looking completely absurd. It is trying to fool Search Engines in the hope of ranking on the first page.
In the early days of Google, the algorithm was not that smart; it used to rank web pages based on the number of times a keyword is appearing in the content.
But now, this is no longer the case.
Since the Penguin update, Google has changed the way it used to look for keywords in the content. Google's algorithm can now differentiate between Natural and UnNatural use of keywords.
If Google detects the Unnatural use of keywords in your content, your website will be penalized.
Here's what Google has to say about Keyword Stuffing:

The number of times a keyword appears in your content is also known as Keyword Density.
Here's the recommended number of times a keyword should appear in an article along with its content-length:
Keyword density (min – max) :    article length
5 – 15 :    500 words
8 – 28 :    1000 words
10 – 60 :     1500 words
The above data is, according to Yoast.
#2 Link Trading:
Many newbie bloggers/webmasters think that getting SEO backlinks is all they need to build their domain authority. They start searching online for websites that offer do-follow links in exchange for money. But according to Google, this is a violation of Link Scheme guidelines and can result in various SEO penalties.
But does that mean that Backlinking is dead?
No, getting links through Guest Blogging is fine as long as your content is useful for the readers. Many famous websites also offer paid do-follow links under Sponsored Guest Submission, which is completely fine if the Guest Article is informative.

Earlier, Google has penalized many websites that included paid backlinks in their articles, and the article provided little to no value to its visitors.
Also, If the content is not relevant for the readers, then it increases the bounce rate, which also affects the PageRank and authority of the website where the content is appearing.
#3 Cloaking
Now, this is one of the most strictly penalized Black hat SEO techniques.
Cloaking refers to hiding content or a piece of content from either Search Engines or readers.
Cloaking is considered as a malicious practice. Hackers often use cloaking to hide spammy content on their website. It can hurt your SEO severely, and in some rare cases, it can also get your website deindexed from Google altogether.
Types of Cloaking:
#1. Sneaky Redirects:
Sneaky Redirects is the process of redirecting visitors to a page that is different from the page shown in Search Engine Results.
This is again a widely used practice by web hackers to redirect visitors on a malicious website.
Websites that use these kinds of practices are considered as Malicious or Spam websites and are penalized immediately.
#2. Keyword Cloaking:
Keyword Cloaking is another intelligent, spammy practice to Stuff a lot of Irrelevant Keywords to rank better in search engines, without actually affecting the readability and meaning of the content.
Example of Keyword Cloaking: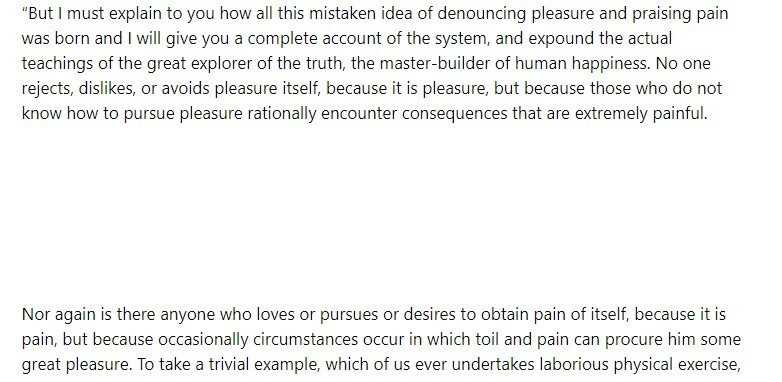 Can you spot any irrelevant keyword in the above picture?
No.
But the above picture actually contains many irrelevant keywords stuffed between the content.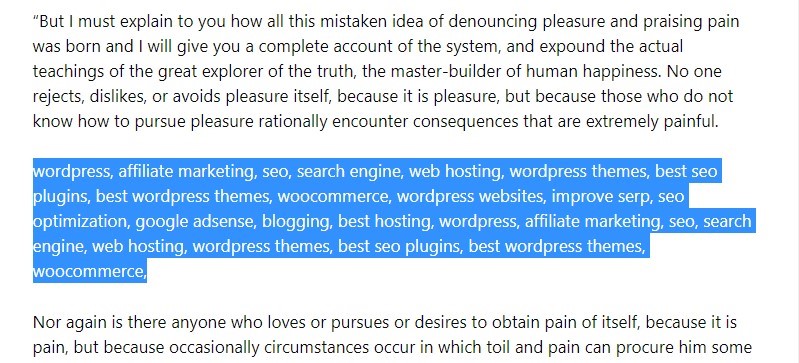 The reason why you can't see the keywords in the above picture is that the color of the text is the same as its background color (white).
While readers may not be able to spot the Keywords, Google can.
Keyword Cloaking is a Black hat SEO practice that is considered as a violation of Google Webmaster's Guidelines and can be penalized under both Keyword Stuffing and Cloaking.
#4 Unnatural Links
Unnatural links are often used by webmasters to pass PageRank to either their own web page or page of some other website. Unnatural links can be both Internal and External.
#1 Internal Unnatural Links:
Newbie webmasters often add a lot of irrelevant internal links to their weak pages on their strong/high authority pages in the hope of getting their weak pages to rank better. In doing so, they end up triggering Google's Unnatural Link Usage Penalty.
Linking your weak pages to the strong ones is fine and recommended, as long as the content of both the pages is relevant to each other. Note: Don't confuse relevant with canonical.
For example: If your website has a page that is not receiving much organic traffic because it focuses on a less popular topic, then you can link it to any other strong page of your website (only if it's relevant) to boost that page's ranking.
#2 External Unnatural Links:
This is another variety of Unnatural links. These are mostly paid or sponsored links.
Some websites include irrelevant links to external sources in exchange for money; these types of links can be treated under both Unnatural link usage and Ling trading penalty.
According to Google adding irrelevant links on your high ranking pages doesn't benefit the targeted URL in any way, but instead, it can penalize you by hurting the SEO rank of your whole website.
#5 Cannibalization
Cannibalization usually occurs when you're targeting the same keyword on many different pages of your website.
Many webmasters/bloggers find a low competition keyword and target the same on many different posts, hoping that at least one of the posts would rank on the first page. But that's not how it works; while crawling a webpage, Google tries to find the most relevant content to show in top results. If your website is using the same set of keywords on many different pages, then it can make Google confused about which page to rank first.
Now, there are two things that can happen in this scenario:
Google automatically picks a page to rank on the top (whichever it thinks is more relevant) and stacks all other similar pages in the last.
Google decides to drop the ranking of all the pages on your website, considering them as canonical/duplicate or badly optimized.
Example of Cannibalization:
Suppose you have a Marketing blog and you decided to post these three articles on your blog about Marketing:
Best marketing tools to check-in 2020.
Marketing tools to boost the conversion rate.
Marketing tools for your business.
Now, these three articles might be targeting the same Keywords; this can cause Content Cannibalization.
This can cause Google to get confused between the pages and decide which page is more relevant to the readers. As a result, sometimes it ends up ranking your low conversion pages to the top and high conversion pages in the last.
To avoid Cannibalization, try to use different Keyword variations on your website, try to keep each article/post as unique as possible and if you have two or more pages with similar content, try merging those pages into one.
#6 Spammy Structured data/rich snippets
Structured data or rich snippets are information-rich content blocks that provide extra information about a web page without clicking on it.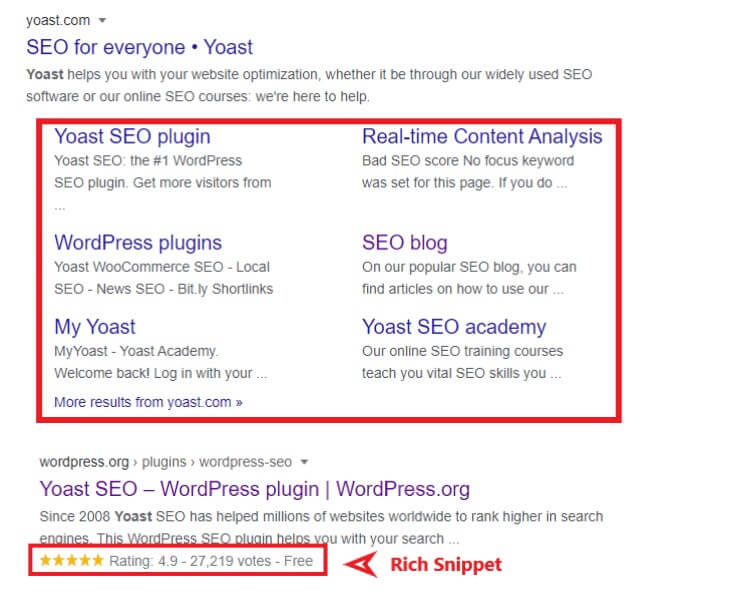 Adding Structured incorrect data (to act as click-bait) or using fake rich snippets is against Google's Structured data Guidelines, it can cause your search rankings to drop significantly.
If your structured data is not relevant to the webpage, then Google has the right to take manual action against such pages and remove their Structured data from search results.

How strict is Google about penalties and impact SEO?
According to Search Engine Land: Once, Google's own product "Google Chrome browser" included a do-follow link in one of their sponsored content (either intentionally or by mistake). The Google webmasters team came to know about this, and they penalized Google Chrome by dropping its Search Engine rank significantly.

From this incident, you can assume that Google is pretty serious against using bad SEO practices.
One another similar incident is Forbes using Unnatural links to pass PageRank: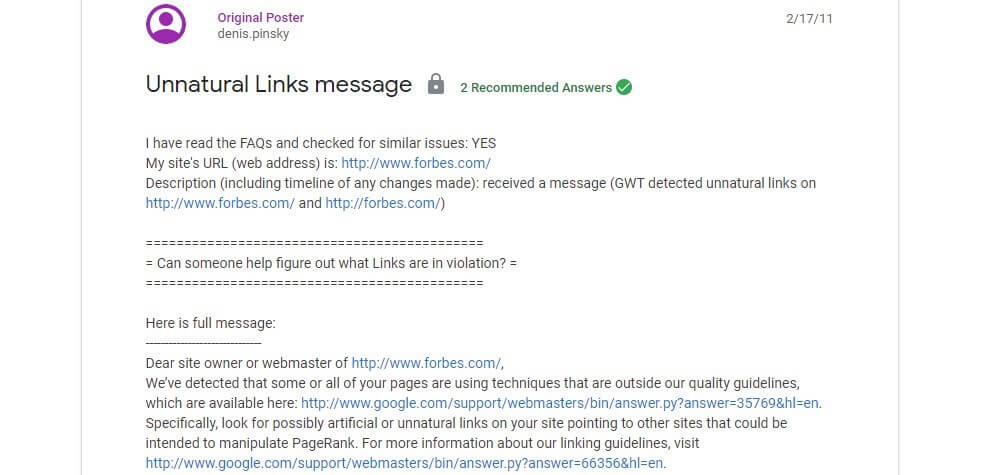 How to find if you've been penalized by Google and Fix the SEO?
To check if you've been penalized by Google, you should track your website traffic by using either Google Analytics or Google Search Console.
Open Search Console and click on Performance. Here you can see how many clicks and impressions you're getting. Usually, if you've been penalized, then you'll notice a sudden drop in your Clicks and Impression rates.

Next, click on Manual Actions under Security and Manual actions tab. If Google has taken any manual action against your website, then you'll see it here.

Once you're sure that you've been penalized by Google, you'll need to analyze your website using any SEO tool like SEMrush and check if your website is following any of the bad SEO practices I've mentioned above.
After fixing all the mentioned issues, submit your website to Google for reconsideration. Google Reconsideration tool.
Conclusion:
While the above mentioned spammy SEO practice may look tempting in the beginning, they can actually do serious harm to your website rankings. Google doesn't care about how trusted or reliable your website is; just one illegal SEO technique can ruin it all.
However, even after following all Google guidelines properly, people often fall victim to the Google penalty, especially new/inexperienced webmasters.
To prevent this:
Perform your website audit / analyze your website regularly.
Keep a check on the type of links you are receiving or offering.
Block all suspicious backlinks using Google's disavow tool.
Continuously track your website's traffic / click-rate using Google Analytics or Search Console.
And last, keep your content unique, useful, and optimized.