In this article, you will learn the step by step Instagram video advertising campaign setup, Instagram campaign best practices, and how to use them effectively.
Instagram social media platform is famous for its engagement. It offers incredible opportunities for businesses to promote posts or Stories to users' Instagram feeds. These Instagram posts are always identified by a "Sponsored" label.
Instagram video advertisements are beneficial for businesses of all sizes to reach their target audiences, it's also dealing with volume, too. They can also include a call-to-action button.
More and more brands are joining Instagram these days but there are so many photos and videos uploaded on Instagram each day, making it increasingly difficult for customers to find your business without paid advertisement.
The current video advertising landscape
The video advertising ecosystem has never been more complicated and exciting. Consumers adopt more digital video and streaming options, the current video landscape is being transformed by the confluence of technological innovation and consumer behavior shifts.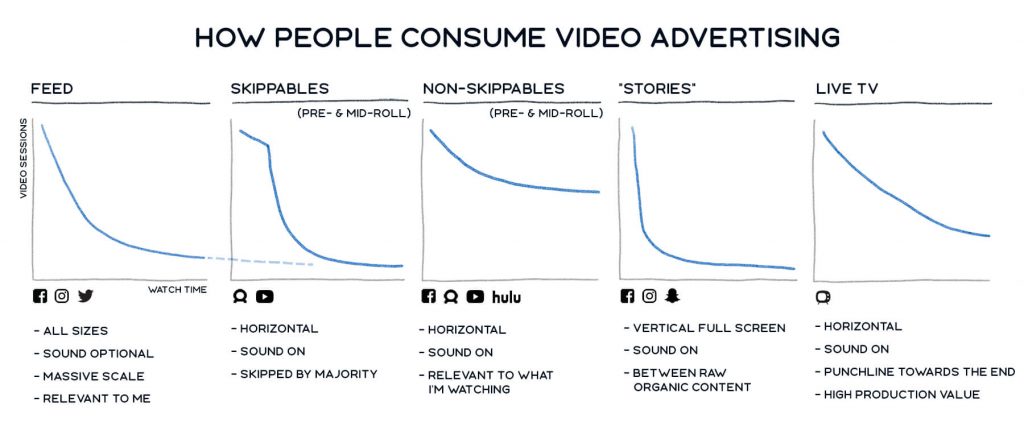 Source: Facebook
To drive our perspectives and decisions it is important to understand the complex and evolving ecosystem of video advertising. We have seen an increased number of content creation sources, delivery and consumption channels, and platforms, and as a result, more video viewing time in total.
Consumer demand for more personalized and relevant experiences, and delivering those experiences requires a substantial advertising strategy and technology that taps into the full power of data. The audience is as important as content and context, this new media landscape is created by the TV-video shift is increasingly automated, data-driven, addressable, and accountable.
On YouTube's platform, every channel is associated with a content category or genre, however, traditional TV still dominates ad revenue, digital video― especially mobile video―is the fastest-growing video type by consumption.
Share of Instagram advertising in the current video advertising landscape
IGTV – Instagram's foray into next-gen video formats, the top reasons for using Instagram are looking at photos and videos. Photo ads are slowly going extinct on the world's premier image-based social network. Brands see engagement rates 10x higher on Instagram than they do on Facebook, among all social media platforms, Instagram likely sees the most evolution with new features every few months.
The app offers long-form video content from creators, with the astronomical rise of the "Stories" feature on Instagram and similar social media marketing networks, advertising online has never had a bigger reach than it does today. For videos, brands pay Instagram influencers between $100 and $2,085 per post.
Out of every 10 Instagram ad impressions, 4 are featured images and 6 are videos, posts containing videos receive about 38% more engagement than those containing images. So it's only natural that the platform will continue to see an increase in user count and engagement, the top brands on Instagram are seeing a per-follower engagement rate of 4.21%. Which is 58 times higher than on Facebook and 120 times higher than on Twitter.
It was also reported that partners created an average of five IGTV videos before abandoning the platform in favor of YouTube. The polling sticker increased three-second video views in 90% of beta campaigns. Even more recent report shows that out of all ads currently running on Instagram, 1 in 4 are video. Incorporate more video into your organic posts, your Stories, and your ads for the best results.
89% of marketers in a survey say that it's the most important social media platform for influencer marketing. This is one of those digital advertising statistics that shows just how powerful Instagram has become a marketing tool.
IGTV was quietly overhauled and pared-down, cribbing various elements from competitors, stories stickers enhance video performance 83% of the time. 71% of advertisers intend to spend more on social video ads, with 27% of them specifically targeting Instagram.

Source: Instapage
Sponsored videos get 3x more comments than sponsored photos, Instagram is also the only platform where there's a significant increase in usage.
Instagram is also the only platform where there's a significant increase in usage, the next most chosen format was YouTube Videos, some way behind on 56%. And this is only 2% more than chose Instagram videos. Instagram is the 10th most popular Google query.
A step-by-step guide to set up your first Instagram video advertising campaign
Step 1 – Business account
If you have a business account you can switch to it or you can create a new Business account to start.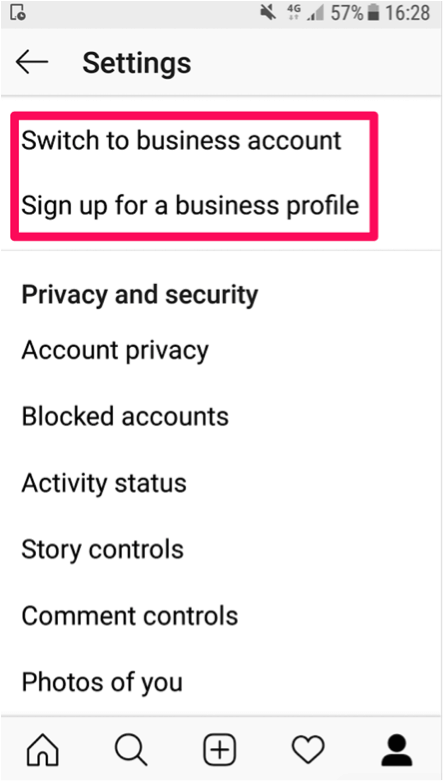 Step 2 – Click on the "promote" button
Every post from your business account enables you to use a "promote" button as you can see in the screenshot below.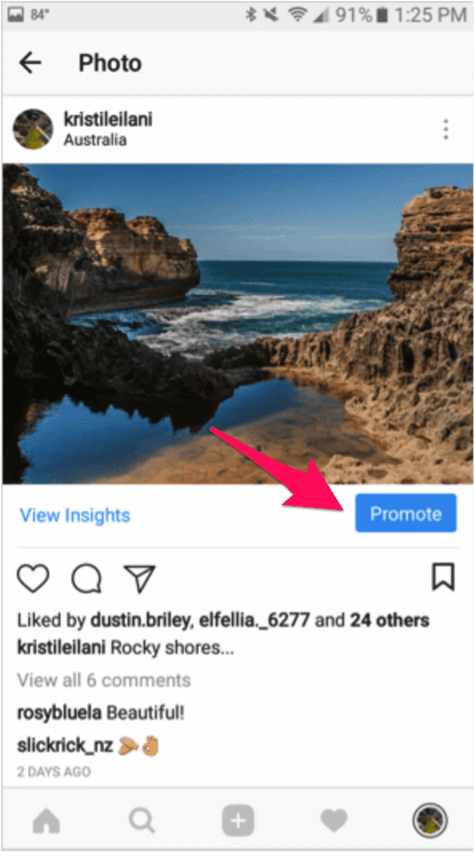 Step 3 – Choose your objective
You can choose what you want by promoting your post, here we are choosing to drive more website visits and profile visits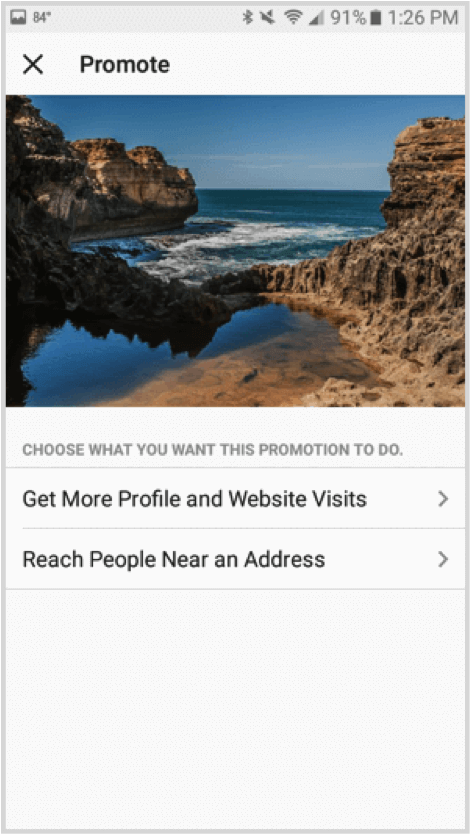 Step 4 – Enter your web address
Enter your web address or link where you want to direct your targeted audience.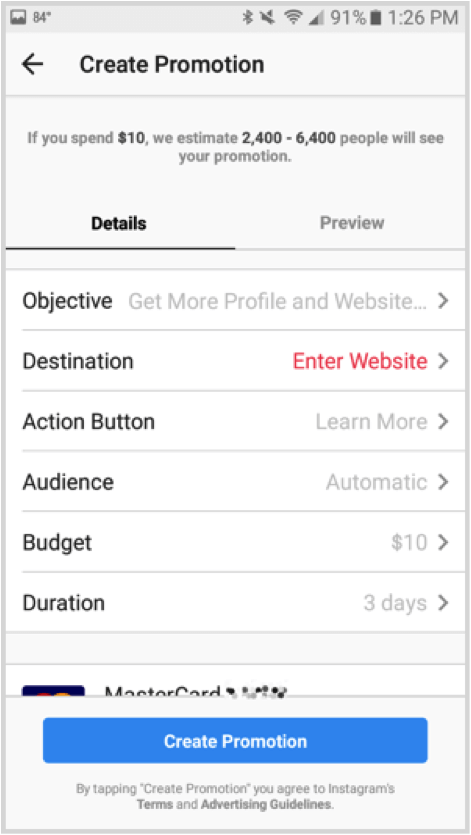 Step 5 –Add a Call-to-action button
Instagram offers you a verity of Call-to-action button to choose from: "Learn more" for websites, "Watch now" for videos, "Shop Now" for online shopping, "Book Now" for bookings, "Sign Up" for forms, and "Contact Us" for direct contact.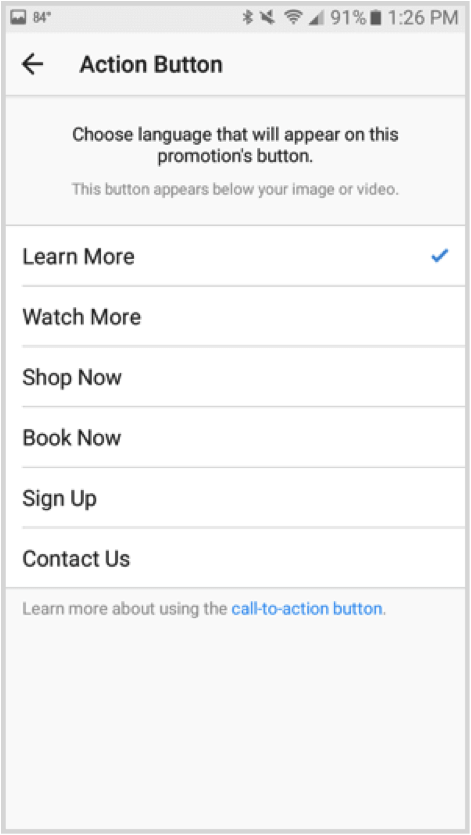 Step 6 – Define your target audience
You can choose your target audience according to the location of your business, the gender of potential customers, and age. You can also "create your own" target audience according to your business. You can setup retargeting audience for Instagram too.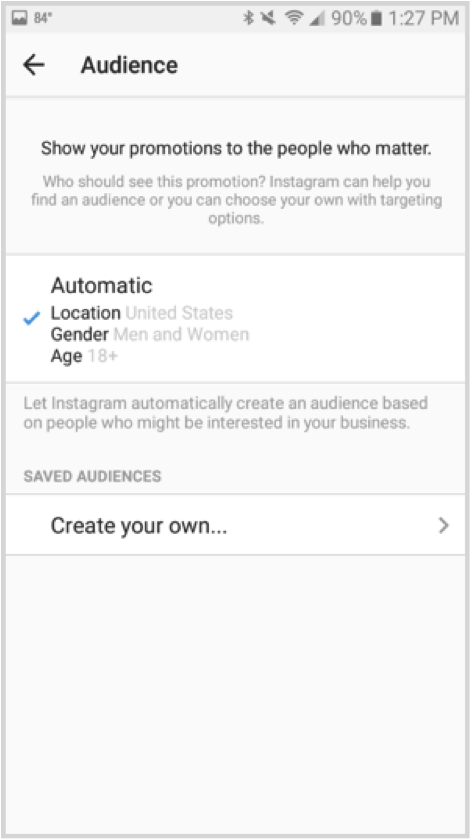 Step 7 – Click the 'preview' tab and create a promotion
The last step before you create your promotion is to preview it for any changes required.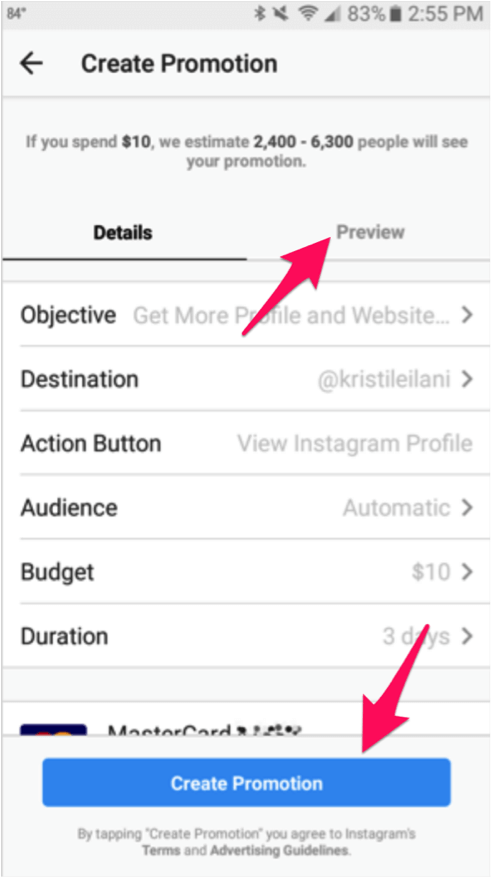 Difference between engaging content vs non-engaging content
The major difference between engaging content and non-engaging content depends on how you are promoting your product or services without doing direct marketing. If you are mentioning all about your brand in the video, then people won't be engaging with your videos. But, if the video is informative or interesting and showing something different and promoting indirectly will create more impact on the audience.
Before spending money on any post you need to make sure the post is effective. Creating a good brand image and helping people recall your brand.
For example here are two sample posts to understand what kind of posts are more engaging on social media.
Engaging post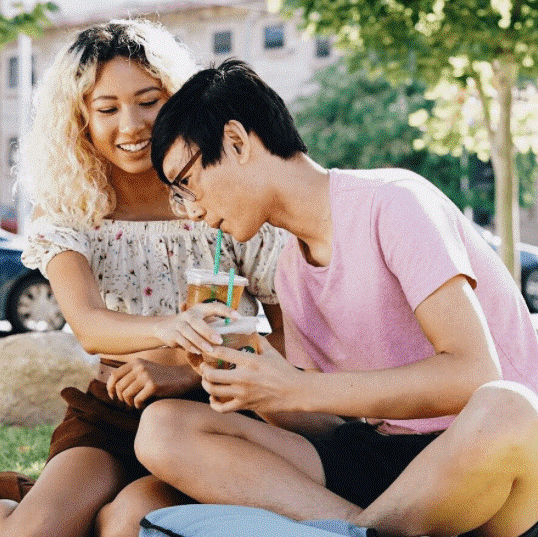 In the above post, we can see the brand logo is almost covered with their hands and the post does not look commercial at a glance.
Non-engaging post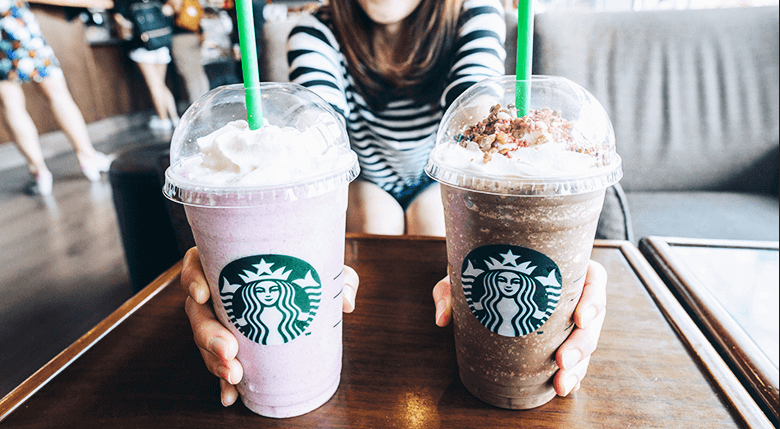 In the above post, we can see the brand logo very clearly but this kind of post is usually ignored by the users. People do not find such commercial looking posts interesting.
Effective Instagram video advertising campaign tips and tricks

Use Instagram's new zoom feature
Use your smartphone and mobile apps to create high-quality videos
Make the first seconds appealing (Instagram videos begin playing automatically as users scroll their feeds, so start your video with an eye-catching scene.)
Promote your best content
Create unique content and match it to your brand
Set clear goals
Add text (Because Instagram audio is muted by default)
Tell a story (use on-screen captions)
Improve your targeting
Make it the right size (1080px X 1920 px dimension and about 60 second length )
Solve a problem (show how a particular product or service solves it)
Find the natural light for shooting videos (if you don't have fully-equipped professional lighting kit)
Don't make your ads look like ads
Shoot in the right dimensions
Keep the shot focused on your subject
Use the call-to-action button
Be selective (Choosing your content)
Think about thumbnails early on
Embedding Instagram feeds on your website landing page could be useful too.
What kind of content and hashtags to be used in your Instagram video advertising campaign?

Twitter may have invented social media hashtags but Instagram put them on the map, Instagram hashtags are still one of the best ways of reaching audiences on Instagram.
Build a community around an actionable Instagram hashtag to improve your visibility on Instagram. People can follow Instagram hashtags like you would other users. The great thing about this strategy is that it is the perfect way to get your audience to engage with your brand.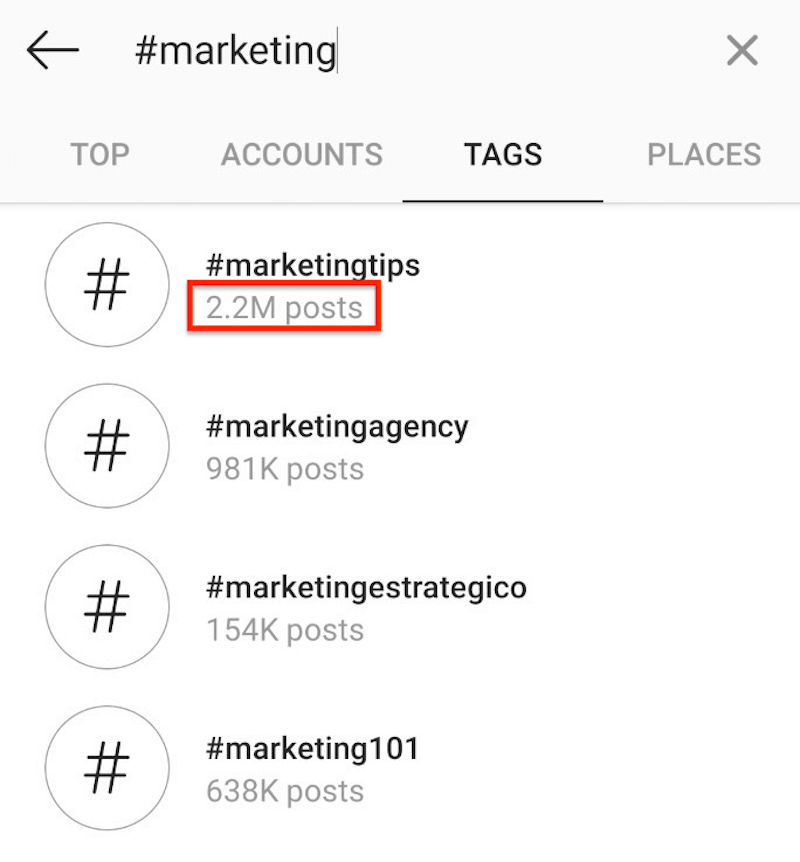 Instagram has very limited search capabilities and people use hashtags to find the content they are interested in. When researching relevant hashtags, try to go as micro as possible, smaller brands can leverage hashtag campaigns as well. They allow you to show up in various searches for your target audience and help more people find your content.
Instagram hashtags not only categorize your content and makes it discoverable by users. You can now turn profile usernames and hashtags within your Instagram bio into clickable hyperlinks.
Use your business hashtag and any hashtags that are relevant or important to a marketing campaign running.
3 Places to use hashtags in your Instagram content:
IGTV
Instagram feed posts
Instagram stories.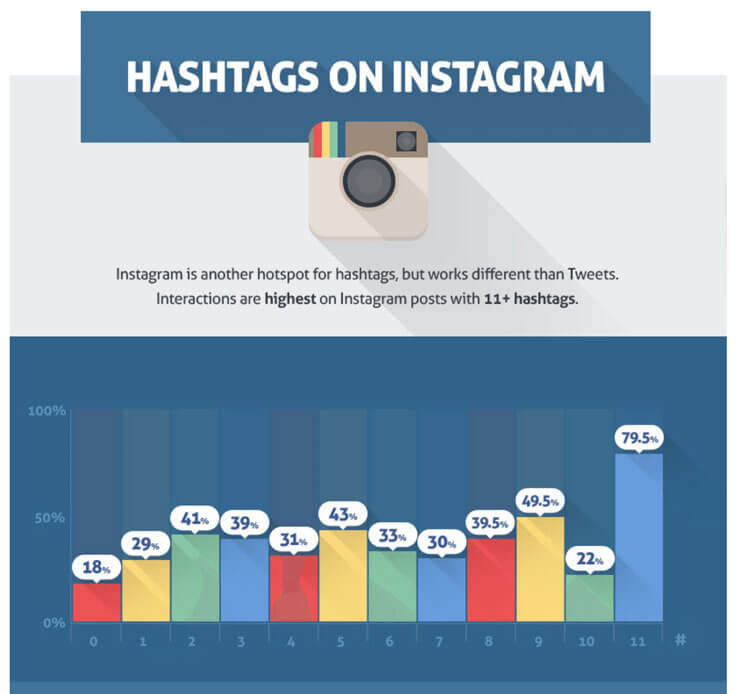 Source: Luisem
Instagram posts with at least one hashtag got 70% more likes and 392% more comments than those without hashtags. When you include a "#", it will automatically become a clickable link that will lead visitors to a hashtag. Also, interact with others using similar hashtags to grow your Instagram following.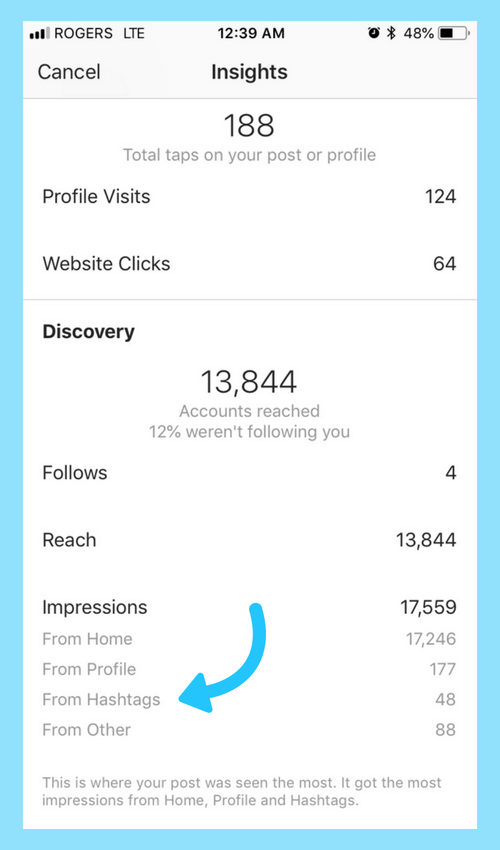 What you should learn about Instagram video advertising?

Instagram is a leading social media platform and today's social media advertisers are all-in on the new video-focused Instagram. Every marketer wants to reap all the benefits of Instagram for their business because there are more than 700 million users on Instagram and the community is still growing.
Instagram started offering video ads a few years ago and businesses have started to react more and more to this rapidly growing platform.
Instagram and Facebook are connected, but there are flexible and creative ways to create and watch video on Instagram. If you analyze your favorite brands, ninety percent of them have an Instagram account. It's easier to target your audience on Instagram based on Facebook data. The setup and creation of ads are done through Facebook, however, it doesn't matter who you are marketing on Instagram.
Instagram is still a relatively new platform compared to other social media sites but you don't need to start from scratch and learn about Instagram. It's both more engaging and easier to process mentally.
Four main factors impact the cost of your Instagram ads, which are: ad format, targeting, time of year, and ad placement.
At the end of the day, sales are what most business owners are striving for, the engagement rate on Instagram is higher than the engagement rate on any other social media platform. This increases the probability of sales.
Instagram opened up Instagram ads in 2015, a few things should be better, while a few others should be different. You can do at least a little Instagram advertising with almost any budget, using the Facebook advertising system also, marketers can now reach any specific segment of Instagram.
Start experimenting with new Instagram features to drive traffic or conversions. There are three ways you can control your Instagram ads cost by setting a daily budget, a campaign spending limit, or a bid strategy.
Analyzing the campaign performing and understanding the audience's behavior using social media listening is also an important factor.
The social network added a video view count feature for both advertiser and user-generated content and Instagram ads have become a new trend for brands looking to increase engagement and profits.
Are you ready to set up your first Instagram video advertising campaign? For any suggestions or feedback write to us!