Do you think you could get better views on your Instagram posts and stories? Here are the amazing tips to create a better Instagram caption with examples.
Having a terrific feed on Instagram is very important in making your business stand out and turn heads, and a key part of having a successful Instagram account is making sure your Insta captions effectively make an impact on users.
Let's take a look at some tips that will take your Insta captions to the next level! Here's what you should focus on the next time you're captioning a pic for your feed:
1. Call To Action
Increase Account Activity With One Easy Step
Including a call to action in your Insta caption is one of the best ways to increase activity on your account and/or your website.
A great example of an effective call to action is including a link in your Instagram bio and directing attention to it in a caption. If you make a product or service sound appealing, you will draw users' attention. Following that information with the phrase "link in bio" promises more detailed information or the opportunity to purchase whatever it is that you are selling.
If you have already piqued people's interest, they are very likely to head to your page and click the link in your bio. This will, in turn, boost the success of your business as well.
You can also utilize other calls to action, such as inviting users to participate in a giveaway or promoting the use of a specialized hashtag.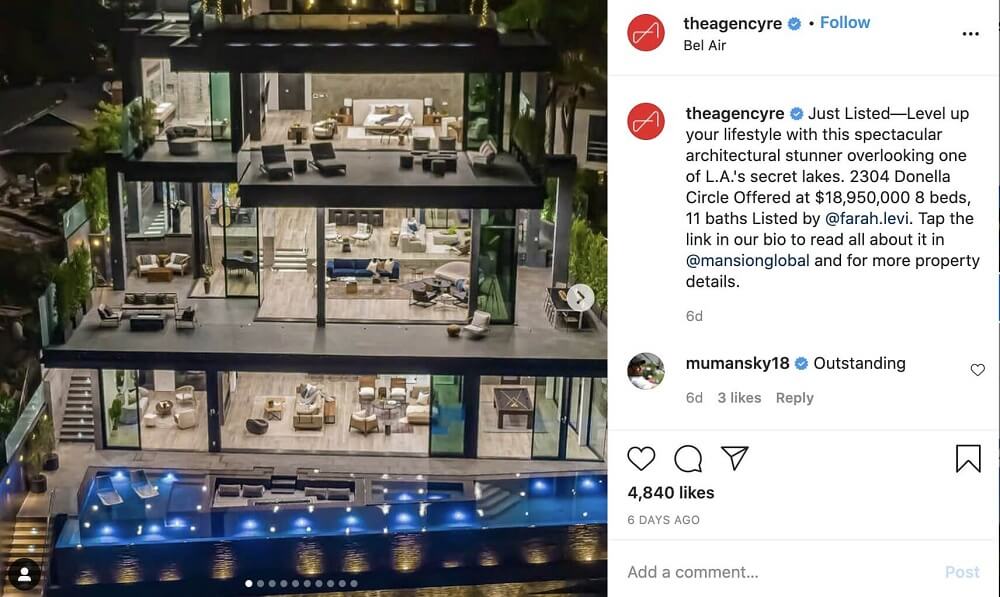 This luxury real estate agency has posted a photo of a home that was just put on the market, along with minimal, yet enticing, detail. At the end of the caption, users are invited to visit the link in The Agency's bio to learn more.
This post will catch eyes initially with the impressive photography, build interest with the appealing caption, and then launch users into action with the promise of a link in the account's bio.
2. Length
The Sweet Spot For Holding Readers' Attention
The length of your caption can vary, depending on the purpose of your post. However, there are some important tips to keep in mind when writing Insta captions.
First of all, don't forget that you are writing a post for Instagram – users will be scrolling through their feeds, not intending to spend much time looking at any one post. So, don't be too wordy. Grab people's attention and give them enough information that they feel interested but not overwhelmed.
At the same time, don't be so concise that people feel confused by a lack of information. Your caption should grab attention, give some information, and leave people interested enough to look further into your product or service.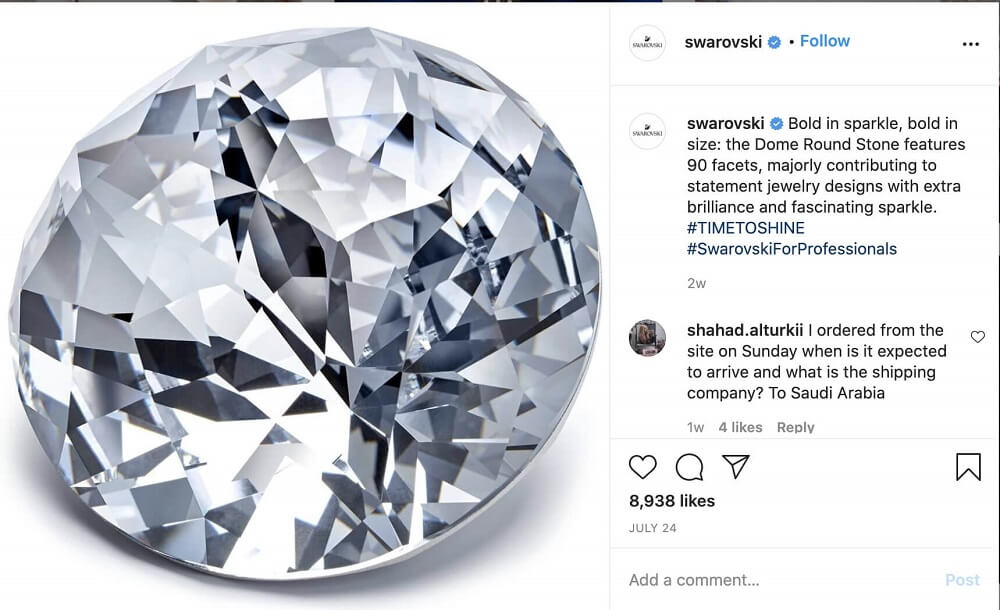 This post from Swarovski starts off with a creative hook, then gives some detail on the stone featured in the post's photo, before finishing out the caption with a little extra information. This caption, informative yet easy to read, will likely capture attention and create interest in this product.
3. Fonts
Be Eye-Catching And Unique
Using a variety of fonts in your Insta captions creates dynamics and draws attention to specific words. Changing your fonts helps to emphasize an important part of the caption by making it stand out.
If there is one sentence or phrase in your caption that you would identify as the most important takeaway for readers, consider highlighting it by putting it in a different font from the rest of the caption.
You can use font tools like Instagram Fonts to convert your text into a unique font that will capture attention. There is a wide variety of fonts to choose from, so you can switch your font game regularly.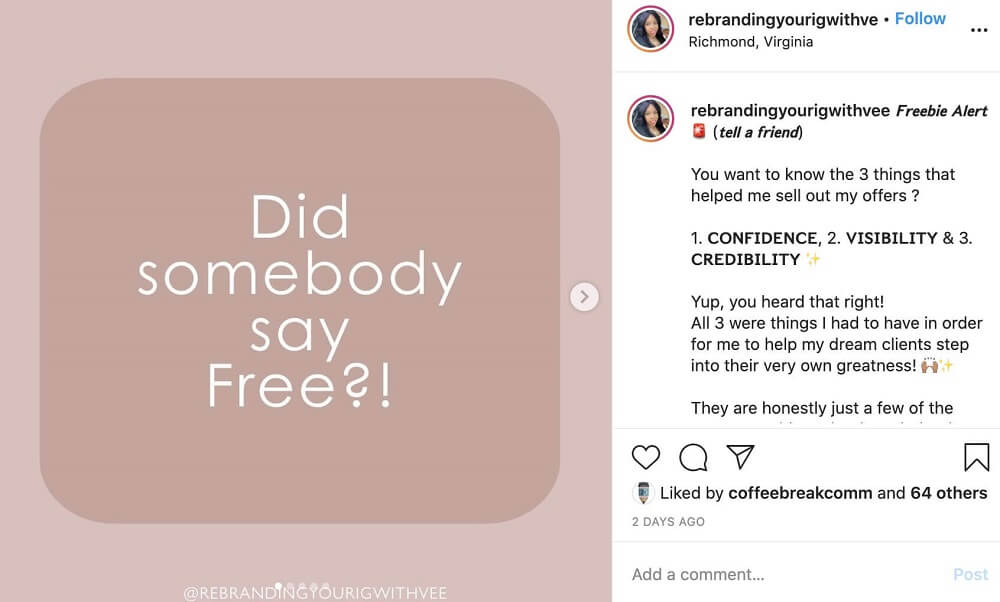 The owner of this account, @RebrandingYourIGWithVee, likes to highlight various pieces of her captions using eye-catching fonts, as seen in the above photo. She begins her caption with a bang, using attention-grabbing words and putting them in a bold, italicized font. Once she has grabbed readers' attention, she switches over into the Instagram default font but then uses another unique font to highlight an important part of her caption.
In doing this, she has drawn users' attention to two vital points in her Insta caption. Now, they are much more likely to read the information in between the eye-catching fonts.
4. Emojis
Make Your Captions Fun
Using emojis in your Insta captions can add personality and visual appeal to your account. Using emojis sparingly is important because too many can make your captions look cluttered and unprofessional.
However, using emojis sparingly and tastefully can break up long sections of text and make your business seem relatable.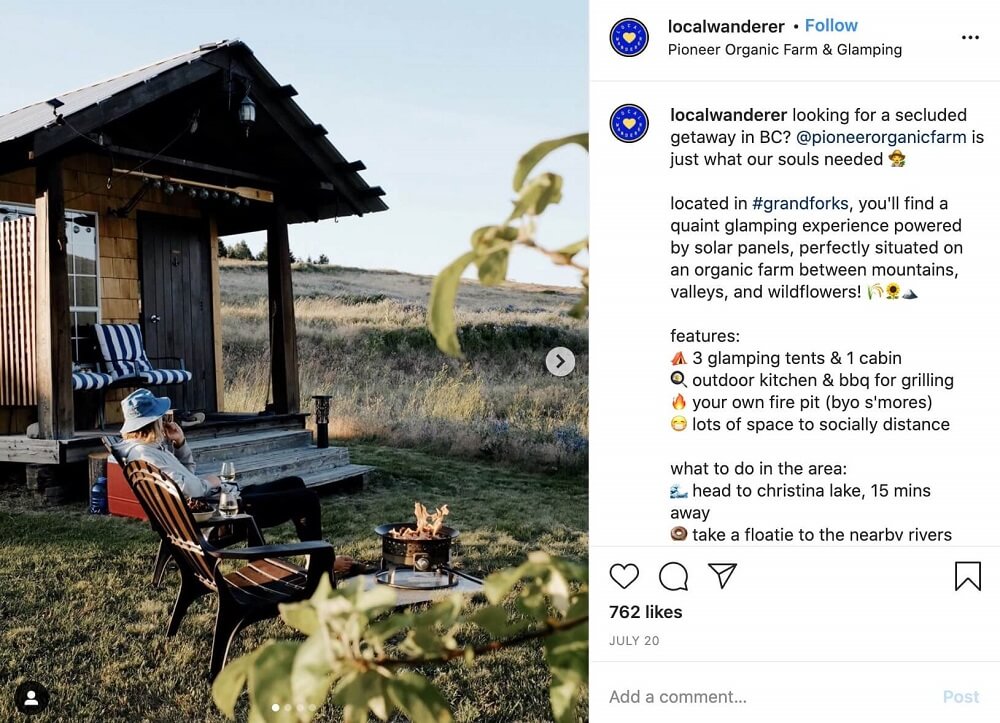 In this post from Local Wanderer, the use of emojis contributes to the light, amicable nature of the caption, and it provides visuals amidst the wordiness of the post.
5. Ask Questions
It's All About Follower Engagement
Presenting a question in your Insta caption is a great way to boost follower engagement. Asking questions invites users to contribute their thoughts in the comments section, which helps them to feel connected to your account.
If you have time, it can also be a great idea to respond to some of the comments in which users have answered your questions. This makes your account feel personable and engaging, and followers may be more likely to respond again in the future.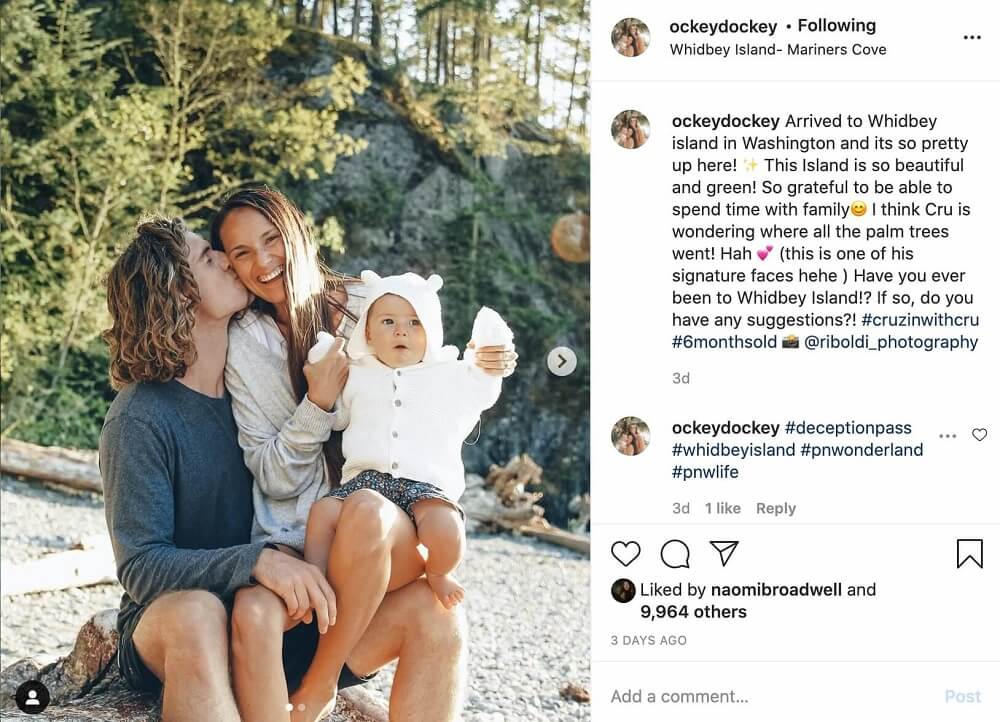 This social media influencer, @OckeyDockey, often asks questions in her Insta captions to engage with her community of followers. In this post from a trip she took with her family, she asked followers if they have ever been to Whidbey Island and if they had any suggestions of things to do.
This makes followers feel more like friends, as they have been invited to share personal experiences in the comments section.
6. Plan Ahead Of Time
Be At Ease With Your Captions
It's important that your captions feel natural, rather than rushed or artificial. We recommend using a post scheduling app such as Planoly or Later, which will give you the opportunity to create your captions ahead of time. This will help you to avoid rushing into captions and pair each caption perfectly with a photo.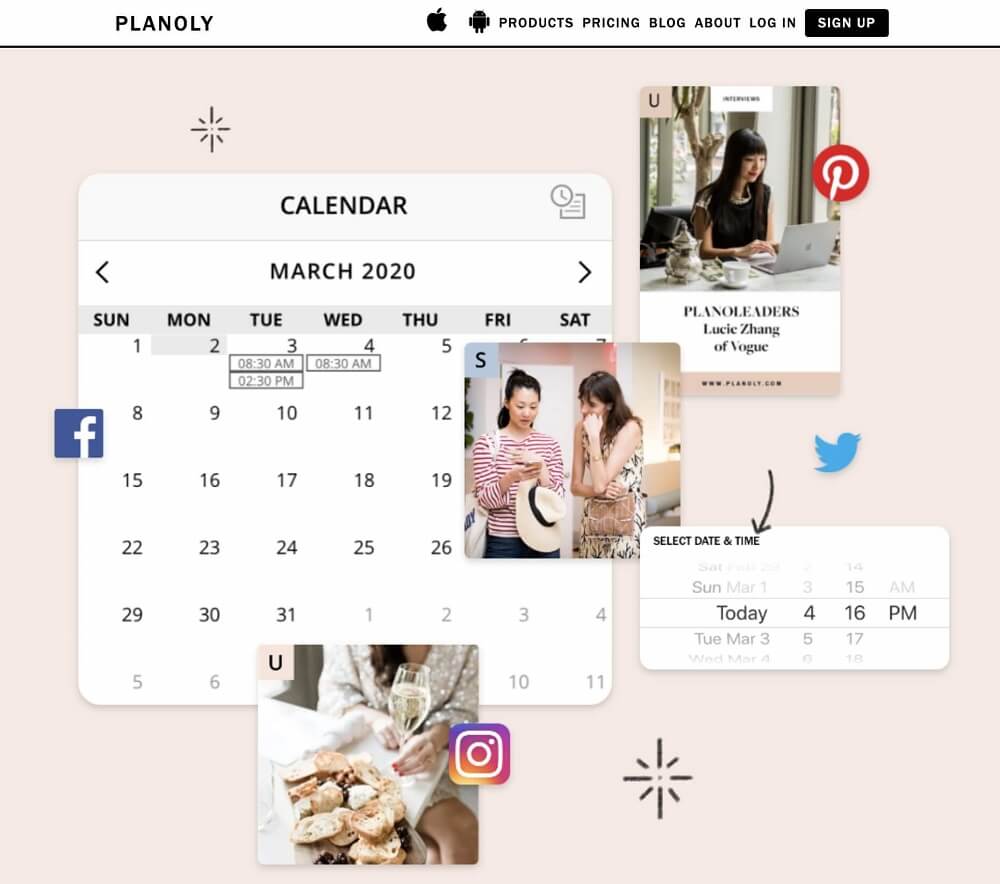 This photo from the Planoly website gives a brief snapshot of how it looks to schedule posts ahead of time. Users can select a specific date and time for photos to be posted, and a monthly calendar will give an overview of scheduled posts.
These types of tools are very helpful for business owners who have tight schedules. Taking time to plan your posts ahead of time will not only help you to feel relaxed and calm about your social media, but it will also ensure that your Insta captions sound professional and natural.
7. Be Personable
Connect With Your Audience
A funny or relatable caption can go a long way to establish trust and make your account feel like a real person and not just a business.
There are many ways to create a personable caption, but it is important to put yourself into the shoes of your followers. How would you feel if you were to read the post that you're creating? Does the caption make you smile? Or does it seem lofty and distant?
While professionalism is important on social media, and you need to take yourself and your business seriously, it is also important to take a step back sometimes and show the emotional, natural side of yourself online. This will greatly help your efforts to connect with fellow Instagram users and followers.

In this sweet post, Target uses the caption "Dreaming of 5pm patio time." This is something all viewers can relate to – relaxing after the workday with a loved one (or furry friend). This post will help users feel connected to Target as a brand since the caption is relatable for nearly everyone.
8. Testimonials
If you're running the Instagram account for a company, it's a good idea to ask some of your customers to provide a testimony for your service/product. You can then feature these users on your page with the testimony as the caption.
This helps to spread the word about positive experiences that customers have had with your business, and it helps consumers to feel as though their voices are truly heard by your brand.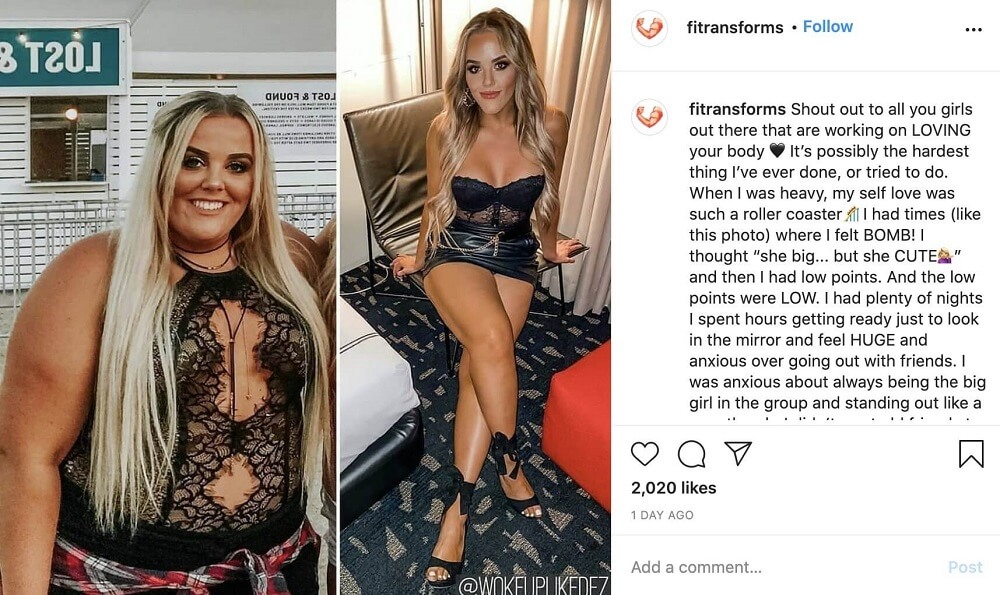 This account, @Fitransforms often posts before and after photos like this one, and the accompanying captions are the stories of the people who are featured in the photos.
Posting transformation photos like this one helps to inspire followers, which is a primary goal of the account. It also provides a platform to people who want to share their transformation stories.
9. How-To/Advice
Show That You Know Your Stuff
Another great caption idea is to give followers advice or teach them how to use a new product or service. This is a great way to connect with followers, and it is especially helpful if you are an influencer, since it will allow you to promote the companies with which you are partnering.
Giving advice or direction to your followers gives you an edge by showing that you are familiar with whatever product or service you are promoting, which makes you seem professional and gives a sense of authority. This is great for developing your brand.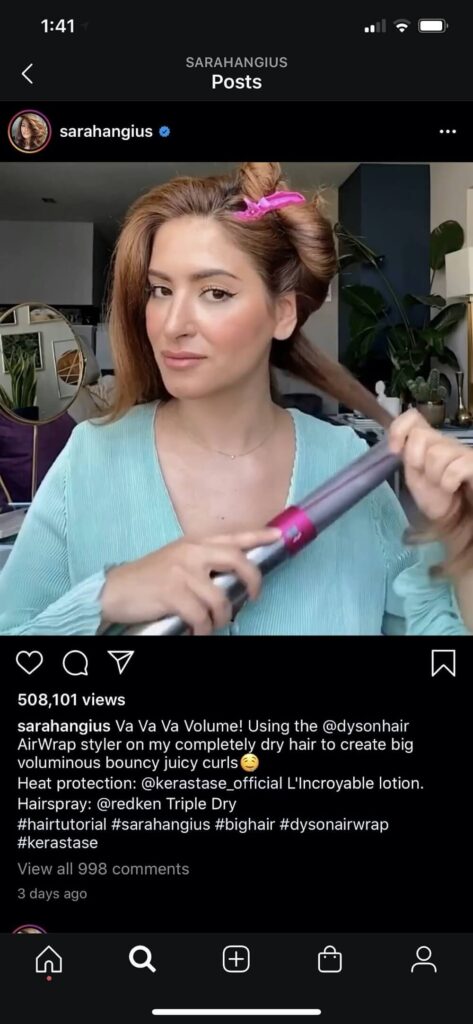 Popular hair guru Sarah Angius recently posted a video in which she demonstrated how to use a new product that she was promoting from Dyson. This gives viewers inspiration to try the style on their own hair, and it is great advertising for the hair styling tool.
10. Giveaways
Posting About Partnerships
Giveaways are another great way to boost follower activity and spread awareness of your brand. When running a giveaway, make sure your Insta captions are clear as to how to enter and how long the giveaway will last – the more detail you provide, the more followers will enter!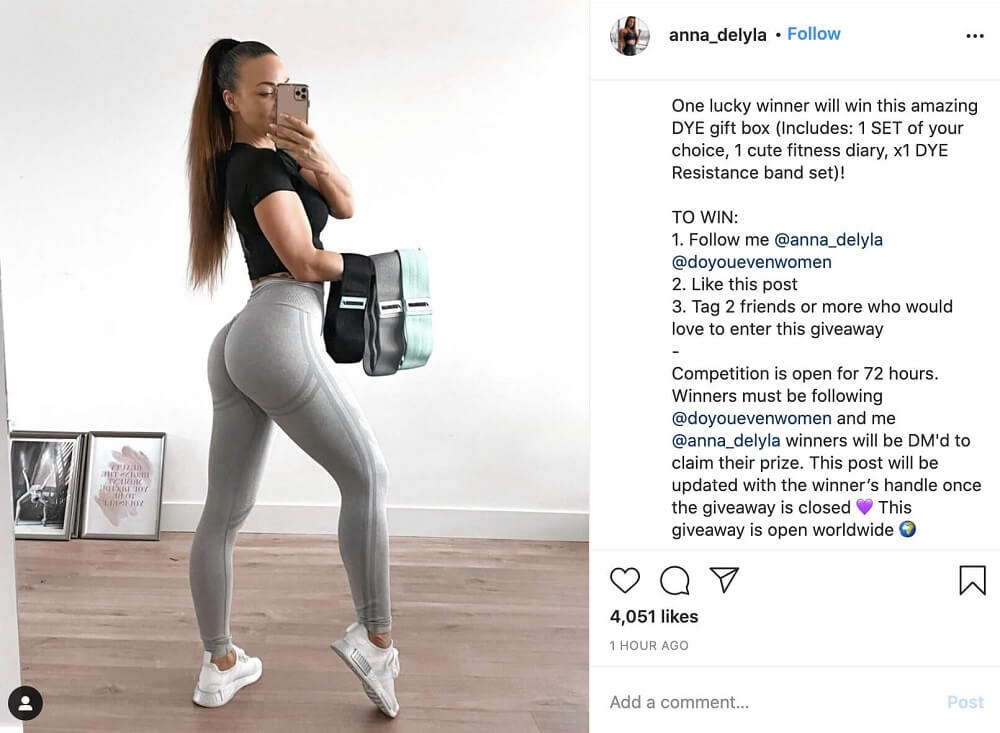 Anna Delyla runs a fitness and fashion Instagram account, and she has recently teamed up with the brand Doyoueven Women to run a giveaway. In her post, Anna Delyla includes detailed instructions on how to enter the giveaway, what products will be sent to winners, and even information on how winners will be notified.
The information provided in the post is so specific that any user who reads the post could enter. This will inspire lots of entries and create an abundance of awareness for both accounts running the giveaway, which is likely to boost their number of followers.
11. Hashtags
Boosting Brand Awareness
Hashtags are one of the best ways to get your post in front of a wider audience. In fact, a study between Socialinsider and Quuu showed that 87.7% of brands place hashtags in their captions. The study further showed that hashtags are most successful when brands hide them in the caption.
It's important to choose the best hashtags for your brand. Be careful not to use any banned hashtags, since that will block your post from viewers. Also, make sure to use hashtags that are applicable to your brand.
You can even create new hashtags that are specific to your brand. Once you do this, you can start using them in your won posts and encouraging your followers to do the same. This will enhance engagement and bring more visibility to your site. You can then create "User Generated Content" by reposting some of the photos that your followers post with the hashtag.

The popular midwestern amusement park, Kings Island went simple yet effective with its personalized hashtag. The company encourages park-goers to include #KingsIsland on posts, and Kings Island does the same on its own posts. Throughout the season, patron posts are shared on the Kings Island Instagram account after being found through the hashtag.
12. Utilize Spacing
Spreading Out Your Information
You have a lot to say, and it's all-important! But, keep in mind that a caption can look daunting if it is just one big paragraph. If you have a long caption that you want to share, try spacing it out or even adding dots or different emojis to separate paragraphs.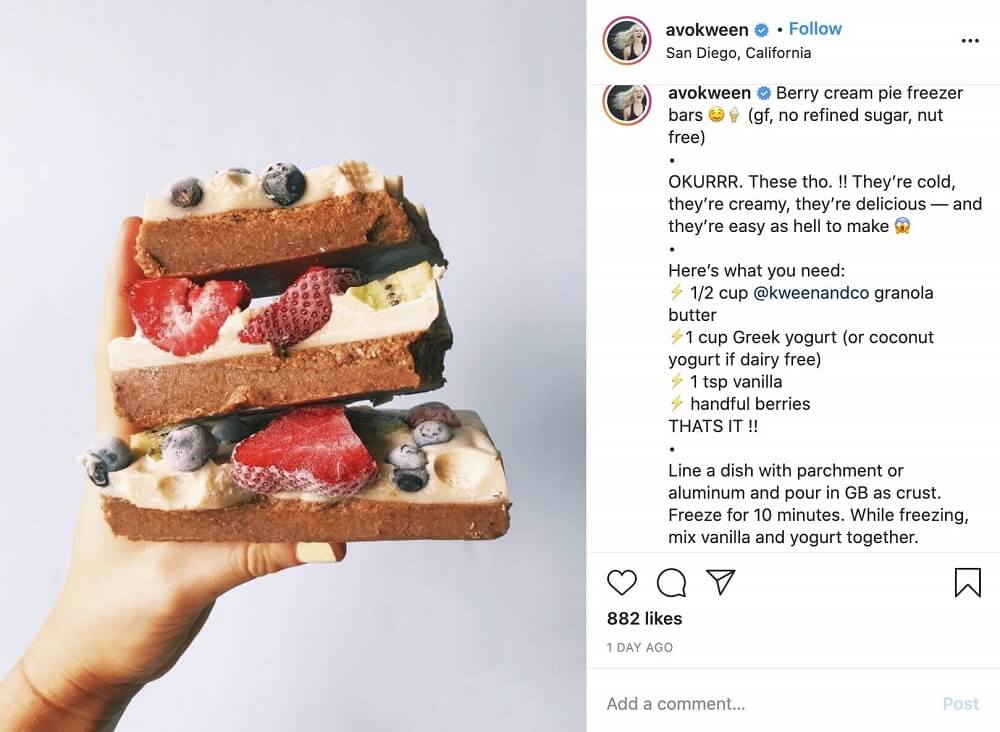 Ali Bonar often shares delicious, healthy recipes with followers. Her tasty foods have made her account very popular, but sharing recipes requires a lot of information…which means long captions. As seen in this photo, Ali splits her posts into sections using dots, and she uses emojis to list each ingredient in her recipes. This makes the information easier to take in!
13. Add Context
A Little Detail Goes A Long Way
Posting cool, interesting photos is a big part of Instagram marketing. When you share unique photos, it's also important to give your followers a bit of information to go along with it. Giving your followers the background and context of a photo makes for a great caption.
Try looking for cool photo ops that will also lead to interesting stories you can share in your Insta captions.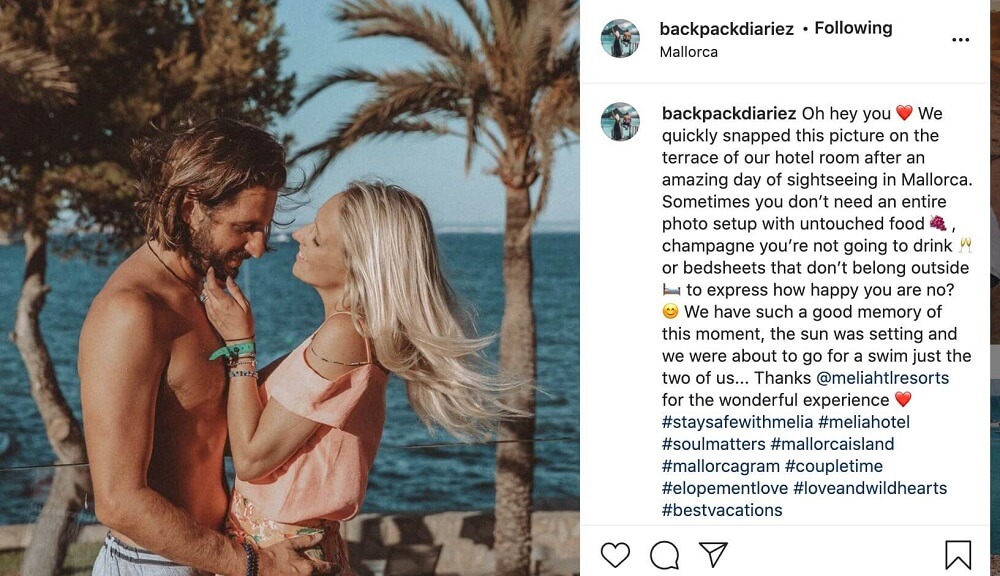 The couple who run this travel account, @BackpackDiariez, often post interesting photos in breathtaking locations. The photo in this post was slightly different from others in their feed, so they used their caption to give a little background on when and where they took this photo, offering followers a glimpse into moments from their everyday life.
14. Have Fun
Making A Game Of It
Followers like to see that you don't take yourself so seriously, and a great way to relate to your followers is by engaging with them through your captions.
You can do this by playing a game of "two truths and a lie" in your Insta captions, in which followers guess in the comments section. You could also play a game of "would you rather" with followers. Both of these games boost follower engagement.
You can also host caption contests, in which you post a photo and invite followers to suggest captions in the comments section. You can then post winning captions on your Instagram stories to highlight creative followers!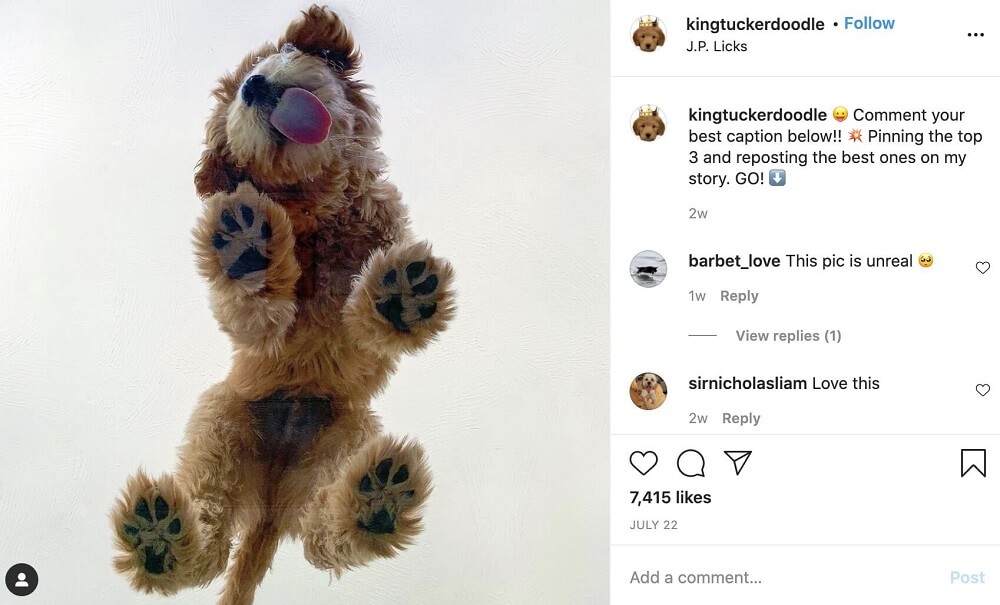 This account, @KingTuckerDoodle, hosted a caption contest in which followers were invited to share their best caption ideas for this adorable photo. The best caption ideas were "pinned" in the comments section and shared in the account's story.
15. Blog/Product Updates
Don't Forget To Promote Yourself
A super easy way to keep your followers connected is by updating them on new blogs, products or services that you are offering.
This pairs nicely with a call to action at the end of the Insta caption, which will direct followers to your bio where the link will be. Make sure to also use a link in bio tool to ensure ease when trying to promote websites on your Instagram.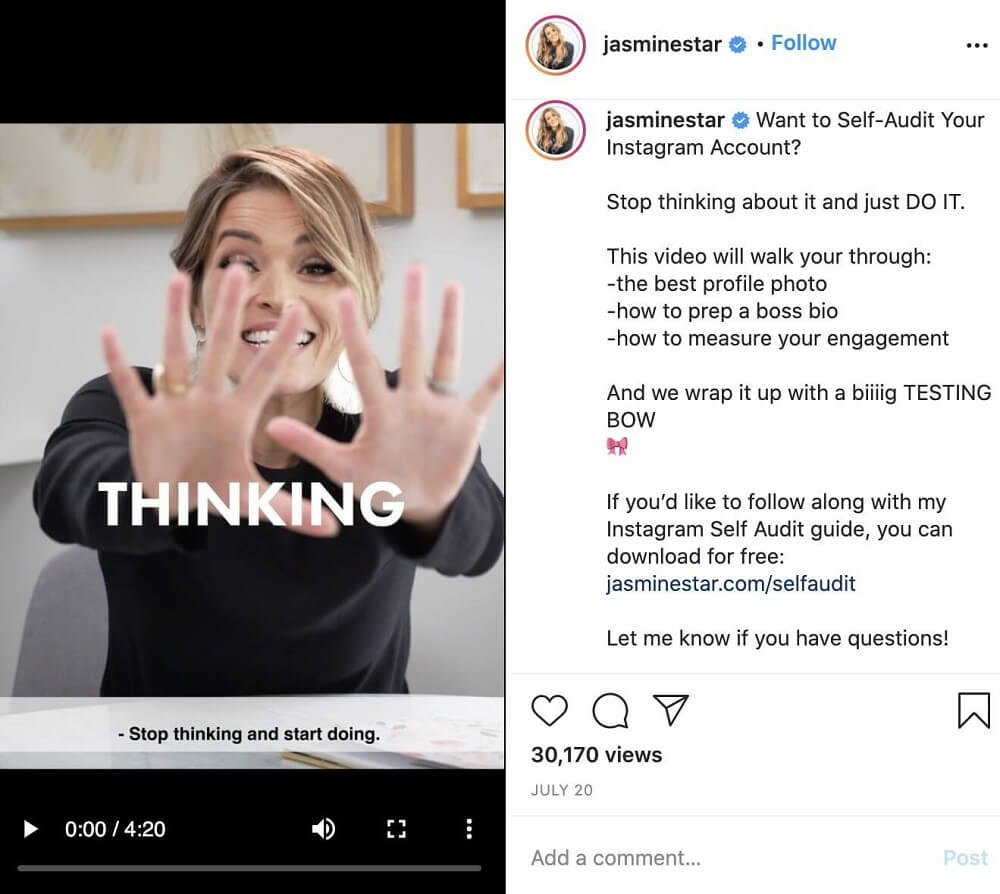 In this post, popular entrepreneur Jasmine Star promotes a new video she created about upping your Instagram game. She gives a brief overview of what is covered in the video, and then she includes a call to action at the end of the caption, providing a link.
Putting It All Together
Now that we've covered 15 different ways to make your Insta captions pop, you're ready to get started!
Transforming your Instagram account isn't an overnight process, but these are some great tips that you can begin implementing TODAY! So, give them a shot and see how much better you start to feel about your account, right away!