The legendary Seth Godin once said – "content marketing is the only marketing left".
He wasn't wrong. After all, content marketing is authentic, convenient, and perfectly suitable for the internet generation.
However, the industry is expanding and content isn't just limited to blogs anymore. It has encompassed so much more like – videos, infographics, podcasts, email newsletters, etc.
So whether you're a beginner or are part of a team that's simply looking to clear the basics of content marketing- you're at the right place!
By the end of this blog, you will be able to come up with the right strategy that will help to earn more traffic and build a reputation.
What is Content Marketing?
According to Hubspot, content marketing is the process of planning, creating, distributing, sharing, and publishing content to reach your target audience. Source
If we look at it, content marketing as a phenomenon has evolved over the years.
There was a time when it used to be a way to set yourself apart from your competitors. Now it has become more of a modern asset to many.
In addition to expanding your reach, content marketing also helps in:
#1 Building relationships between you and your audience: In today's competing digital marketplace, it has become even more important for marketers to build trust with their audiences.
According to the Content Marketing Institute, more than 70% of consumers say they prefer to learn about a product or service through content rather than traditional advertising. Source
#2 Encouraging Conversions: With content marketing, you get a chance to connect with your customers and educate them about your company or product. This further leads to quality conversions.
According to CMI, 74% of companies say that content marketing has increased their marketing leads, both in quantity and quality. Source
#3 Demonstrate your expertise: People want to take information from experts. You can provide your audience with valuable knowledge related to your industry. This will help readers see you as an expert and engage with you more often.
#4 Improving SEO: Optimized content leads to better Search engine rankings. Here are several ways you can optimize your content:
Focus on appropriate keywords: Keywords help to capture the essence of a topic and lets the search engines rank your content among the appropriate search results. So make sure you include appropriate keywords in your content to make your content accessible to the right set of audiences.
Use proper heading tags: Header tags are the HTML tags that range from H1 to H6 and are used to create an outline and add structure to an article or blog post. Using header tags wisely can help increase the readability of your content and provide relevance to your keywords which can help your content to rank higher in the search results.
Optimize the length: There might be no hard proof that Google prefers longer articles, but results have shown that longer content tends to rank higher and gets more visibility across different channels. Longer posts don't mean "more" content but "better" content which provides value to the readers. Use bullet points, subject lines, etc. to break down your dreaded "wall of text".
Build Quality backlinks: Quality backlinks help Search engines to measure the relevance of your website and rank it appropriately among the relevant search results.
Not to forget, the more Quality content you have on your website, the more reasons you give visitors to stick around. A higher time-on-site can also positively impact your SEO.
With all the benefits mentioned above, we think now you have a clear understanding of the importance of content marketing. Let's move further and choose which type of content marketing suits you better.
Types of Content Marketing
As mentioned above, content marketing is just not limited to blogs anymore. There are various other creative and convincing ways you can reach out to your audience.
Think about some of them right now.
How many did you come up with?
The list is never-ending! Let's take a look at some of these various ways you can experiment with in content marketing:
Videos content marketing

Videos have become a go-to format for many things including – news, education, entertainment, stories, and even marketing.
Video content marketing can help your business by:
Boosting engagement
Conveying information more efficiently
Building audience trust
Boosting conversions and sales
Showing great ROI
We mean, there can be no coincidence how:
People watch over 1 billion hours of YouTube videos every day. (source: YouTube) –
Videos on Facebook get 135% more organic reach than pictures (source: Social Bakers) –
Tweets with videos are 6x more likely to be retweeted. (source: Twitter) –
Vogue India's #VogueEmpower campaign is a perfect example of this. The campaign was an initiative to raise voice for women empowerment and violence against women. They featured Bollywood celebrities like Madhuri Dixit, Alia Bhatt, and Deepika Padukone in their videos.
The campaign was a successful hit on the internet getting wide appreciation and engagement from all the platforms including YouTube, Facebook, Twitter, Instagram, and GooglePlus.
Content marketing through social media
Social media has over 3.8 billion users worldwide (source: Hubspot). With that reach, it's easier to understand why you should be investing in this type of content marketing.
There are a variety of platforms such as Instagram, Facebook, LinkedIn, Twitter, etc. where you can create and share different types of social media content including:
Photos,
Live-videos,
Stories,
Polls, etc.
Grammarly knows how to play the social media content game right! They try to make grammar fun for their audience on social media through their posts.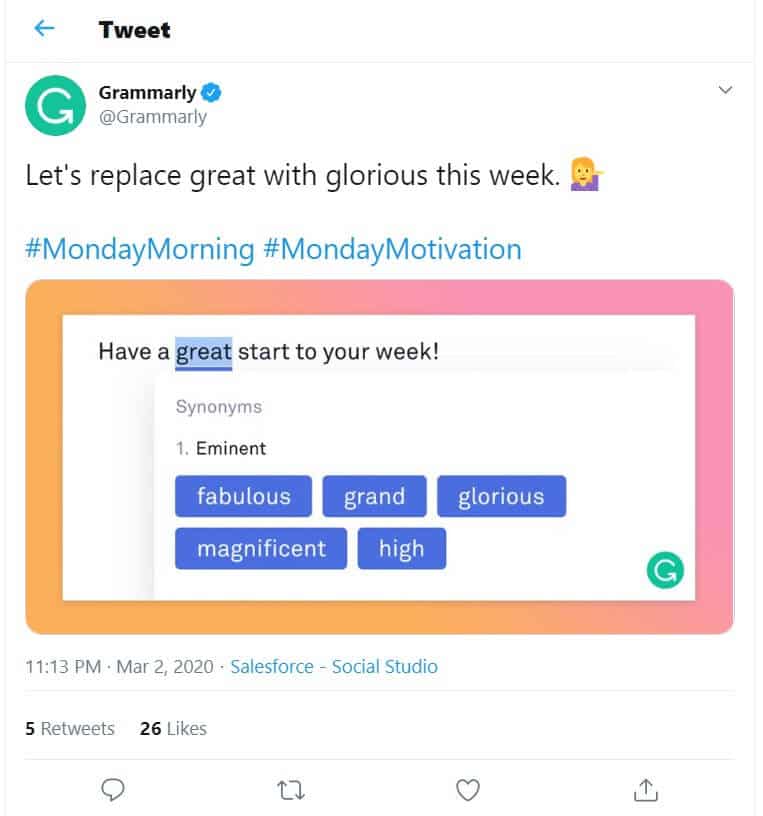 From #MondayMotivation and #FunFactFridays to posting inspirational and funny quotes. The images they upload are often quoted with fun texts which help in attracting views and encouraging shares.
Infographic content marketing

 Oxford English Dictionary says that an infographic (or information graphic) is "a visual representation of information or data". Source
But the real meaning of an infographic is much more than that.
Infographics are overlaid with easy wording, short statements, and images – making it a great way to effectively share your content.
Blogs content marketing

Blogs are a powerful type of content marketing.
With blogs, you can share information (whether educational, customer-related, or product-related) with your target audience.
Blogs help in:
Increasing brand awareness
Demonstrate your expertise
Build relationships
Directing people to your social media pages
Boosting SEO
Educating the audience about your product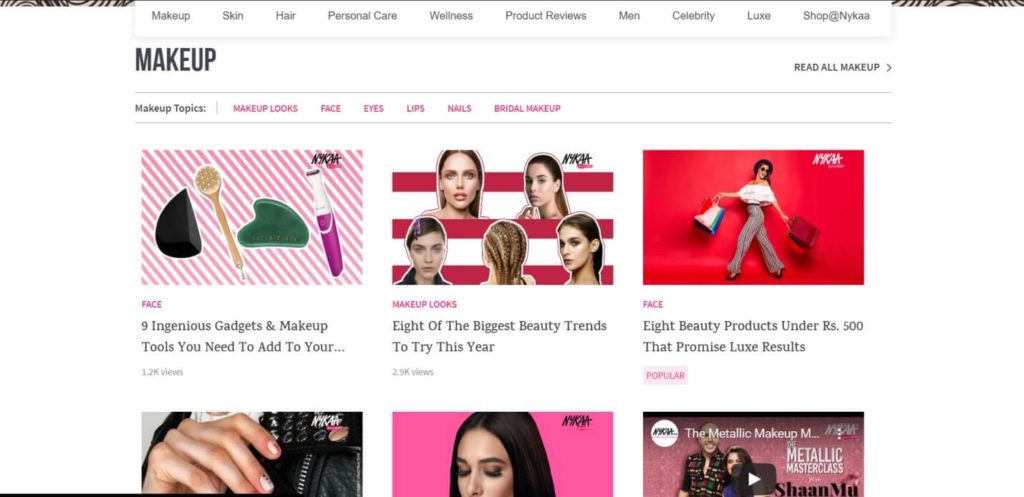 Nykaa, an Indian retail seller of beauty, fashion, and wellness products, is a perfect example of this. They have active blog posts providing make-up tips and advice from experts. Nykaa also has an expert panel of skin, hair, make-up, and personal care experts who answer user queries in the comments.
Podcasts content marketing

 A podcast is a kind of audio broadcast.
Unlink videos and blog posts, podcasts have nothing to do with the visual element – which makes it even easier to consume.
People love listening to podcasts because of how convenient they are – you can easily listen to them on the go.
TedTalks came up with its podcast known as TedTalk Daily so that they can capture another set of users. Here you will find stories about astronomy, personal finance, artificial intelligence, coding, and so much more.
These were the various types of content marketing that you can incorporate in your strategy. Which one you think is the most suitable for you?
Now that you're ready to get started with content marketing, we've got some tips for you to keep in mind.
Tips before you get started with content marketing

#1 Build Your Niche
What is your goal? What type of content are you planning to create?
Your content will help you connect with your targeting audience as you establish your brand as an expert or influence in your field. Write content for what your business stands for.
#2 Know your audience
Research what questions are your audience asking. Can you provide an answer to it? What problems do they have that you can solve?
Provide as much value to them as you can. This way you not only write content that you love, but which can also help your audience.
But wait, how do you know what type of content is your audience looking for?
Answer The Public is a free tool that can help you get insights from your audience's mind. Just type in any keyword and it will provide you with questions people are asking related to that term – that too in some mini seconds.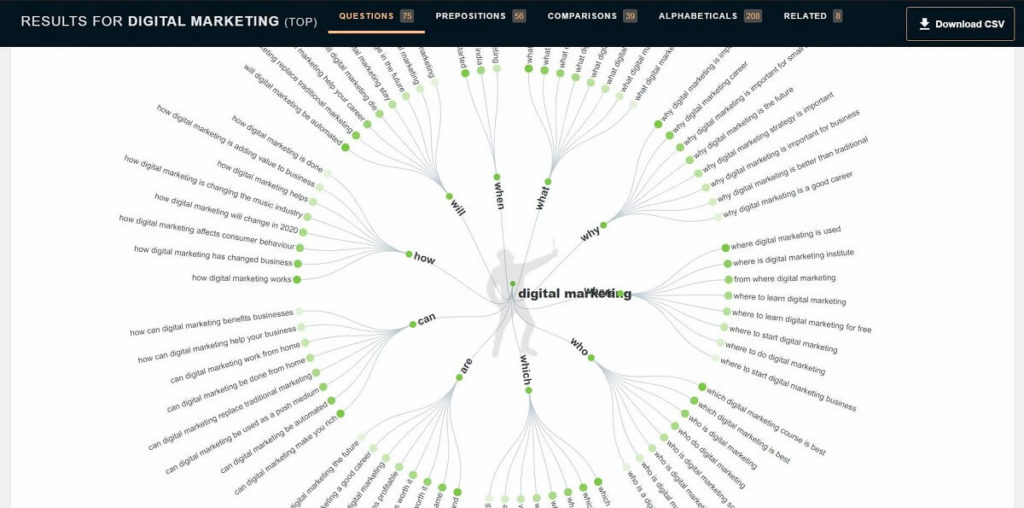 #3 Research Keywords
The keywords that you optimize can either make or break your attempts to drive more traffic to the website. That's why it is important to find the right set of keywords in your niche to make the relevant content that can solve user's queries.
Many tools can help you to find the optimum keywords for your content. These include Google Keyword Planner, UberSuggest, Keyword Research Tool, etc.
#4 Come Up With Compelling Headlines
Your headline is the first thing that grabs your audience's attention. Make sure it's enticing, engaging, and interesting to start with.
Your headline should include the keywords and should not be more than 7-8 words.

Or you can easily see what your competitors are writing and what's working for them. UberSuggest is a free tool where you can easily type in your competitor's URL and see what type of content is working for them.
#5 Have A Unique Voice
The content that you write or post is the voice of your brand's personality. It is important to be unique, authentic, and creative. Tone your voice to align with your target audience, business goals, and brand persona.
There you go!
Your complete guide to content marketing!
You can easily turn visitors into satisfied customers with an effective content marketing strategy. Just keep in mind that your content needs to be of high quality for search engines to reward and let your audience know about it.
See what type of content works best for your business and audience, and build your content marketing strategy around it today!
Comment below and tell us which strategy works best for you? and why? It would be interesting to know what you think.