Are you getting enough traffic on your Pinterest? This article is going to tell you all about Pinterest marketing best practices to gain more audience engagement.
Pinterest is such a fun platform filled with creative and beautiful photos. However, you can do more than get inspiration for weddings and huge events, from looking for recipes, following DIY guides, and other things.
In fact, there are billions of ideas out there, with millions of users pinning and viewing different photos. This is a huge potential business can take, where you can showcase your products and services to accomplish goals!
But how exactly can you do that with Pinterest? Read on as I show you a helpful guide in using this cool platform!
What does Pinterest Marketing Stats say?
You're probably wondering: How exactly does Pinterest help with your marketing efforts? Here are some encouraging stats that prove Pinterest isn't just a fun platform for photos and the like!
Pinterest has over 400 million monthly active users worldwide, with 1/3 of the users from the United States. This number is expected to grow rapidly.
"85% of Pinners say Pinterest is where they go to start a new project. And 89%of people on Pinterest use it for purchase inspiration." – Pinterest Survey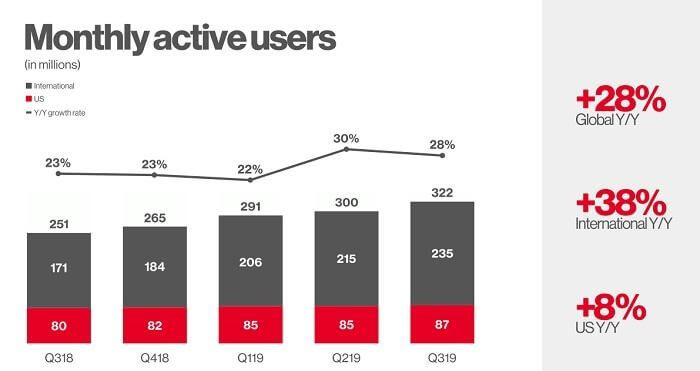 Source: SproutSocial
71% of global Pinterest users are female, according to Statista.
52% of millennials use Pinterest monthly, and millennials using Pinterest spend 17% more compared to those who don't use the platform. This gives brands the opportunity to connect with interested and engage audiences.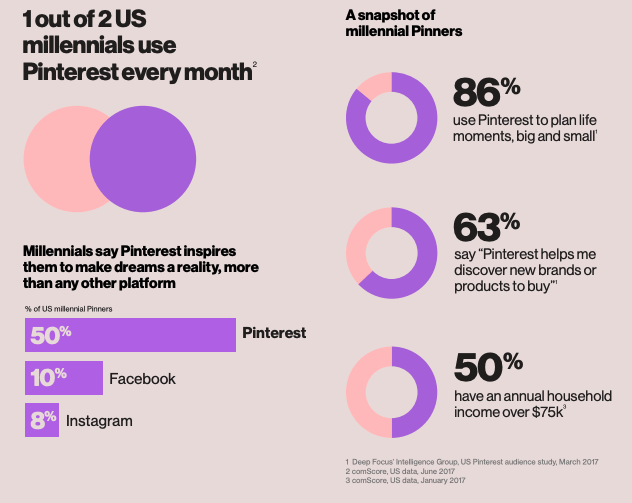 Source: SproutSocial
Shopping is a top priority for almost 50% of Pinterest users, with sharing content, networking, and news being lesser priorities. Your brand can get discovered, and more people will want to check out what you have to offer, becoming potential clients.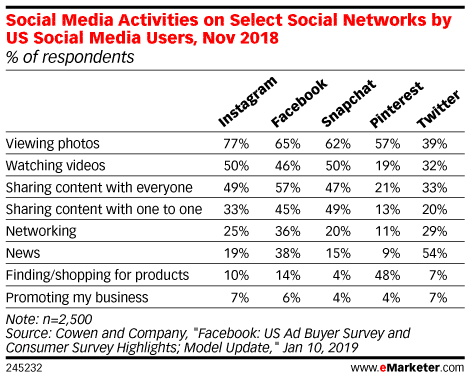 Who Uses Pinterest?
With the stats mentioned above, you can see why huge brands are joining the bandwagon and taking advantage of the platform! Here are some companies and brands that have found success in Pinterest:
Whole Foods is the first brand to see the potential of Pinterest, with now over 492K followers.
Etsy is an online shopping website with almost 50,000 followers, which is a huge following for a store! With their pins of available products, it gives people the interest to see what they can buy, especially since they specialize in homemade and vintage goods, which is what many Pinterest users love.
Martha Stewart is an influential woman, utilizing Pinterest, which has now become her company's top referrer for MarthaStewartWeddings and MarthaStewart, gaining more traffic than Facebook and Twitter combined!
How to Start Using Pinterest as a Marketing Tool
Pinterest may look like such an easy platform to use, but it isn't just about posting and pinning, there are other strategies to take account for. Here are some effective tips and methods you should look into and follow when using Pinterest for marketing:
 #1 Create Popular Pins
Your pins can get the same engagement your business has (and needs), as long as you execute your pins and strategies correctly. Think of Pinterest as a visual search engine, so it's similar to writing blog articles or posting on social media accounts. You want your pins searchable, and if it isn't, it won't be seen or found by your target market.
But before you start pinning and posting, you have to learn the Pinterest culture. Here are some tips to follow and understand:
Know about the popular Pinterest categories, both overall and within your target market. Select relevant and popular categories.
Think about the images you plan to post for pinning because your images are a cornerstone of the pins you share. The top Pinterest pins are popular because they use clear and high-quality images without faces. Go for lighter images that are simple and crisp, highlighting the pins' messaging.
Make sure that your pin images are at an optimal pin size. All pins have a similar width but unlimited length, and I recommend that you post images that are around 736×1102 pixels.
Look into the instructographics (Pinterest's term for infographic), taking advantage of your pins' longer length allotment. These are very popular because they are under a how-to nature and DIY, which is the second most popular category.
Types of pins to you can use in Pinterest to get higher visibility:
#1 Location Pin:
Place pins are pins mapped to boards with locations; its map feature switched o.
#2 Promoted Pins
Promoted pins are paid ads appearing under search results, as well as pins under the Everything, Popular, and other category feeds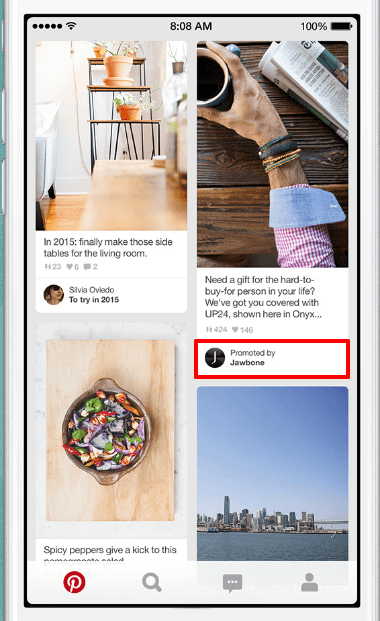 #3 Related Pins
Related pins are pins chosen for users based on Pinterest's automated algorithm
#4 Rich Pins
Rich pins show more information about your Pin, with different types such as Article, Place, Product, Recipe, and Movie pins.
You can test your website if it is ready for rich pins usin this Rich Pin validator tool.
#2 Optimize Your Pins
You can create a fantastic pin with images that have amazing resolutions and quality sizes. But it will all be in vain if you don't follow the right strategies to have those pins seen and shared. If you don't optimize your pins for engagement, no one will see it.
Here are tips to help optimize your pins, making it seen and shared:
Make it easier to pin content from your websites by adding a hovering Pin It button on any images from your websites or phone app. These are buttons you can easily add for your website visitors to check your Pinterest account, or for them to even pin your content to their own accounts.
Of course, you don't want to start over when creating a new social media account, which is why it's best to connect your other social media accounts to your Pinterest when you create a Business account. This allows you to get followers when you tap into those you have on other social media platforms, helping you spread content across all other platforms to become seen.
Besides letting people find your pins, send it straight to them through a newsletter!
#3 Tools Used for Pinning
Speaking of optimizing pins, you also have to learn more about the best practices of pinning.
Pinterest marketing best practices you should follow for high engagement:
How frequently should you pin?
You have to learn about the best times to pin so your target audience sees it first. The times would depend on the habits of your target audience, so you need to test for the specific optimum post times.
But generally, the best times to pin is between 2-4 PM EST and/or 8 PM-1 AM EST, focusing more on Saturday morning.
To gain more Pinterest followers, I recommend that you post between 5 to 30 pins daily. But do NOT re-pin other people's content, opting to pin your own.
However, do NOT pin all 30 pins within minutes; make sure that you spread it out throughout the day.
Writing Effective Titles and Descriptions
You can also utilize SEO strategies as an SEO company would do for your pins to be seen by the target audience. Research for relevant keywords, add those keywords to your pin titles, descriptions, and image file names. This will make it easier for your pins to be discovered from Pinterest and search engines.
When writing a good title and description, it shouldn't only be exciting and interesting to your target market. It should also include appropriate and searchable keywords for it to be more visible.
Furthermore, just like using a call-to-action in ad copies, you should also have a call-to-pin in its descriptions, which can increase pin engagement.
What Tools Should You Use?
There are also helpful tools and extensions you can use to help further optimize your pins, which can maximize your efforts. Here are a few tools and extensions you can try:
Buffer is a browser extension that can help you find great images so you can Pin from any website, even adding it to your Pinterest schedule.
Tailwind is a Pinterest management tool with complete features and analytics options. You can schedule pins and find standard stats, so you know what your competitors are up to, discover trending pins, your top re-pins, and who your influential followers are.
ViralTag allows you to browse from preselected images or to upload your own, scheduling to post on Pinterest and other social media platforms.
Pinvolve can save you a lot of time, as it converts Facebook photos into pins, and vice versa.
PinGroupie helps you find relevant group boards on Pinterest so you can join, contribute, and establish your following.
#4 Engage to build relationships and followers through Pinterest marketing

Now that you know how to create good pins and let them be seen, the next thing you should do is to use those pins to gain new followers and build relationships with them to grow your reach.
More reach is equivalent to more success, and what you can do is to know what your target audience looks for when they follow other accounts. That way, you can give them what they want and grow your following. There are three main factors users consider when figuring out whether or not to follow an account:
How many accounts you're following and are following you
The number of pins you have
The number of boards you have
Here are ways you can build relationships:
Just as how you respond to posts and comments on social media platforms, you should engage with followers directly. Answer questions, respond to comments, address them directly, and even use their names to improve your customer service.
Engagement is two-way; you'll need to reach out to other boards, too. Leave comments on your follower's pins, and they will see yours as well.
Another good Pinterest strategy is to follow and engage with popular Pinterest accounts and boards. You can learn more from the popular accounts, seeing what they pin, the boards they own, as well as the engaging they perform. Plus, when you comment on their pins, your name will be seen, and other users may want to check out what you have to offer, too.
Have an Open Board, where other users can contribute their pins to your board. It gets your community involved and gives you more authority.
Reach more people and get followers when you reach out to influencers within your field. Follow their boards and re-pin pins, as well as leave engaging comments, so they know your name. They will be able to recognize you and are more inclined to collaborate.
When creating a new account with social media platforms, you probably have a "Find Friends" option, which uses your phone's contacts or friends on social media. You can use this on Pinterest as well, letting them follow you when you do the same for them.
#5 Use Pinterest Strategies: Rich Pins
Next up is to build proper marketing strategies made for Pinterest, and you can do so with these tips:
Integrate Rich Pins, which can help with your re-pin to pin ratio, with bigger brands taking advantage of it. These are filled with traffic-generating and valuable information, which can help grow your sales. There are five different Rich Pins, which are: movie, recipe, article, product, and place, having features to boost engagement and traffic directly to your website.
Another excellent rule to follow is to mix your content to avoid losing follower interest. Be more diverse and go beyond product photos and go for things your target market would like.
Not all pins will make sense when you use Rich Pins; you will need to take some context from what you want to pin. But what's more important is that you add a direct link to your website in your pin description.
Put popular boards on top so you can get more engagement and that users will see your account's best material.
Just like blog posts, you can take advantage of the events, holidays, and seasons and keep content fresh by making it relevant to the times. This will make your pins more relevant, catching attention.
With all the Rich Pins you have, organize them and make them your own board, placing it at the top of your page so this is the first thing followers will see and check out.
To give you an idea of what rich pins look like, here are some images for better understanding: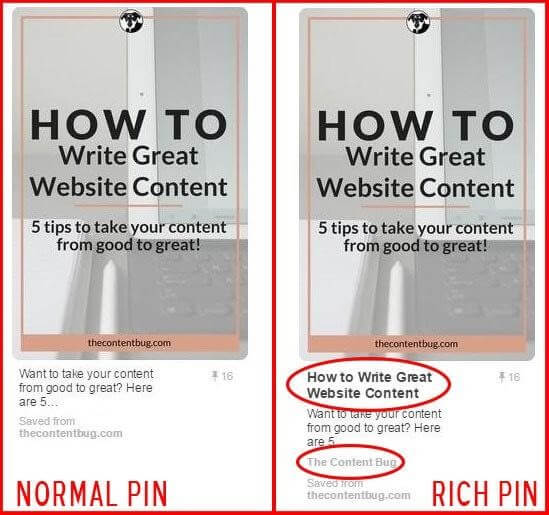 You can see the difference between normal pins and rich pins by their titles alone. You can see that rich pins have titles in bold, showing its meta description. This is optimum for recipes, sharing products for sale, and anything business-related.
#6 Track and Monitor Your Progress with Pinterest Analytics
Lastly, once you have implemented all the effective strategies, monitor what works best for you and what doesn't. This will allow you to know what you should stop doing and what to improve on for further success.
When you have a Business Account for Pinterest marketing , use Pinterest Analytics. These show useful and important statistics that will help you find out what strategies work and how you can build future strategies. Make sure you verify your website and Business Account first before getting Pinterest Analytics, and you're good to go!
Conclusion
I know how daunting it may be, trying to ensure your Pinterest marketing shows success with what you post. But start off slowly and focus on one strategy that's sure to work with your target audience, and you can progress from there.
Pinterest marketing can be very effective and efficient to drive website traffic, social media engagement, branding, as well as user-generated content creation. The firms that use Pinterest for their brands are seeing huge growth. When are you starting?
Good luck and happy pinning!