Do you know video ads on social media are most popular and highly converting these days for all sizes of businesses? Learn how to use video ads on the social media advertising space.
Social media is no longer just another place to connect with long-lost buddies. As the internet continues to get deeper into our worlds, social media is equally integrated into our daily lives. It is the most powerful tool eCommerce owners can use to boost their business. 
Video marketing is an appropriate platform to convert your followers on social media into loyal customers. Using a video maker, business owners can create compelling videos to drive traffic, manage audience, generate leads, and increase the bottom line of the company.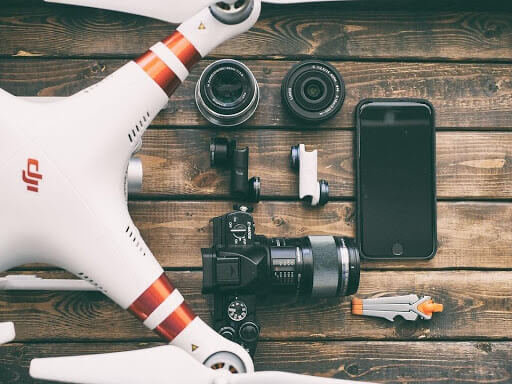 Video marketing, or ads, are used to create awareness, engagement, and boost sales. It is a crucial element of digital marketing that connects with content marketing. 
Digital marketing expert Katie Freiling says, "Video marketing is, without a doubt, one of the biggest reasons I've been able to create multiple six-figure businesses online." She has given us excellent tips like My 10 Most Powerful Video Marketing Tips. 
Today, video ads are widespread and a quintessential skill for marketers. 
In 2020, there were more than 2 billion online buyers worldwide. The majority of the buyers research online before buying. Noted below are some astounding figures to help you understand:
YouTube reveals that it has more than

2 billion users

.

1 billion hours

of videos on YouTube are consumed daily.

72% of all customers

prefer to know about products and services through videos.

An

estimated 80% of all video marketers

reveal that video has boosted their sales, whereas 84% of customers stated that they purchased products and/or services only after watching YouTube videos.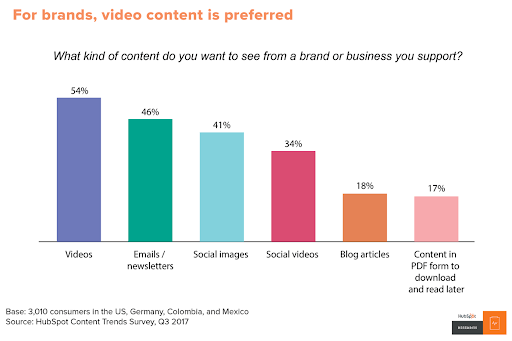 Consumers believe in videos. It is easier for them to understand. For instance, consider the top 10 viral videos of today. These are entertaining and fun, and consumers are glued to them. 
Hootsuite reveals that an average internet user is likely to spend 11 minutes 24 seconds daily on YouTube, watching videos. However, the figure is much greater than that. 
A Cisco data shows that by 2021, 80% of internet traffic would consist of videos. In another TechCrunch report, people watch at least 1 billion hours of social video on YouTube per day. 
So, regardless of the type of business, or industry you belong to, social media video ads should be a part of the content strategy. 
Why Video Ads?
Rather, ask what is so great about social media video ads?
The hold of videos on social media is simple. Instead of being bombarded with digital messages that do not have a personal value, seeing the face of a person explaining products/services is far more meaningful and reliable. It creates a make-believe environment, which is up-close-and-personal. It also lends authenticity to the message. Together, these things equate to trust and faith.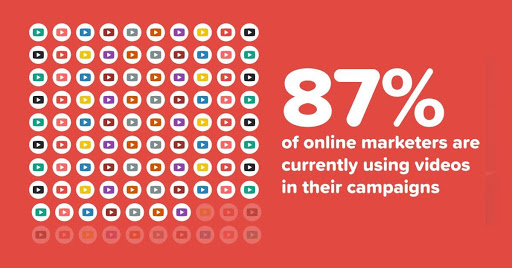 Videos are versatile too. You can create one or multiple snippets acting as brand-building tools and placeholders for the business, share as well as re-share in due time, and across several platforms. 
Key Takeaways Before You Begin
Creating an alluring YouTube video or a social media video ad involves strategy and planning. Depending on the quality you want, consult an agency or expert for assistance. 
Like any other content, a video or a series of videos should also have CTA (call to action) tied to the sale/marketing objective of the product/service. 
So, here's what you should consider:
How does the video fit in with the overall strategy?

What is the CTA?

What feeling should the video have?

When and where do you plan to share it on social media platforms?

How would it help the buyer's decision?

What is your target persona?
Types of Video Ads
There are many video formats to market a product. You have to choose the right format:
Explainers

Interviews

Live or Vlogs

Presentations

Product reviews

Demos

Video ads
So, what is your best bet?
It depends on the budget and expertise. If you are looking for a professional-looking and slick video ad, you would want to consult an expert video production or digital marketing company. 
Length of the Video
It matters!
HubSpot recommends these video lengths according to social media platforms' prerequisites:
YouTube: 2 minutes

Facebook: 1 minute

Twitter: 45 seconds

Instagram: 30 seconds
The length of videos is correlated to channelize the purpose. Shorter is always better as users have short spans of attention. It is cheap and quick too. 
Using visuals, you can ensure audience engagement – such as a slideshow with some fun graphics could work wonders. 
Of course, longer videos benefit. It offers greater value with clearer and in-depth explanations. However, it is only suitable for high-tech or complex setups requiring such details. Do not add long videos unnecessarily. 
Sharing Video Online
If you have a blog or website, you can upload the video, or embed it. It's self-explanatory. Follow up with extension social media video marketing across multiple channels. 
Noted below are a few tips to get you started:
Add captions to auto-play videos, mute them, don't add them to the home page

Create mobile-friendly videos – everything you are doing should be completely visible across different devices

Optimize videos according to SEO standards and best practices for specific platforms

Maintain the YouTube library

Deploy A/B testing to determine the times during the day when your videos are mostly seen and engaged

Incorporate videos with other content material for better visibility

Additional visuals are effective on platforms such as Snapchat and Instagram. Include captions to grab the audience attention
Most importantly, choose social media channels that meet the purpose of your brand. For instance, LinkedIn offers plenty of opportunities to share an array of content, such as videos, blogs, and slideshows. It is the right place where professionals connect from diverse fields. 
On Twitter, ensure things are organized and quick. Hashtags with manually created captions are critical too. 
Live Videos
Going live continues to be at the forefront, and would contribute to 10% of online traffic in 2021. 
Instagram live has been the hottest tool for all. Videos stay up only for 24 hours, which is great. 
Simple and easy to use, Instagram stories are eye-catching. 
Facebook Live is another way of getting personal with consumers in real-time format with the option to allow users to comment and react. 
Search and Tracking Optimization
Your content should be visible to your audience. The only way to do it is through optimization. 
Ensure that the video title is value-oriented and specific. Remember, people cannot find your video through the brand channel alone; they would also find it on the search engines and the web.
Hence, it is crucial to use the company and brand name in the video title, especially if it is a product review or a demo. A useful title can bring your audience to the brand. However, keep it short and crisp.
Descriptions are important, but only include keywords. They aim at both consumers and search engines. Use the keyword tool by YouTube to find useful keywords across the content. You may also use Google Analytics for Sureshot results. 
Although video ads are not new, it has gained tremendous popularity over these years. By n means, the following is a list of some of the major benefits of video ads in social media: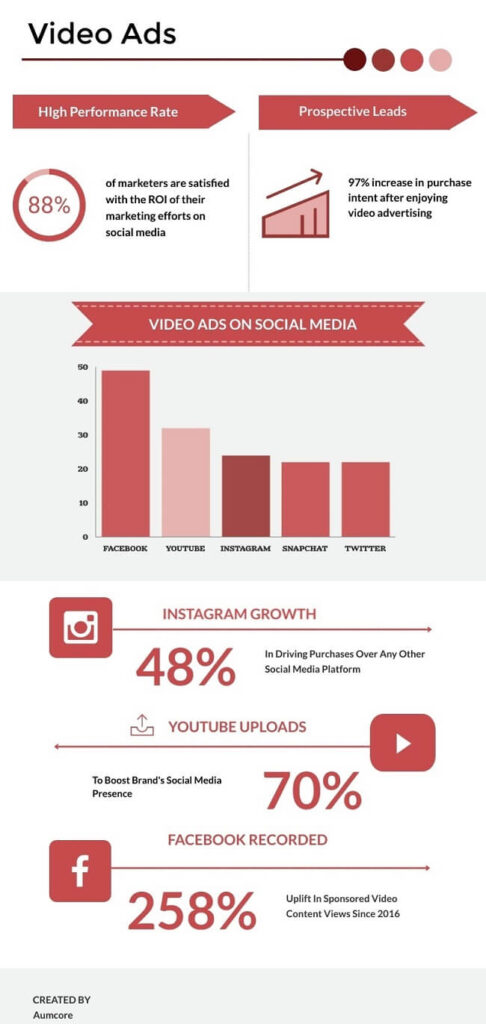 #1: Cost-effective
Video ads are inexpensive, which makes them the most cost-effective tools for marketing. Virtually, anyone could create interesting video content. You just need 60 minutes to create one video using a computer or mobile device. 
In most cases, straightforward ideas work better for video content creation. However, ensure the idea is authentic.
Creating a video takes less time than typing a tweet. Expect greater ROI and stronger popularity with video ads. Moreover, videos can reach a wider audience across multiple platforms to ultimately boost ROI.
You can also create user-generated content on a budget. Re-share videos that followers or consumers created about your products/services. It is the ultimate way of increasing video content minus workload. It also gives a prospect to connect with consumers. 
#2: Engaging
"When you engage with your fans on Twitter and Facebook, it makes them all the more likely to notice when you have a new video up … and share it with their friends." – Megan O' Neill, Adweek 
To succeed in this competitive online marketplace, it is very important to focus beyond selling products/services. The target audience is educated and knowledgeable. They want to understand your brand values, know the brand story, and also the people behind your brand. You cannot achieve this simply through text or photos. You must present engaging videos to prove your merit and connect with more and more users through social networks like Twitter, Facebook, Instagram, and Snapchat.  
#3: More Exposure
Consumers not only have a soft corner for videos, but it also performs better with most of the algorithms. Experts reveal that algorithms favor content with a higher rate of user engagement. As such, it pushes it towards a bigger audience, thus, helping the brand to get greater exposure and visibility. 
Take a leap and watermark videos with the brand logo. This helps in instilling trust, building brand identity, boosting brand recognition, and making the best out of added exposure. 
#4: Improved Conversion
As people consider video content to be more engaging than text, it also keeps the audience on the social media page for a little longer. The only trick is to ensure the video length is right. It should neither be too long nor too short – just the right length to keep your audience interested and looking for something more. 
Twitter and Instagram are best suited for short video content, whereas longer clips work better on Facebook and YouTube. 
#5: Reach Younger Audience
It's the era of Generation Z. Youngsters are exposed to the internet right from the start. Video has been the go-time medium to entertainment and learning. If you wish to reach the younger generation, video is the ultimate tool. 
Wrapping Up
Businesses, big and small, can leverage this potentially effective tool – video. Customers are always looking for more interactive and engaging dealings with brands they like. With videos, it all becomes much easier. Use it as the most powerful tool to introduce the team, display your products and/or services, answer FAQs, and engage with your customers.