Google has constantly been refining its ways of displaying results. Particularly, Google has significantly increased the number of its featured snippets.
When these were first introduced, Google didn't give away much on the process of earning a featured snippet. However, with exceptional practices, websites paved their way towards earning one. 
For websites struggling to gain the first position in Google, featured snippets can be their gig. This happens without significantly updating the content and acquiring backlinks to it as well. But do you know what featured snippets are and how to optimize for featured snippets?
Featured snippets are designated as the information which appears on the top search results of Google. They aim at answering the user searches queries. They are also termed the answer boxes. This provides the website with additional exposure in the search results.
So if you were wondering that it can be a worthy element for your website, you are right. It can help you gain better traffic and rankings on search engines. They serve as a shortcut to grab the top organic rankings and an exceptional branding way. Now the task remains how to get featured snippets.
This write-up will help you explore and understand and how to optimize for featured snippets. Get the answers to your questions. Is featured snippet a strategy worth doing? What do you have to do to grab the position?
Example of Featured Snippets: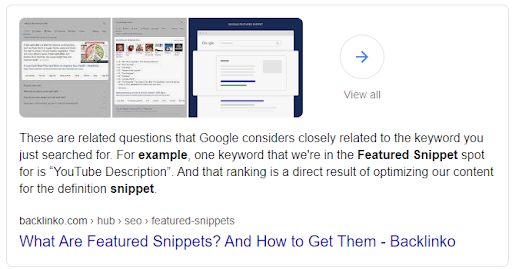 The types of Featured Snippets
Before you move your way towards how to optimize for featured snippets, get hold of the types of featured snippets. It is important to know them to avoid any confusion and being clear in your vision. They are as follows:
Paragraph – It serves as an answer to your search queries in a paragraph form. As per Moz 2019, this comprises 50% of all the snippet results and is the most common type of Featured Snippets.
Numbered list – The numbered list provides the answer to the search query or question in a list form. This is usually for the processes, step-by-step, or list searches. 
Bullet list – Google is no exception from admiring bullet points. Google formats the heading of the lists to show the content in the form of bullets.
Table – This type of featured snippets is often preferred for structured data. It offers better readability. Google re-formats the existing data to provide useful data. To win this snippet, you do not have to focus on tables solely; rather, any data having rows and columns will be considered.
Video – Often shown as YouTube videos, they are sourced from outside and inside data sources. Also, Google can answer your queries by fetching text from the description of videos.
Knowledge panel and card – They provide precise and to-the-point information on anything searched or asked. This can be days, dates, names, or any short information required.
Example of Bullet list Feature snippets: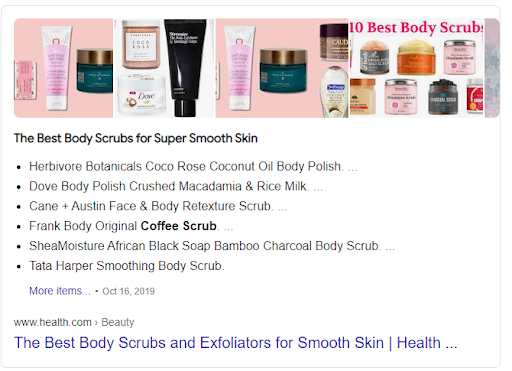 Here is how to optimize for featured snippets
Features snippets are nothing but strategy. Moreover, they have been a bit of a riddle for individuals involved with SEO. For grabbing the featured snippets, your website content should be formatted for the same.
If you are wondering that there is already a featured snippet for a query, how will you get there? By following the required and best practices, you gain a point while enhancing your chances to replace the existing snippet with yours.
Here is a rundown of the elements you should consider and gain the perfect answer to your question on optimizing featured snippets.
The power of questions
As your first step towards winning featured snippets, you should go in for question-based queries. As per Stone Temple, of all the question-based queries, 19% successfully gained a featured snippet.
Those days are gone when you could throw in potential keywords and cross your fingers for rankings. With Google becoming a globally used and preferred portal, it is important to work according to it.
SEM Rush's database states that 29% of the keywords having a featured snippet had a question-based query. In these, 'why,' 'can,' 'do,' and 'are' stood on the top with 'why' bagging 77.6% and 'can' bagging 72.4% of the queries.
Focus on the keywords
Keywords are important not only for featured snippets but for organic listings as well. Moreover, they are an integral tool in search engine optimization. However, for featured snippets, it is wise to choose keywords with more words.
As per SEM Rush data, single-word keywords successfully bagged only 4.3% of the featured snippets, while 5-word keywords grabbed a share of 17%. Topping them all, 10-word keywords had a share of 55.5% featured snippets.
To do this, you can focus on the questions which your audience asks or might ask. Longer queries are likely to gain better results for you. 
#1 Consider the format for a featured snippet
.
This will easily ascertain the type of featured snippet you will win. Using the formats naturally in the flow of writing will ensure the best results. Also, including images in the content can help you in the process.
However, for images, you should know that Google does not always take images from your content. To enhance the chances of the images you use, ensure that you consider the dimensions of the images Google prefers.
#2 Go for your already ranking content
.
Here we refer to those contents with the ranking pages ranking in the top 10 for the target search or queries. These pages might not own a snippet until now. However, a few twists can make it ace the path. Also, digging these opportunities is not a treasure trail.
You can go to site explorer. Further, it would be best if you filtered the keywords with featured snippets where your website ranks. You can gain a list of the underlying opportunities to grab the featured snippets from your competition in simple words. 
#3 Go for new content targeting featured snippets
.
Now, you are done playing with your existing content. It is now time to talk about something new. We are talking about new content. However, this does not indicate that you have to create content only targeting a featured snippet.
Instead, it would be best if you use target keywords that are in demand and relevant. This will enhance your chances of winning a featured snippet like a cherry on top.
#4 The structure is always important
.
Keeping everything aside, the page structure holds equal importance to the keyword's relevance in the question. It would be best to have an area on the page for the search query to appear in the header. Also, the featured snippet has to be placed in a tag which is below the header.
#5 Target content that is 54-58 words long
.
If you focus on paragraph-style answers, you should go for content between 54-58 words long to extract the best performance. Any content of this length holds the most chances of appearing in featured snippets.
#6 Only content is not enough
.
To win a featured snippet, the content has to be strategic and relevant. It should start with a keyword portraying a clear intent while expanding to serve value to your audience. It gradually gains momentum when you optimize for search engines. No doubt, these demand efforts but can be efficiently achieved through best practices.
#7 You can always answer multiple questions
.
Once a page wins a featured snippet, it is known that it gains higher chances of featuring in other related queries. Therefore, your content should carry a structure that answers several related queries and questions in one place.
For this, you can focus on one article or write-up that target answering several questions. This should be done instead of multiple articles to earn a featured snippet. However, you should always check on the word count as it holds a significant role to play.
#8 Research is always the key
.
For featured snippets, you need to research. You will have to study a lot about the types of answers, types of questions, and content. You need to ensure that you have everything to optimize the content as per the requirements. The 'People also ask' section on Google can be a great help.
When you earn a featured snippet, this indicates that you gain the highest possible ranking without marketing or advertising. The featured snippet is the best answer for boosting conversions, driving visitors to your website, and staying ahead of your competitors. 
These were a few ways which you can follow and get the answer to how to get featured snippets.
Moreover, you should constantly work on sustaining the position and keep your content updated and relevant. Like every other Google Feature, Featured Snippets will continue to evolve. Keeping up with Google can be overwhelming.
Regardless of that, they can be exciting as well as rewarding when leveraged in the right manner. Therefore, dig into it and explore the wonderful aspects it holds. You can get an expert and professional SEO company in Mumbai on-board to conduct regular audits and frame effective strategies for your business.