Local stores are confronted with numerous challenges. From starting to managing finances to keeping their business operations, there are lots of things to deal with. Most entrepreneurs don't even have time to come up with an effective strategy, but they need to understand that every minute spent on planning matters the most.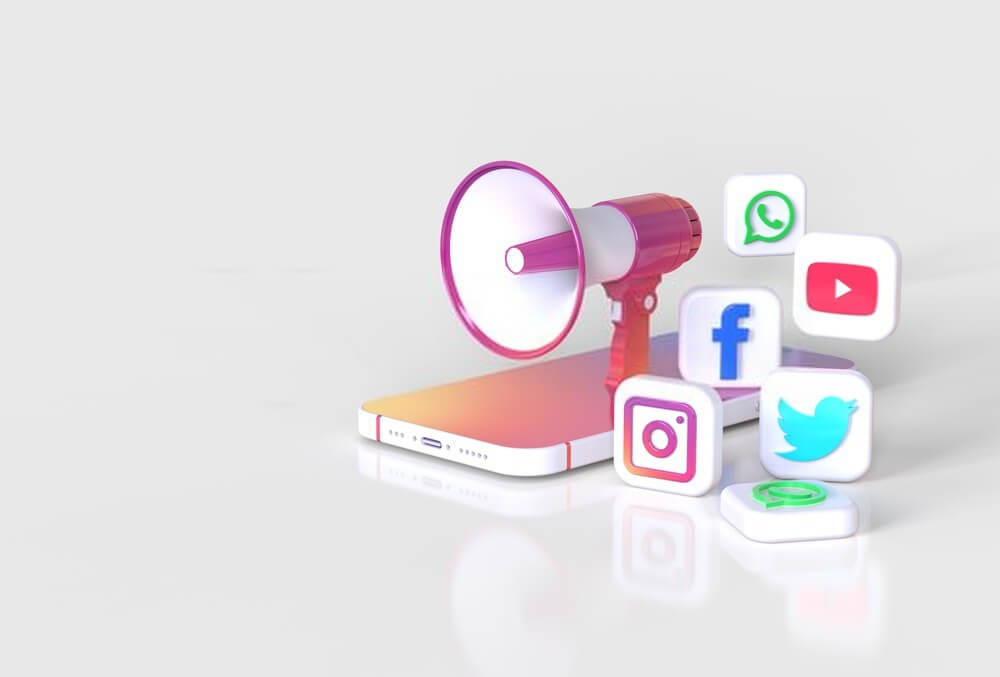 There are various social media marketing strategies that have changed the face of local stores and helped brands create a vibrant presence. Social media marketing is no longer an additional option; it has become a necessity for almost all sizes of businesses. The same applies to local stores. 
No matter whether you have a brick-and-mortar or online store, you need to plan a good social media marketing strategy because most people nowadays research the products on various platforms before purchasing them. 
Social platforms influence around 71% of consumers purchasing decisions. In order to reach out to customers, you need to focus on a strategy that helps you improve your local business visibility and let your customers know that your products or services can match their expectations. 
What is Local Store Marketing – Why is it Important?
Also known as neighbourhood marketing. It targets shoppers within a specific area. With proper strategy, local stores can disseminate their message tailored to local people. Local stores can use various tactics to market their brand; they can even use social platforms because it proves to be a more effective way of promoting a brand.
Independent retailers can utilize the social media marketing strategy to stay on top of the local populace's minds. It will help individual retailers have better insight into the customer base and tailor their marketing campaign based on the current trends. 
It helps brands to connect with customers individually through social platforms; you can choose social media marketing for your independent business if you want to enjoy advantages like:
Brand awareness

Digital accessibility 

Personalized experience
Considering this approach can help you grow your targeted engagement in the local market. Social media marketing helps individual owners meet the unique requirements that help them grow continuously. Let's have a look at a few social media statistics that help you understand why it's important and how social media marketing is changing the face of a local business?
Some Interesting Facts that Helps You Understand Why Social Media Marketing?
The social media usage of internet users as of 2020 has amounted to 145 minutes per day. It is up from 142 minutes measured in the previous year. In the U.S., people spend around 2 hours and 3 minutes on one or other social platforms.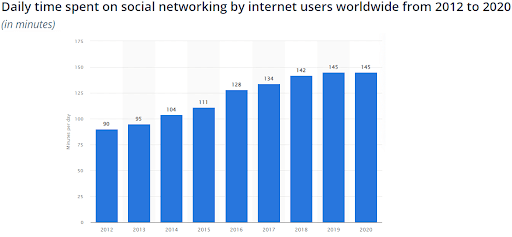 Image: (Source)
Many customers prefer to engage with brands on social media, whereas more than 34% believe social media affects shopping decisions. 
More than 40% of internet users use social platforms professionally. In 2020 nearly 44% of users use one or other social platforms to search for brand information. Almost 56% of women and girls between 16 to 24 years old searched for brands during the same period.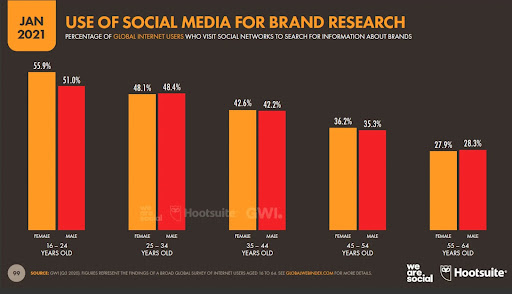 Image: (Source)
Around 54% of B2B buyers prefer brand research on social media. Those customers who explore information about new brands on social media include Millennials and Gen Z; it can be said that the modern generation is more likely to use these engaging platforms for brand discovery.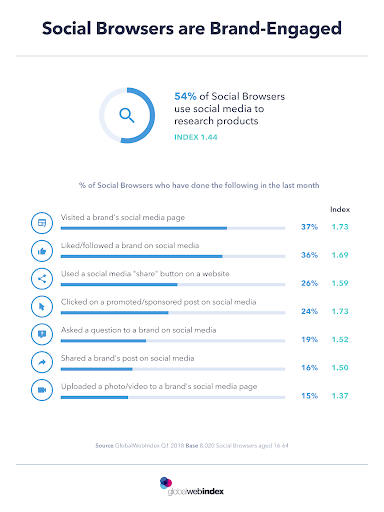 Image: (Source)
The spending time of people over these digital systems is increasing. Customers say they are more likely to engage with brands that have their presence on social platforms. One "like" on a social platform can go a long way and help brands reach out to a potential audience and increase sales. 
https://twitter.com/kate_ruda/status/1295377915538886660
Around 68% of customers agree that social media makes it easier for them to interact with local stores. In 2021, more than 295 million users in the U.S. were using social networks, equivalent to almost three-quarters of the country's population.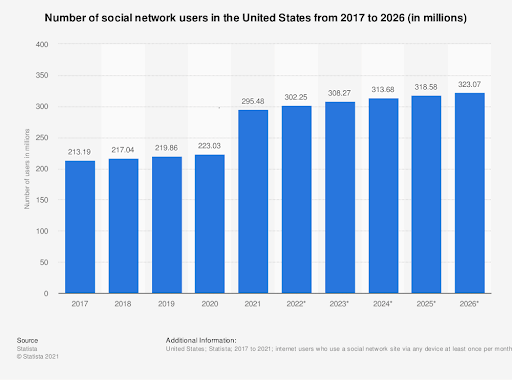 Image: (Source)
If you are not using this engaging platform, then there is a great chance that your ideal customers will discover your competitors over your local store. Thus, plan and choose the best social network for business as it can prove to be a beneficial option. 
Best Social Media Marketing Practices to Follow for Your Local Store
A Marketing Chart report shows that 4 in 10 customers use social media to discover new brands and products. It is found that one-third of U.S. customers follow brands they like on social networks, while one-quarter did the same during the survey.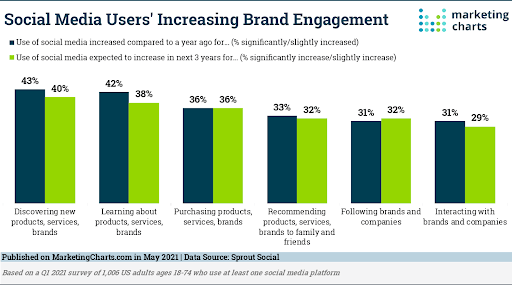 Image: (Source)
Two-fifths of customers during the survey say that they use social media to learn about products or services, and 38% predict to use the same name in the next few years. Making purchases through social platforms is gaining popularity. Therefore many local stores are using social media to solve their sales problems and increase their loyal customer base in a short time. 
The right strategy can help you develop a strong relationship with your targeted audience. You can engage more customers on social platforms using various ways; these ways include:
Posting high-quality content;

Asking customers opinions;

Analyze the competitors;

Partner with Influencers.
There are many more practices that you can use to engage with a targeted audience. Explore the top one that you can consider for your local store to leverage numerous opportunities and stay ahead of other competitors in today's competitive market. 
Supplement Existing Marketing Campaigns
Looking to promote your local store? or want to run a campaign that helps you increase your sales? Then promoting over social networks is a smart and cost-effective method. You can push products on different social networks as most customers' purchasing decisions are influenced by brands they follow. Consistent offers, discounts, and more can help in boosting sales. 
For example, ShopBop attracts its customers with engaging images and content on Instagram. Striking images, videos, and other types of content are one of the creative ways to generate revenue. 
https://www.instagram.com/p/CXjym7wvzie/
You can use the same strategy for your business. This seems like a no-barrier, but social media for business in simple terms can be defined as finding creative and effective ways to promote and reach more customers. Using this strategy helps you to eliminate the mess with paid campaigns. 
Identify What Your Customers Feel About Your Local Business
Customers are very happy to follow brands on social platforms; hence it's advisable for you to focus on improving your local store presence over different social platforms, including Facebook, Twitter, and many more. 
Using different social channels can help you build strong connections with customers and deliver your sales message most effectively than ever before. Identify what your ideal customers feel and want to share about your brand by questioning them. To build an effective strategy, you can consider the following question:
What sort of products do customers like the most?

Which kind of content your targeted customers will explore?
There are many more. Many brands follow a question-based approach to boost customer engagement. For example, Best Buy prefers to ask questions to know their ideal customer's opinion about their products or services. 
https://twitter.com/BestBuy/status/1104743779108618242
Best Buy prefers to collect feedback from customers as it helps them to improve their content and product strategies. It helps them to eliminate the need for promotional content. Best Buy asks an engaging question and features its product well without making customers feel that it's promotional. 
Location-Based Targeting Ads
Organic engagement is becoming challenging for many on social networks. Paid advertising has become a necessity for almost all businesses that want to increase their visibility. But there are a few demographic factors that you can consider to leverage better results. 
One of the easiest ways to reach the local populace is by making your social media ads visible in selected areas. Many social platforms provide targeting features to help you enjoy better results based on the demographics you are interested in. Narrowing your ads campaign enables you to achieve excellent customer potential that also at a pocket-friendly price. 
Which Social Media Channel is Perfect for Your Local Store?
Choosing the right social platform for business can be a tedious task for many. Owners choose to sign up and use all the platforms as they think it helps them reach more customers. Creating a social account is just the initial step; you also need to maintain your presence over all the platforms.
Use platforms like:
Facebook;

Twitter;

Instagram;

YouTube.
There are many that you consider for building your brand presence. Make sure to select the right platform and use the one that provides you with a great audience base. 
Find out where your customers are more active? What affects the purchasing decision? Take time to find the platform that helps you reach your targeted result in a short time. Also, check which platform your competitor uses and what type of content they post to reach their targeted audience. 
Conclusion
Undoubtedly social media marketing is changing the face of local stores; there are numerous benefits of using the social network. It has become the playground that connects all demographics. 
Due to the increasing popularity of social media platforms, many entrepreneurs understand the importance of marketing. The boom of social networks has opened new opportunities; social channels have evolved into legitimate ways helping brands to reach more customers and increase revenue at the same time. 
It provides access to a vast audience base; you can get more likes and comments by posting engaging content. Eliminating its importance can make you lose various opportunities that are waiting in your way.