Social media analytics is a powerful resource for marketers who wish to analyze social media platforms for maximum audience engagement and consequently, gather data for marketing purposes clearly. Social media analytics also go hand in hand with social media management tools. While the latter help you manage your content on social media by allowing you to set up plans and exhaustive schedules, the former helps you to acknowledge the ROI and devise a marketing strategy in response to their performance.
Your audience's online presence is very important – their social media engagement responsible for the fluctuations in your ROI and can really help you decipher your website's stats. Before you get into the mix of choosing your desired social media listening/monitoring tool, you might as well understand how these things operate.
In order to facilitate your search and your epic business model for sales and operations, we've mentioned 7 social media listening tools below.
1)   Buffer:
Buffer allows you to assess real-time data analytics on five of the most common social media platforms – Facebook, Instagram, Twitter, Pinterest, and LinkedIn. You can observe mentions in response to an alert or update within your desired time frame in an instant. Buffer helps you analyze and consequently generate reports based on the data acquired through your audience's keen social media engagement.
Pricing: With a 14-day free trial, you can generate reports based on your audience's interaction on your posts with detailed analysis regarding leads and conversions. Its pricing is as low as $15 per month to approximately $99-199 for Buffer Pro or Business users due to an advanced feature, Buffer Analyze.
2)   Social Sprout:
Social Sprout is another top-rated social media listening tool that helps you gather data in response to your mentioned keywords and hashtags throughout the most common social media profiles, including Facebook and Instagram. In addition, it allows you to generate a contextual real-time group report of your team's performance and audience's engagement on various social media platforms. Social Sprout also helps you assess and generate reports based on your content's performance, therefore, allowing you to make changes for improvement in analytics.
Pricing: It's considered to be one of the most expensive social media listening tools but also comes with a free trial of 30 days. It allows you to purchase its standard features for as low as $99, with a ranked estimation of $249 with its pro package. Its features usually comprise of the ability to generate reports for every social media platform and for internal team performance as well.
3)   Hootsuite:
Remember how we said that there are separate tools for social media management and that social media listening tools can really help you up to your marketing game if they're coupled together? Well, we're about to give a hoot with Hootsuite. It's not only a social media listening tool that allows you to listen, publish and consequently, analyze your audience's data on various social media platforms, it is also a thorough social media management tool.
You can now monitor your customer care team and incorporate over 200 metrics into your reports. You can also merge with Brandwatch or Talkwalker to track your brand's mentions through different social media channels such as Facebook, Instagram, and YouTube as well.
Pricing: Hootsuite is priced as low as 19$ a month with the ability to overview real-time reports from metrics to as high as $599 a month. You can also assess the tool with its 30-day free trial before purchasing its features.
4)   Sendible:
Sendible is another social media listening tools today, mainly because it exhaustively monitors mentions generated from your website's keywords or content throughout the internet. In simpler terms, it monitors your content in real-time and brings you a detailed analysis of its mentions, intent, and outreach. This tool spans its interface throughout an entirety of various social media channels, analyzing mentions that might need your proactive response.
Pricing: It is priced for as low as 29$ per month, but its premium options are available and range from $99 – $299.
5)   Awario:
With Awario, you can assess the number of times your keyword is mentioned anywhere on the internet. These analytics will pop up in your mention feed, allowing you to deal with the positive comments and negative complaints as quickly as possible. Awario also allows you to generate extensive analytical reports based on your competitors' data as well.
In addition to these general features, Awario enables its users to stand out amidst competition with its characteristic addition, Awario Leads. This feature allows users to monitor their sales and operations closely with the sole aim of finding potential leads for conversions online.
Pricing: With a 14-day free trial spanning over various social media channels including news forums and blogs such as Reddit, this social media listening tool is a steal at $29/month.
6)   Keyhole:
With an ability to track your brand mentions generated with the use of keywords and hashtags throughout different social media channels, Keyhole also enables you to monitor real-time influencer activity and paid ad campaigns. Keyhole seeks to keep the users posted with prime-time information regarding their brand's global outreach with analytics from industry's top competitors.
Pricing: With a price as low as $49 per month, you can now track your hired influencers' accounts and analyze your brand mentions' sentiments and intent with trend identification. It comes with a 7-day free trial and premium charges can exceed $199 per month due to custom pricing.
7)   Audiense Connect: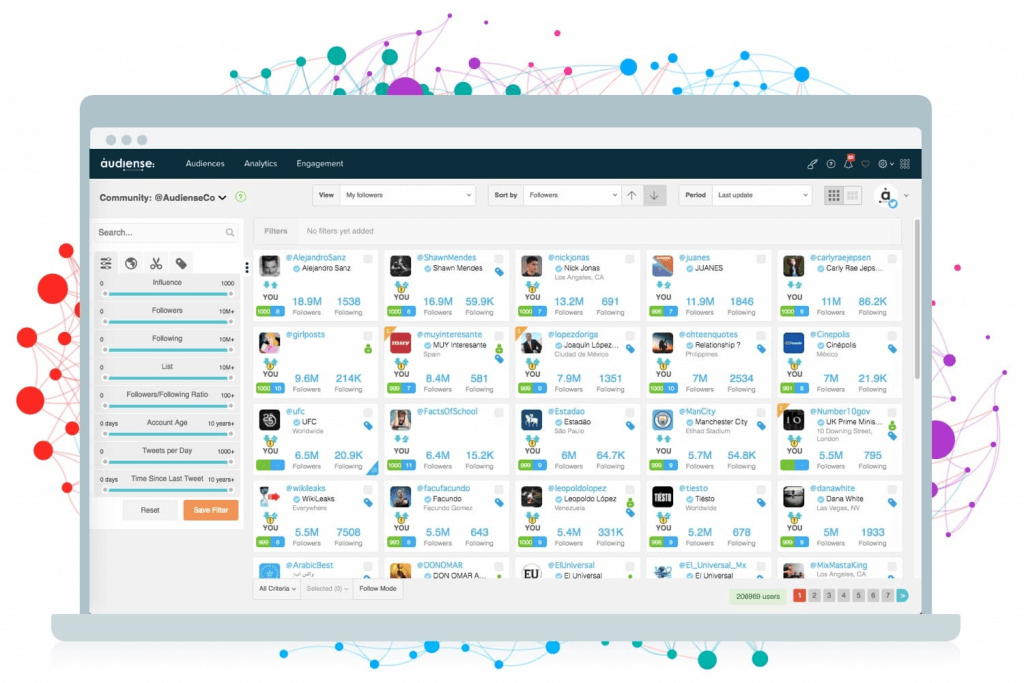 Audiense Connect is targeted only towards Twitter users but is one of the most enriched social media listening solutions out there. It allows you to manage your Twitter list and also enables you to create your own chatbots which can help you to interact and engage with people through DMs.
Audiense reveals your customers' data by giving you in-depth analysis regarding their demographics and the time when they're online so that you can tweet accordingly. Audiense also helps you to track information of your competitors so that you can assess their influence over your mutual followers and peers accordingly.
Pricing: Audiense is priced at as low as $9 per month but it's premium usage can exceed a maximum of $89 per month.
While you're busy enslaving over your desktop in an effort to figure out your website's ROI for the last month, don't you think you can do better and much greater with an authoritative social media monitoring tool similar to the ones we've mentioned above? Share your preferred social media listening and engagement tools in comments.