Creating your Facebook page is a very easy process but it holds key importance in influencing the RoI of your Facebook marketing. When you create your Facebook page you start building your brand.
Treat it as a foundation of your brand. Every single element holds importance right from your profile picture to the theme and description of your page.
How to create your Facebook page to drive more traffic to your blog website?
Make sure your Facebook business page is complete and represent your brand through all the main elements of your Facebook channel. Complete all the tabs such as About, Posts, CTAs, banners and etc.
Quickly get a brand appeal with vanity URL
Start with creating a vanity URL for your Facebook page. It not only gives a brand appeal to your page but also acts as a decent SEO factor by making it less difficult for the targeted audiences to discover your page on Facebook and Google.
Pro Tip: Try adding some niche-specific keywords to enjoy better chances of showing up during relevant searches.
Along with strengthening your brand the vanity URL also plays an important part in your SEO strategy as it makes it easy for the users to discover your page on Google.
#1 Benefits of using vanity URL (with stats):
With vanity URL your Facebook page enjoys a professional appeal and connects better with the targeted audience group. It also enables Google to relate the page with site-specific keywords that can make it discoverable on SERPs.
It is transparent: 94% of customers would most possibly remain loyal to your brand if it is transparent
It builds trust: 31%: Consumers regard trustworthiness as the prime asset of any brand
It sounds genuine: 86%: Percentage of shoppers who prefer genuine and sincere brand personality on social media
72% of your consumers are more likely to buy from your brand if they follow you on Twitter (Source) and Vanity domains hike your chances to win more audiences
Vanity domains offer an instant authentic appeal to your content which attracts 91% of the users who prefer brands with authentic social media content (Source)
Vanity or custom domains empower you to connect quickly with social media users. That is a massive population of 3.5 billion users.
Being short and straightforward Vanity domain allows you to connect instantly with the mobile audiences which form as high as 91% of total social media users
#2 Tools to create a vanity URL for Facebook marketing:
LiveChat URL shortener
Bitly
TinyURL
cc
Rebrandly
me
com
#3 A good vanity URL should be:
Memorable
Brand-specific
Purpose-relevant
Reasonably short
SEO is driven (wisely include (not stuff) keywords)
#4 Example to use vanity URL for Facebook
Regular post URL: http://www.vodafone.it/portal/Privati/Vantaggi-Vodafone/Vodafone-Exclusive-Cinema?icmp=cinema_exclusive
Vanity Domain: voda.it/cinema
The regular domain URL is too long to remember or even understand at a glance.
Vanity URL is short, straightforward, memorable, and easy to understand at a glance. All these things attract attention prompt audiences to click.
In the above example, some mental gymnastics and guesswork is involved in the first URL. You would probably not even read it
In the Vanity Domain one, one can easily make out at a glance that the content is:
About Vodafone (Voda)
In Italian/Italy-relevant (.it)
Talks about Cinema: (/cinema)
Use images to build your distinct image on Facebook
Your photos represent your brand and play a key role in building credibility.
At all costs, avoid using unprofessional photos with the DIY look or grainy images. Your photos tell the audience how seriously you take your public image.
#1 Why do you need visual content? Stats tell it all:
7 seconds: The time visitors need have for making your first brand impression and reaction
90%: Information transmitted to the brain is in a visual format
230%: Better chances of engagement when you use visual content on Facebook90 seconds: The initial viewing time needed to make a subconscious decisive opinion about a specific/brand. So always use the right colors to define your brand personality
94%: Better views achieved by content with images
62%: savings on content marketing when you use visual content
60,000X: Quicker is the rate at which visual is process to your brain (as compared to textual content)
As a beginner, it may not make sense to hire a graphic designer just to create your brand logo and social media graphic (save that for later). So, here are some excellent DIY tips and tools (minus DIY appeal) to master the art of imagery on Facebook:
#2 Facebook image dimensions cheat sheet (Latest 2020)
Facebook has clearly defined standard dimension formats for different types of photos. Make sure that your photos perfectly fit those dimensions (without requiring too much resizing):
Facebook Profile images:
Profile Photo: 2048 x 2048 pixels
Cover Photo: 2037 x 754 pixels
Facebook Page images:
Profile Photo: 2048 x 2048 pixels
Cover Photo: 1958 x 745 pixels
Facebook Group images:
Profile Photo: N/A
Cover Photo: 1640 x 922 pixels
Facebook Event images:
Profile Photo: N/A
Cover Photo: 1000 x 524 pixels
Facebook Photo Posts images (in the News Feed):
Landscape: 2048 x 1149 pixels
Square: 2048 x 2048 pixels
Portrait: 2048 x 3072 pixels
All aspects: 2048 pixels (width)
Facebook Link Post images (in the News Feed):
Featured image: 1200 x 628 pixels
Facebook Page Ad images:
Link/Offer in Desktop News Feed: 1200 x 628 pixels
Link/Offer on Mobile News Feed: 560 x 292 pixels
Link/Offer in Desktop Sidebar Ad: 254 x 133 pixels
Image Posts (Mobile): Up to 626 x 840 pixels
Image Posts: 2048 pixels' wide
Facebook Page Like Ad images:
Desktop: 1200 x 444 pixels
Mobile: 560 x 208 pixels
Sidebar: 254 x 94 pixels
#3 Reliable free Image builders
Canva
Stencil
PicMonkey
Venngage.
BeFunky.
Infogr.am
Visme.
Piktochart.
Canva offers a wide range of Facebook cover image templates which is ready to use.
Create a distinct Logo for Facebook marketing
Your brand logo leaves a long-lasting impression on the visitors. So, make sure that you create a unique, distinct, and descriptive logo.
#1 Qualities of a good logo
Simple to understand: Avoid intricate design or stuffing too many elements in a small space. Your logo would be of small dimensions and no one has time to squint and look intently to understand your logo's details.
Relevant and eloquent: That's obvious but you need to make sure that the relevance is shown in an eloquent and distinct way so as to quickly communicate your USP to the audience.
Unique: Make it unique and memorable so that it should leave an indelible stamp on one's mind.
Scalable: You would need to change your logo dimensions depending upon the communication collateral. Make sure that changing dimensions don't interfere with its visual appeal or disturb the message. Keep sufficient spacing between visual elements to avoid congestion.
Versatile: People won't interact with your brand on any specific platform. Make sure that the logo looks fine on each platform- digital, print, mobile, TV, etc.
#2 Example of the psychology behind business logo
Wipro changed its sunflower logo to embrace this colorful appeal. The company is recognized as a reliable brand that is committed to customers as well as society.
Starting from a very humble single business the company gradually spread its reach to grow as a globally recognized brand with multiple businesses and worldwide office.
Though Wipro embraced new technologies and methodologies it is still attached to the original brand values and ideologies.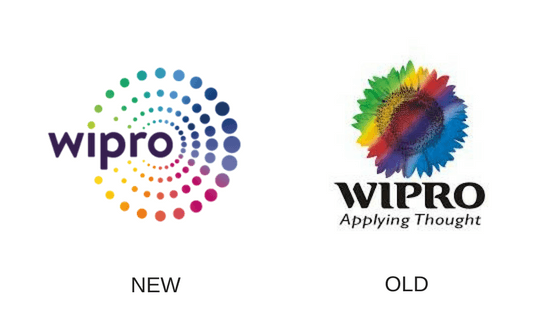 The logo tells it all or at least gives a quick idea (To your subconscious mind)
A few adjectives that spring in the mind when you look at this logo are
Variety represented by rainbow colors and different sizes of circles
Colors represented by, obviously, many colors
Steadiness/stability: Represented by the gradual transition of colors instead of abrupt changes
Well-rooted and focused: Represented by the bold O positioned exactly in the center
Logo Stats
1/3rd: of Top 100 Global brands embrace blue color in their logos.
80%: Improvement can be realized in brand recognition by using the right colors
10-20: Design principles are followed while creating a logo
#3 DIY tool to create Logo
Logo design is the crucial part of a business branding. Tools like Logomakr can make the process easy for you by doing all heavy lifting. Logomakr is a feature-rich easy tool to create your logo through a simple and intuitive process. You will get lots of images to pick from. Besides, the intuitive interface and graphical easy tools turn anyone into a decent logo designer.
Avoid intricate logos as they may lack clarity. What you need is a clear logo (not a jumbled artwork) that can communicate instantly with the viewers' eyes and gives a quick, subtle hint of your blog's personality.
Some salient features of Logomakr are:
Simple Logo Maker Tool (free to use)
1 million+ stock icons
A huge repository of fonts
Ability to save logo to your system
The best thing about this tool is that you don't only get the technical ability to create your logo but are also offered the comprehensive tutorial as well.
Treat photos and graphics as a visual language for instant communication. Go creative and don't hesitate to experiment with your photos to give a unique brand appeal to your blog- provided it doesn't disturb the purpose of clarity.
Wisely use the CTA button
Each Facebook page comes with a small CTA button that can be customized as per your preferences. Give it a clear name with a hint of creativity.
For instance, if you wish to increase your subscribers then connect it with your subscription page and – "I'm in" or "Join the band".

Know the real power of CTA
Above 90%: Visitors reading your headline tend to read CTA copy as well
1617%.; Improvement in sales when using CTA in emails
285%: CTR (click-through rate) increase in FB pages with CTAs
380%: More clicks in video content is it contains a CTR (as compared to their normal counterparts (i.., sidebar CTA)
371%: Increase in clicks observed when using single call-to-action
83%: increased revenue by adding CTA template to articles
Depending on your objectives, other ideal CTA for your Facebook marketing:
Book Now
Use App
Play Game
Contact Us
Watch Video
Shop Now
Sign Up
Just make sure that your CTA aligns with your preferred conversion target.
You may also want to change it depending upon an immediate goal. For instance, redirecting the visitors to your contests page if you are running a limited-time contest or taking them to a new product launch.
Organize your sidebar wisely to get maximum benefits
Facebook sidebar section is really important to utilize you can organize the tabs such as about, posts, reviews, video and major details here. It will help your visitors to know your business better.
Fill up all the details in your about section and page info, such as offerings, hours, story behind the brand etc.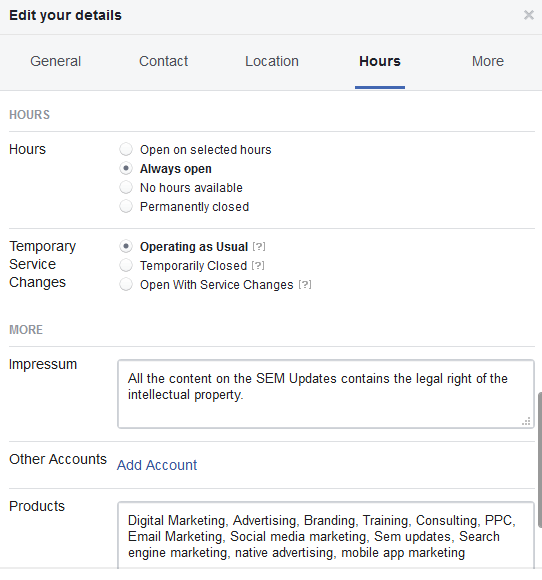 You can add several content formats in the sidebars – right from plain texts to the latest posts, group page, important links, or introductory videos.
Set up an amazing about section on your Facebook page:
Having a clear about section which shows what's unique about your business can help you create brand value.
Just ensure that each element justifies its presence and (preferably) there should be a strong logical relation between each of them that takes the visitors' journey forward and help them to know different saleable aspects of your blog.
To keep things easy and simple; just make sure that each element on the sidebar should inform/lead the visitors to a different page/section of your site.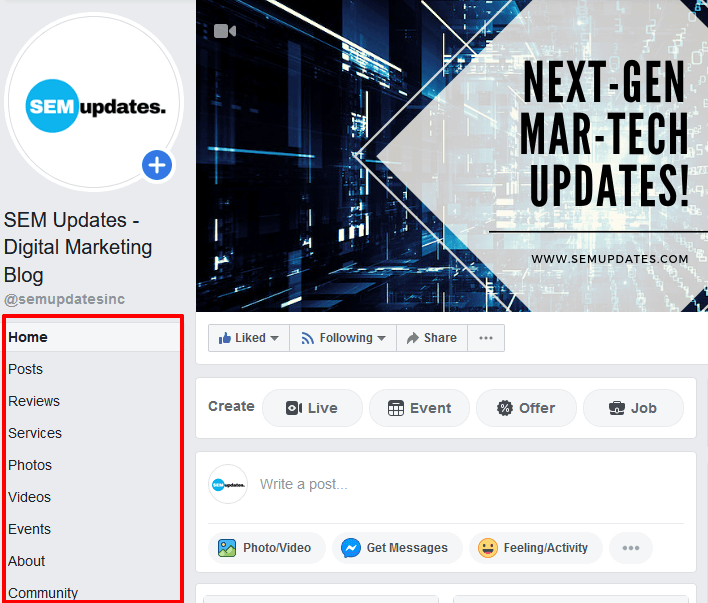 The objective is to efficiently cater to different visitors with different needs and preferences. It will allow you to impact a broader group of audiences in a compact ecosystem.
Keep on experimenting and reviewing the outcomes
The interests and preferences of social media audiences are unpredictable and keep on fluctuating. So, there is no sure-shot way of getting guaranteed engagement each time you share the content. However, you can increase the probabilities by smartly dividing your shared content, reviewing the outcomes, and revising the strategy.
For instance, out of every 10 contents you share – 7 should be your latest blog posts, 2 should cater to the interests' of your audiences and 1 should contain creative copy to promote your brand.
That's just an example but not the hard and fast rule. You may use several other content types like quotes, questions, quizzes, stats, etc. The main idea is to save your Facebook from monotony by giving it a colorful variety of content.
Create sharp and clear posts
Try to use a short and quick to understand post with power words. Avoid using transitive verbs, stop words or other heavy jargons. Sharp and clear posts stand out and encourage visitors to click the article link.

When linking the image with the link, avoid mentioning the link in your message as it is unnecessary repetition. Alternatively, you may also like to shorten URL using bit.ly.
Did you know…
5.5%: is the organic reach for a Facebook on an average
75 percent: Population of people earning high-income Facebook
300 million: Number of people who use Facebook Stories regularly
1.4 billion: Number of who use Facebook Groups (monthly)
60 Percent: Millennials and preceding Generation Alpha prefer communicating through messaging
Takeaways
Consider creating stories rather than general posts
Use Facebook to actively sell your higher-priced products/services
Make sure that your content should appeal to Gen Z
Encourage your users to post
You may not have the time to create unique and distinct Facebook posts for marketing every time. An easy and quick solution is to occasionally share the user-generated content.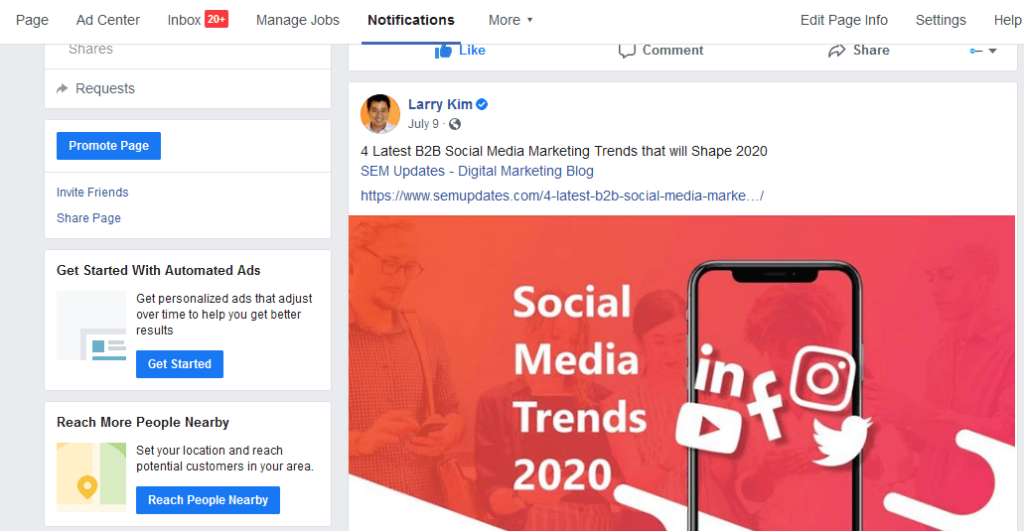 Some examples include asking them to share their photos with your brand logo. You may also ask your users to share the posts about why do they like your blog (with a word limit).
It not only saves your efforts and time but also helps in bringing your audiences closer to you and building a true community feeling. Needless to say, it also acts as a strong conversation starter.
You can also give it a more realistic touch by conducting frequent offline meetups in your city and asking the attendees to post and share the image on your page. The real faces and places give a strong sense of authenticity to your blog.
Convert readers, followers, and fans into brand ambassadors.
Crowd pulls more crowd and it is just as true in the digital world especially when we talk about social media. So actively ask your readers to like and share your post with their friends if they enjoy it. Instead of pleading them to do you a favor, just ask them as you would have asked one of your friends.
Why should you convert your customers into brand ambassadors?
83%: Consumers trust recommendations from immediate connections like friends, family or colleagues when it comes to choosing products/services
70%: People trust when consumers share their reviews online. [HubSpot]
74%: Consumers believe that word-of-mouth is a prime influencer to shape their buying decision
58%: Consumers love to share positive brand experiences and also consult their acquaintances for their opinions
91%: Number of people whose B2B buying decisions are influenced by word-of-mouth
This casual appeal not allows you to maintain your authority but also helps you to build a peer-to-peer rapport with your visitors. Tell them that how do their likes and shares help your blog grow and in turn encourage you to offer them more valuable content.
You can also use this opportunity to recognize the efforts of dedicated fans which further strengthens your relations and also serve as a social proof that how deeply readers are engaging with your blog.
Publish crisp and entertaining videos
The popularity of Facebook videos is constantly increasing at an exponential rate making it a prime option to gain a quicker, wider exposure to the targeted audiences.
Additionally, due to the rising interest in video content, Facebook gives it a preferable position in the followers' feeds.
Posting video content helps you in connecting with your audiences at a more personal level and keeping them engaged for long.
Unlike textual content, the video content can play on itself without requiring any active manual action from the visitors. As soon as they come to the live video section it will automatically start playing. Besides, there is an inherent curiosity in the video content.
The potential of video on Facebook for marketing and branding
8 billion: Number of daily video views on FB
3X: time spent on watching live videos (as compared to standard content)
84%: Marketers who invest in video promotion videos Facebook
35%: Video marketers using Facebook Live
Unlike text, the visitors can't just skim through the video. This adds a certain hint of unpredictability which keeps people engaged.
Due to the high level of popularity, the video content appears on top of the viewers' feed.
So, creating video content can significantly boost your opportunities to gain more visibility and engagement. Contrary to the notion creating videos isn't that hard.
Thanks to free or affordable tools like InVideo, you can independently create good quality videos on your own. However, it is more about the content rather than pure technicalities. Even a high quality professionally edited video fails to impact the audience if it lacks impressive content or powerful presentation.
Most of the Facebook users love videos but avoid audio as they find it intrusive and noise disturbs their attention. So it is a good idea to create videos that visually communicate your message to the audiences. Use clear body language, expressions, and whiteboard to convey the message effectively. You should add subtitles to help readers understand your video without requiring switching on the sound.
Make sure to turn off autoplay sound when posting the videos, as most of the readers treat it as "unsolicited intrusion" and close your videos without giving a second thought. It severely limits the reach and impact of your video content.
The beginners and nontechnical users can utilize the Facebook Live option to instantly publish the videos right from their mobile devices.
FB Videos allow you to enjoy a distinct advantage over the generic text-based posts.
Perform regular content analysis
Users' engagement keeps on changing depending upon your content or shifting interests of the audiences. Knowing precisely about these changes allow you to optimize the content to maximize the engagement.
Facebook Page Insights: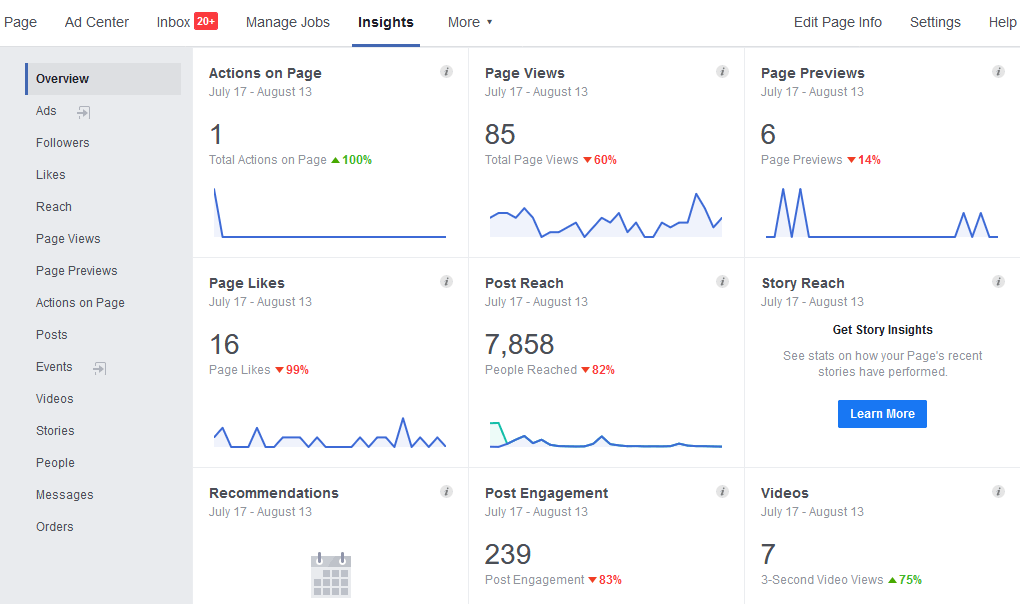 Facebook Page Insights offers the best metrics about the engagement level and helps you gain extended control over your posting strategy.
With this tool you can check the weekly unique views of your page and posts, the number of individuals who engaged with page/posts, and precise stats about other key factors like comments, shares, and likes.
You can also utilize this tool to check how posting on different days and times affect the reach and engagement of those posts. It also shows you the users who are currently online.
In short, you get precise info about various options that directly impact the outcome of your posts. Don't hesitate to experiment with different timings and see how the outcomes fluctuate. While people know how to utilize peak hours in the best way, they generally ignore the nonpeak hours. These hours can be utilized creatively to post the different types of content like humorous posts, different content types, cartoons, memes or other similar offbeat posts.
Other Facebook Analytics tools
SoTrender
Social Bakers…
Rival IQ
Unmetric
Brand24
LikeAlyzer.
Use behavior analysis
Facebook allows you to create affordable personalized ads where you can specifically target your audiences specify the gender, location, age, and other key demographics criteria of the audience to whom you wish to show your ads. You can create your ad budgets and decide how you wish to spend it.
If you don't have much idea about Facebook ads then you can also hire a reputed agency to create and control your Facebook ad strategy for best outcomes.
Best tools for user behavior analysis
RSA NetWitness UEBA.
Aruba IntroSpect.
Fortinet's FortiInsight.
ForcePoint.
Splunk® User Behavior Analytics.
Dtex Systems
Automated responder
Businesses receive a lot of queries all the time through Facebook, it is really difficult to keep a tap on all the messages in the Facebook Messenger. In that case, setting up an autoresponder helps you capture the lead. Companies are utilizing this opportunity really creatively.
There is a lot of tools available that connect your website to your Facebook messager and a chatbot integration to answer queries received on the Facebook channel.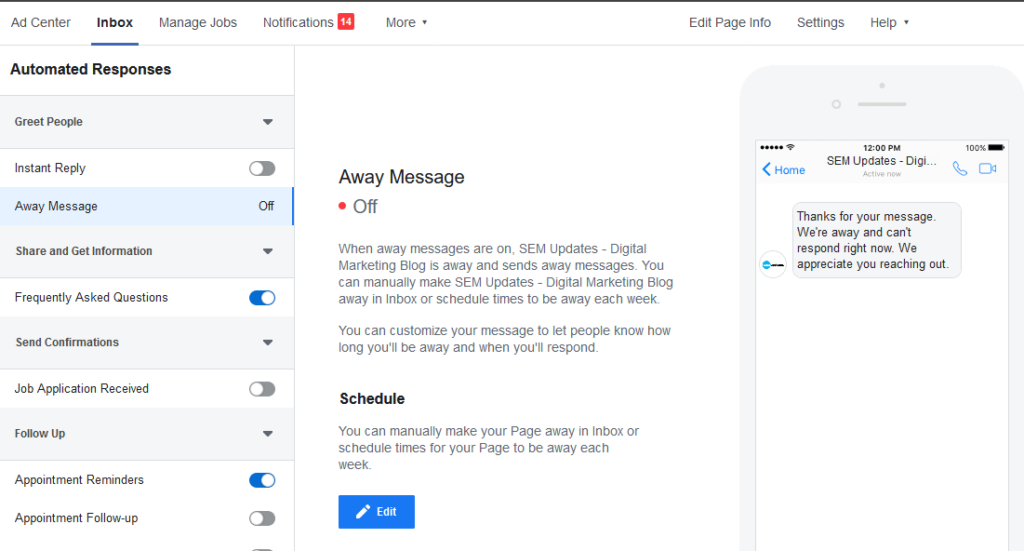 Conclusion
Facebook can drive huge website traffic to your blog and website if you use it properly. All the small to large size firms know the potential of their Facebook channels. Facebook page is a brand to the businesses. All the above-mentioned points help you boost your website traffic drastically and instantly.
Facebook marketing offers various options to drive huge website traffic. The flexibility Facebook offers is unbeatable as compared to any other channel. It fits into your budget and gives a better ROI.