Have you tried optimizing your website for on-page SEO, technical SEO or Off-Page SEO, even built a ton of high PR backlinks but still can't move the needle?
You must be missing something…
Here in this article, you will learn a lot of tools to boost your website SEO performance and gain more traffic.
Technical SEO is often not paid attention or is paid attention at but only up to a limited extent. The scope that technical SEO carries is unrealized.
If you want to understand how some tools can help make your website Technical SEO ready then read on. I will be sharing the tools that titans use to optimize their sites for search. This is a comprehensive list of technical SEO tools that I am sharing with you.
As you read further you will understand how you can improve crawlability, indexability, accessibility & user-friendliness of your website. This toolkit is at your rescue.
Here you go…
Screaming Frog is without a shadow of a doubt the best technical SEO tool.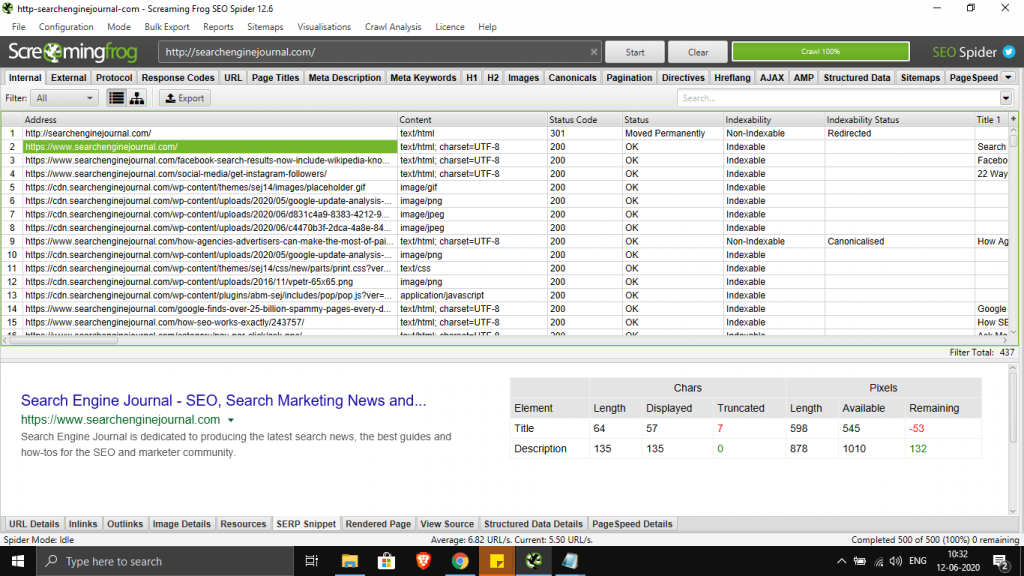 Before I explain the usefulness of screaming frog, let me ask you a question Would you rather scrape every bit of data (like metadata, HTTP status codes, structured data, and everything else ) from a website you are analyzing or would you prefer it to be served to you in a platter?
Screaming Frog is the answer to that automation which saves countless hours, it does not serve the data in a platter but their Dashboard is interactive in the way it visualizes and represents the data.
Screaming Frog's web crawler does the muscle work of extracting the useful data for you within minutes. Now it's up to you to use your right-side brain to make the sense out of that data and decisions that will help you begin the SEO workflow.
Which is easier than it sounds because the data is systematically segregated in tabs. If you aren't impressed by this, then get this; the tool lets you crawl 500 pages from a website for free.
The reason why I find this super amazing is because you can finish working on SEO projects having 500 or less than 500 pages. There cannot be a better technical SEO checker tool than this.
Google Search Console (formerly known as Google Webmaster) is the one SEO tool without which it is impossible to conduct Technical SEO for your website.
If it is Google where you want to rank your website then it is essential that you know if the Googlebot is encountering any problems crawling and indexing your website.
These are technical errors that are keeping your web pages from getting indexed, if they are not indexed then it seems fairly obvious that you are not gonna be able to drive traffic from those pages. It is pertinent to keep tabs on coverage report to see if you are having crawl errors like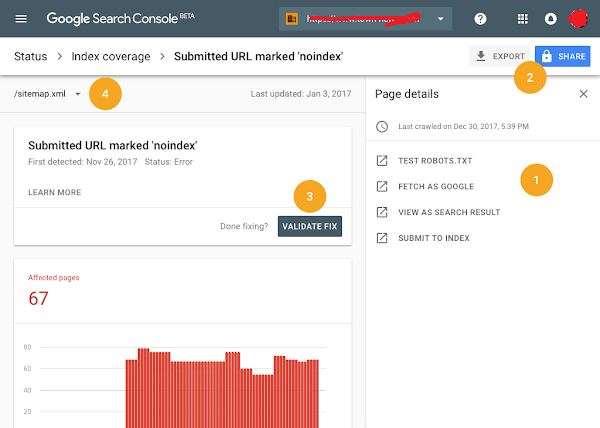 Source: webmasters.googleblog.com
404 errors
4XX errors
5XX errors
Alternate Page with canonical tag errors
Soft 404
These crawling errors need fixing on top priority. One more important feature that Google Search Console offers is reindexing the page that was changed, it's important to do this to expedite the progress. Instead of relying on the bot to take its course as and when it would. After re-indexing the changed page Google increase/decreases the ranking you get for a bunch of keyphrases.
People always remember the champion who wins the race in 1st position, what about runner up?
Yes, I am talking about Bing Search Engine, if Google occupies the biggest pie of search engine market share; then know this that Bing is right behind Google (source).

Bing occupies 20% search engine market share in the United States. The point that I am trying to make is that it's important to pay attention to Bing, the second most used search engine in the world. For jamming your game on Bing you need to submit your website to Bing Webmaster Tools.
Interestingly enough Bing Webmaster Tool has more features than Google Search Console (not that it's a competition) Some interesting features in Bing Webmaster Tools that will help optimizing technical aspects of the website are.
SEO Reports – it will tell you about pages missing header tags, images missing alt attributes and some other errors SEO Analyzer (beta) – Another amazing feature, works a lot like an SEO Audit tool where you can scan a URL and it will give you suggestions on what more you can do to optimize that page.
What do you use Google Analytics for? Understanding how much traffic is arriving on your website? From what channels is it arriving? How much organic sales are you doing?
Well, let me say this on the record that the rabbit hole goes much deeper than that with Google Analytics. Much of the features that you access with Pro SEO Tools are available on Google Analytics.
Source: Flickr.com
In short, Google Analytics helps you analyze the traffic behavior that arrives at your website from whichever channels shall they arrive.
 Some interesting pieces of data that you can pick are
With Google Analytics you can find the chronological order of the most authority pages on your website to the least authority page by accessing pages report.
This data helps you find ways to navigate authority across your website. Webmasters handling huge content websites access this feature as they perform content audits.
Another technical feature available in Google Analytics that can help you analyze seamless data is Google Analytics Event Tracking. GA Event Tracking is set into place using Google Tag Manager.
You can create events that will let you track intelligent events like outbound clicks, buttons click (hint: CTA Button), Tracking scroll depth, and more.
Cross-Domain tracking to see how other properties like subdomains are doing, this is critical for SaaS sites.
If you're an eCommerce website then using Google Analytics you can set goals that will help you determine the revenues you generated via search engines organic search, social media organic, paid campaigns, email marketing, and other sources.
Go deeper and set enhanced e-commerce tracking to get insane level data that will help you make data-driven decisions.
Are you trying to figure exactly what kind of experience users are getting on your website? What if I told you that there's a tool that records video sessions? I'm not bluffing, that's what Hotjar does.
Source: hotjar.com
You have to add it's JavaScript code on your website and once it's verified; Hotjar will record videos showing the user journey at your website as they arrived at a particular landing page to how far they scrolled & where they clicked.
You can find intricate data with this tool, like finding commonality on multiple video sessions of the same landing page. You may uncover that 90% of visitors had trouble clicking on a certain element after which they gave up and abandoned your website.
Another amazing functionality on Hotjar is heatmaps. It will generate heatmaps of where users are clicking the most.
Perhaps before installing Hotjar you were inferring that a certain button of your main header navigation menu was receiving maximum clicks but after you saw heatmaps of let's say 535 visitors you found that only 3.5% clicked there.
Getting a birds-eye view on such data can help you make decisions backed by quantifiable data. And get this, they have a basic version that is free for 2500 views per day. That's more than enough for small projects.
htaccess
htaccess is a configuration file used on web servers. You can find an htaccess file on your hosting provider's dashboard; like CPanel for example. If you're a WordPress user then it's even better as you can find & access htaccess file in the Yoast Plugin. With htaccess file, there are two important things you can do for SEO
 Leverage Browser Caching: Ever went to a site that took longer to load on the first go but the second time the site opens right away? It's accomplished by leveraging browser cache. There's a code that sets rules for the cache. Rules like setting expiration for different kinds of cache like text, image, and other files. You're supposed to add this cache expiration code in the htaccess file to implement it.
Setting redirection: This is another important feature of the htaccess file. Using the htaccess file you can set redirection for certain pages from your website.
It is possible that you may choose to change the URL of a page for some reason when you do it's important that you set a 301 redirection for the new destination page otherwise users accessing the old link will see a 404 page which is a frustrating experience for users.
And Google hates it if such pages rank higher in SERP. It's the go-to solution when your entire domain changes. The redirection transfers the authority of the old page, but not entirely. It passes 90-92% link equity (source) which means some link equity is lost.
How would you determine technical glitches on your website that's keeping it from gaining more visibility on SERPs in absence of tools?
By accessing the source code of the website and losing your mind and sanity over that? Well, there is a free tool that works great, it's GTMetrix.

This amazing free tool will show you the page load time of your website, TTFB (time to first byte), and the reasons why your website loads slowly. By highlighting the errors below; it suggests ways to optimize your website for speed.
Here's a speed fact, a 1-second delay in page load can cost you 7% loss in conversion (source) GTMetrix has an interesting feature called "waterfall" in that section it will represent an ascending to descending order load time of your website, this will help you identify scripts or elements of your website taking the longest to load.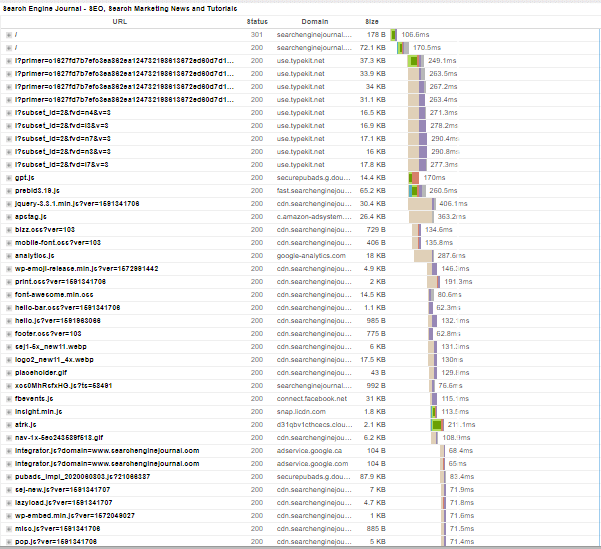 You may not even realize which plugins are causing the most delay for your website and how it is necessary and that switching to it's alternative can increase speed.
Followed by GTMetrix, what we have is Google Pagespeed Insights; Google's very own page speed analysis tool. What I love about Pagespeed Insights is the fact that it shows optimization scores for both Mobile & Desktop.
It shows insights like how many seconds it took to paint the first picture as your website loaded, if it is below average then it will be marked as requiring further optimization.
A website needs to be super-optimized for speed, JavaScript & CSS to receive the best score on Pagespeed Insights.
Anything above 60 is good to go.
Three metrics that should be optimized at all costs are.
Largest Contentful Paint
First Input Delay (Interactivity)
Cumulative Layout Shift (CLS)
Mobile-Friendly Testing tool is another amazing free tool made available by Google. Google can't stress enough about mobile optimization, recently they even switched to mobile-first indexing. You can see that message on your Search Console Dashboard as you access it.
The mobile-friendly testing tools show you the snapshot of your website in the mobile version and the tool showcases a green message "Page is Mobile Friendly" if you pass the test. This tool is important especially for websites that are built on static HTML/CSS, they need to make sure if the website is mobile optimized. Now-a-day barely anybody builds a website on static HTML/CSS. Websites built on WordPress/Shopify or some popular CMS use themes that are both mobile & desktop optimized.
Schema Markup Generator by Technical SEO Tools is arguably one of the best technical SEO tools that the entire SEO community should be thankful for. This tool has made marking up structured data a child's play.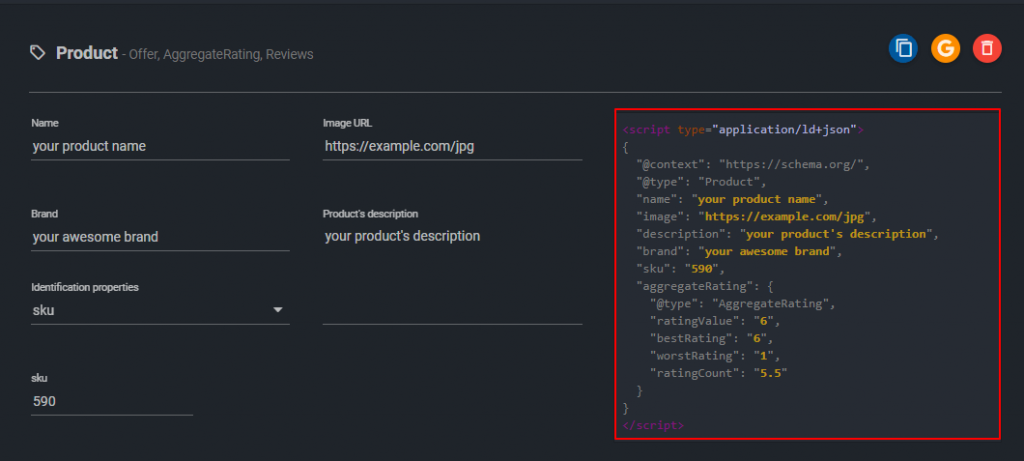 A lot of folks in Search Engine Optimization don't come from technical backgrounds as a result the very thought of dealing with code terrifies them. But with this tool you can kiss goodbye to your coding fears.
Unlike going to schema.org finding your appropriate schema whether it is product, service, organization, or something else then manually copying the schema it piecing it together this amazing tool skips many steps and speeds up the process.
After opening the tool using this link you will see a drop-down for what you need to create the schema for These are the options you have
Article
Event
Breadcrumb
Event
Faq page
How-to
Job Posting
Local Business
Organization
Person
Product
Recipe
Video
You can choose the schema type you want, if it's an eCommerce website then you will choose "product" schema to showcase reviews and ratings in SERP After choosing the option you will see a screen where you need to add details about your business and as you add that on the right side the code will begin generating simultaneously.
Once you are finished adding the details you can copy the schema markup code from the right side and add that schema to your website. That's it! A very easy and fast way to generate schema markup for your website. You don't even need to have advanced coding knowledge to be able to do this.
Broken Link Checker
Broken Link Checker is this amazing tool, you can use this tool to find broken links on any website. You can find broken links for both internal and external links. Broken Links can cause a frustrating user experience for users who come across your website finding crucial information.
From an SEO standpoint, we add links to increase the page authority, it won't be much of authority if the click leads to a broken page, and search engine bots hate it too and as a result, it can badly hurt your rankings. You may not realize when a certain website that you linked to ages ago has shut down; it is for that reason that you need to keep tabs on your links to ensure stunning user experience.
Are you looking for a one-stop solution to add and track all the scripts on your website with advanced tracking? Well look no further, Google Tag Manager is the tool you have been looking for. There are many ways Google Tag Manager helps you as a Technical SEO Tool.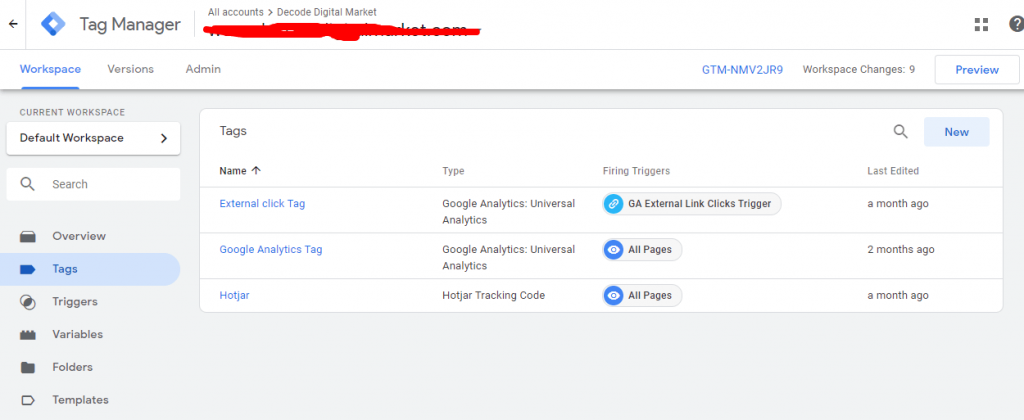 It does powerlifting by handling the loading of several scripts that you need to add to your website. Instead of adding those scripts to your website backend, you can add those scripts on Google Tag Manager and as a result, your website load time speed will increase relatively, because now the browser doesn't need to load all the scripts to fully load the site, loading the scripts part will be taken care of by the Google Tag Manager.
By setting advanced tags & triggers you can track a lot of activities taking place on your website. For example, you can track outbound clicks on your website, a super useful tracking for affiliate sites. There are more advanced click tracking like button click tracking.
Google Tag Manager can help you capture JavaScript errors
You can track scroll depth by users as they arrive at your website There's a lot more you can do using Google Tag Manager. If you're interested in learning more about Google Tag Manager's application in technical SEO then I highly recommend checking out Measure School YouTube Channel they have amazing videos that will guide you in setting up tags & triggers.
Want to test your structured data code before implementing it? Here is a tool to use for free by none other than Google.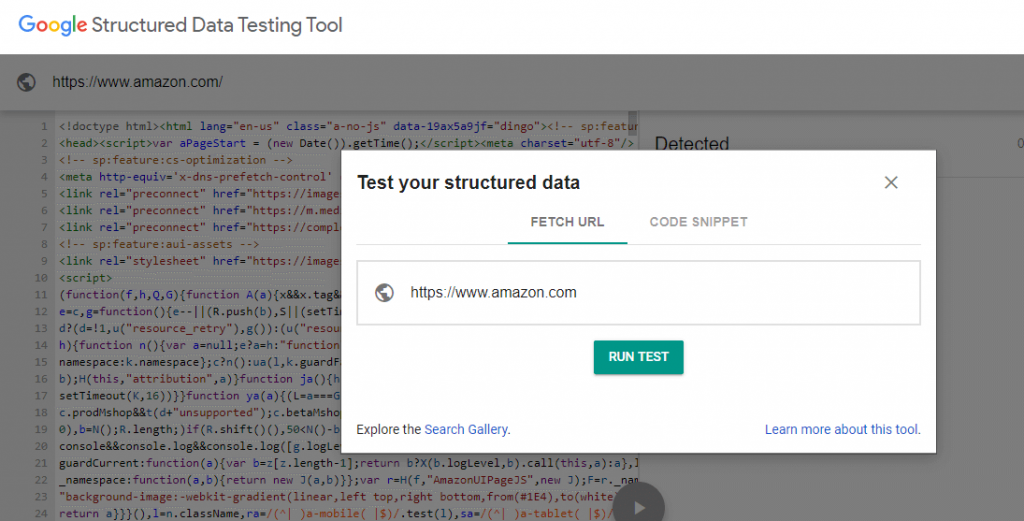 Using this tool you can paste the code in the test snippet to see the validity of code before implementing it. Or you can paste the website link after implementing it to see there are some errors. If there are errors then the tool will show exactly in which line the error is and why. Pretty helpful right?
I always use this tool before pasting the code to the site to see beforehand if the code is correct.
Everybody knows that SEMrush is a full-fledged SEO Tool. It shows you the incoming traffic a website is receiving, the organic keywords, the top-ranking keywords, locations and so much more.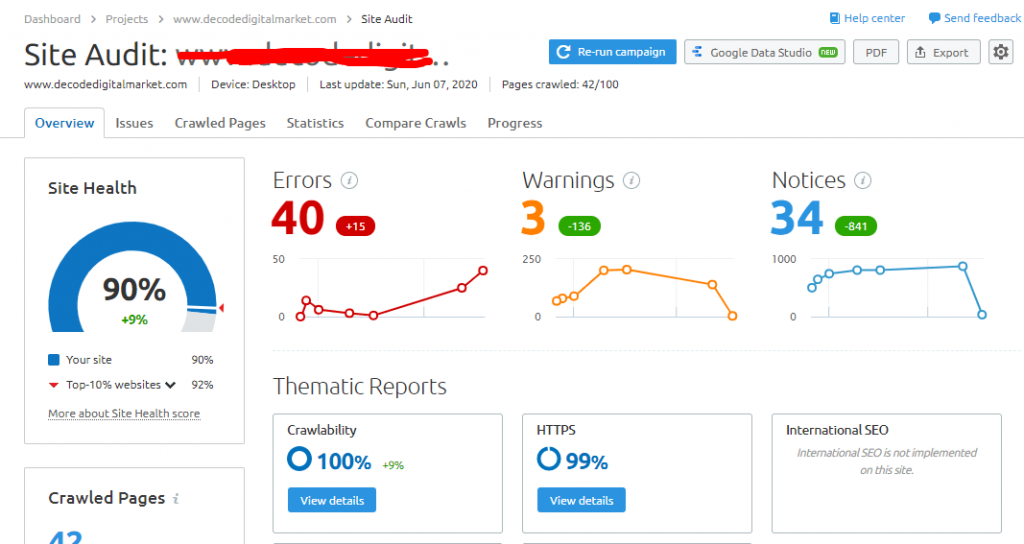 From a technical SEO analysis standpoint, you would love its site audit feature. Once the website is crawled by SEMrush Bot, in the site audit tool it will give you a bird's eye view of all the errors that it has detected, warnings & notices. More than that it will give you recommendations on what you need to do to fix these errors. It will highlight errors like
Duplicate pages
Images missing alt attribute
Internal links with nofollow link attribute
Pages missing meta title & meta description tags
Problems with hreflang implementation
4XX errors
Detecting these errors in the absence of SEMrush is possible but it will consume a scary amount of time. As you begin with fixing these errors you will see your site health improving. SEMrush's data is quite reliable as it scrapes data from clickstream data + ML (Machine Learning) by applying machine learning to the extracted data it arrives at fairly accurate numbers. SEMrush makes creating technical SEO site audits convenient & fun.
SEO Ruler Extension
SEO Ruler is a chrome extension by the world's greatest SEO Facebook group "SEO Signals Lab"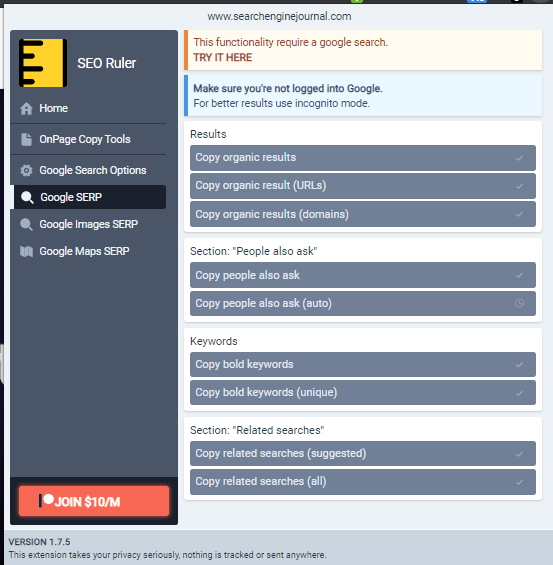 The SEO Extension has pretty solid features that will help you with quick analysis. Features like "page data" as you click on it an overlay on the screen will appear which will represent page data like title, description, keywords, robots, viewport, AMPHTML, canonicals, links (internal & external with numbers), number of scripts, header tags, internal & external anchor.
In the absence of this extension, you would have to scrape this data from view source by accessing it's source code and manually finding data to scrape.
The "word analysis" feature shows which word on the page has been repeated and how many numbers of types. You can quickly glean over the focus keyword, long-tail keyword, LSI keywords, and synonyms that page has repeated and how many times.
MS Excel
Why not? Can you imagine a search engine optimization workflow to go smoothly without using MS Excel?
I didn't think so either. SEO is the kind of digital marketing where you have to deal with a lot of data. Like, let's say you are working on huge SEO projects like an e-commerce website having 200-500 products that receive +25,000 traffic & having thousands of keywords battling to rank on page #1 What you need more than anything are data organizing skills.
You would extract the necessary data from your favorite SEO tool. Data like organic keywords with its respective positions, difficulty level & URLs.
As you download the xls file you will need to organize data so that you can make some sense out of it and don't scratch the face seeing the overwhelming amount of data. Simple features available in MS Excel can help you a great deal with organizing data like keyword research, link building & more.
Features like
Find and replace
Filter
Formulas like LEN (to measure the character count)
Data validation (splitting text to columns)
Concatenate
VLOOKUP
These simple features are going to help you segregate & analyze the available data that can help you make data-driven decisions.
With data analysis on MS Excel, you can realize if content cannibalization is taking place or not; if it is then you know what you're gonna have to do to fix it. It's funny how we chase behind shiny tools forgetting the simple gems like excel than can be a lifesaver when trying to make sense of the data.
SEOptimer is a freemium Technical SEO Audit Report tool that helps create Technical SEO audit reports for clients. This SEO audit tool highlights errors in a site, errors like missing image alt attributes, header tags structure, whether the site is connected to Google Analytics & Google Webmaster, does it have XML sitemap & robots.txt.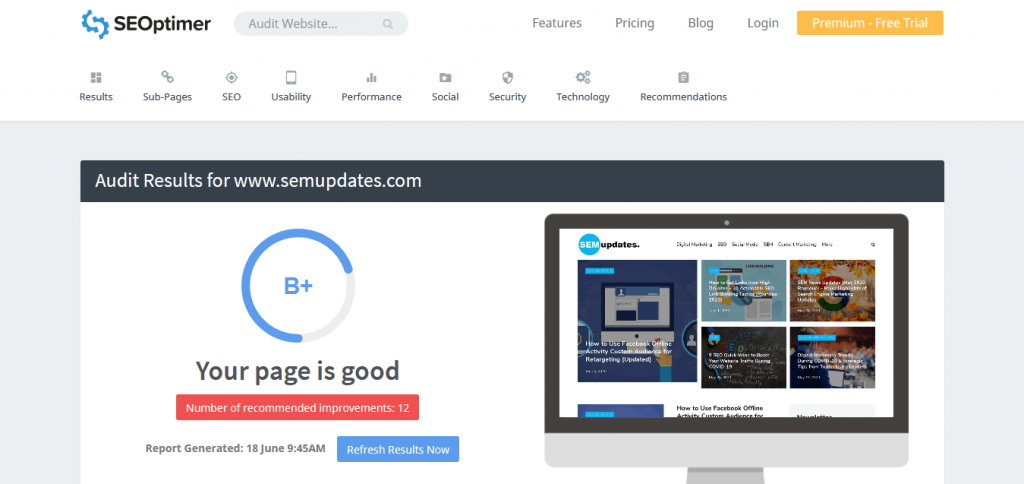 Some other factors it reports are the social visibility of a website, website speed, mobile responsiveness, server response time, and more. SEOptimer expedites the audit creation process, of course, this tool cannot seldom help with creating SEO Audits to create deep audits, you need to leverage a combination of tools like Screaming Frog, Google Analytics, Google Search Console, SEMrush & OnCrawl. SEOptimer really helps you with hovering over the aggregate status of the website in terms of search engine optimization.
SEO as an industry is an ever-evolving day by day the algorithm is becoming for humans in ways it understands the content of a website which is determinant for ranking websites. As a result, we began hearing about the role of NLP (natural language processing) in SEO.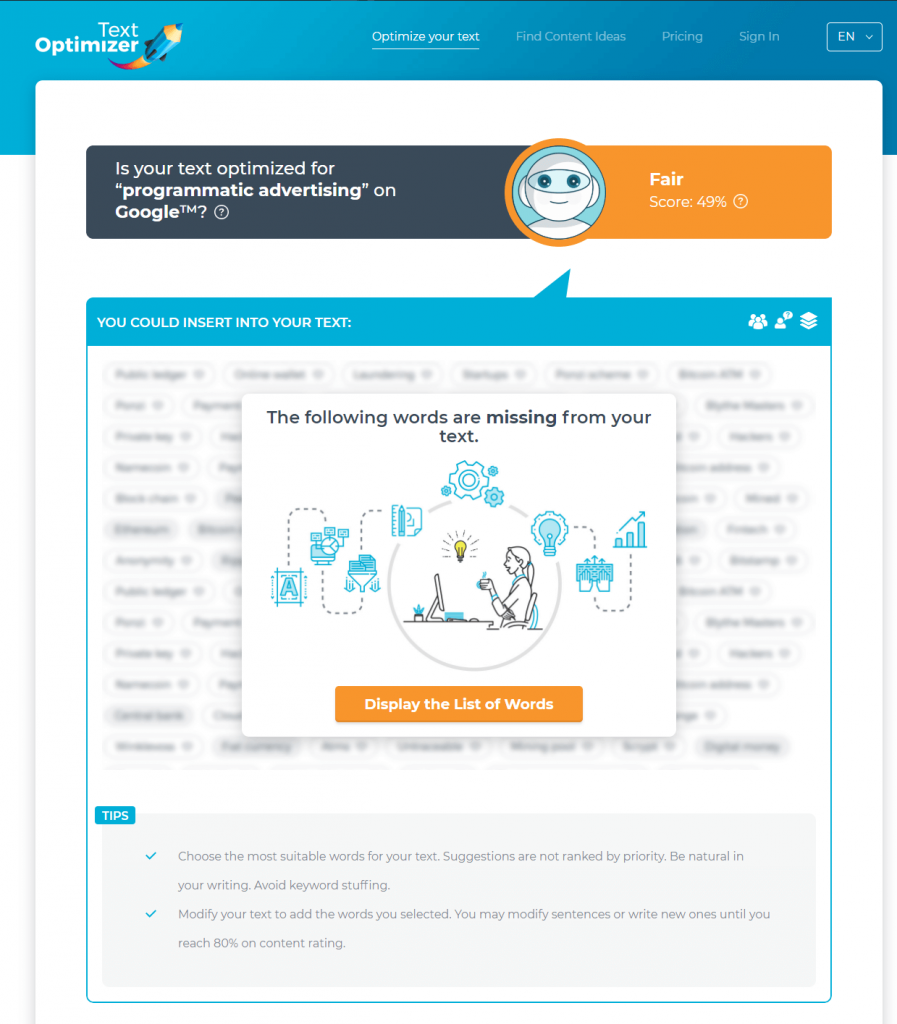 In the age of BERT, semantics are undeniably playing a significant role. BERT update is introduced to inform users that GoogleBot is now going to understand the language humans speak and in such ways, websites are going to rank.
You can use this tool to scan a particular web page. It will scan that page and give a score on the scale of 0-100% It helps by highlighting the additional keywords that need to be on the page and also the keywords that you should remove keeping factors like semantics & search intent in mind.
Furthermore, you can check the optimization score for a specific search query on Google & Bing your page receives. You can utilize the capabilities of this tool to revamp your old content pages and maybe even new just check the optimization score as soon as you publish to add the missing keywords right away.
Ever wondered how search engine bots see your website? Well, stop wondering because this free tool shows you how. Open the website and add the website URL and hit browse

What you will see is the website from the view of a search engine bot.
It's important to see how search engine bots see your website as they visit to perform a crawl; it's important because it reveals. In the snapshot, you can see how Google is seeing the webpage, and if there are some important sections that you are not able to see or if they are concealed.
There's an option in this tool to highlight dofollow and nofollow links, using this option you can see if the website is adding nofollow link attribute to its internal links.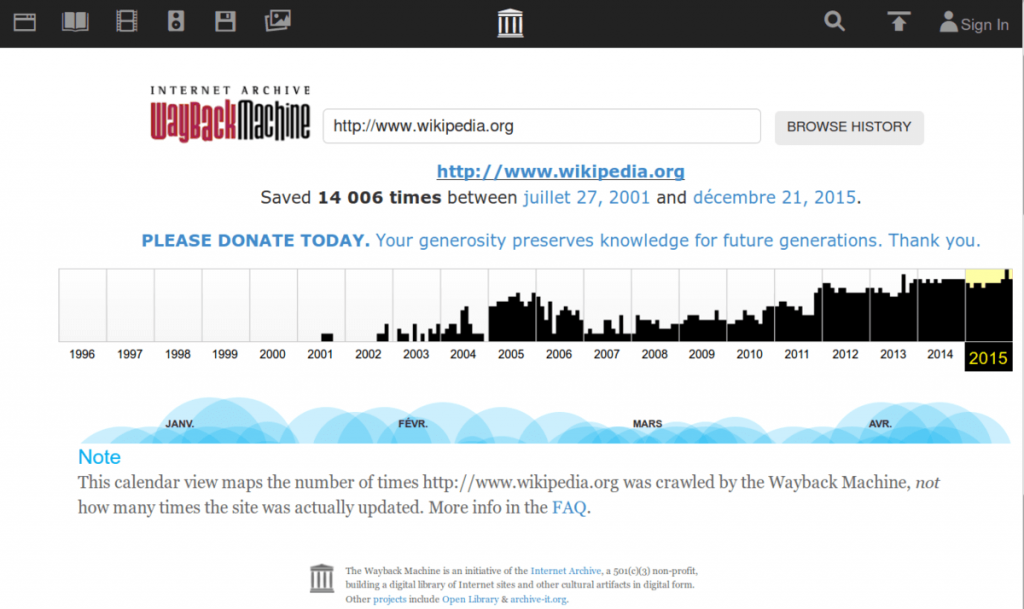 Source: wikidata.org
Wayback Machine is an irreplaceable tool that helps a great deal with historical tracking of a website's UX & content. Using the Wayback Machine you can see how a certain website used to look some time ago before it's UX was changed.
This offers a lot of insights into UX development. Another important thing it offers an insight at is, Internal links & external links. So if you come across a content website that has been shut down, it's rather obvious that the website must have linked out to a ton of other blogs, with a Wayback Machine you can find all the websites it linked out to and for what page. You can now reach out to these sites for linking to your website.
The technical SEO tools checklist cannot simply be finished without adding Cloudflare. Cloudflare is a freemium tool that helps a great deal with making your website secure and fast.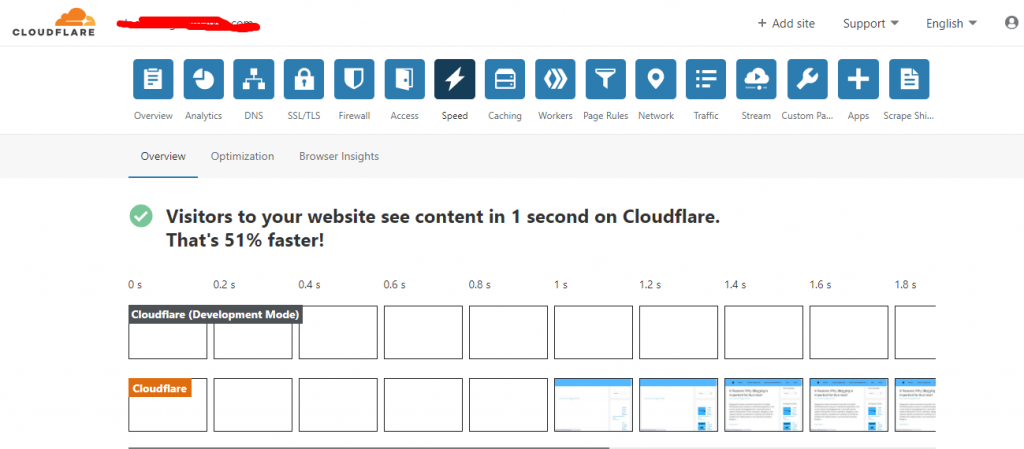 Have you ever come across a website that displayed a message "Connection is not secure" an entire page encompassing this message? I bet you did.
Most of the time you will see this error message because the site is https secure, perhaps the website took a poor hosting that didn't even offer an add-on of SSL Certificate. If you are also on the same boat then worry not because Cloudflare is at your rescue.
Cloudflare has a free plan that will give you SSL Certificate for free making your website https secure and at the same, you will also get a free CDN (content delivery network) Both these things are incredibly important, SSL Certificate is important to avoid getting the browser's error message.
CDN on the other hand helps load the media content from your website, it does the muscle work so that your website doesn't take the load that's headed its way. If you scan a website in GTMetrix that isn't using any CDN it will recommend that you use CDN to speed up your website.
Netpeak Spider is handy to use tool for a quick in-depth technical SEO audits and websites' analysis.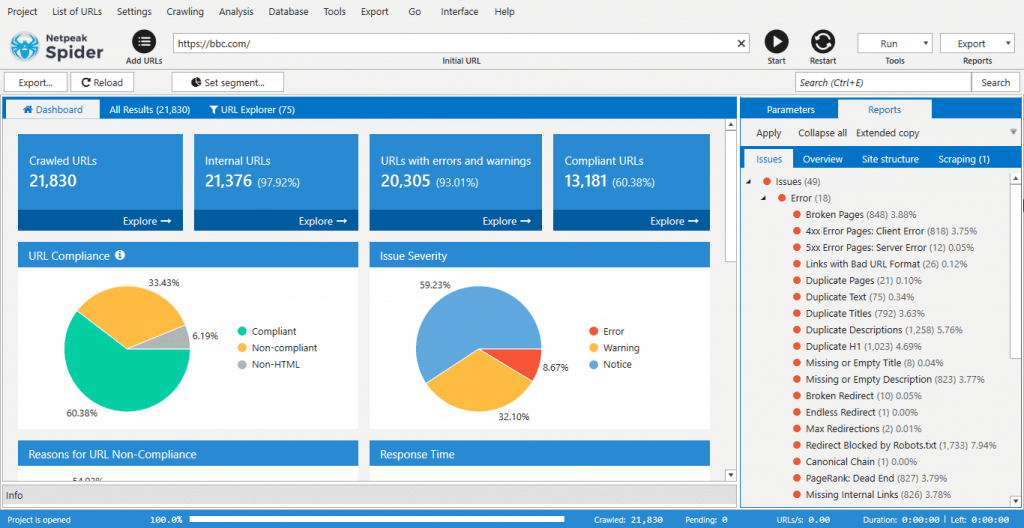 Netpeak Spider analyzes websites like search engine bots do and represents the data on an interactive Dashboard with every issue and error the site has (like metadata, HTTP status codes, structured data, broken pages, duplicates, redirects, do-follow and no-follow links, and everything else).
All issues are highlighted by its priority so that you get to know from what to start, and fixing those errors will boost your website ranking. If you click on an issue, you'll see the information about this type of issue with advice on how to fix it, so that even an SEO newbie can sort out with it.
You can use a tool to scrape data on websites like prices, contacts, markup, etc. Netpeak Spider can easily extract useful data within minutes as it was designed to work with huge websites that consist of over 1 million pages.
The tool is worth using because it's better to have systematically data presented in the panel rather than getting it by hand.
Conclusion
 So, these are a lot of Technical SEO Tools that you have at your disposal to optimize your website.
Some tools are free while some are paid. In the final words, I would like to say that strategy is critical. Tools are just a means to an end. Tools don't guarantee results, you need to have a purpose for using the tools in the first place.
Tools will help you shape your strategy.
Do you use any other SEO tool? Tell us, we will be happy to include that.
Get customized digital marketing tips directly in your inbox. Just leave your email and there you go…