In this article, you will learn how you can retarget your offline event audience using Facebook offline activity custom audience feature.
You always need to stay ahead of the competition. Do you know it takes just 8 secs you get exposure to your content in front of the people? You have to make each sec. count.
Facebook offers an extensive offline activity audience feature which is very underestimated but very powerful.
This is the era of Omnichannel marketing; you cannot avoid any opportunity to convert your potential lead into a customer.
Understand the Facebook custom audience
You cannot deny the fact that the Facebook custom audience made your life easier. It helped advertisers finding and matching your ad campaign to the most relevant audience on Facebook.
Some retargeting stats you should know:
25% of online viewers enjoy seeing retargeted ads. [Source: CMO]
The click-through rate (CTR) of a retargeted ad is 10x higher than the CTR of a typical display ad. [Source: Wishpond] 
70% of marketers turn to search retargeting primarily to increase brand awareness. [Source: IAB]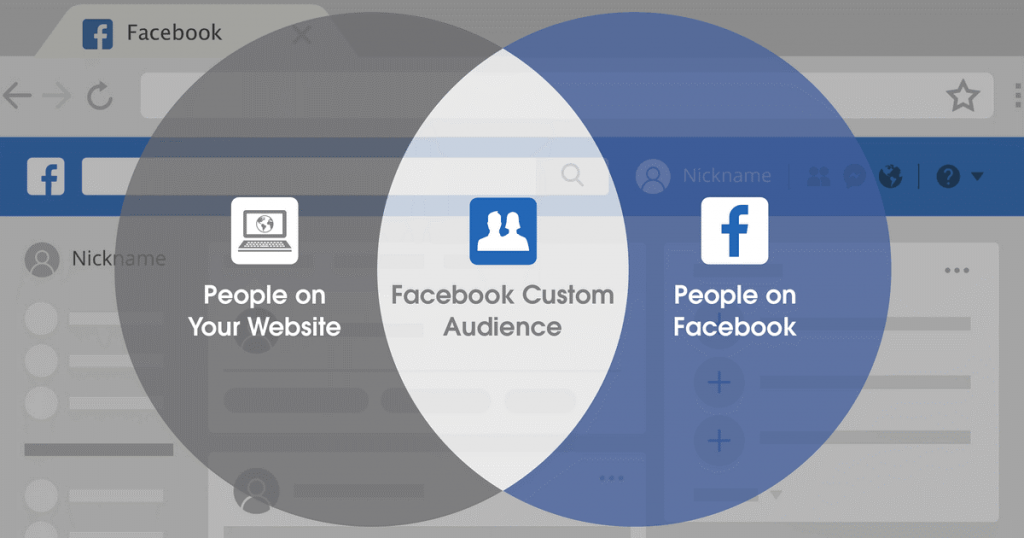 What is Facebook's offline activity custom audience?
According to Facebook – "Create a list of the people who interacted with your business in-store, by phone, or through other offline channels."
Every business has some online as well as offline customers to acquire. You might have some offline leads too which need to be converted through various channels.
So you can create an offline audience event in the Facebook audience tab and upload your offline lead to engage your potential customers through various content formats and creative campaigns.
There are two ways to create a Facebook offline event:
Create an event manually by uploading the list
Import the offline event data by API integration
Create an event manually by uploading the list
You can upload the list of the audience you interacted through offline channels. Import that audience to your Facebook ads audience section.
Go to Facebook Ad Manager Dashboard.
Go to the Event section
Create the offline activity event in the dashboard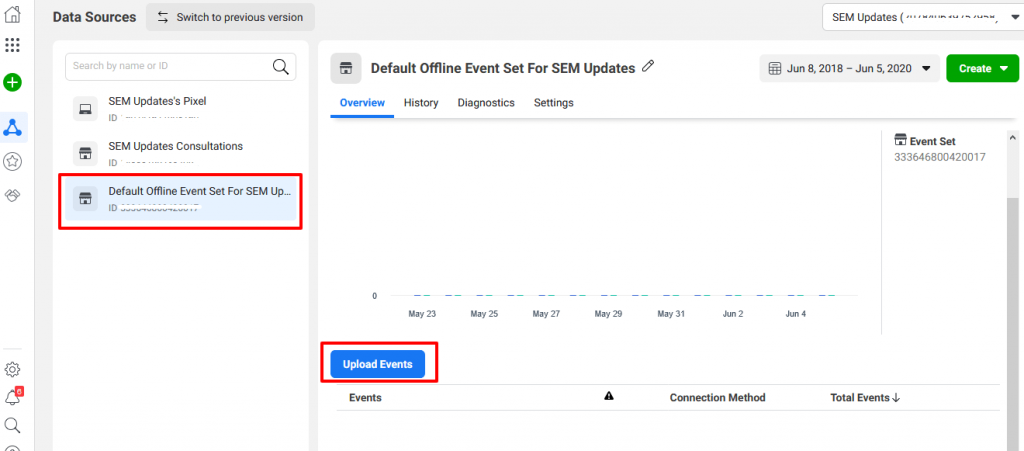 Upload your customer list into the Facebook ad manager.
Facebook allows you to download the template in which you can fill up your offline customer's data.
Fill up the sheet that format exactly as per the mentioned fields.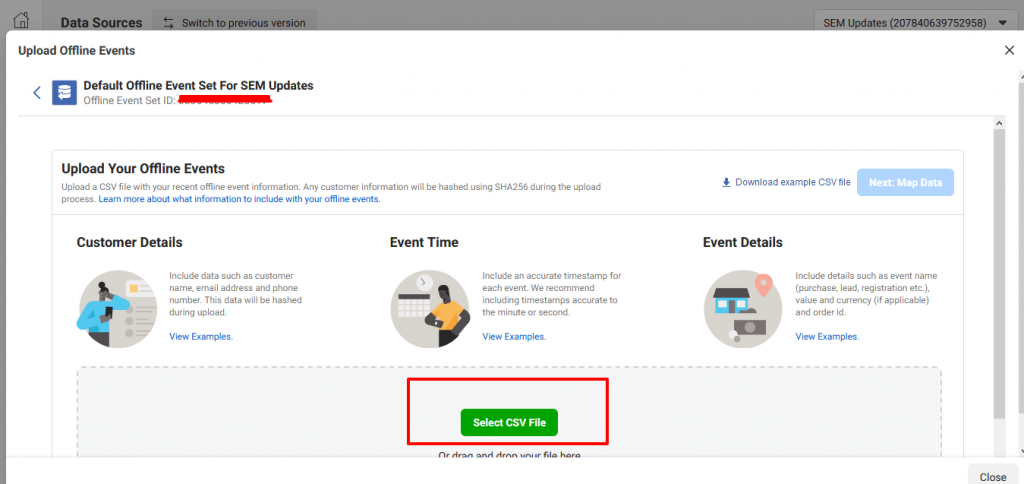 You can simply upload your offline activity audience file into Facebook.

You will generate a custom event tracking code, which you can put up on your website.
Import the offline event data by API integration
You can import your offline event audience data by integrating your PoS or CRM with your Facebook audience dashboard. Facebook support some widely used APIs to import the audience such as Bionic, ROI hunter, smartly.io and a lot more. You can check all the supporting APIs here.
How to use Facebook offline activity audience?
Now once you have your offline activity audience what you can do with it?
These are the potential customer who is aware of your business already. By exposing some of your brands to these offline activity audiences you can get more attention and engagement with your brand online.
You can use your offline event you created in previous steps to create an audience on Facebook.
Go to the Facebook Ads Manager Dashboard.
Select the 'Audiences' tab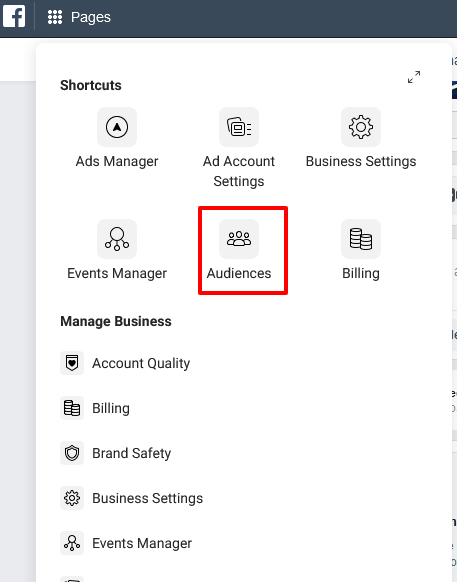 Select the custom audience field in the drop-down menu in the audiences tab. This will allow you to create different types of audiences for Facebook such as lookalike audience, saved audience, etc.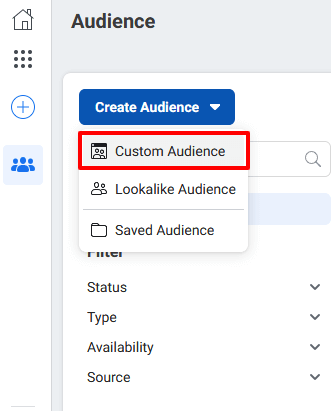 After selecting the custom audience, you will see all kinds of custom audiences Facebook offers.
You need to select the 'Offline activity' audience from that list.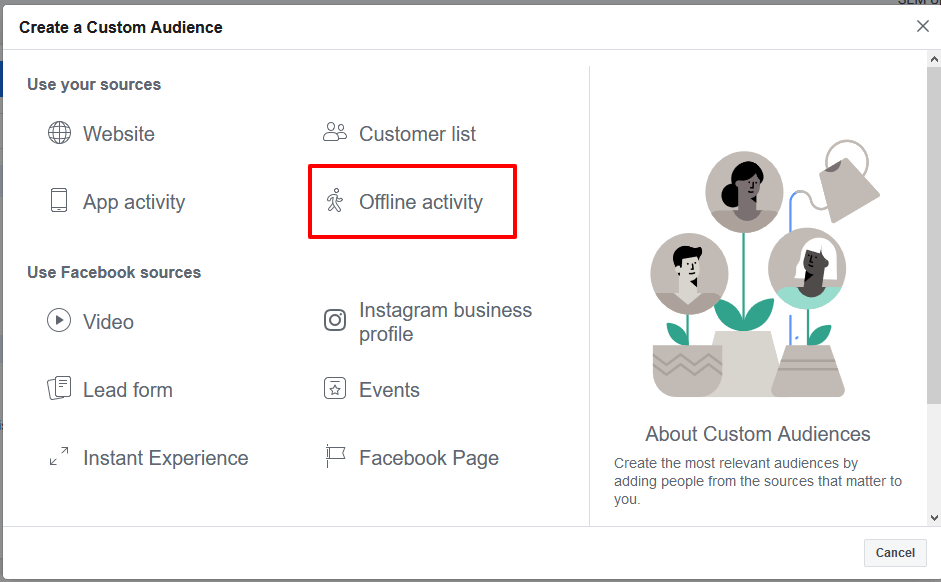 Now you can select the offline event you created for offline activity audience. Keep the days 30 days' conversion window, if the event was recent. You can add the conditions if applicable to your audience.
"Enter the number of days prior to today that you'd like to show results from. People will be removed from your audience after this time unless they meet the criteria again." – Facebook
Add or remove any of the event audience as per the objective.
You can add multiple filters and conditions to restrict your offline event audience list.

You can further refine the data by the value of the customs value or aggregated value. Select the value from the drop-down.
Add the offline event id to create this Facebook offline activity audience.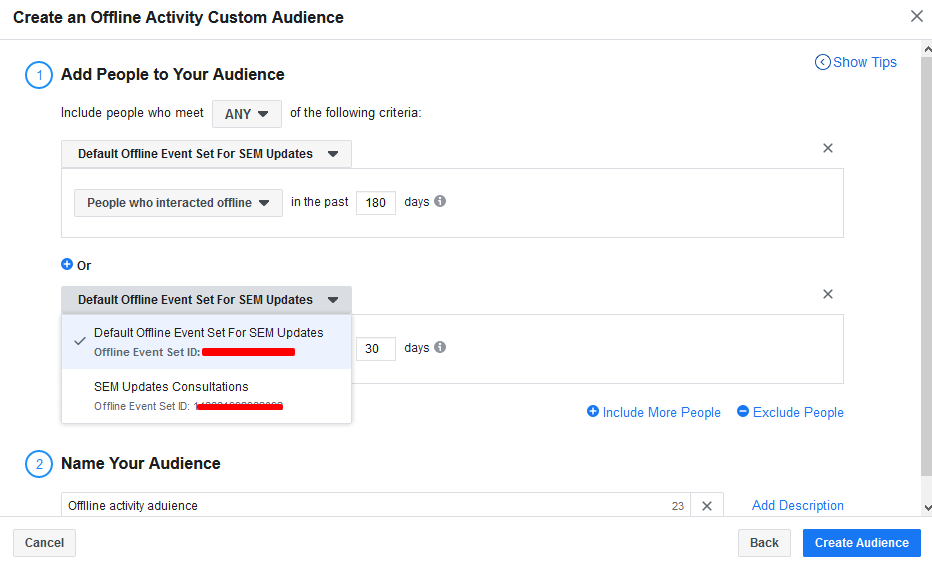 Keep the name of your audience detailed to understand what this audience is about. It will help you recall it, even after a long time. You can add an objective, event name, audience type in the name.
It takes time to populate the list. Initially, you must have at least 20 people on the list to retarget.
Where to see the results of my offline event audience?
When you run a campaign using Facebook offline activity audience, you can customize the reporting dashboard to see the results.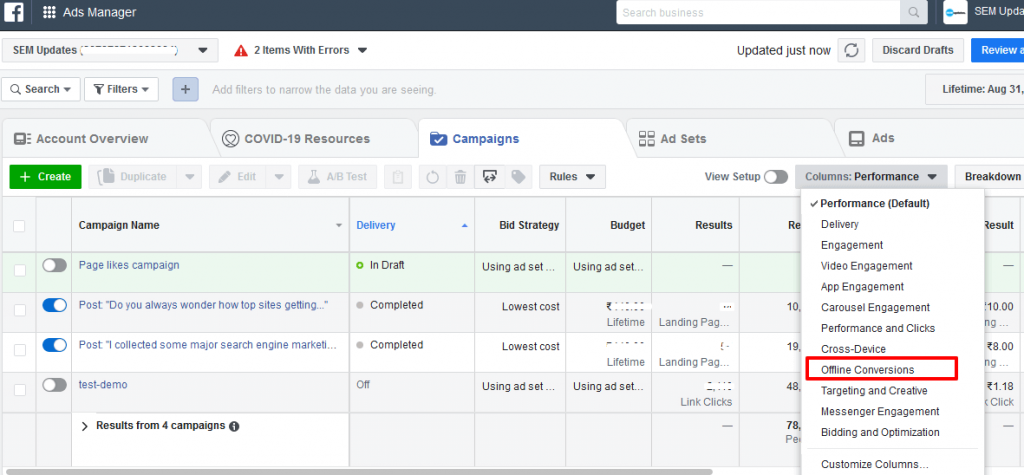 Add a column 'offline conversions' in the ad reporting dashboard.
Select the attribution window to 28-day-click or 1-day-view as per your business objective.
Save this setting and Apply.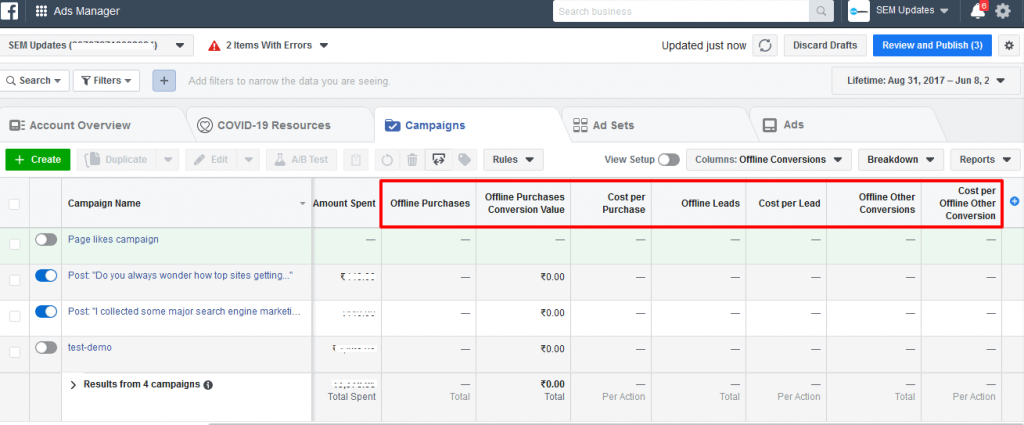 You will see a lot of metrics to analyze. Then you can decide Facebook offline event audience is effective.
Conclusion
It is not always important to capture potential leads through online channels only or offline channels only. A combination of both could do the magic for you. You should utilize this exciting Facebook offline activity audience feature to benefit your business. You can engage your slightly aware audience and convert it to your delighted customers.
Facebook Ads making advertisers' life easier day by day. A wide range of features to track the online and offline audience and retargeting that audience could actually increase the conversion rate.
Now advertisers can draw the conclusion effectively from their offline campaign and make the data insightful. Facebook is an expert in understanding customer's pain points and building solutions to overcome them.
With this audience type, you can use the analytics data to design better campaigns in the future.