Regardless of whether you have an online store on Etsy, Shopify, Facebook Business or Facebook Marketplace, own eCommerce website, or a seller on Amazon, your main aim is attracting potential and existing customers.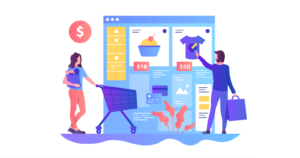 There're several ways to drive customers to an online store. Maybe you're already using some of them. However, there's one superb, time-tested, and proven way to grow your online store. And that's by blogging.
Importance of Blogging
The above statement could make you wonder why blogging of all other things? Look around the Internet, and you'll understand. Nowadays, almost every business, regardless of its size, has its own blog.
That's because an increasing number of people nowadays rely on blogs to get a clearer, unbiased review before buying anything.
Market research proves that about 90 percent of shoppers read blogs at least during the initial buying process before they arrive at a final choice.
Marketers worldwide claim that superb blogs drive the bulk of generic traffic to their online store emerges.
Given that blogs tend to play such a key role in business activities let's explore how to grow an online store with blogging.
How to grow an online store
Actually, lots of online store owners don't blog for two main reasons. First, they wrongly believe that blogging is something difficult. This fear can be easily overcome if you read any good online tutorial that teaches you how to grow online stores with a blog in a simple and easy-to-understand manner.
The second reason is that online store owners think they don't have the time to write blog posts. You can easily overcome this mental block by giving yourself an hour or two to write blogs daily.
I recommend daily because the higher the number of new posts, the greater the volume of generic traffic you're online store would get.
And here's how to grow an online store with blogging.
Blogging Influences Potential Customers
As I mention earlier in this article, about 90 percent of customers read blogs during the initial buying phases. And nearly 60 percent of customers decide to buy or even avoid buying something based on the blogs they read. This proves that blogging does play a major role in generating leads and creating potential customers.
Here're some reasons why blogging influences potential customers. Broadly speaking, a business has two ways to let a consumer know about their offerings.
One is a conventional method that includes advertisements in print, electronic and digital media, and press releases. These are paid resources. The other one is informal media, which is blogs where a business doesn't really spend so much. And independent bloggers also write about companies and products.
Whether they are Business-to-Business (B2B) or Business-to-Customer (B2C) type, consumers tend to trust blogs as a source of independent information that isn't influenced by money conventional advertising. Hence, whenever somebody decides to buy something, they look for honest, unbiased, and independent information through blogs.
When you open a blog, it reaches out to people during that crucial decision-making process. And they remember your blog content while shortlisting things and making a final decision.
Building Email List for Better Outreach
Unfortunately, many online marketers tend to believe that email marketing is outdated or redundant and unimportant. That's absolutely wrong.
In fact, email marketing is more important nowadays than at any earlier time in history. The reason is simple: all businesses- small to large- want to get across their message to existing customers and potential leads.
Just think about it for a moment? Why would anyone part with their main email ID unless there's something in it that serves their interest?
When you create interesting and engaging blog posts that appeal to many people, they'll definitely want to hear more from you and your online store. Hence, they'll subscribe to updates from your business or store by giving their email ID and other details on your contact form.
In this manner, a blog serves as an essential resource to build an email list for email marketing.
In fact, there're several ways to leverage this email list to grow your online store. The first is informing customers and followers about the latest additions to your online store, which could be of interest.
The second and most important is letting people know about any sale and price drops or special offers for any reason.
Thirdly, you can also make instant special offers or give away lightning deals for instant purchases to convert potential customers.
An email list can be used entirely or in part to keep customers, and blog followers updated about the latest happenings at your online store. Amazon.com is a superb example. Though it's the single largest online store globally, the company continues to use email marketing to inform customers, make offers, and influence buying decisions.
Blogging Provides an Edge Over Competitors
Market research proves without a doubt that companies that post over 16 blog posts per month on their own blog can drive exponentially more traffic to their online store or online business. This means, by blogging alone and posting adequate content every week, you can steal an edge over your rivals, regardless of how big the competition. Because blogs attract readers that transform as followers, generate leads, and eventually can convert them as customers.
At the same time, it's important to bear in mind that merely posting blogs itself isn't going to help your online store. You'll also require some digital marketing processes to promote the blog and generate newer followers for your business.
An independent and honest blog help develop customer trust, which can convert as brand loyalty towards your online store. And loyalty goes a long way to ensure that your online store keeps getting repeat business from existing clients while generating newer ones.
There's no shortage of subjects you can blog about when it comes to your online store. You can create superb blog posts about the latest news about products and services you're offering or provide useful tips.
One such example is from India where one of the oldest, reputed Fast Moving Consumer Goods (FMCG) giant runs a very successful blog about sleep and its importance to humans. This blog speaks more about sleep and less about the sleeping products, though it does promote the brand rather subtly.
Blogging Opens New Sales Channel
Surely you've heard about the term affiliate marketing. In simple words, it means selling something for someone through your website or blog and get a small commission. Your online store can offer an affiliate marketing program for other bloggers. When you offer commissions to affiliate marketers, you'll be opening countless points of contact and points of sales for customers.
And by blogging, you're actually opening one more sales channel for clients. You too can provide links to products and services directly from blogposts. This helps in quick decision making that fructifies as action. Generally, people buy something from your online store if your blogpost is engaging and interesting enough to influence them.
In any case, providing affiliate marketing and using sales links on their own blogs serves as a superb and free online advertising resource. In fact, you'll have to pay affiliate marketers only after they complete a sale through their blogs.
One of the frequent questions from online store owners is whether to have a separate blog or include one on an eCommerce site you own. I suggest starting a blog that's almost entirely independent of your online store. Understandably, you can't have a blog with Shopify or Etsy marketplace. Hence, an independent blog is the best.
Another question is whether to use a free blog site or launch a proper blog with a paid domain name and hosting. The best thing to do is use both these resources. You can post different content on both to engage more readers. All it requires is some extra effort to write blog posts.
Blogs for Social Media Engagement
No business however small or large simply cannot afford to ignore the tremendous potential of Facebook. With more than 2.4 billion active users during the second quarter of 2020, Facebook is without any doubt, the world's single largest and most successful social media platform. Hence, your online store and blog can benefit a lot from Facebook and other social media resources including Twitter, Instagram, Pinterest, and also LinkedIn if you please.
How's that possible? Normally, every blog in the world also has an eponymous Facebook page. A good blogger will upload content on their blog site and post a link or preview on the same Facebook page. This attracts readers who can become followers.
Initially, you can start sharing blogs about your online store with friends and relatives and get them to 'Like' your Facebook page. And request them to get others to 'Like' your page as well. Maybe you're aware that their updates appear automatically once we 'Like' a Facebook page or forum.
These updates work to drive traffic to your blog and eventually, to your online store.
Twitter allows you to Tweet instantly about your online store's updates, such as new products, sales, special offers, discounts, or even news.
These serve to increase engagement with your online store and blog.
Blogging Can Help Your Online Store Innovate
Peter Ferdinand Drucker, the legendary American investor, and business magnate famously says: "Every business has two functions- marketing and innovation." By blogging about your online store, you're actually doing both.  Good blogs help in marketing like no other channel. That's obvious.
So let's discuss innovation.  By blogging and fielding comments, you're actually listening to customers. Responding to comments increases consumer participation too. But most importantly, you'll also learn about the pros and cons of your online store's offerings. And such feedback is vital if you wish to innovate your service and product offerings.
It goes without saying that innovation is the only way to survive and flourish in an otherwise stiffly competitive market. And blogging helps you get vital inputs from the market itself on what innovations are necessary because people will tell you what they want.
Investing in Blogging
If you've recently started an online store or have one that doesn't make any profits, it's quite likely that you view blogging as an extra and unwanted expense. But you can buy a good domain name and web hosting for as low as $9.99 per year from any reputed company.
For digital marketing also, you don't need to hire a fulltime staff. There're countless digital marketers that freelance. You can enlist their services only when needed.
You can learn skills online with skilled tutors at Tutor House.
In Conclusion
The above six points clearly show how blogging can help your online store to grow. Indeed, you need to exert some extra efforts to start blogging However, the returns and gains are much more than what you could expect.