Building a thriving YouTube channel can be a challenge. There are around 500 hours of video uploaded to the platform each minute. With so much content available, users are spoiled for choice.
But it doesn't have to be this way. There are some simple things you can do to boost your views and get the audience you deserve. The best place to start is by looking at the way you are promoting your channel. After all, people can't watch a video if they don't know it exists. Let's look at some of the best ways you can promote your YouTube channel.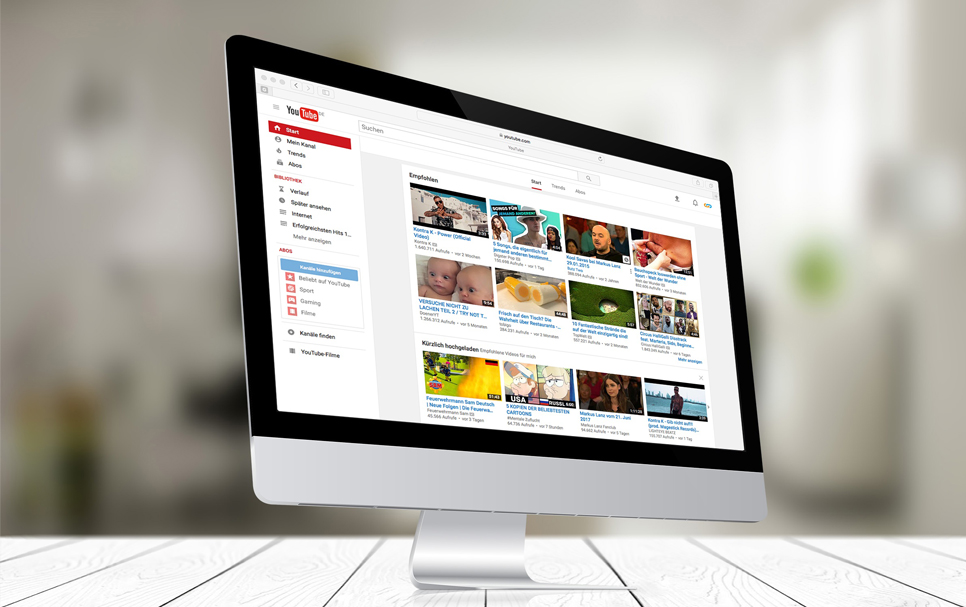 #1 Use Social Media
If you want to get your content in front of more people, you should turn to social media marketing. This is a great way of advertising your videos and growing your influence. For example, Twitter is one of the biggest social media platforms in the world with around 396 million active users. Many of them spend a lot of time actively engaging with the site. If you manage to build a following on this site, it will be easy for you to funnel people to your YouTube videos.
There are plenty of social media sites to choose from. To decide where you should be focusing your efforts, look at the demographics for each one. For example, Facebook tends to have older users. Instagram is most popular amongst younger people. Around 70% of US citizens aged between 18 to 29 have an Instagram account.
There are a few simple ways you can convince social media users to click on your video. First, you might want to give them a brief preview or write a short description. This tells gives them a good reason for engaging with your content. Then, embed the video, so they can access the YouTube page through the tweet.
You should focus on promoting your video during the first 24 hours. This is when the most video views will occur. If you get a lot of traction in this period, your video can go far. You might even be able to make it onto the home page, exposing your content to a huge global audience.
#2 Use Strong Thumbnails
Your thumbnail is the first thing that a user will see when looking at your content. Remember, you don't have long to convince the audience that your content is worth watching. If you don't grab their attention, they'll skim over your video.
There are plenty of techniques you can use to build an engaging thumbnail. For example, you can use bright colours. You can also use text or use a suggestive pose. It can help to look at other successful YouTubers in your niche and take some inspiration from what they are doing.
#3 Use an Engaging Headline
You need to use a catchy headline that draws people into the video. There are dozens of ways you can do this. But one of the most common questions is asking a question. You can also give them an intriguing statement. The most important thing is that it makes the viewer want to learn more about the topic. It might take a bit of trial and error to find which headlines deliver the best results.
#4 Engage With the YouTube Community
You should try to foster good relationships with people who are in your niche. Bigger YouTubers will often give shout-outs to smaller ones if they think that their audience will like the content they provide. This can give your view count a huge boost. There are a few ways that you can get on their radar.
You might want to leave comments, complimenting them on the video they created. Or you might want to reach out to them through email or direct message. You can offer to collaborate on a video together. Another option is to share their videos on social media.
#5 Use Keywords
A key part of YouTube marketing is being able to use the algorithm to your benefit. Because of this, you might want to consider the tags that you are using for your videos. This determines the type of people who will be viewing your content.
The best way to find relevant tags is by doing some search analysis. This makes sure that you are targeting popular keywords. The best way to do this is by searching for terms relating to your topic. This will give you a list of suggested keywords. You can use these keywords as part of the metadata. You can also work them into the video description. Ideally, they will appear in the first 100 to 150 words.
When done effectively, these YouTube marketing tactics will be able to help your video show up when people Google a topic. If you can do this, the number of views you are getting will rapidly increase.
#6 Know What Your Audience Wants
You aren't making videos in a vacuum. You are making them for an audience. You can use their reactions to help guide your content, deciding where you focus your efforts. For example, you might notice that one video is attracting a lot of views and likes. This is a sign that it's popular, and your audience wants to see more like it. That's why so many YouTubers make sequels to high-performing videos.
There are a few data points you can consider. For example, look at the watch time. Are people watching the whole video, or clicking off after a few minutes?  This gives you an insight into how engaged they are with the content. The more videos you make, the more data you will gather. Over time, you'll learn precisely what your viewers are looking for.
#7 Encourage Interaction
Exactly how the YouTube algorithm works remains a mystery. However, there are a few elements it considers when deciding what content it is going to promote. One of the most important factors is the way people are interacting with your videos.
If you get a lot of likes and comments, it tells the algorithm that people like what you are doing. It then recommends your videos to a wider audience. Because of this, you should make sure that you are reminding people to like, comment, and subscribe at the end of each video. It can also help to talk to your fans in the comment section and answer questions and encourage debate.
#8 Link to Similar Videos
Getting someone to click onto your video can prove to be difficult. However, keeping them on the channel is even harder. One of the best ways to do this is by creating a video playlist. Group videos on the same topic together. Often, once someone clicks on one of these playlists, there is a good chance that they will watch the whole thing.
Another way to get people to watch similar content is by embedding it into the video. You can choose when these links appear, so they pop up at the most relevant time. This is an effective form of social media marketing, as you link to external resources, like your company's website.
#9 Try Livestreaming
Livestreams are innovating the way content is delivered. They allow you to interact with your audience in real-time. This is ideal if you are giving a tutorial, as you'll be able to answer any questions that they have. Because of this popularity, live streams have become very popular on the platform. It's common to see these in the trending tab.
At first, the process of doing a Livestream can be a little disorienting. It can help if you have some moderators, to help answer questions in the chat. But the more often you do live streams, the better you will become. This can help set you up for other platforms, like Twitch, which offers 30 million daily active users.
#10 Make More Evergreen Videos
It's fine to comment on contemporary issues. But you should try and make a good base of evergreen content, especially if you are just starting the channel. These videos will remain relevant for years to come. This is how most viewers will be introduced to your channel and will typically rate fairly high in searches.
There are plenty of types of evergreen videos that you can explore. The most popular are based around 'how-to' guides, collections of stats, or breakdowns of complex topics.
#11 Spread Out Your Videos
One of the easiest ways of getting more views is breaking up your videos into parts. This does a few things. First, it gets people to spend more time on your website. It gives them a reason to keep coming back to your page, to see if the next part in the series has been uploaded. Plus, the more times they watch your videos, the more the algorithm will recommend your content.
However, it can also benefit your videos, especially if you are dealing with a dense topic. You'll be able to break it down into more manageable chunks. This will allow you to have a more focused approach.
#12 Look Out For Trends
One of the best ways to get more eyes onto your content is by piggybacking on some already popular trends. There are lots of ways you can do this. You can participate in a viral challenge. Or you can talk about a popular topic.
You can also make themed content for certain times of the year. A great example of this is making Christmas-related content. You can also capitalize on other times of the year, like Chinese New Year. When making trend-related content, it's important to think outside the box.
#13 Verify Your Channel
If you have a large enough following, you might want to consider verifying your channel. You will need to have over 100,000 subscribers before you can get verified. This process should be as simple as reaching out to YouTube and providing a few additional documents.
Getting verified adds extra credibility to your account. More importantly, though, it makes it harder for people to impersonate you. This is common for more popular accounts, as some people like to take a name similar to a bigger Youtuber. This allows them to make copycat content and steal some traffic. It can also cause chaos in the comment section, as people think that you are endorsing scams and other dodgy behaviour.
#14 Run a YouTube Ad Campaign
If you are struggling to get momentum on your channel, you might want to turn to YouTube marketing. You can purchase ads that will run before videos. This is a good way of getting people's attention and getting them to check out your content.
There are a few ways you can boost the success of this approach. First, you need to get people's attention. You'll have a matter of seconds before they can skip the video. So get straight to the point.
It's also important to consider where the video will be played. Ideally, it should be put before similar content in your niche. This will mean that people already have an interest in what you are talking about. Many people use a social media agency to help them decide the best way of using their resources.
#15 Use a Social Media Marketing Company
Finally, it can be a good idea to turn to a social media marketing agency for assistance. They are best placed to help you find success online. Often, this will involve using a few of the tactics we discussed in this article. For example, they will be able to help you develop a strong social media presence. They might also help you develop YouTube ads.
They'll also be able to help you optimize your channel. They can help you find what keywords you should be using. A good social media marketing agency will be able to take care of the metadata. This increases the chances your videos will be featured in searches on Google.
Conclusion
Starting a YouTube channel can be a daunting process. When you are just getting going, it can take a while to build an audience. However, there are plenty of ways that you can boost your view count.
You can try changing the way you title your videos, changing the thumbnail, or promoting them on social media. Before long, the views will be rolling in and your subscriber base will be growing.
Which hack do you like the most? Share with us in the comment.