We know what you might be thinking: what is a digital influencer? After all, this term doesn't exactly roll off the tongue. But don't let the awkward name fool you — these people are excellent marketing tools for any organization. Here's everything you need to know about digital influencers and how they can help your business in return.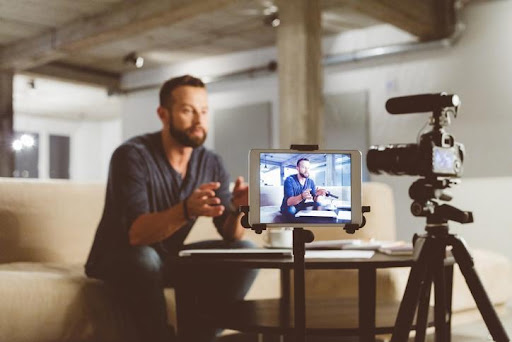 A digital influencer is an individual who has the power to impact the purchase decisions of others because of their authority, knowledge, position, or relationship with their audience. A digital influencer can be anyone, from a popular blogger to a social media expert to a YouTube personality.
Digital influencers can help you promote your brand in a variety of ways. They can create sponsored posts or videos about your product, write honest reviews, or simply mention your brand to their followers. Digital influencers often use social media platforms such as YouTube, Instagram, and Snapchat to reach their audiences. You can simply enroll in the free digital marketing course to gain knowledge about digital marketing and its various platforms.
What are some of the most popular digital influencers?
There are many popular digital influencers, but some of the most well-known include Kim Kardashian, Kylie Jenner, and PewDiePie. Indians are no less than global digital influencers. They are quite famous and have a large following on social media platforms. They often use their platforms to promote products or brands, and their popularity can be a valuable asset to companies looking to reach a wider audience. 
Top 10 Digital Marketing influencers in India
Digital marketing influencers are considered experts in the digital marketing field. They often share their insights and tips on how to succeed in digital marketing, making them a valuable resource for businesses and individuals looking to improve their online presence. Let's read about the top 10 digital marketing influencers in India:
#1 Karan Shah
Karan Shah is a popular educationalist, public speaker, TEDx speaker, and a founder+Director of  IIDE (Indian Institute of Digital Education). He has been included in the list of  Social Samosa 30 Under 30 Class of 2020-2021.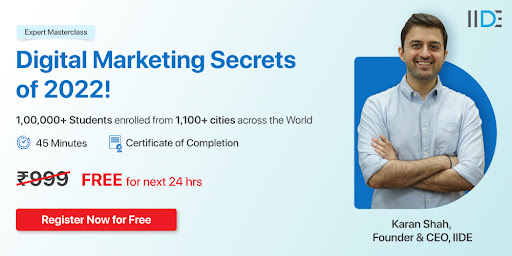 After graduating from Harvard, Karan combined his passion for digital marketing and teaching to set up IIDE, India's leading digital marketing institute. Karan also hosts a Free Masterclass on digital marketing basics. IIDE, as an institute, has upskilled more than 2,35,000 students through its digital marketing courses. They also have tie-ups with big giants like Asian Paints, the World Bank, Volkswagen, Mahindra, and Mahindra, and more to deliver digital education.
Adding to his achievements, he is also a front-page writer for reputed publications like Education Times, Forbes, Business World, and more. He is also a visiting faculty at IIMs and many university colleges in Mumbai.
#2 Pradeep Chopra
Pradeep Chopra is a well-known digital influencer. He also founded the well-known digital marketing school Digital Vidya. Thousands of students finish digital marketing courses at Digital Vidya every year, and many of them have gone on to work for well-known organizations. After graduating from IIT Delhi in 1999, he co-founded Whizlabs Software with his classmate Kapil Nakra.In 1999, shortly after earning his degree from IIT Delhi, he and his classmate Kapil Nakra co-founded Whizlabs Software. 
Pradeep Chopra has been involved in digital marketing since the year 2000. Pradeep is one of India's most sought speakers on entrepreneurship and digital marketing. He is known for contributing to famous, world-known platforms like the Wall Street Journal, Inc. Magazines, etc. 
#3 Deepak Kanakaraju
One of the most popular Indian digital marketing influencers, Deepak Kanakaraju, runs the famous website digitaldeepak.com, helping millions of people learn about digital marketing and its varied usage. On this website, he writes informational and educational blogs on various parameters of digital marketing.  
Starting his journey as a civil engineer but later switched to digital marketing because of the turn of events taking place in his life (explained on his website). Deepak has worked for many B2B and B2C companies, like Instamojo, Zivame, Razorpay, and Practo, as a digital marketing manager. He is also a contributor to platforms like Entrepreneur.com and YourStory, which shows the credibility of his personality. 
Deepak also started his own publication, called BikeAdvice, which became the number 1 motorcycle blog in India, with more than a lakh followers. His website, DigitalDeepak.com, is currently among the top 10 digital marketing blog websites in India. Along with this, he also offers digital marketing courses that can help people learn digital marketing. 
Many online ventures look up to his blogs to learn how they can skyrocket their business using the power of digital marketing. That's how he built his digital marketing influencer business. 
#4 Sorav Jain
Sorav Jain is one of the most popular digital marketing influencers in India who is also an entrepreneur, corporate advisor, author, speaker, and digital marketing trainer. Working since he was 17, he has more than 10 years of experience in the digital marketing industry.  Currently, he leads echoVME, a digital marketing agency in India. He has experience working in organizations like Bosch India, Ramco Industries, Equitas, Smart CEO magazine, Manyavar, and several others during a span of a few years. 
Digital marketing was his passion; hence, he started teaching Digital Marketing through Digital Scholar, India's 1st agency-styled digital marketing agency that makes students work-ready from day 1. 
Sorav has been on the list of 'Top Social Media Marketers under the age 30' by Social Samosa and in the 'Top 25 Social Media Professionals of India' by Global Youth Marketing Forum. 
#5 Rajat Jain
Rajat Jain is the founder of ShootOrder, a privately-held digital marketing company in Hyderabad, India. Rajat talks about sales, startups, analytics, digital marketing, and agency life through his blog "SpeakRJ". Founded in 2013, the agency already has more than 200 clients from all over the world. 
Rajat shares his marketing experiences and the latest market tips and hacks that make him popular among digital marketing enthusiasts. 
#6 Harsh Agarwal
Harsh works for the award-winning digital marketing blog Shoutmeloud as a full-time blogger. Shoutmeloud is an Indian blogging community founded by Harsh himself in 2008. The community is famous across different parts of the world, including the USA, Pakistan, Slovenia, and more. 
He calls himself a solopreneur from India who has turned his passion for digital marketing into his profession, despite being an engineer. This digital influencer, featured in YourStory, Entrepreneur, and IBM, talks about digital marketing at many conferences, events, and in his blogs.  
This blog scientist shares his story and experiences on his own website, Harsh.in. He shares his life and career journey and how he founded Shoutmeloud and CoinSutra. His story inspires many digital entrepreneurs and enthusiasts to work harder to achieve success in their careers and businesses. 
#7 Jitendra Vaswani
Jitendra is a digital marketing practitioner and a keynote speaker known internationally. He founded Bloggerideas.com to express his ideas and knowledge, where he has also interviewed digital marketing industry legends like Neil Patel and Rand Fishkin. Being a marketing consultant and speaker, he also published a book named, "Inside A Hustler's Brain: In Pursuit of Financial Freedom" which has sold more than 20 thousand copies across the world. 
He is also a founder of the company Digiexe, which is one of the own digital marketing institutes in Jaipur. Apart from this institute, he founded Crazythemes and SchemeNinja, both based on digital marketing and SEO. 
With such a strong profile, he is considered one of India's most popular digital influencers.
#8 Prateek Shah
Prateek Shah is a founder of DigitalDefynd, which is a platform for online certificate courses for learners. He is currently a  business coach at PrateekShah.com, a website aimed at developing business leaders and marketing experts. Prateek Shah is an ex-Google coach who has trained more than 2000 participants across various countries on topics related to marketing.  
Prateek Shah has been a trainer with a few other renowned organizations like  Digital Vidya and the All India Management Association (AIMA). He has also managed workshops for CNN-IBN and the Hindustan Times.
Coming to the point, he is one of the best digital influencers in India who is committed to training people for free through his own platform. 
#9 Nidhi Singh
Nidhi Singh is a passionate digital marketer who runs her own website where she shares her experiences, digital marketing tips, and tricks and also offers consultation.
She is the AVP of growth marketing at DBS and, before that, was heading marketing for EduPristine.
She is a top writer on Quora and has more than 76,000 followers on the platform. She organizes free digital marketing workshops and conducts live sessions with famous personalities across the world. Apart from this, she has also been published in magazines like Inc. and HuffPost. These are the reasons that she has been among the top digital marketers in India since 2018. 
#10. Himanshu Arora
Himanshu Arora is a digital influencer who talks about startups, founders, marketing, and digital marketing. I started as a software engineer at Accenture but then moved toward digital marketing. He was a lead trainer at Digital Vidya and a regional trainer at Google. After that, he co-founded SocialPanga, an organization providing end-to-end digital marketing and design services for brands. He also co-founded The Yellow Shutter, which is a professional photography and video production house. 
He has worked with brands like MamaEarth, Bengaluru Airport, Pepperfry, Curefit, and more through SocialPanga. The agency has also been awarded Agency of the Year four times. This is how his popularity has been skyrocketing these days. 
Conclusion
Digital influencers can drive awareness, interest, and demand for a product or brand. Their audience trusts them, and as a result, their recommendations carry weight. These micro-influencers usually have between 5k and 200k followers on social media (although some may have more or less). They're also extremely active on Instagram, Facebook, Twitter, or another platform where they can share their content. 
If you want to reach a large audience of potential customers, working with digital influencers can be a great way to do it. By aligning your brand with an influencer who already has a large and engaged following, you can tap into their audience and reach a whole new group of people.