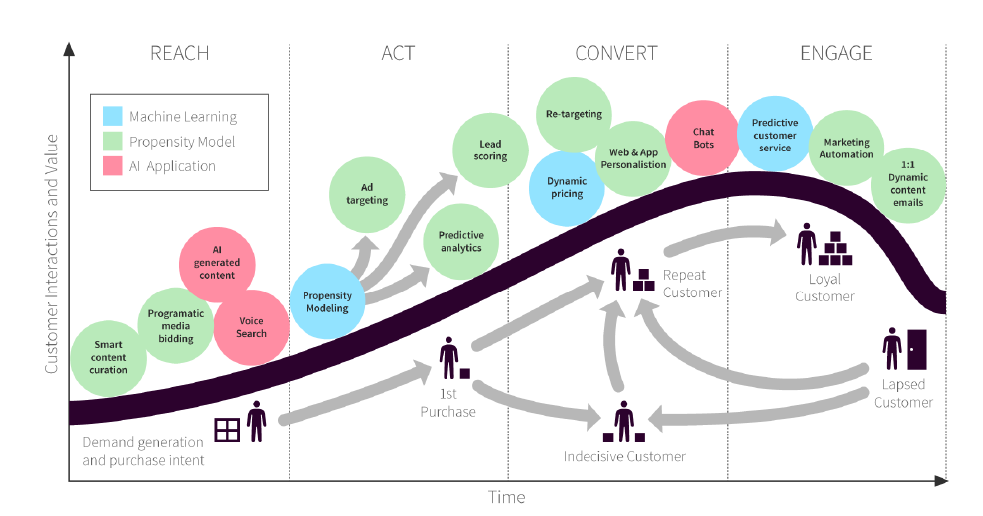 Why are you still manually executing your digital marketing campaigns?
Budget is not a hurdle now, to get a marketing automation tool for small firms!
Marketing automation doesn't need any introduction.
Every company is upgrading its tools and making the digital marketing process easier and effective.
Marketing automation tools help you connect to your customers and push your leads to conversion. It helps you align your marketing and sales operations to get the better output. Creating workflow, automating the emails, nurturing the leads, social media monitoring, reporting and insights from the campaigns are few major roles, marketing automation tools are playing these days.
– Adestra "State of Marketing Automation Benchmarks for Success" (2017)
Marketing automation demand increased gradually in the past few years, Google Trends indicates:
Small firms and Startup companies also want to automate their digital marketing operations, but most of the time these companies running short of the marketing budget.
But according to the Forrester data…
I have done a thorough study of various tools and their features. Based on that I have listed the top 7 tools which you must try now.
I will tell you about lesser-known tools that can serve the same purpose at an affordable cost. All the listed tools fall under $20/mo.
G2 Crowd Grid Showing where the different platforms sit according to their ratings. All the listed tools are loaded with similar features.
Are you ready to take off your digital marketing campaigns with these awesome marketing automation tools?
#1 Campaign Monitor
So, what makes the campaign monitor exclusive to keep it on the top? So, let me tell you the email builder and workflow creator in the Campaign Monitor tool makes it the first choice for the small firms. Especially if you are planning to launch a campaign for your product, it serves the purpose better then expectations.
Main Features:
Analytics/ROI Tracking
Email marketing
Marketing automation
Campaign Personalization
Contacts and segmentation
Signup forms
Apps and integrations
Transactional email
Best suited for – Product based firms
Pricing:
All core features for one low price of $9/month. Even the unlimited plan is Great for frequent email campaigns which are for $29/month.
Learn how to use Campaign Monitor
Capterra rating: 4.5/5 (379 reviews)
#2 GetResponse
The best thing about GetResponse, it fits into all size of firms like small to fortune 100 companies GetResponse integrated sales and marketing operations very closely. The USP of this tool which makes it better than any other tool for e-commerce companies is exit-intent technology.
Wide range of email templates, 100s of app integrations available to use.
Main Features:
Email marketing
Drip campaigns
Automation segmentation
Marketing & Sales Funnels
Landing page optimization
Templates and images
150 app integrations
Tracking and reporting
E-commerce tools
Best suited for – All size of e-commerce firms
Pricing: Price starting from $15/month
Capterra rating: 4 / 5 189 reviews
#3 Campaigner
Campaigner is features rich marketing automation tool. With excellent UI-UX, Campaigner created a huge fan base. Wide range of features at a lower cost is the USP of this tool. Campaigners starter plan offers amazing features at a lower cost, that makes it a good fit for small firms.
Main Features:
A/B Split Testing
Autoresponders
Segmentation
Recurring Campaigns
Readymade Templates
Sales Engineering
Purchase Behavior
Single Opt-in Forms
Dynamic Content
Workflows
Best suited for – Product and service-based small firms
Pricing:
Starting from $19.95/mo
Capterra rating: Not listed
#4 Omnisend
Omnisend is quite popular in e-commerce firms as it provides an excellent set of tools to measure the ROI, track the event, design the workflow, create an effective sales funnel. The remarketing tools integrated with Omnisend makes it best fit for marketers. And what else is unique about Onmisend is its customer support.
Main Features:
Facebook custom audiences
Google remarketing lists
SMS marketing
Segmentation
SMS automation
Website Tracking – Live View
Product picker
Best suited for – Sales-driven e-commerce businesses
Pricing:
It starts from $16 per month
Capterra rating: 5 / 5 279 reviews
#5 Mautic
Mautic is an Open-Source Marketing Automation tool and available for free to use. Millions of people currently using this tool and make their campaign successful. It has a huge learning library available to everyone. From a small startup to a billion-dollar company using this platform to automate their digital marketing operations.
What's exclusive about Mautic?
It's available in more than 35 languages across the globe. You can easily download it and install on any platform you prefer. In addition to that, it has a marketplace from where you can get various plugins to integrate. It's the best free marketing automation tool available right now.
Main Features:
Drip Campaigns
Social Media Monitoring
Lead Scoring
Sales Intelligence
Dynamic Content
Landing Pages/Web Forms
Campaign Management
Lead Capture
Pipeline Management
Prospecting Tools
Best suited for – Every marketer who would like to start using any marketing automation tool
Pricing: Free
Capterra rating: 4.5 / 5 30 reviews
#6 SendX
SendX Marketing Automation tool is loaded with extremely useful features for startups. It helps you align your digital marketing goals with your sales efforts. SendX awarded as the most user-friendly marketing automation by Capterra. They provide best training material to learn the tool and running the campaigns efficiently. An exclusive feature of SendX is heat map generation for email campaigns.
SendX won a lot of awards from various software review magazines.
The effective dashboard helps you understand your marketing campaign effectiveness in just one view. They offer a wide range of resources to set up marketing automation campaigns effectively and also offer very quick and personal support.
Main features:
Email Campaigns
A/B Testing
Drag & Drop Editor
Heat map
Sales automation
Lead Management
Advanced Automation
Customizable CTAs
Drip Campaigns
Event-Triggered Actions
Trend Analysis
Landing Pages/Web Forms
Executive ROI Review
Best suited for – Product based startup companies to launch the product
Pricing:
starts from $7.49/mo
Capterra rating: 5 / 5 21 reviews
#7 Active Campaign
Active Campaign marketing automation tool has a stellar user experience. You can easily navigate from one section to another. Any marketing beginner can use to learn this tool very easily.
Active Campaign have a unique ability to align sales and marketing operations with a multichannel view. It is known for pushing sales up. It helps you create a custom dashboard to view all the reports in one glance. The team provides good assistance to set up the tracking and integration with your website.
Main features:
Custom Reporting
Marketing Automation
CRM w/ Sales Automation
Contact & Lead Scoring
Email Marketing
Custom Branding
SMS Marketing
Best suited for – Sales driven small businesses
Pricing:
The Active campaign offers a lot of features at a very low cost like $9/month, the package can be upgraded according to the users. The package Active Campaign offer for 25 users is excellent and fully featured.
Go to their learning resources
Capterra rating: Not listed
Engagebay is a powerful, easy-to-use, and affordable marketing automation platform for small businesses. They develop & deliver web software solutions that help small to medium-sized companies increase traffic, reduce costs, and generate leads, sales, and revenues.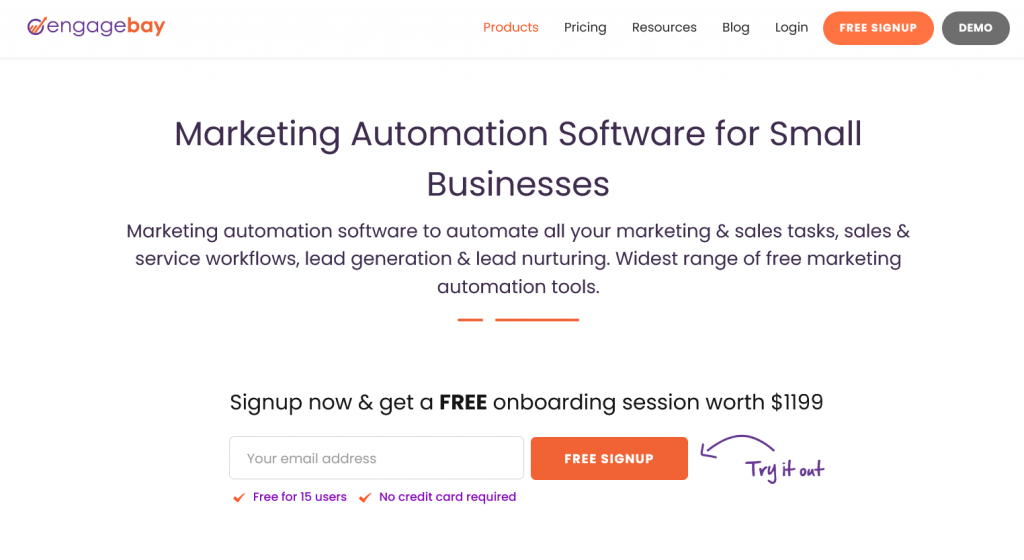 Features:
Visual designer
Setup drip emails
Predictive lead scoring
Customer segmentation
Email personalization
Engage web visitors with web forms
A/B test
Tracking & reporting
Marketing & sales funnel setup
Best suited for – Small & Medium size businesses
Pricing- Free plan available & plan starts from $7.79
Capterra Rating: 4.7/5 (92 reviews)
Conclusion
According to the digitalmarketinginstitute, by 2020 marketing automation will be one of the top skills required for marketing professionals.
These marketing automation tools will help marketers to generate more leads at a lower cost. It helps increase the campaign performance based on AI is driven insights and reports. More than 74% of companies accept that Marketing automation is required to increase revenue by Invesp.
So, what are you waiting for, create your free account or request for a free trial of these awesome marketing automation tools?