In this digital era, users are at the forefront of content creation, publication, and distribution. Whether it's testimonials published on websites, social media comments, detailed blog posts, or travel reviews, there are various platforms to have their voices heard and make a tangible impact on brands and companies.
UGC content is a valuable asset for companies. If a potential consumer wants to know about the most tranquil resort in the Maldives or the most exhilarating coral diving experience, they would be mostly reading content shared by users. That's why companies such as TripAdvisor or booking.com are struggling to build communities that would share reviews and their experiences.
Marketing campaigns incorporating UGC have been shown to drive higher market efficiencies and bookings. According to a study by tourism research firm Tourism Economics, TripAdvisor bookings alone made up $546 billion of global tourism spend and $80 billion additional spends.
UGC is written by real people with first-hand experiences, without any rose-tinting, so it is more valuable and trustworthy for readers. Online travel reviews on TripAdvisor have grown to 660 million in 2018 with more than 255 new contributions posted every minute.
Here we've come up with a guide to equip you for leveraging user-generated content. UGC is having a significant impact on decision-making in the travel and other industries – these 15 easy to understand and implement tips are going to help your content marketing and branding flourish.
An Engaging and Vibral Social Media Presence
Many brands and companies have social media accounts, but what differentiates the mediocre from the elite is the way they use them to their advantage. According to Skift, 70% of travel enthusiasts use Instagram to share their travel plans, 67% use this platform to find inspiration for new journeys, and 61% find things to do on Instagram while they're traveling.
Social media platforms have become a significant source of inspiration and ready-to-go solutions for travelers. Brands need to have an active presence on social media wherein they encourage users who visit their pages to interact with their brands through comments, shares, and likes.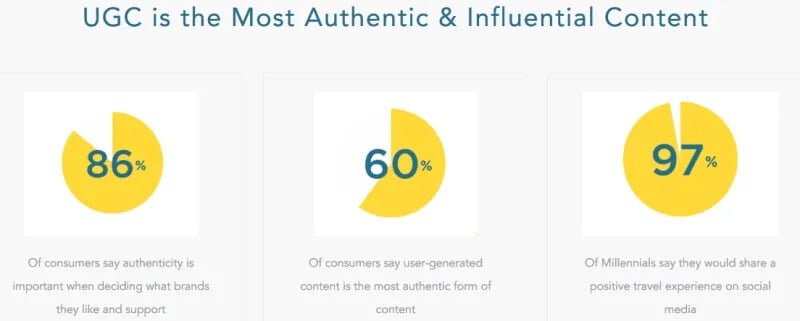 Stackla Consumer Content Report – UGC plays a considerable role in influencing purchasing decisions.
Creating Connections
If your brand is no longer connecting with your target audience, a brand consultant can help boost your creative brand management. In this way, your brand becomes more relevant and powerful, positively impacting your digital and social media branding to attract and retain more loyal customers who can create great content for you. A brand consultant can help you create the best communications strategies to connect with your audience.
Consumers who have used your products and services, whether this is a hotel or a hiking adventure, will usually not actively seek out ways to write about their experience. This doesn't mean they didn't have a good time, it's just that reaching out to the brand or company isn't necessarily the first thing on their mind.
Instead, you can reach out to them or add them to your email list right away – that way you will be able to receive their feedback. For example, send them an email following the experience thanking them for their purchase and expressing your hope that they will continue to use your products and services in the future. Ask them for permission to use their feedback in your marketing campaigns – that's the one way you can generate trustworthy content for your potential customers.
Within your email, provide clickable links to your social media accounts. By doing this, all the consumers would have to do is go through the links and be lead to your social media pages, and from there it would take only a minute for them to leave a glowing comment or perhaps even tag their friends recommending your service.
Creating Your Own Hashtag
When someone clicks on or searches for a specific hashtag on a particular social media platform, then all of the images, captions, posts, and comments which have that hashtag will appear on their feed in a single page. Your hashtag can be the name of your brand or something more creative, like following the current trends adding your brand to the end of it.
Through using the hashtag in your biography or including it within all of your own posts, you can also encourage consumers to use these hashtags when they are posting on their social media about their experience with your brand. As well as providing potential consumers with a comprehensive library of user-generated content, you will also be able to respond to and interact with the UGC created by your consumers.
Reviewing on Trustpilot, TripAdvisor and other UGC platforms
Once you've got a completed tour or a product, don't hesitate to ask your customers to write a review. People are overwhelmed by emails from brands so try to do it in a more valuable way for them – for example, providing a discount for their next trip for a review. Also, try to make sure they are satisfied with your services – let them know you are here for them, so all the negative feedback would go directly to you, not to the public website first.
Keep reviews on large UGC platforms up to date, otherwise, potential customers would be suspicious about your providing great services. The more reviews you have on various platforms, the more trustworthy you seem to be in the eyes of your customers.
Encouraging Content Creation
As a brand or company, you don't have to passively wait for consumers to provide you user-generated content. Instead, you can encourage them to create UGC whilst also ensuring that other internet users are assured that this content is reliable and trustworthy.
For example, you could advertise and create campaigns where you encourage consumers of your products and services to write about their experiences and tag you so that you can see. The incentives for this could range from being featured on your social media accounts, receiving a discount from their next purchase or being sent a complimentary gift for the best post. I also love how some brands started sending out physical postcards with beautiful pictures and their customers' stories on the back. That's a real incentive for sharing a story – it would be sent to a stranger who could later connect to you in response.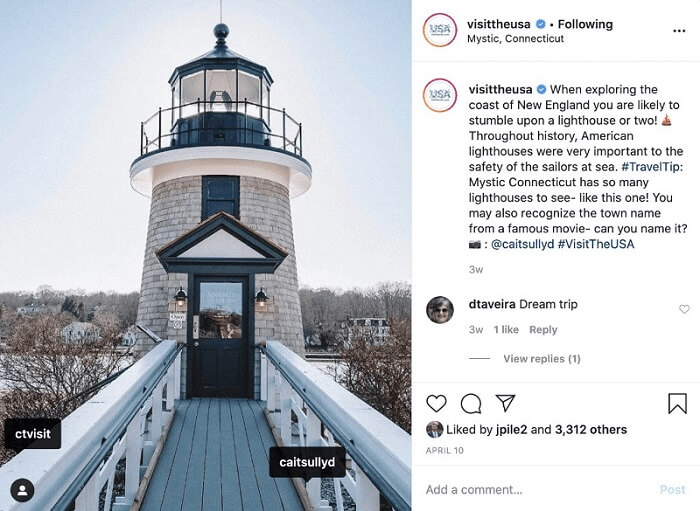 Via Instagram @visitheusa  – An example of a brand using UGC, alongside tags, hashtags and a repost.
Listening to Negative Feedback
User-generated content adopts many forms, and whilst glowing reviews and positive feedback is an essential aspect of advertising and marketing your brand, negative feedback also plays an important role when it comes to developing your marketing and branding strategy.
You probably won't be sharing any critical reviews on your website or social media, but through reading and acknowledging it you may discover a flaw of your product or service. By taking criticism into account, you can improve your brand and by default attract even more satisfied consumers. You can notify your customers who have complained about something once you improve your service, and they will become even more devoted to your brand.
Conducting Quick and Easy Surveys
Following their purchase of your product and service, encourage consumers to partake in surveys. Questionnaires can be short and entertaining for your users – no more than 5 questions. For many people, a brief multiple-choice survey where all they have to do is click on an answer is less time-consuming than writing a review or comment. Ask users to check if they give permission to use their responses in the future.
Setting up a progress-bar will encourage consumers to complete the survey if they feel that the end is in sight. At the end of the survey, you can always provide them with an optional text box where they may provide a more detailed, worded answer. Surveys are an effective way to gather and organize user-generated content.
Responding to Reviews
On social media platforms or travel websites such as TripAdvisor, Google Reviews and Yelp, brands and companies have the option to respond to comments and feedback written by consumers. Such reviews may be either positive or critical in nature, and the way in which you respond to negative feedback, in particular, will reveal how your brand responds to complaints.
Potential consumers hold the user-generated content from such websites in high regard, and if they do unfortunately come across a negative review then they will also be able to read your responses to this criticism. If you respond graciously and courteously, whilst promising to either rectify the issue or perhaps offer a refund or exchange, then potential consumers will at least be assured that in the event an error does occur your brand will do everything it can to resolve it.
Providing Review Widgets
Whilst social media platforms and review websites form an important part of decision making, the designated website for your company or brand is often the initial point of contact for a potential consumer. One useful little feature you can incorporate into your website or app is a review widget.
Many of the major review websites such as TripAdvisor, Yelp, and Google provide widgets. These widgets will display the ratings and rewards you have received from these platforms, meaning that users won't have to leave your website to access external UGC, and therefore encouraging them to remain and make a booking or a purchase.
Optimizing UGC
Optimizing user-generated content will incorporate an additional level of sophistication and customization to your marketing and branding plan. User-generated content-based advertising can potentially benefit immensely from targeting specific users with particular content.
Personalization has always been associated with luxury and high-quality, and so by ensuring that certain customers receive certain forms of user-generated content, you are giving the impression that your brand is one that values the individual requirements and desires of its consumers, as testified to by other consumers themselves.
Including Analytics and Statistics
As boring and mundane as they may seem, the analytical and statistical tools provided by various platforms and websites, Instagram being one example, provides you with valuable insights regarding the demographics of your existing and potential consumers.
For example, a business account on Instagram has access to analytics and statistics regarding the nationality of it follows their age range and even the times of the day and days in the week during which they are most active. In light of these revelations, you can more effectively identify, interact with, and publish the content generated by your users.
Asking for Reviews
The influence of social media is undeniable, but the influence of review aggregate websites such as TripAdvisor, Google, and Yelp continues to exert a considerable impact on the decisions made by potential consumers.
Therefore, continue to encourage the consumers of your brand to write positive reviews on these websites, either through emails or by providing clickable links on your own website and apps. Especially during the planning stages of a holiday or trip, these review websites are regarded as a reliable source of information in the weeks leading up to the purchase.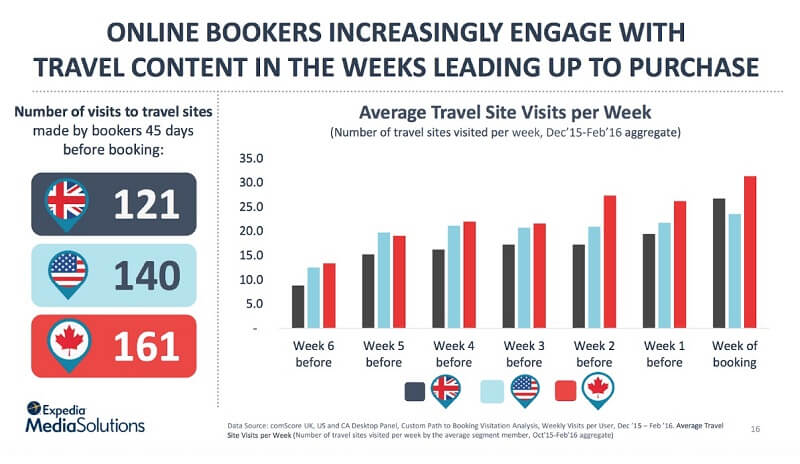 Expedia Media Solutions – Consumers Engagement with UGC Before a Purchase
Keeping up With Trends
For any brand or company, going viral or at the very least keeping up with viral social media trends is essential. This may be through encouraging your audience to take part in the latest social media challenges, use trending hashtags when posting about your brand or company, or taking selfies with your product or service.
For example, if your brand organizes hiking experiences, then encourage users to upload selfies of themselves at the scenic hiking destinations included in your packages. Whilst boosting your visibility on social media, you will also access a demographic of teenagers and young adults who are most likely to participate in such trends.
Generating Campaign Material
Scheduling photo shoots, hiring graphic designers, and organizing a social media campaign can be time-consuming, expensive, and frustrating. However, your brand can encourage consumers to create user-generated content through competitions and contests for your brand.
Through this, you can even specify whether you want audio, pictures, videos, or a combination of them all, as well as the tone, atmosphere, and vibes of the material. You can, therefore, create a campaign with little to no expense on your part, whilst also engaging with and interacting with your audiences and giving them a chance to participate in your brand.
Enhancing Loyalty and Trust
Establishing loyalty and trust in your brand is one of the most definitive ways to secure repeat purchases, be recommended to family and friends as well as be left glowing reviews on social media platforms and review websites.
An essential aspect of user-generated content marketing is establishing a rapport and deeper connections with the users your brand or company interacts with. Through encouraging consumers to share their experiences and images and commenting on them, you're strengthening your relationship with them. It is these users that enable your brand to continue growing, and by appreciating and acknowledging this you are cementing their continued support and commitment.
User-generated content is an incredibly powerful marketing tool. By creating a full-fledged content strategy you can leverage user-generated content to your advantage and build a community. At Travelpayouts, we are uniting users around Travel Affiliate Club where travel marketers can share tips on the best offers. Large companies such as Airbnb or Expedia are constantly working on providing more content for their users so that they would stick with their platforms and bring in more traffic.
Word-of-Mouth marketing has long had a strong influence on the consumer decision-making process. In psychology, social proof describes the way in which individuals are drawn towards a particular product or service just because they have heard or read from others who have used it. It is the reliability and trustworthiness of user-generated content which makes it a crucial part of consumers' decisions.