Does everyone know what time it is? It's time to let your brand known.
And how do you do it? Using SaaS, of course! But wait! Do you even know what SaaS is? Well, dig in to find out more.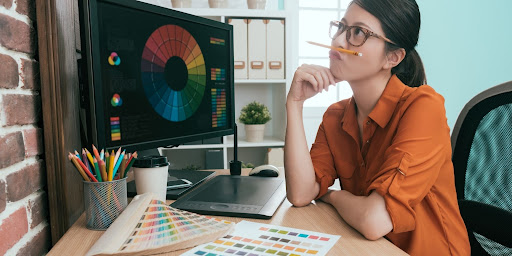 Brand Marketing and Your Business
Setting up a business is a challenge by itself. You must have a solid plan from production to logistics. Once your business is up and running, you also need to work on brand marketing—another hurdle that you must successfully get through to achieve your business goals.
To simply put it, brand marketing entails many tasks, all with the goal of putting the business out in the open. With today's fondness for the Internet, it basically means getting on top of search engine results pages. There are hundreds of ways to do this, but the thing is that branding can be expensive.
New technology costs a lot, and it might be counterproductive to invest in it, especially when starting. This is true, most of the time, but there are also branding solutions that are effective and yet affordable.
SaaS Tools in a Nutshell
Software as a Service, or SaaS as it is more popularly referred to, is a business model concept using software available on a subscription basis. Unlike buying a full software product that you install on your computers, you rent out software for a specific period.
The software does not run on a physical server or computer but is stored in the cloud. This means that you can access the software anywhere as long as there is an internet connection.
The primary benefit of using SaaS tools is that it cuts down more than half of the costs you would spend for both software and hardware. It would be costly to purchase a full version of the software when you do not really need some of its functions. With SaaS, you can choose which tool to have and will only pay for the service that you need. You do not need to purchase additional computers, too, since the tools can be accessed online.
Another advantage of SaaS is that it can be tailored according to your specifications. The functions can be customized so that it follows your business operation protocols. This would also mean that it is easy to scale up and tweak the tools to match your business growth.
In terms of security, most SaaS tools secure data with frequent security updates. Technical support is also guaranteed, so you never have to work on glitches on your own. This is unlike the traditional way where you either deal with errors yourself or hire an additional I.T. expert for tech problems.
SaaS Marketing
Although there are numerous applications you can use SaaS for, it is best to have for business marketing purposes. You see, branding can be tricky these days, with most of the action being played on the Internet.
The workflow can be lengthy, expensive and very complicated that it might be overwhelming if you aren't oriented with how internet marketing works. SaaS marketing tools ensure that you get to implement your marketing strategy effectively.
Because there are thousands of SaaS tools out there, we have picked 15 tools that will address common brand marketing problems. It will provide solutions for creating branding materials, managing and storing assets, effective collaboration, content creation, and even editing video content.
Tools for creating your branding materials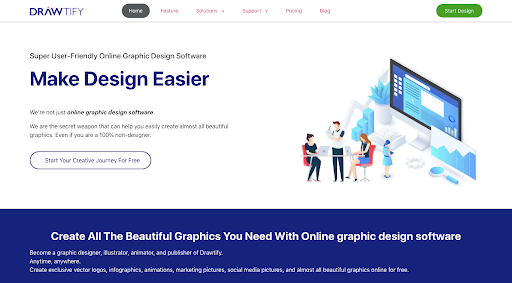 Beautiful graphics are what you need to initially draw attention to your brand. Drawtify is an online infographic creator that will make it easier for you to quickly create appealing graphics, especially your brand logo.
An eye-catching logo does not only attract attention but will also establish a positive image for your brand. Usually, the production of a logo can be difficult, more so if you are not a professional graphic artist.
Since you are looking for a low-cost solution, using Drawtify gets you a ton of fascinating graphics without expensive expenses.
Drawtify is an all-in-one tool that you can use to design and create logos, brochures, business cards, and more. It has a large library of filters and special effects so that you can create amazing designs even without the help of a pro.
Startups for small and medium enterprises can benefit from this tool as it is possible to complete a project in minutes. This means you can focus on your products rather than get frustrated with logo creation.
As for the cost, a freelance graphics designer can cost you from $50- $150 per hour. Drawtify is free to use if you do not need a high-quality output. If you want, however, a professional-looking logo and other graphics, upgrading to PRO is only $8.33 a month.
That is a lot of savings compared to hiring a graphics designer for a job that you can do using simple software. 
#2.

Pixelied
: Full-suite Image Editing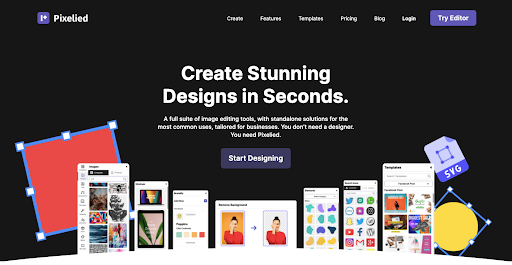 Designers usually spend hours completing a project. This is why they cost a lot to hire, and as much as you want to save up, you recognize how important their job is for your business. Well, with Pixelied, you can save your money and spend only a fraction of the cost on hiring a professional designer on your staff!
Pixelated is a library of professional templates for creating thumbnails, header images, and other kinds of graphics. You can use them to create images for your marketing materials, like social media posts and newsletters.
There are over 4 million royalty-free stock photos in their collection, so you literally have millions of possible ways to create unique designs for your brand.
You can start using Pixelied right away at no cost, but you can only fully appreciate all its features with a Pro account. Pricing starts at only $9.95 a month, and you will have access to premium features plus priority support.
#3.

Pixelixe
: Creating Social Media Visuals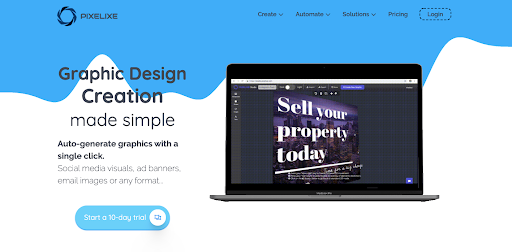 Let's admit it, and social media plays a crucial role in promoting today's businesses. But delving into social media promotions does not guarantee instant success.
You need to be armed with interesting content for your brand to rise above the very competitive environment across social media platforms. One way to do this is by having stunning social media visuals.
More than a graphics creation tool, Pixelize makes the process a notch simpler with its image automation feature. Eye-catching images can be made in different variations using CSV files. This would allow you to work in bulk more efficiently so you can update your files faster.
You can create banners, graphics, email images, etc. and personalize them to be more relevant to the current trends using the powerful image generation tool.
Pixelize has a very flexible pricing plan which starts at only $9 a month. The automation feature is not available on the basic Create plan, but you can fully use it on the Automate, Scale, and Enterprise plans at $49-$249 per month. You can choose a plan depending on your needs, and you can even customize a plan to cater to your specifications.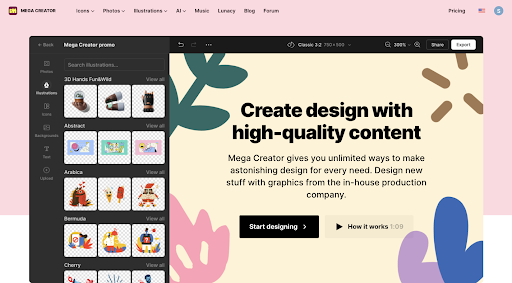 Cliparts and icons may be small, but they generate a lot of impact on your brand. Many users are very particular with a website's details, and the only way to impress them is by having stunning icons on your site.
Icons8 Mega Creator is a clever tool for online graphics creation. You can choose the best template from their collection, customize it to your liking, and then export it to your social media pages! It is that easy to tell your story using fun, timely, and creative graphics!
You can use the Mega Creator to make interesting images for your Instagram Stories and Posts. It also works great for Facebook posts and covers. You can even use it to create click-worthy YouTube thumbnails.
Pricing for the Mega Creator tool depends on the graphics that you would like to create. For example, a subscription starts at $13 for Icons, Photos, and Illustrations. You may also get the full set for $29, which gives you access to all assets and apps that are available on the app. 
#5.

Removal.AI
: Background Remover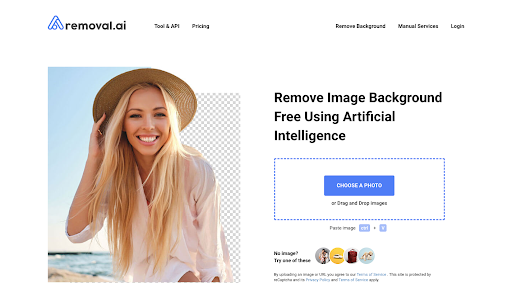 Like all other e-commerce sites, how you present products will factor into the decision-making process of the potential buyers. It is a must that you prep your images for upload in order to make them appealing and effective.
Removal.AI is a very simple tool that basically removes the background from any image. This is crucial for product photos, especially because most e-commerce platforms require images to have plain white or neutral backgrounds.
Removal.AI is powered with artificial intelligence technology wherein you do not need to do anything other than uploading a photo and let the app do its thing. The result is fast and incredible as it removes the background in mere seconds!
While it is already great as a background remover, Removal.AI is even better with its built-in photo editor. You can fine-tune the results, apply filters, or add a new background if you want.
You can do all these amazing things to your images for free with one image a month, but you cannot miss the great deals with Removal.AI's flexible pricing plans.
You can pay as little as $0.15 per image per month for 40 images and even $0.03 per image if you are going to edit up to 50,000 images. This is an excellent deal for those who will process thousands of product photos for the website.
Tools to manage and store your marketing assets
#6.

Filecamp
: Digital Asset Management Tool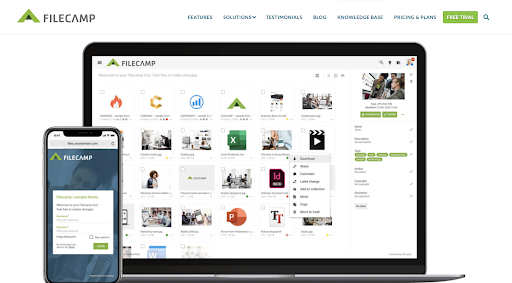 Managing digital assets can be very tiring and confusing. It is such a challenge to efficiently manage your files, especially when your brand is growing.
Filecamp makes this task easier with its revolutionary digital asset management software. It is an easy-to-use platform that organizes your files in a breeze.
This allows for more productivity and better collaboration, essentially because all your digital assets are in order. With tight security, you can have peace of mind and focus on unleashing your creativity as your productivity is boosted.
Filecamp subscription is available in three plans that can be upgraded or downgraded at any time. Growing businesses can do with the basic plan at only $29 a month. Enhanced features are available for both the Advanced and Professional plans at only $59 and $89 a month. 
Basically, most of the premium features are unlocked on the Advanced plan. Aside from larger storage, the professional plan is great with more functionality and control.
Tools for team collaboration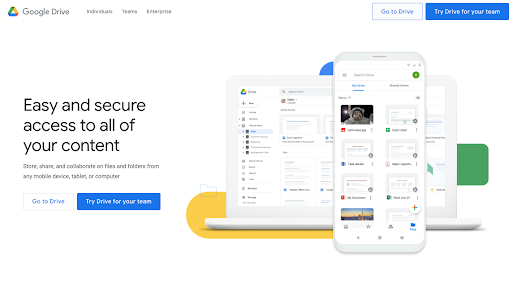 Google Drive is such a great app not only for file storage but also for team collaboration. It is a convenient method of storing files for backup and synchronization when the team is finishing projects.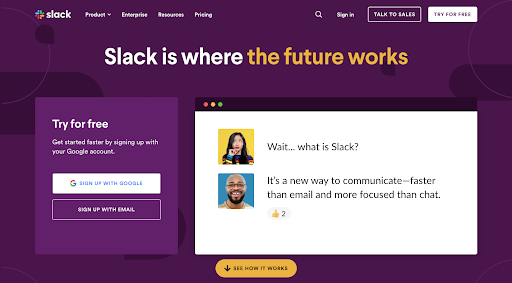 Slack is one of the most popular tools to collaborate with other team members. It brings communication to one place, so that decision making and other important processes are done faster together. It is also great that it can be integrated with over 2,200 apps.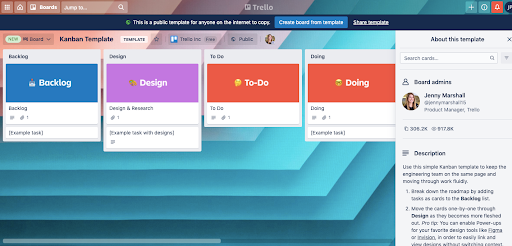 Trello is a great solution to keep your team productive. It is useful in setting up meetings and work on projects. The features can be customized to fit your team's needs. You can all work together to manage projects, organize everyone's tasks, and even discuss with each other to keep the team spirit up.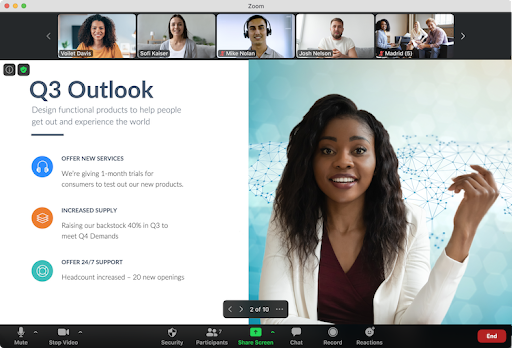 Even before the pandemic, Zoom became one of the top video conferencing apps worldwide. The simple U.I. and crisp video experience make it very effective for collaborative video meetings, webinars, and other online events.
Tools for content
#11.

Text Blaze
 – Text Templates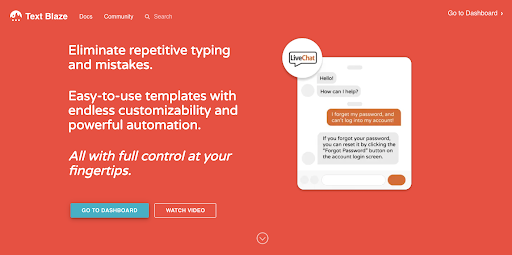 One of the challenges in creating great content is the literal creation of it. Typing off words can be physically and mentally draining. Text Blaze somehow alleviates this problem by letting you use templates.
It basically does to lessen the time spent on typing repetitive stuff with easy-to-use and customizable templates. Aside from boosting productivity, it also helps with consistency, improving the content overall. It is a versatile way of speeding up typing tasks and simplifies the content creation process.
The whole team can also use it as a central database for emails and other messages. Everyone can get to improve the content so that you can all achieve your team goals.
There is a range of pricing plans for using Text Blaze aside from the free basic version. Premium plans start at $2.99 per month for individuals and $6.99 per month for teams and small businesses. 
#12.

Baseline
: Content Creation Automation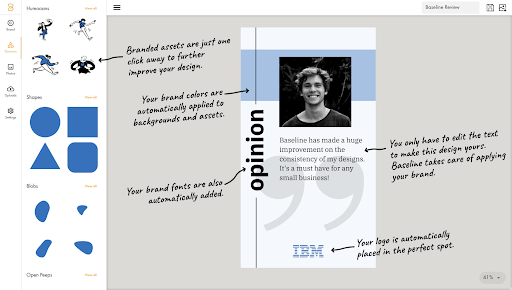 Boosting brand presence using content requires a lot of effort. You need to be unique in order to create a strong impression.
Baseline is an awesome tool to create on-brand content with consistent designs effortlessly. It lets you use branded assets and automatically converts them to fit your brand.
All you need is to add your brand's colours, fonts, logo, and texts, and you will have the perfect design that is strikingly familiar and yet very yours. There are also hundreds of cool effects to create your own designs from scratch. 
Although you can use Baseline for free, it is only for one brand, so you cannot create new ones in the future. You can, however, pay for premium plans that start from as low as $12 per month.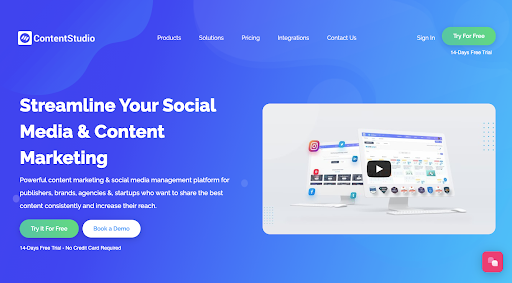 Content Studio is a powerful content marketing platform that will let you share the best content every single time. From automating social media posts down to generating the content, you need everything to consistently offer the perfect content for your audience.
Premium plans for pro features start at $49 per month to $299 per month, depending on the number of social media accounts, workspaces, blogs, etc., that you want for your account.  
Tools for video creation and editing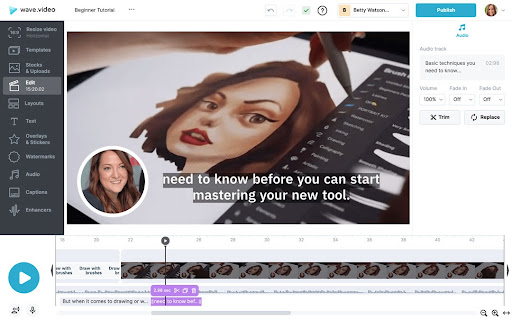 Video content is one cool way to introduce your brand. Wave.Video is an easy-to-use tool to create and edit your own videos. It will let you make beautiful videos that will help promote brand awareness.
The process is fast, flexible, and simple, and you can choose from multiple formats so you can upload your videos across multiple platforms.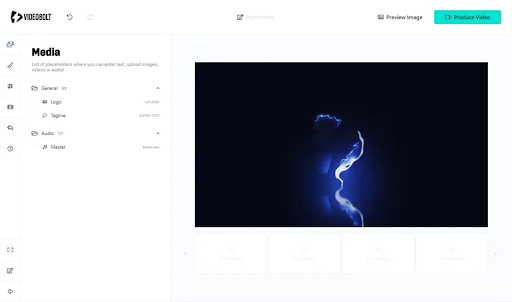 One of the most effective ways to convince customers about your brand is through sending videos. Whether for product presentations or proposals, videos give an air of personal touch that is important to clients.
Videobolt lets you record powerful videos in minutes. Using it would allow you to show your personality to create stronger connections and establish a trusting relationship.
You can start recording unlimited videos and have unlimited uploads for free, but only premium accounts will let you password protect videos for security purposes. There are also plenty of other premium features you can enjoy starting at only $5.99 per month.
Your turn…
Automating most of the business processes is not only efficient at boosting productivity. It is also a key factor in improving the overall customer experience. This can be appreciated by seeing how much time you will save from avoiding repetitive, simple tasks like image background removal. 
You can then use that time to improve products and services. It can also allow you to discover innovative ways to reach out to customers. The bottom line is that you can do more for your brand by using SaaS marketing tools.