Email marketing is still the most profitable channel to market your brand. In this article, you are going to learn 15 different types of emails with examples to help you get success with email marketing campaigns.
success with your email marketing campaign.
According to Oberlo, it generates a $42 return for every $1 investment.
Therefore it is classified as the most profitable online marketing strategy.
But profitable email marketing is not just building a list and sending out low-quality messages.
The majority of email marketers make the same mistake. They build a list but don't know what types of emails to send.
In this article, you're going to learn different types of emails you can send to:
Engage your subscribers
Build strong relationships
Increase conversions rate
If you have an email list and don't know what to send, it is for you.
Here is a list of 15 different types of emails you need to send to your list:
Welcome emails
Abandoned cart emails
Newsletter emails
Promotional emails
New product launch emails
Milestone emails
Survey emails
Request emails
Value emails
Reorder emails
Re-engagement emails
Confirmation emails
Free gift emails
Plain text emails
Webinar emails
Before diving into an explanation, let me answer an important question.
Why do you send different types of emails to your subscribers?
There are different types of customers present on your list.
And they have different needs, demographics, and problems.
If you send the same email message repeatedly, then with 100% surety, they get overwhelmed.
This results in marking your emails as spam and higher unsubscribe rates.
So, according to customer segmentation, you're required to send them different types of emails.
Doing this gives you the following benefits:
A better understanding of your customers and building strong relationships with them
Gives you the opportunity to educate them about your brand products and services
Become able to nurture leads and easily move them along the sales funnel
Increases your conversion rate and as a result your revenue
Easy retention of your customers and making them long-term consistent buyers
That's the reason why sending different types of emails is crucial.
So let's explain each one of them.
15 types of emails you should send to your customers
1. Welcome emails
If any guest comes to your house, you first welcome him.
The same rule applies to email marketing.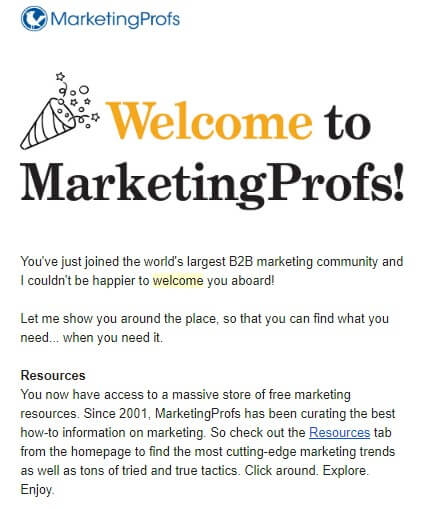 When new subscribers opt-in to your email list, you send them a welcome email.
But why are welcome emails so important?
Here are the statistics.
According to Neilpatel.com, 74% of subscribers expect to receive a welcome email after they subscribe. And subscribers who read at least one welcome email read more than 40% of messages in the next 180 days.
Another statistic from Getvero.com says, welcome emails have the highest open rate of 50%, which makes it 86% more effective than newsletter email.
Usually, a visitor subscribes to get newsletter updates, downloading e-books, or watching a free video from a particular brand. And a welcome email is sent quickly after that.
Here is an example of a welcome email from Marketingprofs.
In a welcome email you can do the following things:
Thank you to new subscribers for their opt-in
Give them the free stuff for which they subscribed
Introduce your brand and products/service
Tell them what they expect to receive in future
Offer them a free trial of your product if any
This will build trust and relationship with your subscribers.
According to Marketingprofs.com subscribers show 33% more engagement if they receive a welcome email from a brand.
2. Abandoned cart emails
According to Moosend, 69% of customers abandon their carts before making a purchase.
If you're in e-commerce and selling a product/service and facing the same problem then abandoned cart emails is a must-have.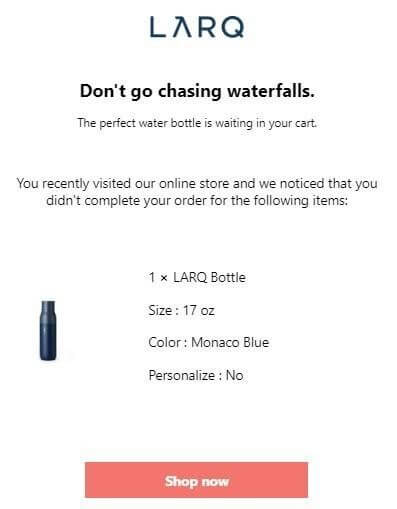 You send abandoned cart emails when any customer adds products to their cart but leaves it without finally paying money. Means left the purchase.
Customers abandon their carts due to several reasons but you need to make them your paying customer.
In an abandoned cart email, you can remind your customer about the cart and items in it.
For example, LARQ, an online store, sends an abandoned cart email mentioning what is included in the cart and product features. They send it immediately after the customer abandons the cart.
Another good strategy is to raise objections and reasons for leaving the cart and how you can help them.
You can also offer a discount or bonus to get lost customers back.
According to Active Campaign, 45% of cart abandonment emails are opened, 21% are clicked, and 50% of those clicks are recovered.
3. Newsletter emails
Newsletter emails keep your subscribers updated using a different mix of information.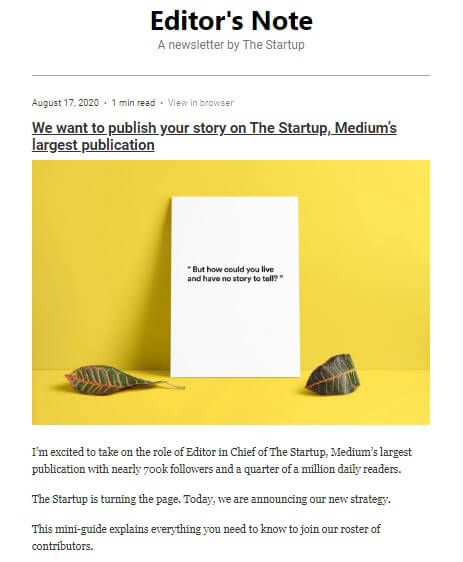 They contain new updates regarding your business, industry, blog posts, case studies, or any other valuable information.
For example, here is a newsletter email from Medium publication The Startup.
Some of the key benefits of an email newsletter include:
Increases your site traffic for free
Engage and educate subscribers
Free awareness about your brands
Free social media profiles promotion
According to Hubspot, 81% of B2B marketers say email newsletter is their most used form of content marketing.
4. Promotional emails
Like the above emails, every email you send has a purpose behind it.
But the primary purpose of building a list is to sell them something and generate revenue.
And if you can't sell anything, then all your efforts return zero benefits.
For generating sales, you need to send promotional emails.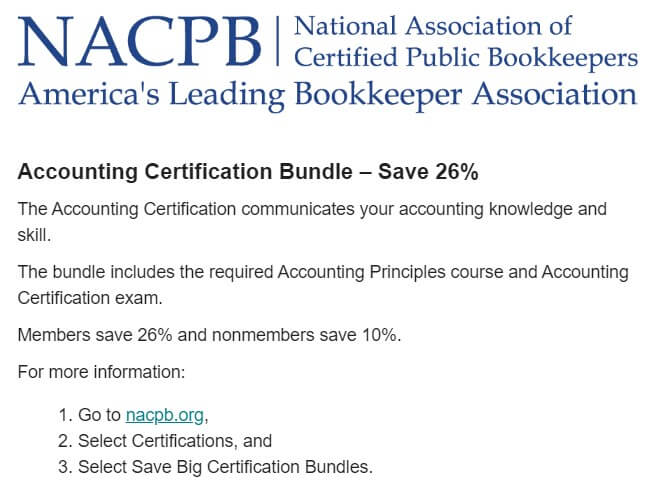 Promotional emails are intended to promote or sell a product or service to generate revenue.
The offer can be a new product, discount, membership, or coupon.
For example, here is a promotional email from NACPB that is offering a 26% discount on their accounting certification bundle.
There are different types of promotional emails. The most common ones are the following.
Sales emails
Discount/coupon emails
Special offer emails
New product launch emails
Cart abandonment
If you want to learn more about promotional emails then Sleeknote did a great job.
5. New product launch emails
You create a product spending months of valuable time and effort.
Now you don't want any mistakes while launching it that cost you,r customers.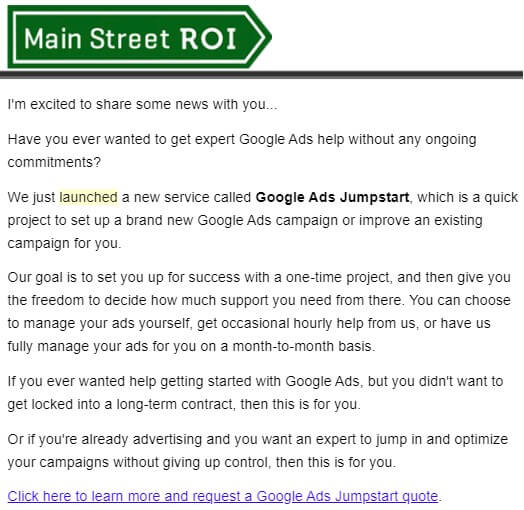 You want your targeted customers to purchase your product like crazy.
And here comes the use of new product launch emails.
These emails are sent to inform your email subscribers about a new product/service.
They commonly have the following information:
Features of your product
Benefits it drives
Story of product
Problems it solves
Launch date and time
Special discount and bonus
Here is an example of Main Street ROI for the launch of their new service.
6. Milestone emails
These emails are sent to subscribers whenever a brand achieves a certain benchmark.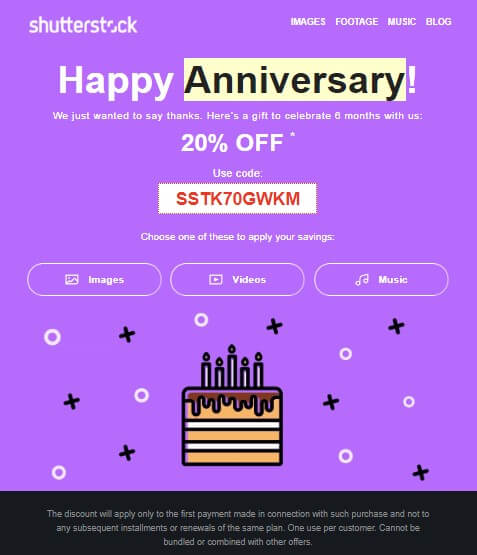 The benchmark can be:
Anniversary of subscription
Achieving a particular number of subscribers
Getting to a certain amount of revenue
Increasing website traffic to a certain level
Anniversary or birthday
For example, Shutterstock sends an anniversary email to their account holders for a 6-months period and gives 20% off on their coupon code.
7. Survey emails
For a successful marketing campaign understanding your targeted customers is compulsory.
Customers are selfish; they only care about what you have for them?
You can understand customers better if you have the necessary information about their pain points, motivations, goals, and desires, etc.
So if you want to grab that information the survey email will help you to do that.
Survey emails are used to send survey instruments like questionnaires and quizzes very similar to web surveys and quizzes.
The main purpose is to know as much as possible about your customer's needs, goals, demographics, and what they feel about your business.
It usually takes 3 to 5 minutes to solve this, depending on the number of questions or a type of survey.
To get it solved and for an honest review of your customers, you can offer them some incentive — for example, free material, discount, any gift or coupon, etc.
For example, NACPB takes a 1-minute bookkeeper qualification survey for getting a response on how an individual becomes a qualified bookkeeper.
8. Request emails
If you're running an online business, then getting feedback from customers is essential.

It would help if you need testimonials to show as proof for better trust from your customers.
According to Dr. Robert Cialdini:
"When people are uncertain about a course of action, they tend to look to those around them to guide their decisions and actions. They especially want to know what everyone else is doing –especially their peers."
You send request emails to your customers to get any required information about your business.
It can be:
Feedback including any comments
Excellent testimonials from existing customers
Request for writing a review about your product/service
For joining any event, webinar, or interview
Here is a good example of a request email from GAP(an online clothing store) and they request for writing a review about their products.
9. Value emails

Value emails didn't have any promotional intent.
They usually don't need email opt-ins or any other kind of related activity.
You can send any valuable material if you feel it is relevant and benefits your subscribers.
For example, emails including popular blog posts, free e-books, research regarding your brand or industry, etc.
Here is an excellent example of a value email from Payoneer that teaches about how the account holders can track payments using their mobile application.
10. Reorder/Renewal emails
If you're selling products that are disposable and customers need to buy a new one after it, then reorder emails are used.
Common examples of disposable products are toothpaste, towels, gloves, diapers, hand wash, and other one-time usable products.
Reorder emails are also called renewal emails.
Renewal emails are used to remind customers about paying a monthly subscription fee for service or renewing their certificates for any educational program.
You can send customers invoices as well as inform them about the new stock.
For example, Quickbooks send his certified members an email for renewing their previous certificate.
11. Re-engagement emails
You know that each year 25% of your email subscribers get lost from your list.
Very sad!
Subscribers leave your list and become inactive due to several reasons. Some common ones include:
Using creative and clever subject lines for getting more clicks
Sending too many emails or what say bombarding your subscribers
Sending irrelevant emails that don't benefit the receiver
Repetitive content that bore subscribers
Complex designed emails and not mobile-friendly
When the list is built up for selling something for only one time
Using a series of re-engagement emails is an excellent strategy to recover inactive members.
Re-engagement emails help you to recover inactive subscribers and increase their engagement level. This will also prevent you from being considered as a low-quality sender and getting blocked from your email service platforms.
According to research recovering an existing customer is five times cheaper than acquiring a brand new customer.
Here is an excellent example of such an email from Freelancer.com for re-engaging freelancers that are no longer bidding on projects.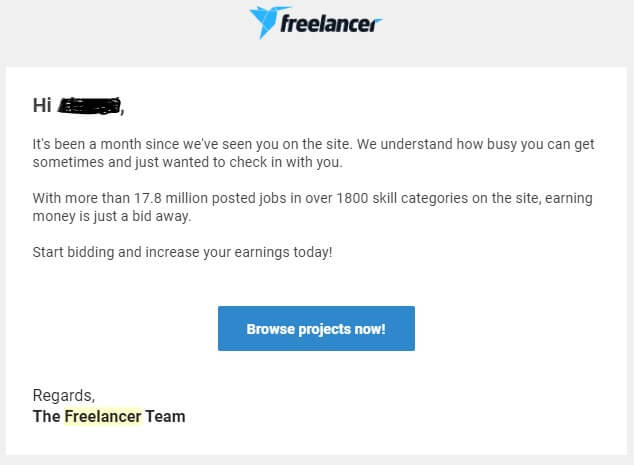 12. Confirmation emails
Email marketing success highly depends on the quality of leads.
Sometimes subscribers opt-in to your list with the wrong email address and want to get a free e-book or video.
For hiding these types of spammers and getting quality leads, it is vital to confirm that email.
And here comes the use of confirmation email.
For example, Displayr sends its subscribers a confirmation email immediately when they opt-in.
Doing this also builds your brand credibility that you hate spammers.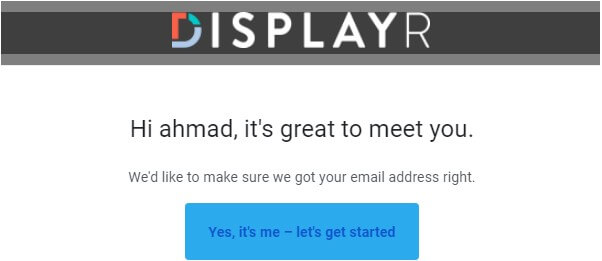 13. Free gift emails
Everyone likes free stuff and doesn't want to pay for everything.
Using this strategy is good to get better engagement.
Free gift emails are sent to customers and subscribers on holidays, birthdays, and other special occasions to engage them. Gifts can be anything of value to your subscribers.
For example, Tal Gur sends his subscribers a gift of 5 free books on his birthday. He also offers a discount on his book.
Gift emails are great to get a higher open and click-through rate. And you can also offer something like Tal Gur did.
14. Plain text emails
Emails that are HTML based on proper design are good to engage customers.
But their chances of going into the spam folder are also high.
Plain text emails contain text messages only, whether long or short.
Due to their simplicity, they have a higher deliverability rate and lower bounce rate. Along with that, they directly go to the primary email folder, which is a target of every email marketer.
For example, here is the email from Khalillullah khan, who teaches his subscribers about freelance content writing.
Text emails are also mobile-friendly, and the user can easily read on different devices. For providing excellent readability, write the message in straightforward language and use short sentences and paragraphs.
15. Webinar emails
Webinars are a great tool to interact with lots of audiences at a time.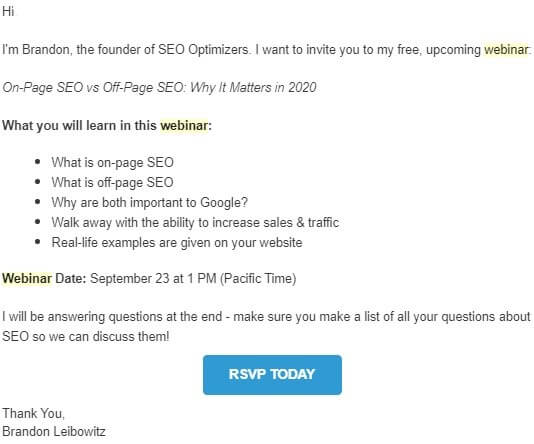 If you want subscribers to join any live training or webinar, then sending a webinar email to invite and inform them is necessary.
Well written webinar email copy not only gives an invitation but also mentions what the audience is going to get.
For example, SEO optimizers invite their subscribers for free webinars on on-page vs off-page SEO and clearly mention what you will learn.
Another good strategy is to offer free bonuses and gifts for those who join.
Conclusion
Sending different types of emails is a great way to engage, convert, and build trust with your email subscribers.
They not only educate your subscribers but also build strong relationships with them.
Now it's your turn.
Identify which one can help you and implement that to see results for your own business.
Which email do you send in the next email marketing campaign? Tell me in your comments.