Good old Facebook, one of the largest social media portals in the world. Statistics show that at the end of 2020, this platform had 2.8 billion users, and from this, 10 million were active advertisers.
Online opportunities, including social media, are giving more and more space to ads. You do not want to reach as many people as you do not regret? Now you must be nodding that, of course, I want to!
Then this post was invented for you, and now we will show you step by step how to advertise on Facebook successfully.
Must have first steps
Let us start with the basics. You need to register on the Facebook interface first. After you register, you can choose whether you want to use the platform as an individual or a business. Of course, choose a profile for businesses since this will be the most obvious for you.
Customize your account. Use your business's colours and image elements, as this will make it easy for both your existing and potential customers to get to know your business.
Start making content. For example, if you have a real estate company, start making posts about the current property market situation. Make sure your content is relevant to the core business of your company.
After you have a sufficient number of posts on your site – about 10 – connected to your enterprise's core business, you can start advertising on Facebook. This can also be seen as a milestone because you will then start working with the platform's ad manager.
The key to success
So, you have already learned the basics; let us get to the point of successfully advertising on Facebook. First, you need to know Facebook's advertisement manager tool but do not be scared; it is not hard to use. Before we get immersed in the topic, we will briefly show you how to use it.
Create a business manager account: 
All you have to do is open the business manager and here, click on the "create an account" button. Then, all you have to do is to enter your own and your business details, and you are done!
Use Ad Manager tool: 
When you want to advertise, for example, one of your products, you always use this tool. It is so simple; you have to name your campaign, set your target audience – you can use filters based on geography, demographics, or even interest – determine how long you want your campaign to run, give it a budget, and the final step is that you have to determine the creative content of your future ad – it can be an existing post, a new picture or even a video. The creativity of your ad will play a big role even later.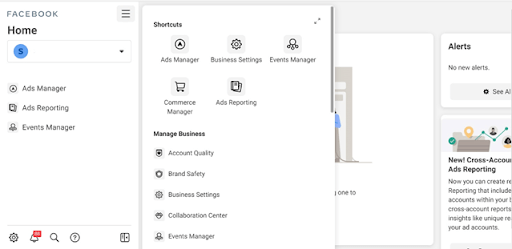 You can solve all your advertising activities with this tool, that is why you must learn to use it. Do not be scared, and practice makes perfect.
Do not give up, and we will show you some motivating data about Facebook ads. 80% of businesses on the platform also use Facebook for advertising. An average user spends an average of 2 hours browsing the social media interface and, during this time, encounters an average of 20 ads every day.
What is more surprising is that according to research, an average user views 10-12 ads per day. Your business ad can easily fall into these numbers!
Creative content
As mentioned, visual elements are of paramount importance in social media campaigns. This is what people will first encounter when they see your advertisement.
For this reason, you must grab the attention of your browsers from the very first moment because if this does not happen, your advertising campaign may be unsuccessful from the first moment.
Use the colors or mascot of your business and turn them into unique content. It is also important to avoid flashy colors because this can suggest danger, which will also cause an ineffective campaign.
If your business still uses these colors, we recommend that you show only a small amount in the image created for your ad. Your goal is to give your creative concept an elegant and clean look.
Textual content is also key. If you are promoting a specific product, it is good to briefly explain the benefits of the product in the text.
For example, if you have a used car dealership and want to advertise one of the cars, try to highlight that it consumes little, is environmentally friendly, or is comfortable. Please do not put too many emojis in your text; it can also be alarming. When we talk about the text, we cannot forget to mention the importance of CTAs. Your CTA should always be clear!
This is an inherited rule, as this will be what will eventually put the icing on the cake; it will start the process of people visiting your website or going to your store.
We show you a good example for a restaurant advertising on Facebook: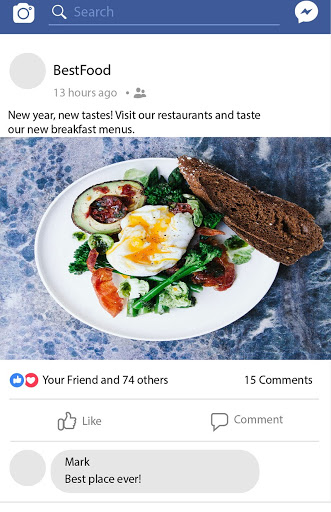 Clear colors, bright CTA, and CTA-compliant visuals. We might imagine an emoji in the textual content, but the post is still really eye-catching without them, too. Here you can see the paramount importance of visual elements.
When we talk about creating content, we need to mention that it is essential to look at how your ad performs. You can find plenty of analytical tools and indicators for this, such as the A / B test.
Perfect settings
In Facebook ads, it is imperative to know what your goal is. Your publicity will only be successful if you define it well since this will help Facebook find the audience that works best for you. We want to point out that your goal will affect the cost per conversion of your campaign and the number of reached people. Do not worry; we will explain everything.
Brand awareness 
If you want to introduce a new brand or even a new product, you should set this setting. With this setting, Facebook will display your content to people who are more likely to remember your brand or product.
Reach
We recommend this setting when your goal is to reach as many people as possible. Here, Facebook's algorithm tries to minimize the cost per access; that is why you can reach the most people.
Traffic
This option can be useful if your goal is to get people to visit an event or a website from your insertion. This is the best way to increase your conversion rate with Facebook ads.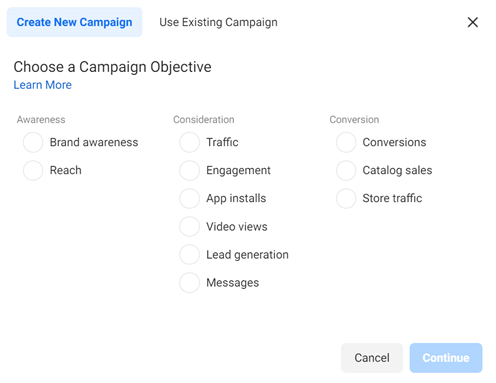 Now you can see that your goal has huge importance. Always take the time to choose the right type of ad. But why did we say that one comes at a higher cost than the other?
Just imagine how much harder it is to find a person who actually clicks on a link to your website than a simple Facebook user. That is why, for example, with traffic typesetting, your content can access fewer people for the same amount of money as with the reach feature.
Be unique
If you look through your feed and watch the promotions, you will see image and text combinations in 80% because this is the most common way of Facebook advertising, a picture, and a text. Come on! You are not that boring. Try to use special elements.
Here are some tips for more creative shapes:
Carousel
It should be imagined as a kind of collar. You can display up to 10 products with this ad type, and you can even add a short description. We recommend that you do not display more than five products with this method. With five pictures, it remains aesthetic.
Collection
A real novelty on Facebook. We recommend it primarily for webshop advertisements. Here you can show different products under one main image or video. It is important to mention that it is designed for mobile, so you should use it if your target audience prefers to use Facebook from mobile.
Canvas
Another creative solution optimized for mobile. Here, too, the emphasis is on the combination of visual and video materials. We recommend this if, for instance, you have a video that introduces your product or service or even want to give tips.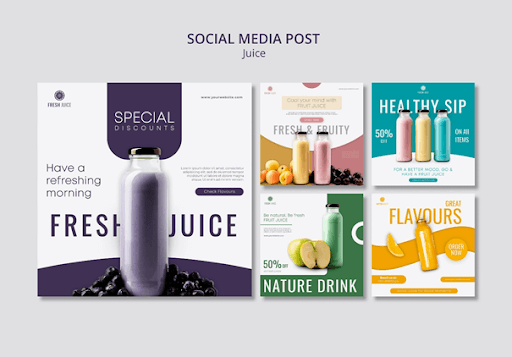 Think creatively, and this will be the key to the success of your ad. With these ideas, you can grab people's attention much better. 
Mobile
optimization
As you may have read, the importance of mobile optimization has been repeatedly highlighted. Imagine that 90% of ad views come from a mobile device – impressive, right?
Here we will talk more about webshops, as this is relevant to the topic. Your advertisement will not achieve the desired result if your website is not optimized well. Just imagine that you like one of the promotions on Facebook, you click on the link to the page, which is completely useless.
It loads slowly, the subpages do not work, you cannot see the products – and we could list more. Of course, this will lead to leaving the page; the visitor will not do anything useful just because the online store is desktop optimized only.
So, for increasing conversions, it is not enough that your ads are good. Your webshop also needs to be perfect for both desktop and mobile users.
Summary
If you have followed the instructions carefully, you already have a comprehensive picture of successfully advertising on Facebook.
Facebook has huge potential in marketing, as you can find millions of people in one place, and only your wallet limits how much you want to achieve.
You do not have to despair even if you cannot invest huge sums in these ads at the moment since you can advertise on Facebook for as little as $5 or as much as $10,000.
We hope we can help!