Do you know how to use Google Voice to get the best out of your digital marketing efforts? In this article you will learn the best ways to use Google Voice for your SEO.
If you want to get the most out of your marketing campaigns, you have to know your marketing effectiveness. Otherwise, it is impossible to get the best output from marketing channels.
There are different ways to measure marketing effectiveness. But they are complex and costly. But Google Voice is a simple and accessible way that can check your marketing effectiveness.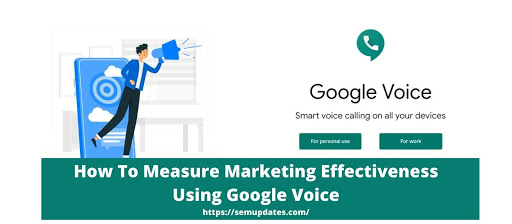 So, let's see how you can use Google Voice to check your marketing effectiveness. 
What is Google Voice, and How does it work?
Google voice is a free internet phone service that gives you different options for managing multiple numbers. Let's say you have three different phones for business, home, and personal uses, and you want to get notified on all of these devices when someone calls one of these devices. In this case, Google voice can do the job.
You can use a single Google Voice number to forward all device calls in a single Google Voice number and notify when someone calls any of these devices.
On the other hand, you can use Google Voice service to make domestic and international calls. Moreover, you can send text messages for free. But for calling it charges little fees.
If you travel to different places and change phone carriers overtimes, then Google voice could be an ideal option for you. 
So, here the questions come in how this magic thing works? Google voice works in a simple way. It works over a broadband connection. This means as long as you have a broadband connection, you can use Google Voice. 
When you signup for Google Voice, you have two options to choose from. You can use your own number, or you can take a new number.
If you want to take a new number from Google voice, then you have to provide your area code, and Google Voice will give you a number. On the other hand, if you care about digit choice (which is a concern for corporate people), you can give your selected digit and check if they are available or not. 
After getting your phone number from Google Voice (as it happens almost immediately), you can start calling from your phone and desktop application. Moreover, you can use it to send and receive text messages.
If someone sends you a voicemail, you can check that in the app. Also, the recorded voicemail will be sent to your mail.
If your Google Voice number is forwarded to your cell phone number and someone calls to the Google Voice number, you will see an alert on your phone that someone is calling on your Google Voice number.
You have options to cancel or receive the call. If you want to call back from your cell phone, you have options if you want to show your primary phone number to the caller or Google Voice number as caller ID. Moreover, if you want to see the notification on multiple devices, you can also do it.
Measure Marketing Effectiveness Using Google Voice
It doesn't matter how much money you're investing in your marketing campaign. If you can't track its effectiveness, then you won't achieve the maximum result. That's why measuring marketing effectiveness is so important. There are ways to measure marketing effectiveness, but Google Voice offers unique opportunities.
With the help of Google voice, you can track every marketing channel and see which channels give you the most exposure. 
Here are in few ways Google Voice can help you to measure your marketing effectiveness. 
Google Voice for checking social media accounts effectiveness
If you're greatly active on social media, then this is a significant solution for you to track social media performance. If you are active on multiple platforms such as Facebook, Twitter, LinkedIn, Instagram, and YouTube, you can use one Google Voice number for all social media accounts. At the end of the month, you can analyze how many people are reaching your business through social media accounts. 
Moreover, if you are heavily active on social media, then you can use different numbers for different social media accounts. Then you can check which social media platform is providing you the most users. Even you can analyze and see which social media platforms are giving you the most revenue, leads, and sales.
Google Voice for checking marketing campaign effectiveness
When it comes to checking the effectiveness of marketing campaigns, nothing is better than the Google Voice number. Let's say you are running marketing campaigns on search engine PPC and media buy. Then you can choose two different numbers for two campaigns and forward those numbers to your phone number. Still, you can receive calls from both numbers on your cell phone and check the effectiveness of each channel.
If you invest $1000 on search engine PPC and $2000 on media buying, end of the day, you see search engine PPC generates $5000 revenue, and media buy generates $3000 revenue. Now, you have the data to choose which campaign you want to continue or stop. So, you can increase investment in the most revenue-generating marketing campaign. On the other hand, one that generating less revenue, you can stop or modify that one. 
Create referral system using Google voice number 
The world's big companies are using referral programs to increase their growth. It is the secret of most of the big companies' success. But it takes a lot of hard work to run referral programs. But with Google's voice number, you can do it very easily. 
It doesn't matter what is the size of your company is or how less is your marketing budget. You can still run referral programs using Google voice number. You can use different Google Google Voice numbers for different referrals and forward them to the main number. It allows you to check precisely which number gives you how many referrals. 
You can use this method If you have multiple networks for getting customers. You can assign different numbers for different networks and check which one is performing better.  
As Google Google Voice doesn't cost so much, it is a great way to measure marketing effectiveness.      
How to create a google voice account?
Creating a Google voice account is just like drinking a glass of water. Anyone with web browsing knowledge can make it. 
So, let's see how easy it is to create a Google voice account in the step-by-step process below. 
Step one:

Visit

https://voice.google.com/

and click on "for personal use" or "for business use. If you're not already signed in, then sign in.

Step two:

If you choose personal use, then it will give you three options which are Android, iOS, or Web. For this tutorial, choose Web.

Step three:

After choosing Web, it will ask to accept terms and conditions. Accept terms and conditions and go to the next page, where you will get the option to choose your phone number. 

Step four:

For choosing a phone number, give an area code and check available phone numbers. From the list of phone numbers choose the one which you like most. If you want to get a special digit for business, then you can also do that. For this purpose, insert your desired number and check if it is available or not. After that, verify your existing phone number. 

Step five:

On the existing number verification page, insert your existing number and click on verify. Google will send a verification code to your phone. After getting the code on your phone, put it on the verification page and complete the verification process. 

Step six:

Once you have done with verification, Google will ask you to take control over your phone. And you are done with setting up the Google Voice number.
What if I need bulk Google voice for Marketing Purposes?
If you read this article from the start, now you might understand the importance of Google Voice number. It's ok if you need a single voice number, but for marketing purposes, you will need a lot of it. If you want to create bulk voice numbers, you will need new sims every time, which is difficult to manage. And it is time-consuming and costly. 
To help you out on getting bulk Google Voice numbers, we are providing high-quality Google Voice accounts at an affordable price. There are other sellers who are selling it, but we are different because we provide service with the guaranty. This means you are tension-free if you take service from us. 
Moreover, we are providing Google Voice service for a while with a great reputation. And we understand our customer's need precisely. If you want to purchase bulk Google Voice numbers, then you can visit Bulkpvaservices.com.
Final Thoughts
Google Voice is not just a free internet calling mechanism. It is more than that. Though it looks like a traditional cell phone, it is more than that. It is a great tool that can help your business a lot. It doesn't matter which way you want to use it for your business. It will bring positive results for your business. 
Here I have described the top three ways to use Google Voice for measuring marketing effectiveness. You can use these methods to check the effectiveness of your marketing campaigns.