Domain Authority (DA) is metrics developed by software company Moz which predicts how well your website is optimized to rank in Google. Domain authority ranges from 1 to 100. It shows how much reputation your website does have.
Every new website who has just launched online has a domain authority of 1 and a well-established website has far greater than the new one.
Moz uses 40+ factors including backlinks, domain age, website popularity, etc which help them in determining the Domain Authority of a website.
Moz uses a logarithmic scale which means it's a lot easier to grow your website's from 20 to 50DA then 70 to 80DA.
Only Domain Authority is not enough to grow your website, Google doesn't only see a domain authority to show up your web page in the SERPS. Google has its own algorithm which helps them determine a website that has more relevant and good quality of content.
Google always makes sure that everyone must be happy with their results. It's not fair with the users if they are searching for an Apple Juice and Google provides them with the result of the Apple iPhone.
Google has a great mix of algorithms that helps them know the intent of the user behind the performed query.
Is Domain Authority really an Important Factor for SEO
Nothing in SEO is so simple, just increasing your Domain Authority doesn't get you higher up in Search Results.
Google sees each and individual page when they ranking their results. You can easily outrank high domain authority websites if your individual page has a high page authority.
So a high DA will help you in gaining high-quality backlinks but it does not guarantee that you also achieve higher ranking with just only high DA.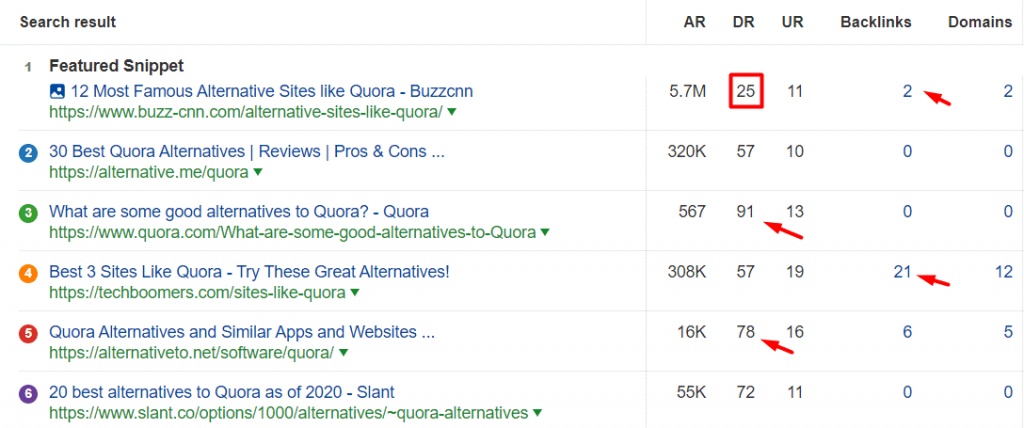 You can see for the keyword of "quora alternative", the website which is on the number one position has only 25 DR and the total number of backlinks is 2 only.
While others who are on the 3rd and 5th positions have a domain authority of 70+ but are still behind the lower DA website.
So only a Domain Authority is not going to rank you in the Google SERPS. Always focus on the good quality of content and Gaining good quality backlinks.
Page Authority
Domain Authority is the predictive strength of the entire domain whereas page authority shows the strength of an individual page.
Page authority can be built by improving the internal structure of your web page. By adding more words, more internal links, by increasing backlinks and by adding more images that are useful.
But make sure the links you are adding into your web page are all relevant and coming from high domain authority websites, moreover, their page authority must be great in order to increase your page authority.
Avoid stuffing the same keyword and affiliate links over and over again.
How to Check Domain Authority?
You can check your website domain authority by visiting Moz Link Explorer.
Just head over to Link Explorer, Enter your domain name and analyze.

You can also download Moz Toolbar for chrome which will stick to your browser and show every website's DA as well as PA on the same screen.
So you don't need to manually copy the address of a website and paste it into the Moz.

How to Increase Domain Authority?
As I have already said, domain authority is hard to increase from 70 to 80 but easier from 1 to 30. Domain authority is important for every website, whether it's on its initial stage or well established.
A Good DA shows your credibility and popularity and most helpful for gaining more juicy high-quality backlinks.
#1 Create High-Quality Contents:
Low-quality content doesn't rank in Google. So you have to write high-quality content.
High-quality content should be unique and properly researched and specific to the topic. It should not be copied from other webpages.
Your content contains the information which you want to provide other searchers by indexing your content into Google.
First, think about users' requirements than for SEO. If your content should be unique and helpful for your visitors they will surely link to it and share.
Don't make it fussy by stuffing your keywords and unnecessary things many times into it.
How To Write High-Quality Content?
First, go to Google and enter your keyword on which you want to write an article.
Then examine the top ten results deeply, like, what they wrote into their article, how they structured it and what are the points they are missing that you should need to be included.
After analyzing the top ten results, try to write 10x better content to beat your competitor.
Completely Render every aspect of your core topic. If their content has 1500 words, try to write 1700+ words.
Brokedown your content into pieces with some visual representation so your readers can understand your content easily.
#2 Backlinks
Backlinks play an important role in increasing your domain authority. When you start getting good quality backlinks your domain authority increases correspondingly.
Backlinks are ("incoming links") the links coming from another website to your website.
Google search engine takes it as a vote, the higher the votes, the more your website is trustworthy.
So it's better to get good quality backlinks from other high domain authority blogs.
Never ever try to buy backlinks, they can harm your website's credibility.
How to Obtain backlinks?
High-Quality Content: Write skyscraper content. Nail down everything related to your content. Don't compromise over the quality of your content. Add more useful information, images, infographics. Then share it on social media to make it viral. If it's enough appealing to others then surely they mention your article on their website.
Directly Ask others: However, this technique doesn't help much but your colleagues who know you personally can give you backlink or exchange.
Write a Good Guest Post: There are many websites that allow you to write guest posts on their site. But before writing makes sure the website is related to your topic.
Create Great Infographic: A good infographic can deliver a message more effectively than a 1000 words content. You can share your infographics on social media and promote it using other ways. If someone finds it relating to the topic they will surely mention it and point backlink to your blog.
You can check how many backlinks your website have my visiting to this Free Backlink Checker Tool
#3 Mobile-Friendly Website
Your website design must be mobile-friendly. One of the best things about this, you can reach a wider audience. Hence, get more shares and views on your work.
It's 2020 SEO mobile-friendly website is not a problem. Everything comes with the functionality of mobile-friendly themes.
Still, you can verify by visiting- Mobile Friendly website.
#4 Internal Linking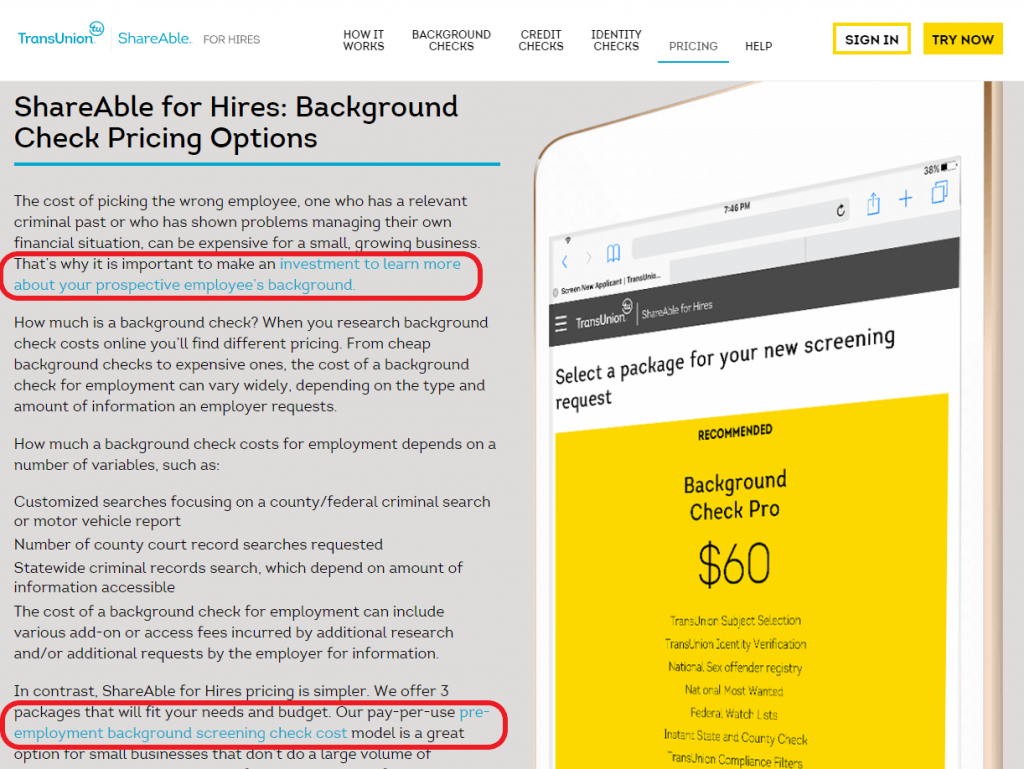 On-page SEO refers to the measures that are taken directly within the website to improve your search ranking. It includes title optimization, meta description, internal linking.
Internal linking (inbound linking) means going from one page to another page on the same domain. These links are for navigational purposes, so users can easily go from the current page to another page for more useful information.
If your website has a good internal linking structure it can also help you in increasing your bounce rate.
Bounce means a visitor enters your website and leaves without going to another page.
If this happens this affects your website indirectly.
Always optimize the source code of the website to improve user experience and make it more visible through Google.
#5 Increase Social Signal
Social sharing means total shares of your website's content, likes, comments, and your overall social media presence.
To increase it, daily post something related to your topic. Use images as they engage more and more audiences.
Always listen to what they are saying on social media and improve according to it.
It can also improve your ranking indirectly in Google if your website has more shares. As well as the chances of linking by others which mean backlinks.
#6 Disavow Bad Links
Remove those links that are coming from non-trusted and irrelevant websites. Don't try to rank your website by gaining links from any website without checking its spam score.
These links not only affect your ranking in Google but also affect your Domain Authority.
Since Google has launched the penguin update it has become easier for Google to crack down every bad link that is built just for the sake of ranking.
Google takes this as a low quality of content on your website.
You can find any link that is linked to your website using the Ahref Tool.

Just Visit Free Backlink checker Ahrefs Tool enter your domain name and check all the backlinks pointing to your website.
Conclusion
Domain Authority is Developed by Moz and it's very similar to Google algorithm (PageRank).
If your website has higher domain authority it does not mean you will get a higher ranking in Google. You have to work on other factors too which Google uses when ranking websites.
Increase Page Authority as well as your social signals, they all are helpful in increasing your domain authority as well as your ranking.
Moreover, you can improve those fields where your website lacks page speed, SEO and Backlinks, etc.