Design plays a significant role in content success. You can not underestimate the power of graphics and visual content in today's highly competitive environment.
"According to a study by Microsoft, the average human being now has an attention span of eight seconds."
To grab the attention within that 8 sec, you must have an outstanding visual.
But everyone is not aware of the essential functions of designing the content because it takes a lot of creative thought process to prepare content that attracts an audience
To make your life easy, I interviewed this emerging Canva Expert – Naeem Malik, to help you learn how to design fantastic content with Canva. Read this incredible journey, which is full of aspirations.
Q1 – Tell me something about your journey?
First of all, thanks for this wonderful opportunity to introduce myself in front of your amazing audience. J
I am Naeem Malik from a small town called Mirganj, located in district Bareilly (Uttar Pradesh). I have done my graduation from the University of Delhi in Biomedical Sciences. I have also acquired a diploma in Elementary Education. At this time, I am teaching at home for classes 7th to 12th. I have always been enthusiastic about learning new skills, so I have hobbies like playing badminton, cricket, volleyball, and carrom. I also love to do photography sometimes.
My journey on Instagram started when the lockdown began in India. And after some time, as we all know, people began migrating from one state to another state.
We used to see people migrating without food with no proper medications, and some other problems. My friends and I decided to help these people and make a group named Donate Your Movie Tickets. And we used to ask people to donate a sum of money equal to your movie ticket. And after that, we used to feed people.
So now, here comes my role.
I have been using Canva for the last two years, and I used to design graphics to show people that our team is doing such noble work and you can also help us. I started posting my learnings over Instagram, i.e., @thenaeemmalik, and after some time, I got interested in Canva and solely posting about Canva's features and new updates.
Q2 – How you started with Canva? What are the major challenges you have faced in the beginning?
When I started with Canva, I faced many challenges that most of you face who are learning.
How to use edit text and change fonts
How to set margins, use rulers
How to download your designs in different fonts
How to make designs like a pro
How to find out relevant images and illustrations
What are the different sizes to create my designs?
How to make the best uses of shapes
How to create a design in less time
What are Canva shortcuts to be productive while designing
You don't need to worry about it now; I will share amazing secrets for designing attractive visuals.
Q3 – What are your PRO tips for the content creators using Canva?
Here are my pro tips for those who are using Canva to create their content:
#1 It is essential to understand sizes for different platforms and understand if you have to leave some margin to look your design better in the feed or all the designs (as in the Instagram feed). Use guides and rulers option to create better and professional designs.
#2 Try to click over every tab or say features you see to understand Canva better. Keep a close eye over what is happening to the user interface; when you select and deselect some elements or try pressing right-click, you will find some hidden features in this way.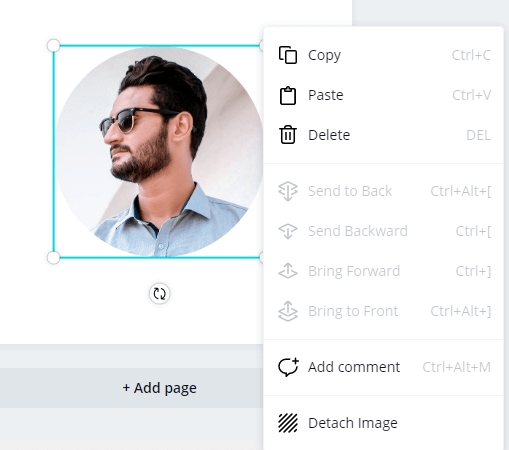 #3 Please select the image, right-click on it, and explore the menus.
Most people don't know the usage of the last option, Detach image. It's an essential feature to detach your photo from the frame and edit. I receive a lot of queries regarding this.
#4 To improve your pictures, you can select the options like Effects, Filter, Adjust, Crop, Flip, and info button.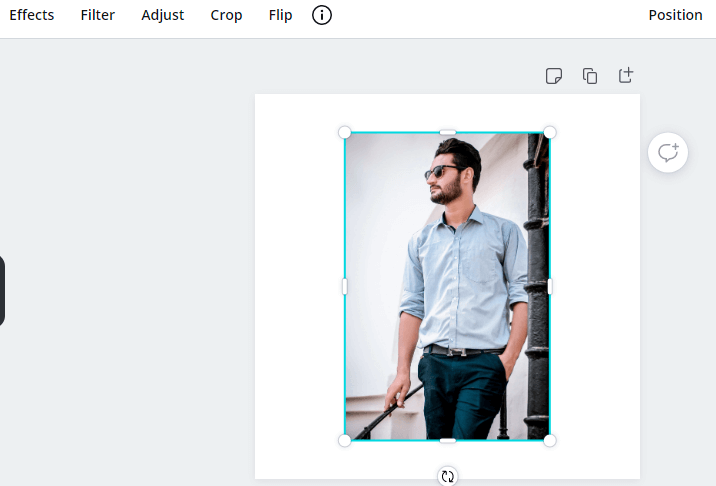 Many people avoid exploring these options and never get a chance to maximize the potential of Canva. So I always recommend trying some effects and opportunities to see which suites best and go with your brand.
#5 Do not use too many fonts in a single design; stick to the style pallet provided by Canva for best practices. You can use the Font Combinations tool by Canva to find the best pairing for you.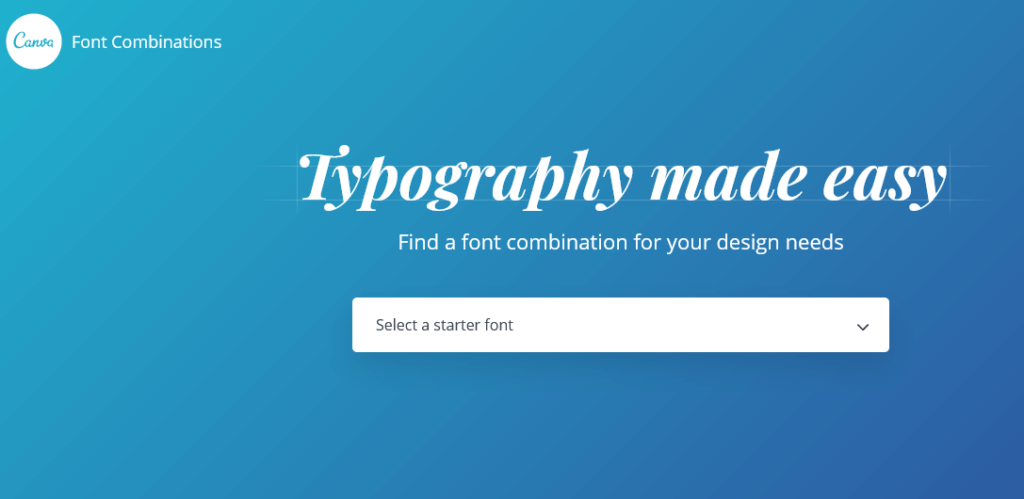 #6 Keep your Style consistent. I recommend left align text style as per my experience.
#7 Always use such colors for your foreground and background, creating enough contrast and eye-pleasing. You can find the "100 color combinations and how to apply them to your designs."
#8 Use gradients sometimes
Q- What are the hidden features of Canva people should try?
Canva has a million hidden features users don't know about or haven't used them. I am going to share some very cool lesser-known or hidden features you will find amazing.
#1 Styles
Only a few professionals know that there is a fantastic option called Style is available in Canva when you click on More. You can find that option in the left side navigation bar. You might have missed this option because it is not displayed by default.
This Style option talks about color and font combinations when selecting your color palette for your design. It's a quick and easy way to guide you to the right color selection for your designs.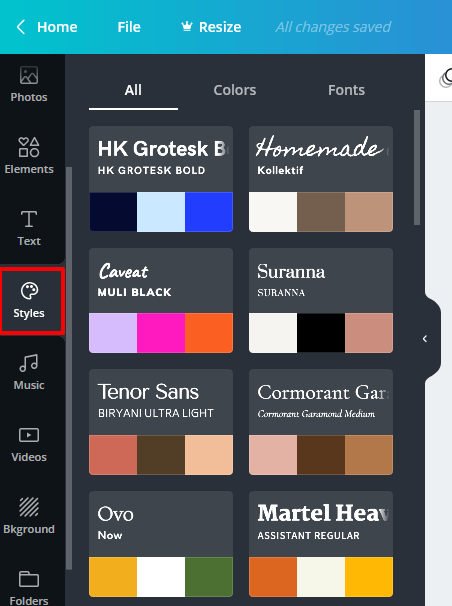 #2 Apps integration
It's a very time-consuming process to add pictures, videos, or any media files in Canva. App integrations feature allows you to import your files directly from your drives in Canva without switching the apps. App integration in Canva made image import hassle-free. Try it!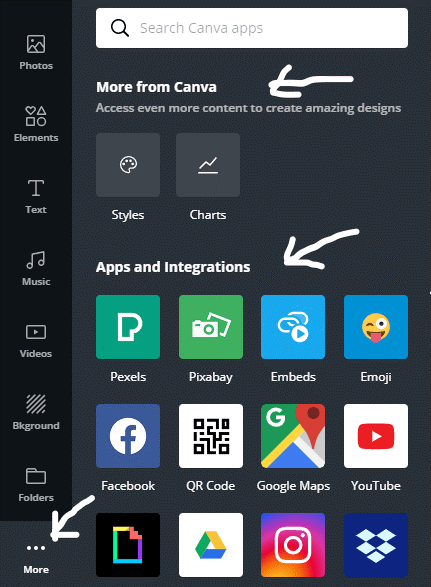 #3 Copy style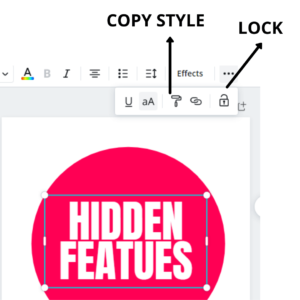 I don't understand why people do not use this copy style tool. This feature is as simple as a paintbrush situated in a toolbar. This tool helps you copy the styles and settings from one text and applies them to other text, this makes formatting very easy.
#4 Lock
You can use the Lock feature, especially when you're designing using your mobile phone, and different sections keep overlapping and getting distorted.
It can also be used with a web version when you have lots of elements altogether, and you do not want to disturb some other layers or otherwise, it will take more time.
#5 Position
This tool is one of my favorites. It will let you set your image according to page specifications.
Not many people use it, but yes, it will allow you to set your elements (selection) accurately according to different positions (top, bottom, etc.), as shown in the picture below.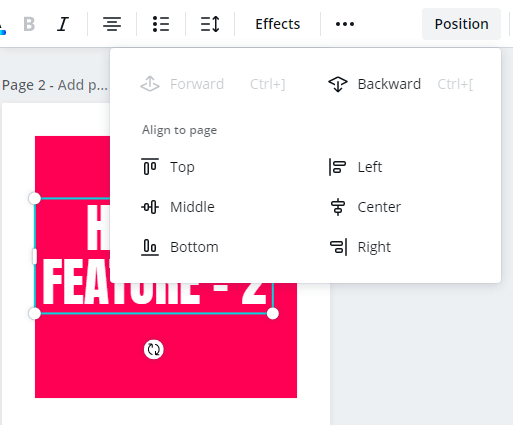 #6 Group
You can use the Group feature to bind multiple elements in your design. It helps you maintain the ratio, spacing, and alignment when making any updates in the design. You do not need to change each element individually.
For example, you can group your headline, subhead, or signature at the bottom and group it. When you want to use these elements, you can copy the group and move wherever you need.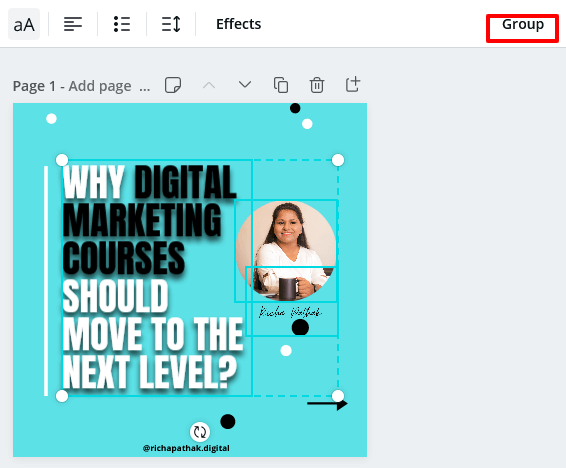 #7 Other features:
Adding links for external websites or URLs. It's very useful for PDF and brochure designing.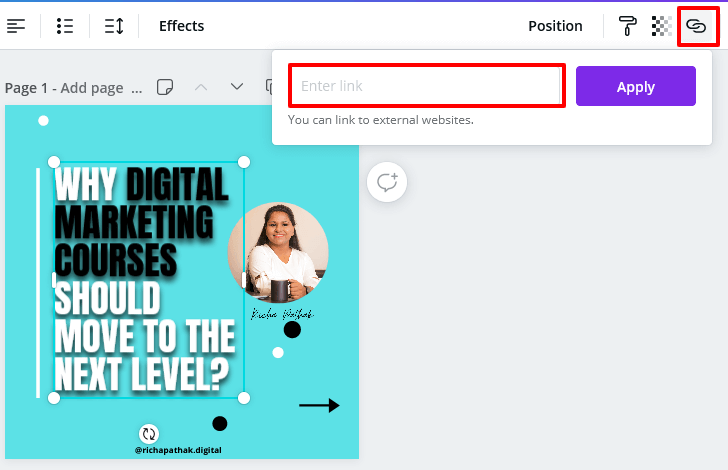 Adding music to your background
Compress files and export to different sources
Direct publishing to the most used social media platforms More than 34
Manage your photos and illustration, and designs in folders so that you do not worry when you have to find those in less time
Not limited to this, there is a wide range of exciting features Canva has even in the free version.
Q- Which brands are using Canva successfully?
There is a lot of brands using Canva to create unique content for their social media.
Here are some: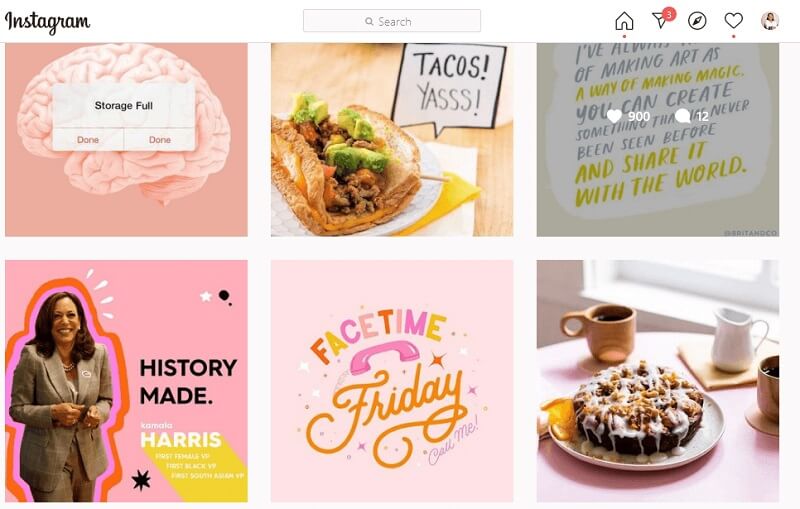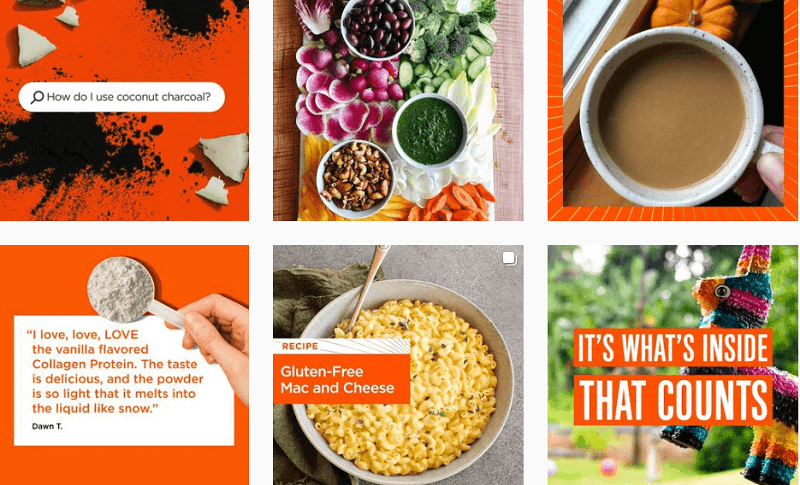 @saleswithkales got amazing visuals on their Instagram profile, you should check it out.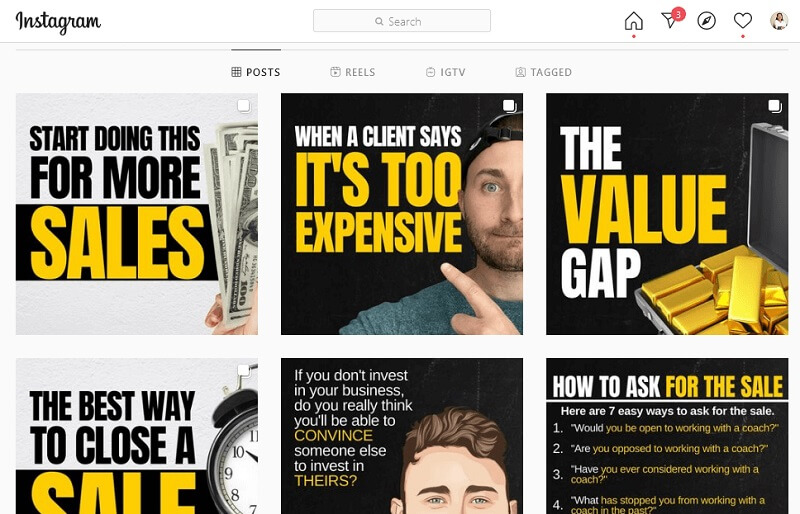 @thegenthuruglica is another profile that did a great job of creating amazing content to educate the audience.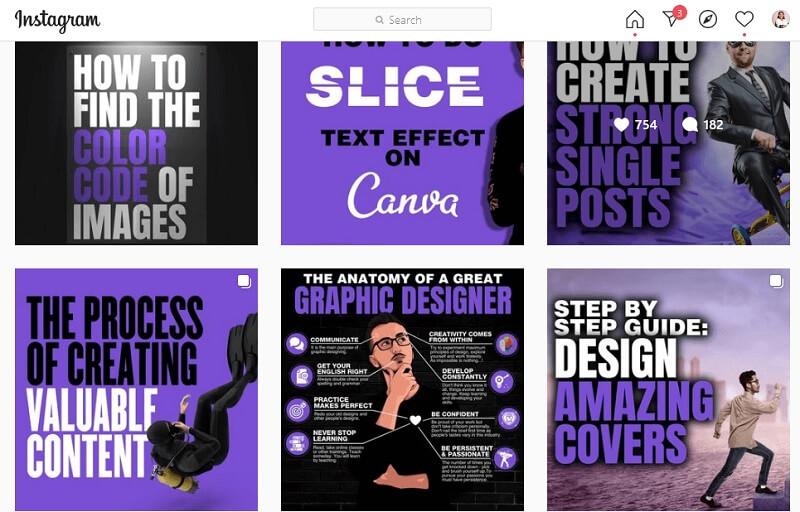 Q- What are the other alternatives of Canva, but why you prefer Canva?
There is a lot of alternate tools available to design your creatives. All the tools have their own set of pros and cons. Every tool has its own set of target audiences. For brands and individuals, I suggest a few tools such as:
Snappa
Stencil
Venngage
PicMonkey
Piktochart
Fotor
Easil
Relay that
Pixlr
Crello
I prefer Canva because:
Thousands of pre-built templates to work on.
They are updating Canva each week.
They are adding templates for the remaining categories.
They are updating their customers with their best possible efforts.
They are adding hundreds of images and videos each week.
You do not have to rush for other websites to find accurate sizes for different social media platforms.
You can find out ideal colors and fonts from Canva's website itself no need to search.
You can work in real-time with teams.
You can set your brand kit (your brand colors and your fonts).
You can share your designs to view, edit, and as templates.
Canva allows you to export your designs in almost every possible format, be it PNG, JPG, PDF, SVG, POWERPOINT.
They are providing thousands of free elements and photos.
You can learn graphics designing for free from Canva school.
You can plan your content for a month with Canva pro also you can publish it to different platforms except for Instagram.
They collaborate for some noble work too like for education in countries of South Africa.
Encryption – We keep designs secure in transit and at rest. In transit, designs are only accessible via TLS/SSL, and at rest, designs are encrypted with AES256.
Security: They inform users to change their passwords or do by themselves after some specific duration.
You can manage your design in folders and publish/save directly to dropbox, one drive, google drive.
The daily updates about Canva's working status and also keep updating over Twitter.
It is cheap than some other platforms in comparison to features they are providing
So I love Canva.
Q- Share some free templates people can use with their links.
Yeah, for sure, I would feel delighted to be able to help in this regard. But make sure, before you use these templates, do not forget to make a copy; otherwise, my original templates will not remain intact. Here is the link for your five free templates
Template 1 – Link 1, Template 2 – Link 2, Template 3 – Link 3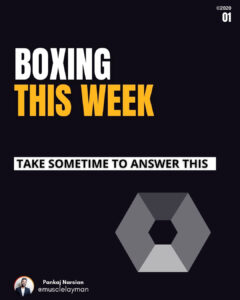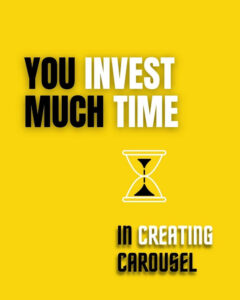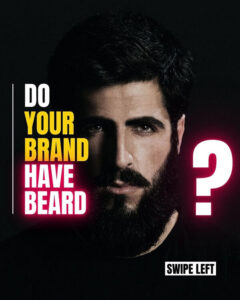 Template 4 – Link 4, Template 5 – Link 5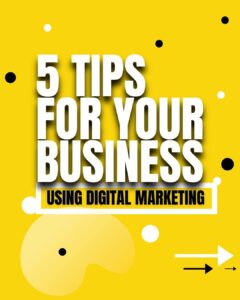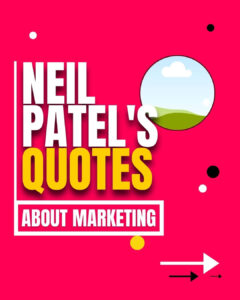 Q- How should people connect with you?
I would love to connect with you if you need any help or assistance. You can connect with me on Instagram, Telegram, LinkedIn, Twitter, or you can check my designs on Pinterest.
Please send me your challenges designing with Canva to [email protected]
Q- How can people learn Canva?
Well, I think people can learn only when they desire to learn and if they believe in the process and time. Well, the best thing to learn anything is to do lots of practice.
Yes, there are free resources over YouTube you can find out by simply searching Canva tutorials for beginners.
Here are the links that will help you start learning Canva immediately:
Learn Canva in 10 minutes:  Link 1
Canva Tutorials for beginners: Link 2
Besides this, I run a 1:1 Canva class for those who are new to it and struggling with designs. I create content for busy entrepreneurs too.
Well, first of all, let me inform you somewhat about my classes.
My classes aren't time-bound as different people have different learning curves, so I keep them as they don't lag anywhere around.
My Canva Class is like all one solution to get started on Instagram, finding your brand, and use proven techniques to grow over it. So you're going to learn about branding (practical, I included), IG growth, and Canva.
Learning Canva includes font combinations, color combinations, and designing carousel and Instagram grid
5 free templates for carousels and puzzle feed to get started designing on Canva.
My curated and saved posts (which I have curated for six months) and PDFs from prominent creators. As I am following big creators and trying to learn everything from them, I have some great PDFs for you to start with.
The following tips make me feel fabulous every single time
Practice makes a man perfect
Learning continues throughout life
Pain is the process (this may be a failure, mistake, muscle pain in the gym to get a good physique)
You have only life, and you can only impact people in this life only
Life sometimes sucks. The more you think about it more it sucks, so just get habitual of it.
Wrap up notes
Designing creative, attention-grabbing visuals is not easy, but with the right approach, the right direction, you can learn it. Using Canva is easy, but utilizing the full potential of it is difficult, you can create professional designs very quickly by learning the right techniques and tools within the platform.
I hope you learned a lot from Naeems journey, do let us know your queries or suggestions in the comments.
I will be happy to add more details you need regarding the design best practices.