6 Ways To Speed Up Your WordPress Website for SEO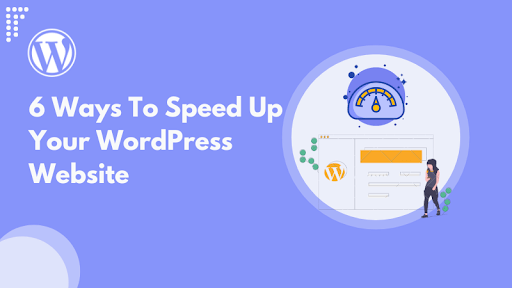 Are you looking to speed up your WordPress website?
Fast-loading websites can improve user experience, increase page views, improve your website SEO, and boost your website ranking on SERP.
Search engines like Google consider page speed as a factor to measure a website's ranking position, As site owners we need to ensure our website loads as fast as possible to boost the site's visibility on the SERPs.
In this article, I will be walking you through a step-by-step guide to speed up your WordPress website to enhance your online presence which can attract more organic traffic from search engines.
So let's get started…
Why Speed is Important for Your WordPress Website?
Website speed, or website performance refers to how quickly a website is loading full functionality to deliver the webpage that the visitor is viewing. Poorly performing websites that render slowly can drive users away, Conversely, sites that load faster typically will receive more drive more traffic and have a better conversion rate.
Moreover, Google considers website speed as one of the ranking factors to measure a website's ranking position on the SERPs. So it is important to have a fast-loading website if seriously want to drive more organic traffic from the search engines to our business website.
These are the reasons why speed is important for any WordPress website – So to speed up your WordPress website you need some optimization to implement on your site that helps improve its performance.
We'll cover the below sections to help you get the best performance optimization tips to speed up your WordPress website that have a huge impact on your core web vital and search engine optimization (SEO).
Are you ready to go? Let's get started.
Top 6 Ways to Speed Up Your WordPress Website
As you know the importance of the site's performance. So we can move to the key components of website speed optimization that actually can speed up your WordPress website and performance.
1. Choose the Best WordPress Hosting
Web hosting plays a role in a site's performance. Considering of choosing the best web hosting for your website is a kickstart of your site performance optimization that can help speed up your WordPress website.
Moreover, the best web hosting service also comes with more advanced features to speed up your site such as performance optimization, SSD storage, CDN integration, etc. which can improve your website performance.
But there are tons of web hosting available on the market, how do you know which WordPress hosting provider is the best for you? If you're looking for the best hosting that comes with advanced performance optimization features – There are a few web hosting providers that I can suggest to you based on my experience.
1. Cloudways
Cloudways is one of the most popular managed WordPress hosting providers in the market that offers various web hosting solutions to get started with, apart from that it provides the best performance features to enhance your website performance.
It also provides a built-in cache plugin for your WordPress website, the plugin plays a role in optimizing to speed up your website by caching your website content, reducing HTTP requests, improving time to first byte (TTFB), etc. to ensure your WordPress website get the best performance.
Cloudways can be the best consideration when it comes to choosing the best WordPress hosting which comes with a bunch of performance optimization features that can speed up your WordPress website.
2. SiteGround
SiteGround is another great performance WordPress hosting provider in the industry that provides a bunch of WordPress hosting solutions, It also offers various performance-boosting features to ensure its customers get the best site performance through their web hosting service.
It's similar to Cloudways because it provides the built-in cache plugin to speed up the WordPress website by implementing the site's caching functionalities, image compression, minification, and many other aspects of performance optimization features to boost site loading times.
SiteGround is another option for you to consider of choosing your website hosting that offers the best performance optimization in your hosting plan.
3. Kinsta
Kinsta is my third recommendation for the best WordPress hosting company that offers the best performance inside its hosting service. What makes this hosting company different from others is that it doesn't provide the built-in cache plugin because they had offers hosting features that are worth having a cache plugin alone.
However, You still need to have a caching plugin for your website in some cases, if you want to optimize other aspects of the site's performance including CSS & JS minification, browser caching, cache preload, CDN integration, image optimation, compression and many more.
2. Use Lightweight WordPress Theme
WordPress themes have a huge impact on your website load times. It can cause your site to load slowly if you have chosen and used the wrong theme on your WordPress website (a theme that is not optimized for speed).
There are tons of WordPress themes available on the market including free and paid ones to choose from, but not all the themes are good for your website. So you need to be sure to choose a theme that is optimized for speed.
The good idea in choosing the best theme for your WordPress website by just to look for some of the essential components such as fully responsive, SEO friendly, lightweight, optimized for speed, etc.
There are lots of popular WordPress that come with all these components you can choose on the market. If you're not quite sure which theme to choose I have some recommended themes for you to consider using.
Astra Theme
Divi
Kadence
GeneratePress
3. Remove Unused Plugins
Plugins are the additional functions and codes to add to your website when required if they don't exist by default, but it's not a good idea to have tons of plugins installed on your website because it can slow down your website loading.
The good idea is that you just have to install the plugins that are required and remove all the plugins that you had installed on your website but don't use. By removing the unnecessary plugins on your website you'll be noticed that your site loading speed has increased.
So a good practice for speeding up your WordPress website is to avoid installing unnecessary plugins that are not beneficial for your site and your work.
4. Use Cache Plugin
The biggest part that can boost your WordPress site's performance is using a cache plugin because the caching plugin has been developed and designed to enhance the site's load times. And provide all-in-one solutions for the site's performance optimization.
The cache plugin usually brings speed optimization features such as browser cache, HTM, CSS, and JS minification, image compression, image optimization, image lazy load, etc. However, to make them stand out from each other they have unique features that others don't.
There are a bunch of WordPress caching plugins available for you to choose from including free and paid versions, but if you're using the web hosting I mentioned above you may not required to use extra cache plugins because they have their built-in caching plugin.
However, if you're not using one of those web hosts, you can use the cache plugins that are available to download and use from the WordPress plugin directory (for the free plugins).
Here are some of the most caching plugins you can use:
WP Rocket (premium)
W3 Total Cache (freemium)
LiteSpeed (free)
WP Super Cache (free)
Cache Enabler (free)
These are the most popular WordPress speed optimization plugins you can use to enhance your site's performance and boost its load times. After installing the cache plugin on your WordPress website you'll see your site has improved its load times.
5. Use Content Delivery Networks (CDN)
Content Delivery Networks (CDN for short) is a process of caching your webpage contents and storing them on the global servers that are nearest to your visitors. This process helps to deliver your webpage content much faster to your visitors by accessing the closest servers that store your web pages.
The most impressive thing about the content delivery network service is that it has cache preloading which you have not worry about updating your content. It will preload the cache to all the global servers whenever you make changes or update your content.
Moreover, using a content delivery network brings a lot of benefits to your website because it can help to reduce HTTP requests, improve the time to first byte (TTFB), reduce your server load, high-security level, and much more.
That has a huge impact on your website speed, core web vital, and improves your website SEO that drives tons of organic traffic, and gets a better conversion rate.
6. Using Image Optimization Plugin
Image optimization plugins can help improve your website performance by optimizing your image to speed up your WordPress website load times. However, if you're using the caching plugin it already comes with image optimization features, so don't have to install an extra image optimization plugin.
But if you're serious about wanting a plugin that is built for a specific optimization exclusively on images, you can do it.
There are several popular image optimization plugins for WordPress for you to choose from, these include free and premium versions.
Here are a few of them:
EWWW Image Optimizer
ShortPixel
Smush
Conclusion
A fast-loading website helps to improve the site's user experience, improve website SEO, drive more organic traffic, and get a high conversion rate. However, to speed up your WordPress website you need to implement the essential components of performance optimization as we've covered in this article.
You need to optimize every aspect of the speed optimization techniques to enhance your website's performance and improve its load times.
I have brought you all the best tips that can boost your website loading and I hope these tips will help you speed up your WordPress website that can drive you more traffic and conversion.