Responsive search ads (RSA) is a revolutionary change that was brought about in 2018 in the paid advertising industry. Research suggests there are about 3.5 billion searches per day and Google has come up with the best possible way to help you reach out to the audience. RSA gives you a platform to provide multiple headlines and meta descriptions that are effectively combined and presented to the consumer based on their queries.
What are RSA's?
Google has come up with a flexible and productive way for marketers to create search ads in the form of RSA. This initiative was brought as an alternative to extended text ads which are going to phase out by June 2022. Extended text ads were restricted to two headlines and a single 80 character description. 
Here is what RSA offers –
Option for adding almost 15 different headlines

4 separate description boxes
How does RSA work?.
The AI (artificial intelligence) of the search engines shows different combinations from the headlines and descriptions provided and shows it to the viewers according to their requirements. It allows them to show more relevant text and ads to their target audience. It gives google about 32,000 combinations to test. This is an easy and clever way to enhance automated PPC ads.
Advertisements on google ads remain static, thus no changes can be made which only gives you access to a smaller audience. However, RSA can alternate between the 32,760 different combinations of the same ad and cater to a larger audience according to the search matches.
What are the advantages of RSA?
RSA will help your business boost and here's why you should consider it –
Saves time –

RSA is a smart way to deliver ads to your customers. You do not need to create a variety of ads on the same topic, RSA allows you to group them Toin just one ad. It is a creative and effective way to reach your audience.

Better performance –

Responsive search ads provide a higher click-through rate (CTR) than other forms of advertisement. The reason behind this is that they appear more often in searches and are more relevant to the audience, which leads to improved performance, more leads, and more conversions.

 
Increases ad relevance –

Users see the most relevant ad copies on their screen because Google takes in the information provided by you and scans through them thoroughly to come up with the best option to match the audience's intent. As per

Google

, the creators who switch from extended ads to RSA's see a 7% increase in the conversion rate at a similar cost.  

Flexible ads –

 You get a lot of flexibility for testing different ideas at once. Google adjusts the tests targeting one person at a time. Considering the person's user history and past searches, google comes up with an ad it thinks the user will respond to the most.
How to create an RSA?
Several marketers find it difficult to up their business and make it profitable. That is why here is a step-by-step process of how to create an RSA to help you with that–
Create a google ad account –

This is the first step towards creating your ad. You do not need to have a Gmail account for this, you can use any account. After filling in the basic details, you will land on a smart campaign page, you can select from the options provided or switch to expert mode (shown at the bottom).
Steps to create a google ad account – 
Step 1 – When you open the google ads page, you will see a "start now" button in the upper right corner. You can then input your email address and sign in with your Google account. You will also get an option to invite others to use the same account, which you can also do after the entire account is set up. 

Step 2 – In this step, you will be asked what is the goal you want to achieve. You can choose one from the options provided. You can also switch to the "expert mode" and follow the instructions.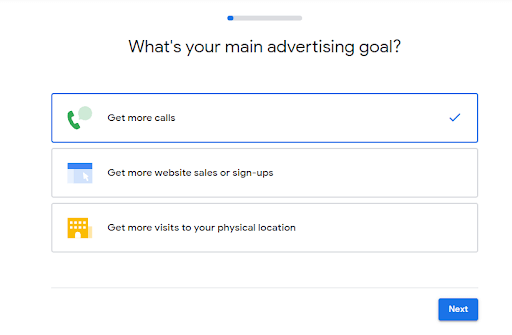 Step 3 – From there you can also decide if you want to create a campaign right away. You can choose your campaign type and follow the directions to create your campaign. 
Set up ads and groups–

In order to create an ad, you will see an "

ads and extension

" option towards the left of your screen. Under that, you will find a responsive search adoption. In case you are not seeing it, you should contact customer service as this feature may not be available for you. You will be asked to choose the goal of your website and to provide a link.
Keep in mind these strategies while creating ads and ad groups – 
Identify your audience –

Before putting out an ad, you need to understand who your target audience is and what their needs are. Elements like price, products, and services matter too when you are trying to identify your target audience. 
Match types –

Match types are Google Adwords keywords options that are used to deliver certain ads to different audiences according to their preferences. The keywords don't have to be specific, they can be general ones that have a lot of searches and reach as many users as possible.
Landing page –

Usually landing pages are used to check how many conversions you are getting, however, it is advisable to use one landing page per ad group. In case you need multiple landing pages, it means that your keywords are not on point. This will help you make improvements wherever required. 
Create an ad –

Google will ask you to provide a list of headlines and meta descriptions so that it can increase the performance of your website. Make sure to avoid adding similar headlines as it may fail to get you an accurate response to your campaign. You will have an option of inserting up to 15 headlines and 4 meta descriptions. Remember, the more you add, the better chances there are for you to appear on top.
You also have the option of pinning your headlines, and arranging them in the manner you like. Although this feature may limit other headlines from being used, so unless you are an expert, avoid this feature.
Tips to create a perfect ad
Choose your audience and conduct your research –

Up to 10,000 people see ads daily so it is important to create a target audience. Select them based on the market research you conduct. Here are some key questions you should consider:
How old is your audience

What is their location?

What are their interests and needs?

Which social media platforms do they spend the most time in. 
Decide a budget –

You need to spend some money to make more money. See what the ultimate goal for your ad is? Review your last ads and understand what is working for you. Keeping these parameters in mind, come up with a reasonable budget. 
Create the ad according to your budget –

Up until now, you must have understood who your target audience is and what their needs are. Keep that in mind and realize what you have in mind. Create a visually appealing ad that will attract customers and serve its purpose. Finally, put it online, release the ad. 
Analyze your ads-

It is important to understand how your ad is performing. So that, you can use those tips and tricks to make your future ads better. See what works for your audience and what are the mistakes you are making, be sure to make the suitable changes the next time so that there are no chances left for your ad to underperform. 
Review and publish –

Lastly, you will be shown all the details of this ad. Take your time and review it because it is of utmost importance. Any mistake can cost you time, money, and well, potential clients. Take your learnings and apply them to the next advertisement campaign you create. Once reviewed, you are ready to publish! 
Tips and tricks to come up with the best RSA
Now that you have understood how to create an RSA, here are some of the best practices to help you set up a successful RSA –
Add keywords –

Do thorough keyword research before you set up the ad so that you have them in mind. Add relevant keywords in your headers and meta descriptions for the best results on your campaign.
To understand which keywords are working best for you, you may add a few headlines without them and review their performance. This will help you analyze the strength as well as the effectiveness of your keywords.
For example, this is what happens if you search for "digital marketing agency in Delhi" on a keyword research tool –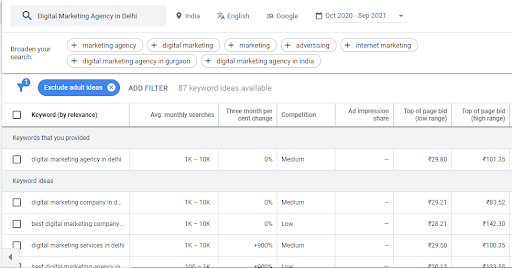 Add unique and relevant headlines –

Come up with creative headlines that are relevant to your topic. If the headlines are too redundant, it may confuse the Google AI and botch the results. By adding several unique headlines, you are giving Google the opportunity to create combinations and provide results according to the user's intent, which will generate more leads and boost your business.

CTA is a must –

Add relevant CTA's to the meta description of your ad. This is a good practice as it helps to guide users towards the action you want them to take. For example, a new customer would click on a "learn more option", "join now" or "subscribe" option. CTA can also be in the form of discounts or promo codes to attract more people.

Test your ads –

It is highly recommended to test at least one RSA in every ad group along with normal ads. Be sure to narrow down your particular audience based on locations and other options, so that people not in your listing can avoid seeing your ads as it may lead to your ad becoming irrelevant.

Take google suggestions –

When you are writing headlines of the ad, google makes suggestions based on the information already provided. Review those suggestions and make changes if required. These may not always be right because Google makes suggestions based on previous ads that you have run, but if they were successful, do not ignore their recommendations.

Pin your headlines –

Pinning headlines can help you prioritize the deals and offers. Although make sure to not use this feature too much because it can limit the use of other headlines and may not bring the best data it can. Avoid this feature if you are a beginner.
When should you use responsive search ads?
The idea behind responsive search ads is to let Google do what it's best at – provide accurate information to the users. This is a very simple method. All you need to do is, to provide the right keywords and some options for google to choose from. RSA's are preferable when you are in a hurry and don't have enough time to test your keywords.
If you are a new business and just starting out or even an old business looking to expand, this form of advertisement is best for you. The variety of headlines and descriptions will help you reach more potential customers online. With the relevant keywords and testing, you can gather an ample amount of data that can help boost your business.
These are also useful for product pages from an e-commerce website or any page that does not have a lot of content because google does not analyze the content when it shows the ad.
It is up to you to make your ad relevant as google will use those headlines and keywords to help you reach potential customers.
Takeaway for RSA
Responsive search ads are a great way to drive audiences to your website, generate leads and improve your conversion rates. Google uses its AI to make the most of the information provided. This is an effective method that saves a lot of time that you would have spent on creating several different types of ads, testing them individually, and coming up with solutions. This method will let google do all the work and will let you focus on growing your business. If you haven't started using this system yet, now is the time. Make the most of it for the best results.