Returning clients can bring a lot of value and are responsible for a large portion of your revenue. After all, acquiring a new customer is a lot harder than getting an existing one to make a consequential order.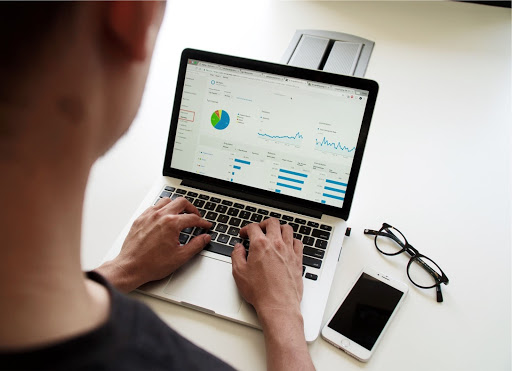 Such an audience segment requires a deal of attention and shouldn't be overlooked by businesses of all types. These buyers are already familiar with your brand, know who you are and what your products are like.
They can recommend you to friends, and if they enjoy what you sell, they can become your regulars. But do the same rules apply to new users and potential clients?
On this page, we'll go over seven digital marketing techniques. You can use them both to retain customers and start selling more to those who have just come across your brand for the first time.
1.  A Decent Loyalty Program
One of the things your eCommerce store can do to grow sales is run a quality loyalty and rewards program. Based on the findings by AltFeld on customer loyalty statistics:
"The probability of selling to an existing customer is 60-70%. For new customers, that figure drops to 5-20%."
Various types of rewards programs are powerful eCommerce digital marketing techniques that can help in building a solid customer base and get returning clients. Subscriptions can provide you with valuable contact information and give buyers a reason to shop in your store. Common perks that loyalty programs promote include:
discounts and promo codes;

complimentary shipping;

access to freebies and testers;

exclusive offers;

sneak peeks at new arrivals;

event invitations;

holiday and birthday bonuses;

other benefits for engaging with the brand (f.e., points for leaving a product review).
You may approach such membership programs from a marketing perspective. For example, they could be points-based and broken down by levels, rewarding clients for their purchases or other activity. The more points a customer gets, the higher is the level that he obtains (with corresponding perquisites). It's totally up to you.
Take a look at how Furla promotes its newsletters and loyalty program on the official website. The pop-up encourages users to leave their email addresses to get a 50% discount and learn about the new offers. A good point to note here is that they create a sense of urgency, as seen in the screenshot.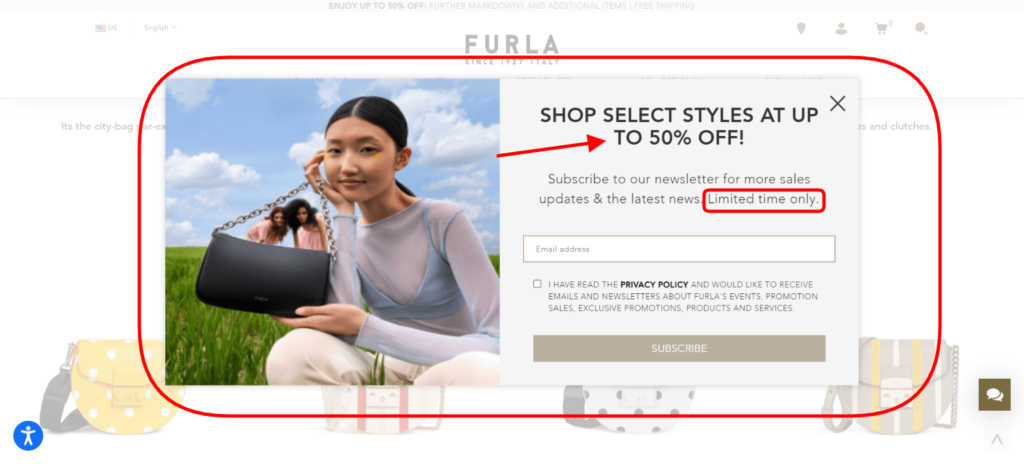 Screenshot taken on the official Furla website
2. Mesmerizing Gift Sections
Shopping for gifts can be a dreadful activity for many people. Thus, providing your customers assistance with this tricky issue is a fantastic way to upgrade your site. You'll make the lives of your clients easier and retain your audience.
The least you can do here is to assemble a gift finder or gift guide section. Place it on the site in some visible location (like the top menu). Then, divide the suitable items into separate blocks, for instance, by the receiver of the present or by budget.
If you have many items per category, filters like those you have on catalogue pages surely won't hurt. On another note, you can roll the gift hunting process out into some multi-step gift selector quiz or tiny questionnaire.
This is the Gift Guide section on the official NYX Cosmetics website. Located right within the main menu of the site, the section has a lookbook, gift sets, a gift guide by pros, and three categories that break the block down by budget. It can surely save clients their time and the trouble of cluelessly browsing pages of the site.

Screenshot taken on the official NYX Cosmetics website
3. Useful UGC Shares
User-generated content is priceless for a business. We're talking about product feedback sections with ratings and reviews, customer galleries, and, of course, social media posts.
All of the above provides credibility, inspiration, and useful information to those who are only thinking about spending money. More than half of the consumers pay attention to the opinions of others before making up their minds about a purchase.
This is a solid reason not to ignore user-generated content in eCommerce and make sure to have it present across all channels and touchpoints with buyers.
Below is a screenshot of a page on the official Lee Jeans website. They invite users to share their pictures on Instagram and tag the official account of the brand. If the content is of high quality, users get a chance to get reposted on the company's account and website.
What does the brand get in return? This is a smart social media marketing move. The brand gets treasured content that can be reused, a broadened social presence, more followers, additional brand recognition, among other things.

Screenshot taken on the official Lee Jeans website
4. Go "Green"
Putting a company's eco-friendliness in the spotlight is crucial for any modern brand. A growing number of consumers care about how they impact the planet, thus, they look for products that won't harm the environment.
A large percentage of such buyers is even ready to pay a slightly higher price if they know that they're supporting a good cause and making responsible choices.
This is why the brand must be able to highlight its sustainability. So if your business hasn't dedicated time to this digital marketing technique yet, give it some thought.
Case in point: Guess promotes an entire denim collection called "Smart Guess" that features products made of recyclable and organic materials. They even use an inspiring slogan: "Eco is the smart choice".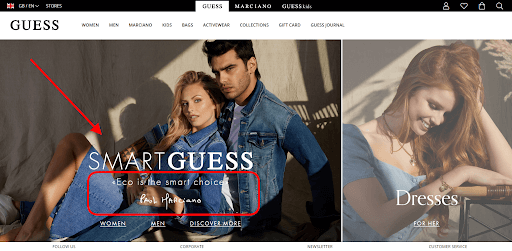 Screenshot taken on the official Guess website
5. Cross-Selling Products You Recommend
There's a very big chance that additional "unplanned" items will make it to your shopping cart because they match something you'd like to buy. When you shop at brick-and-mortar stores, you can get inspired by the outfits on mannequins or can get advice from a shop assistant.
In online sales, the section with advised products may be the very silent "adviser". It'll urge your clients to add more items to the order. This is a highly profitable eCommerce marketing trend that can greatly boost the average order value.
To give an example of a really cool section, this is the "How to Wear It" block on the product pages of the official Puma website. They took it several steps up and assembled specific looks from items that can be a great match to the one browsed.
As you can see, there are more than 10 products that go well with the jacket, including tops, bottoms, accessories, and even shoes that are put on these "invisible" mannequins. Indeed, this is a worthy marketing move to promote additional sales.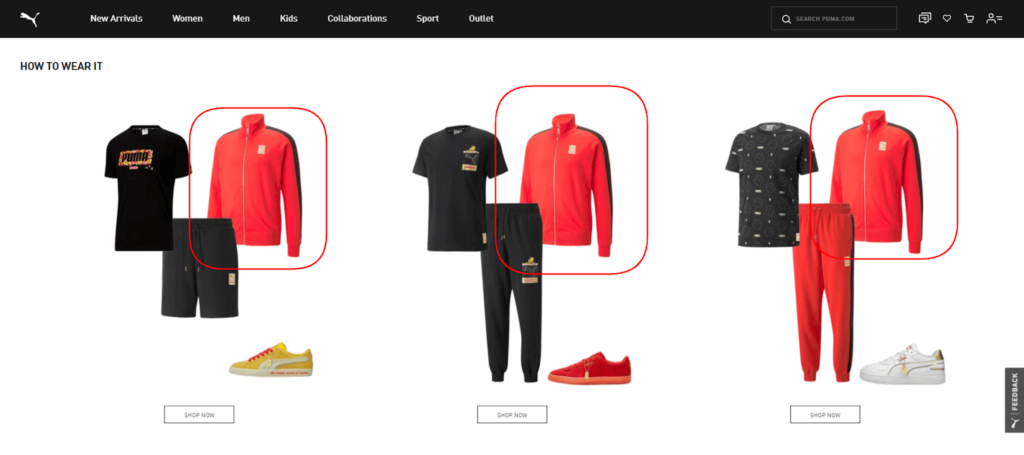 Screenshot taken on the official Puma website
6. Don't Button up Your Pockets for Coupons
Promo codes have long proven themselves to be an effective digital marketing strategy for increasing online sales. According to the coupon statistics found by Spendmenot:
"Over 90% of all consumers have used coupons in some way. Furthermore, 77% of consumers spend $10 to $50 more than intended when redeeming coupons."
Such discounts are a trigger that pushed consumers to make purchases. This is especially true if the item they've put aside becomes available at a reduced price or with some perk (like free shipping). The major promo code tips for marketers in online retail are:
make the promo codes visible;

limit their use in time;

pitch exclusive offers to your most loyal segment of customers;

use different codes to analyze which channels perform better.

To provide an example, here's a screenshot from the official Fila website. We can see that the promo code appears in a pop-up. The message reads: "We're making it easy for you to save" and gives the user clear instructions that the individually-generated promo code should be copied by clicking on a button and then used during checkout. I believe this is a wise approach that allows shoppers not to lose or forget the promo code.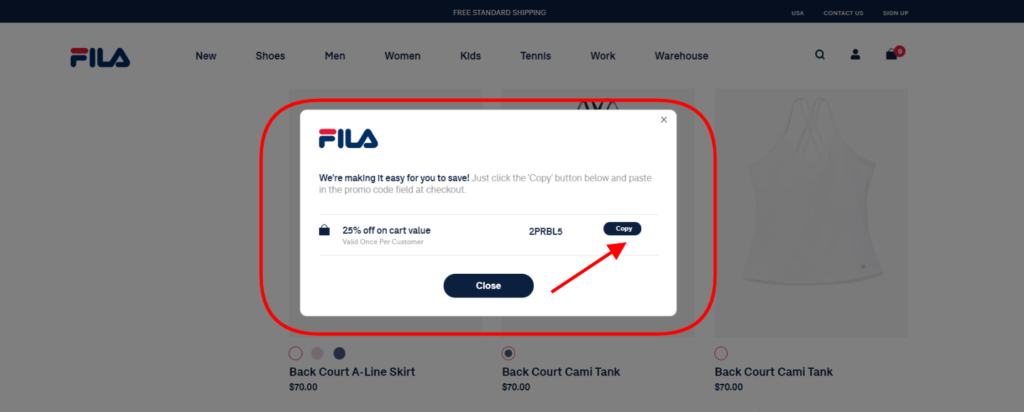 Screenshot taken on the official Fila website
7. Your Checkout Alone Can Boost Conversions
The last point that we'd like to cover in this post deals with the final threshold before your client buys something, your checkout. Unfortunately, this is the phase when an enormous number of clients break off empty-handed.
As a marketer or business owner, you have to understand the importance of boosting conversions. So, it is vital to give this section of your site the triple thought it deserves to reduce cart abandonment.
To say the least, it is very unwise to destroy your site's conversions by forcing users to create an account to buy something from you. Quoting Neil Patel:
"23% of users will abandon their shopping cart if they have to create a new user account."
As you can guess, these numbers can jump up much higher and differ from one specific case to another. The major problem solver here is to provide the opportunity to check out the products as a guest. It doesn't mean that this customer will only buy from you once; it simply means that this person isn't ready to share their details with you just yet.
Furthermore, remember that your customers value their time; thus, don't create the "time-wasting long-queue effect" by overloading the checkout with tons of unnecessary fields and hundreds of tabs. Otherwise, people may get frustrated and leave.
Hugo Boss has a product checkout for guests on their official website. Plus, there are only two steps (the first for personal details is narrowed down to the minimal number of fields and the second one is devoted to payment and shipping options). Did you notice that creating an account is optional?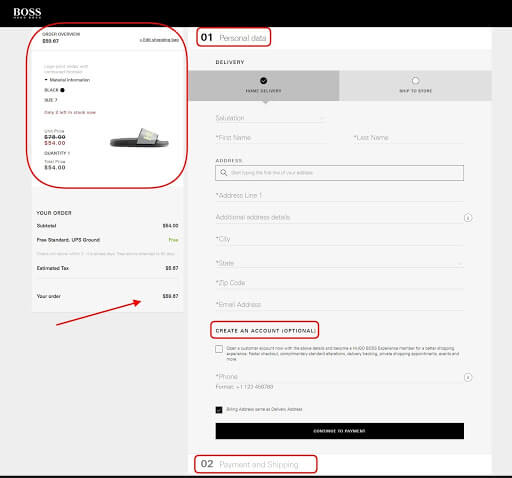 Screenshot taken on the official Hugo Boss website
Major Takeaways
Any online retail business has to stand guard to win the growing competition and the attention of users. You can start by implementing some of the digital marketing techniques that can help you grow your business:
upgrading your loyalty programs to get more returning clients;

take UGC for a spin;

build a neat gift finder;

rethink your up-selling sections;

give sustainability some thought;

and rework your checkout.