Besides having a company's website, an organization can choose another global platform to promote its brand. In the digital era, many marketers prefer using Wikipedia as it is an authentic site to find relevant information to establish a business or enhance brand promotion online. Wikipedia provides lucrative marketing benefits to organizations.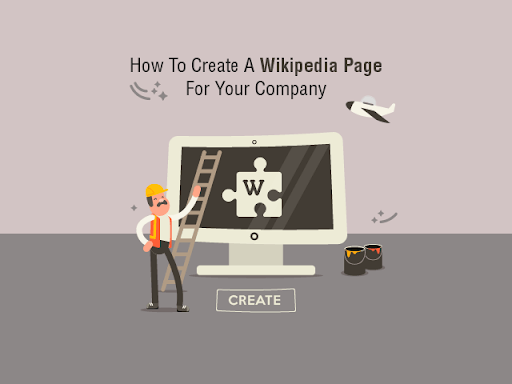 The essential thing is to have an authentic and well-reputed company page that helps to build a positive image of the company and attract a broader audience. Once the page is created, start-up and experienced companies can add reliable company information to the page. It includes a complete company profile, brand information, organizational goals, and mission. 
Furthermore, the Wikipedia page helps to promote SEO, enabling customers to search for a brand or topics in articles and blogs. Wikipedia pages have keywords and external and outbound links that increase search engines. When a citation links to the site, more people stay on the site, searching for an accurate source of information. Hence, marketing and branding through Wikipedia pages help digital marketers to optimize their Wikipedia page to drive website traffic and establish a brand's reputation on online forums.
Wikipedia Page: Dynamic Platform To Boost Organization Credibility
"A brand for a company is like a reputation for a person. You earn reputation by trying to do hard things well." – Jeff Bezos
Suppose you are a start-up company aiming to promote your brand through web and landing pages. In that case, you also try using other online resources, such as creating your business page on Wikipedia. The changing marketing landscape has enabled organizations to opt for Wikipedia marketing. The criteria to endorse your business on Wikipedia implies opening an individual or company account on Wikipedia. The users are bound to follow Wikipedia content guidelines to create and maintain their wiki page. According to the rules, the Wikipedia page should be written and edited like an encyclopedia. The content on the business page should not be promotional. 
Building the page's reputation requires the business to add the company's biography, background, and essential information about its brand and services. Many clients spend time on Wikipedia to find accurate information about the brand. As they come across a reliable business page, it clicks on them to learn about the brand. So, they follow the Wiki pages to learn more about the brand.   Hence, the business page's high notability and authenticity drive more website traffic. 
Wikipedia's presence is vital for brand awareness and perception
Wikipedia page allows business to monitor their brand image regularly. Brand reputation management strategies enable the company to study customers' brand perceptions. Positive conversation, feedback, blog reviews, and customer reviews on Wikipedia help businesses track brand reputation. Consequently, wiki business page reliability allows customers to read the content posted on your page. Clients who know your brand has a Wiki page begin to follow it. The company's purpose, mission, and vision will improve its brand image on digital platforms.
Establish  the authenticity  of your page
Community Editors and writers follow the essential guidelines of Wikipedia concerning page creation. It follows a strict page creation procedure. Wikipedia page writing services suggest that the individual become a registered user before opening the account. Since Wikipedia does not permit unidentified users, it is a prerequisite for the editors to edit a few pages before creating their page. Let's suppose an editor requires to edit 5 to 10  wiki pages or articles to learn about the editing procedures. Consequently, an extensive editing practice increases the user's credibility on Wikipedia. Once credibility is recognized, the editors can open the account and log in to their Wiki page.
The reliability of Wikipedia pages is maintained by incorporating essential company details and profiles and adding relevant brand information to the page. Moreover, the reputation of the pages increases when community editors and writers frequently visit the site and edit the pages. They contribute articles or blogs or add new and authentic company information on the wiki page.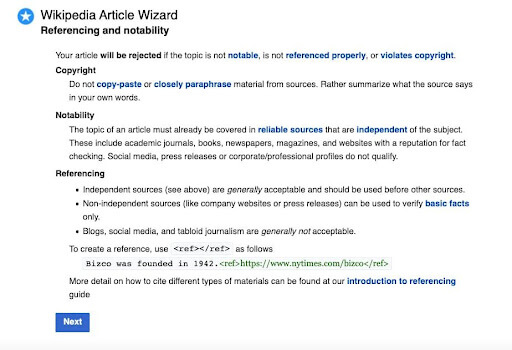 Maintain the notability of your page
 Wikipedia, a global informative site, allow business and individuals to follow the notability standards of the wiki content. The subject, either a writer, editor, or a company that has written the content, should have a positive reputation on Wikipedia. Regarding the notability of the content, hire Wikipedia editors team ensures that community editors should abstain from choosing either inappropriate topics or anonymous material. Since unauthentic content lack objective references, they fail to meet the notability standards. 
The editor should not use an original topic to increase the article's reliability. Instead,  the editors should choose a topic that has already been discussed in peer-review journals or conversed by academic scholars. Moreover, selected article should provide a sufficient amount of credible sources supporting the content. Regarding choosing the material, the writers are advised to extract material from independent and reliable sources.
The notability standards further maintain that accurate information can also be obtained through secondary sources. It includes newspapers, books, magazines, reports, and academic journals. However, third-party or self-published sources are subjected to strict editorial scrutiny. They comprise media news, press releases, website content, and biography.
Understanding Conflict of Interest Rules
As company page is inherently promotional, they are either written by companies or contributors. The business page displaying marketing content and jargon makes content promotional. Consequently, such content causes agitation and creates a confrontation between clients and the company. 
Knowing the conflict of interest rules implies that the editors create content that should not be over-promotional, biased, or controversial. Writers are discouraged from writing campaigns or promotional articles on clients' behalf. Moreover, jargon such as buzzwords, Puffery, and Weasel words are prohibited, giving a promotional look to the content. Conversely, the writers and editors should incorporate a neutral tone in the article that is helpful for the audience. In addition, take references and citations from reliable sources. False and unreliable information may create doubts in the community that lead to rejection of the article.
admirers
As broader audience read  the  business page, it intends to increase a good fan following. For example, if a company makes a Wikipedia page, people search it on Google. Reading the updated information about the brand and the company on Wikipedia prompts individuals to jump into social media channels to explore and learn about the company's existing and upcoming brands. Hence, a well-informed Wiki page provides a widespread reach and connects businesses with extensive customers.  
Page translation drives recognition to the business 
Authentic Wikipedia pages offer translated articles to global viewers. For instance, translated articles are uploaded on Wikipedia sites into different languages. Readers search the required article through keywords, titles, or topics.
Wikipedia translators maintain the accuracy of the translated articles by providing relevant information on the subject and citing references from authentic and independent sites. Consequently, it enhances global visibility, allowing companies to expand their brand to wide-reaching markets.
High Conversion and online traffic
A  company page gets more online visibility  by bosting SEO.Customers  search for the product on wikipedia pages by using broad keywords relevant to the brand. They also view accurate citations, general keywords, and topics that entice them to visit the site. Consequently, they spend time searching and reading the relevant content on the site. Moreover, social media optimization increases the awareness of a product or service on Facebook, Instagram, Twitter, and LinkedIn. Consequently, it increases traffic and takes your page to the highest ranking
Companies can increase the page's reputation by uploading reliable articles and blogs and adding credible references or citations supporting the content. Well-informed articles inform companies about their existing brands and upcoming projects. Moreover, the companies can keep the page active by telling a compelling business story and adding updated work performance. Moreover, add images, visuals, and infographics that make the wiki business page more stunning for the audience. The wiki page also attracts customers through blog posts. Well-informed blogs help customers know about existing brands and upcoming projects
 To recapitulate 
If you are looking forward to increasing your brand's online visibility, you need to create a Wikipedia business page. Before making the account, read Wikipedia guidelines for notability to maintain the page's credibility. Once the company passes the notability test, they need to get registered to open the account. Companies should add authentic references to make their business prominent on the online platform. As creating and maintaining a Wikipedia page is challenging, hiring professional expertise is recommended. Wikipedia page creators will manage a company's page effectively. Hence, updating and adding correct and reliable information on the Wikipedia page increases the company's online reputation.